Audiobooks
Almost all of my books are now available on Audiobooks. If you don't know how audiobooks work on Amazon, there is this thing called Whispersync that Amazon does. It hooks the audio version up to the eBook and it's really cool because you can follow along as you read/listen and it marks your place for you. But beyond that, if you buy the Kindle version of the book first, you can get the audiobook at a DEEP discount if it has Whispersync.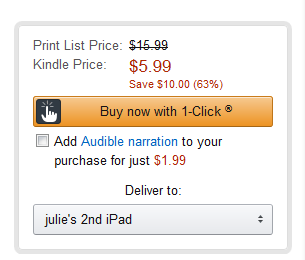 Just go to the Amazon Kindle page for your book of choice, and on the right side of the page, just under the "Add to Cart" or "Buy Now with 1-Click" You will see a little box that says "Add Audible Narration for $2.99 (or sometimes even as low as $1.99) Just check that box, check out as usual, and your audiobook will be delivered to your device with your eBook.
You can then listen to the audiobook inside the eBook, on the Audible website, or download the Audible app and find the book in Your Library to listen without the eBook.
Authors are not in control of when, or if, Amazon decides to Whispersync a book, so keep that in mind. It's all done automatically and the author has no control over it. So if you see a book that is not Whispersynced, it's not the author's fault. It's Amazon.
I love audiobooks and I have most of my back list on the schedule for production and the front list is being produced in real time. Most of the time I will not release an audiobook at the same time as the eBook or paperback because I write too fast. They have be put into production. But every book in my catalog is either scheduled for release, in production, or scheduled for production. So yes, they will eventually all be available, I just don't have dates on them all yet. An audiobook typically takes two to three months to cast, produce, edit, and then put into the release process. It takes time, so be patient.
ALSO – DID YOU KNOW THAT YOUR FIRST AUDIOBOOK OVER AT AUDIBLE IS ALWAYS FREE WITH A TRIAL MEMBERSHIP? PICK ONE UP NOW AND GET STARTED.
THE SEXPERT should be in production SOON! 🙂 We are getting started on that now and I'd predict a release date somewhere around early October? Maybe?

The series releasing right now (and folks, this will probably get outdated quick (sorry!) is Jordan's Game. Total Exposure is out now, Pleasure of Panic is releasing in August, Boyfriend Experience is releasing in September, and Play Dirty is releasing in October.
[mybooktable book="total-exposure" display="summary" buybutton_shadowbox="false"]
The other series I released this year in audio is ORIGINAL SIN. That's my collaborative project with Johnathan McClain. So all four of those books are out now too but I'm only putting book one here to keep this page simple.
[mybooktable book="sin-with-me" display="summary" buybutton_shadowbox="false"]
The other-other series I completed this year are the final two books in the Mister Series–Five and Mr & Mrs.
[mybooktable book="five" display="summary" buybutton_shadowbox="false"]
[mybooktable book="3667″ display="summary" buybutton_shadowbox="false"]
Save
Save
Save
Save