Bookfunnel is the new service I'm using to distribute free audiobooks.
They have an app and it's really easy to use.
Here's how:
1. CLICK ON THE IMAGES OR LINKS BELOW FOR THE BOOKS YOU WANT
2. CLICK 'GET MY GIFT'
3. ENTER your name and email
4. CLICK the appropriate app store icon to download the app
AND
5. COPY the CODE listed below the app store icons.
THE CODE is how you get your free audiobook. Just enter it into the app once you open it.

YOU WILL ALSO GET AN EMAIL with all the info you need.
IF YOU ALREADY HAVE THE APP THEN YOU JUST COPY THE CODE FOR THE FREE BOOK AND PASTE IT INTO THE APP ON YOUR DEVICE. You only have to download the app once.
HOPE YOU ENJOY THE AUDIOBOOKS!

---
FREE BOOK JULY
SICK HEART EBOOK AND AUDIOBOOK
A dark, gritty, raw, uniquely twisted journey through a violent world of evil, pain, courage and love. Filled with layered world-building that will leave you in awe, cruelly damaged characters that will touch your heart, and a complex, twisted, riveting survival-of-the-fittest storyline that will grip your senses so tight you forget to breathe.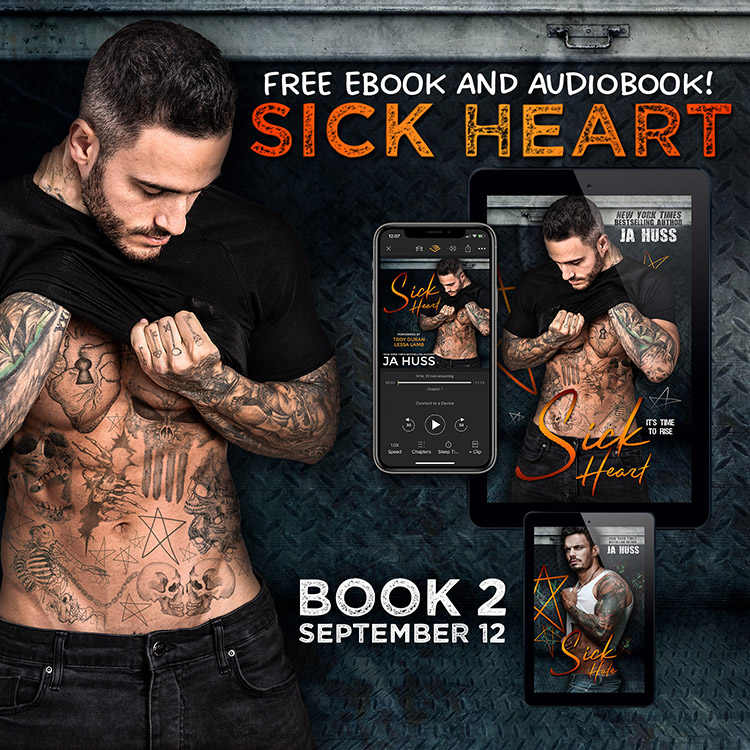 ☠️☠️☠️
Cort van Breda has won 35 death matches as a fighter in an MMA circuit so deep underground there are no rules and only the winner gets out alive.
They call him the Sick Heart.
They say he's a shameless monster.
They say he's a ruthless killer.
They say he's as twisted as the man who owns him.
They say a lot of things about Cort van Breda.
But in our world violence is money, and money is winning, and winning is life, and life is the only thing that matters.
Except… he wasn't meant to win that last fight.
And I wasn't meant to be his prize.
But he did.
And I am.
And now his sick heart owns me.
WARNING: This is a sweet love story adrift in an ocean of evil. It is about two survivors dealing with their darkest secrets while they fight to change their lives. It is for mature readers only and has descriptions of deeply disturbing situations. There will be pearl clutching.
---
GET THE FREE EBOOK FROM AMAZON

---
GET THE FREE AUDIOBOOK FROM BOOKFUNNEL
AUDIOBOOK NARRATED BY:
TROY DURAN
LESSA LAMB

---
SICK HEART TROPES
DARK Past
Former Sex Slave
Champion Death Fighter
Forced Proximity
MM/MMF/MFM/MF
Lovers to Friends to Lovers
They Fall Together
Sick World/Evil Bad Guys
Found Family
Stronger Than She Thinks
---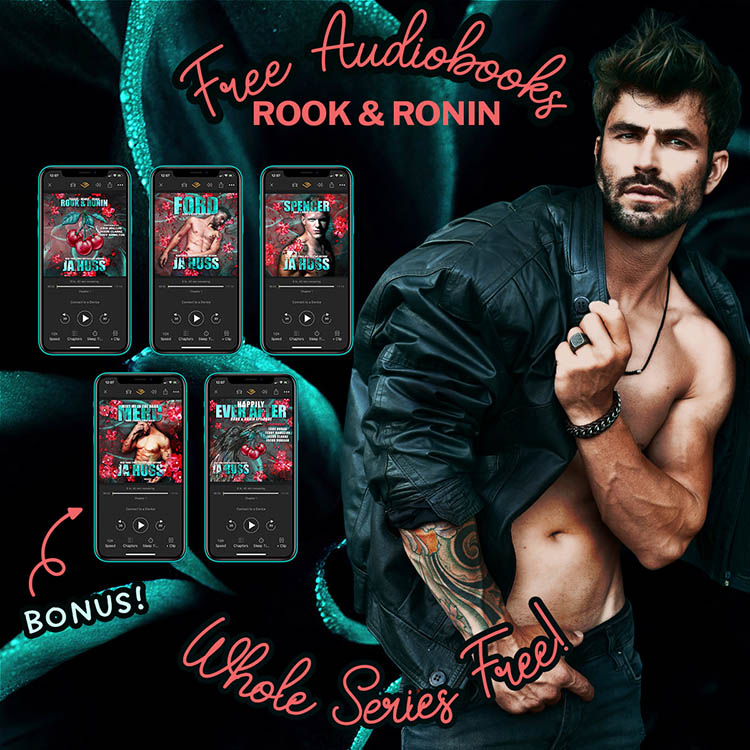 ---
ROOK AND RONIN TRILOGY
DOWNLOAD ALL THREE BOOKS – TRAGIC, MANIC, PANIC
A fun, twisted, seductive story about falling in love despite the shadows of the past. This USA Today bestselling series is a stay-up-all-night page turner that will make you swoon with delight. You won't want it to end!
Down-on-her-luck Rook meets top-model Ronin and gets offered the opportunity of a lifetime—a modeling gig with a famous photographer for a campaign called Tragic. It comes with a paycheck, a roof-top apartment, and a bad-boy called Ronin who has a sketchy history of breaking pretty girls. Despite his reputation, Rook finds herself falling for his charm. But can she trust him? Not just with her safety, but with her heart?
NARRATED BY
JASON CLARKE
ERIN MALLON

---
THE FORD BOOKS
DOWNLOAD BOTH BOOKS – SLACK & TAUT
Ford Aston doesn't do feelings. He does pets. And rules. And punishment. Until he meets a girl who needs a prince. Which… is he not. Not even close. But all those ugly, stupid feelings he's absolutely not having need an outlet and 'new girl' is in to his brand of weird. She's smart, and pretty, and competitive. But also broken. Just like him. Maybe he can be a prince? Maybe he can save her? Or maybe… she's is the prince and he's the one who needs saving?
NARRATED BY
TROY DURAN

---
THE SPENCER BOOKS
DOWNLOAD BOTH BOOKS – BOMB & GUNS
Spencer's love for Veronica is absolute. She's his "one" and together they are the perfect kind of wild. But his past is filled with secrets and danger. He pushes her away to keep her safe. But Veronica wasn't nicknamed Ron the Bomb for nothing. She's fierce, and bold, and she knows how to shoot. So when a new guy comes to town and makes her an offer, she's ready to show Spencer she can handle the danger. But can she?
NARRATED BY
AVA ERICKSON
JACOB MORGAN
TROY DURAN
TEDDY HAMILTON

---
HAPPILY EVER AFTER
A SPECIAL ROOK & RONIN EPILOGUE
It's Christmas Eve and everyone's in Vail to celebrate. The secrets were revealed, the problems all solved, and the danger has been over for years now. So why are Ronin, Ford, and Spencer so worried about the future? Family life comes with its own set of problems. None of which can be solved with guns, or fight moves, or clues. In fact, it's their super smart kids who swoop in to save the day this time.
A fun, flirty, final HEA epilogue to one of the most loved set of characters ever.
NARRATED BY
JACOB MORGAN
TROY DURAN
TEDDY HAMILTON
JASON CLARKE

---
SPECIAL BONUS FREEBIE!
MEET ME IN THE DARK
MERC'S BOOK
Everyone has a past. And if you're Company, and try to outrun it, it always catches up. That's why you must always be ten steps ahead. Sydney Channing has secrets Merc needs and he will do anything to pull them out of her. Even if it means breaking her fragile mind. But Sydney is much stronger than she looks. Everything about her is more complicated than it seems. And when Merc finally does break her, all he wants to do is put her back together. But will it be too late? Not for her, but for HIM.
Meet Me In The Dark comes after another book called THE COMPANY. But Merc's book is like 90% a standalone. You don't need THE COMPANY to fully enjoy Meet Me In The Dark. I CANNOT MAKE 'THE COMPANY' FREE – IT IS A PUBLISHER BOOK. If I could, I would. But I can't. So if you want to listen to THE COMPANY you can get it on Audible or iTunes.
I REALLY DON'T DO TRIGGER WARNINGS. I THINK THEY'RE PRETTY STUPID UNLESS THERE'S SOME MAJOR DARK SHIT AHEAD. BUT THIS BOOK COMES WITH A WARNING AND YOU SHOULD TAKE IT SERIOUSLY.
NARRATED BY
TROY DURAN
ANNA RIORDAN

---

---
WHY I NEEDED TO HOST THE FREE AUDIOBOOKS ON A NEW SERVICE…
You may, or may not, know that I usually (like 85% of the time) publish my audiobooks with my publisher, Podium Audio. I've been working with them since 2015. You also may, or may not, know that once I contract with them, I don't have any control over price, or sales, or freebies. It's their production. They own it and I just get paid royalties.
So this is why I like to self-publish some of my audiobooks every now and then. Then I can give them away for free. And that's what this page is all about.
I used to use Author's Direct to give audiobooks away for free–which was a fantastic service until Spotify bought Findaway and shut it all down. But Bookfunnel, which I have always used to deliver free ebooks–like, since they first opened for business–now has the ability to deliver audiobooks too. So even though Author's Direct has closed down, I can still give audiobooks away for free.
I know a lot of you have lost (or will lose) all of the free audiobooks I have given you in the past because I have decided to stop doing business with Findaway/Spotify. IT IS MY OPINION that they were using the backend user interface and dashboard workflow to pressure authors into signing/agreeing to distribution agreements. And I felt manipulated.
See, when Spotify took over they put all our books into the Spotify distribution. Without our permission. You could opt out, but in order to do that you had to agree to a new distribution contract. You could not access your files in any way, or PULL YOUR BOOKS OFF SPOTIFY, unless you agreed to this new contract.
It pissed me off, but I was busy at the time so I didn't make a big deal about it. But then they did it again with another distribution outlet. Just put all our books on this new platform and in order to opt out, they made us agree to a new contract.
TOTALLY UNRELATED but just FYI, I don't like to be manipulated and I hate liars.
Findaway/Spotify insisted, over and over again, (in writing via an entire email chain) that there was no possible way to allow me access to MY intellectual property WITHOUT AGREEING to their new terms. I could not delete my files and I could not opt out of distribution UNLESS I legally agreed to their new terms.
After weeks of back-and-forth emails they finally claimed this was a "glitch". After weeks of emailing me insisting that this was just "standard procedure" it was now a glitch.
TOTALLY UNRELATED, but have I mentioned how much I hate liars?
Anyway, I'm not using Findaway/Spotify for my audiobook distribution anymore. Like I said earlier, I don't have a lot of self-published audiobooks. They are mostly with my publisher. But some of the ones I do have will be available for you to download here on this page – FREE – through BOOKFUNNEL.