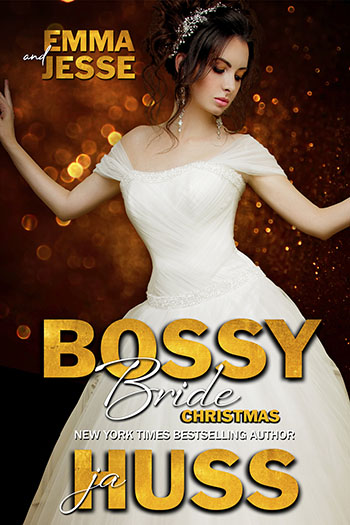 BOSSY BRIDE: EMMA & JESSE
Big wedding in June? Or elope to Vegas on Christmas Eve?
Series: Bossy Brothers 4
Let the weddings begin!
I love the Dumas clan. I really do. I adore Emma's bossy mother, her too-tall, but lovable father, and her three intimidating, tattooed brothers. And Saturday night dinners have been the BEST.
Seriously, the BEST.
I don't even mind that we have to take Emma's corporate jet down to Key West every freaking weekend to make that date. They really are everything I never had, and always wanted, in a family.
But… but… they are maybe just a little bit crazy. And that's saying something considering my last name.
So when Emma gets tired of her mother's constant wedding plans and offers up a spur-of-the-moment elopement in Vegas… well… my answer is a big, Hell, yeah!
I figured we'd hit up that famous drive-through wedding chapel, tie the knot with Elvis officiating, and make it back home in time for Christmas Eve dinner.
But I might've underestimated Emma's sassy mom just a wee little bit.
Because here she is. At my wedding.
And she is having none of it.
Because she brought everyone with her.
Get the e-book: