THIS ORDER FORM IS NOW OPEN
THE ONCE-A-YEAR SALE FOR JA HUSS SIGNED BOOKS!
Selling signed books is quite a bit of work for me but I understand that people love to have a special copy of their favorite book so I decided a while back that I will do a once-a-year order form and you can purchase any signed book you want. 
THERE ARE A LOT OF BOOKS ON THIS FORM AND IT'S QUITE COMPLICATED AND COMES WITH A LOT OF RULES – like how many books fit in a box – big hardcovers count as more than one book etc. Sorry about that but nothing about this order form is a one-size-fits-all kind of thing. And I just need to make it as simple as possible for me because I order, sign, and pack all the books myself. 
So please take your time, read the form carefully, and I can't wait to sign a book for you!
BOOK GOODIES-BOOK BOXES-CANDLES
I did not have time to pull the book boxes and candles together today BUT I will have separate forms for this stuff very soon. I have not made candles in a while and I bought a bunch of new stuff I need to try out, plus order some more labels. So it's gonna be a week or two before I can put that form up.
The good thing about having a separate order form for the candles is that you don't have to wait for them. I will ship them first once the form closes on October 17. So you will get them before you get your books. 
I will have book boxes too:
Blood Lovers
Pie's Apothecary
Vic Vaughn is Vicious Special Edition
I will have pictures of all this stuff on the order forms once they are live. There will be sepeate order forms for candles and boxes. 
STICKER SETS
Both order forms will have sticker sets for sale. I'm gonna put the pictures here instead of on the form so you can get a good look. They are $15 FOR ALL THE STICKERS SHOWN BELOW (which is a discount from the original price).
IF YOU ONLY WANT STICKERS AND NO BOOKS, DO NOT ORDER FROM THESE FORMS. I will put up a STICKER ONLY FORM and you will only have to pay letter postage – it's really cheap, even for international.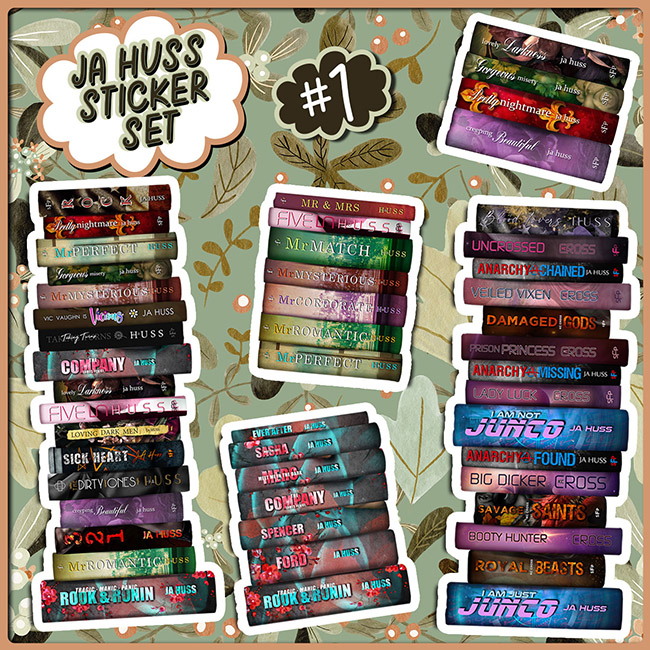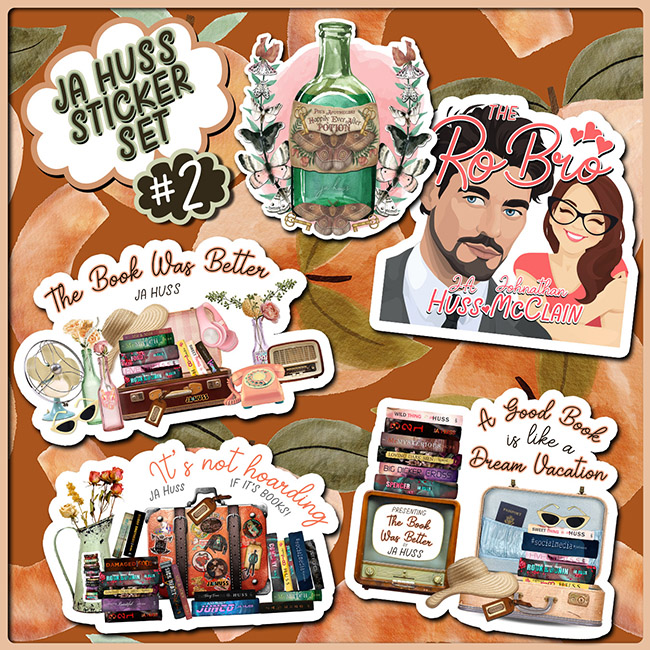 ---
THE DETAILS
THERE ARE TWO FORMS – one for USA ONLY and one for INTERNATIONAL ONLY. Please fill out the correct form.
THIS FORM WILL CLOSE ON OCTOBER 17 – NO EXCEPTIONS. All the books need to be ordered before I can send them and it will take at least 4-6 weeks just for the book order to arrive to my house. I am aiming to be able to mail books the second week of DECEMBER, but I cannot guarantee this. So please ONLY ORDER if you're OK with the wait.
IF YOU WANT MORE THAN ONE COPY OF A CERTAIN BOOK, JUST CHECK ANOTHER BOOK OF THE SAME PRICE AND LEAVE ME A NOTE AT THE BOTTOM! DON'T FORGET TO TELL ME both the book you want and the book you DO NOT want. 🙂
BOOKS ARE PRICED BASED ON LENGTH. I write a lot of long books so that's why so many are over $15. Long books just cost more to print.
PLEASE READ ALL THE DETAILS ON THE FORM.
USA SHIPPING IS AS FOLLOWS
(EVERYTHING IS GOING PRIORITY MAIL)
CHOOSE one of these Shipping Options
(1) 1-2 books – $11
(2) 3-10 books – $20
(3) 11-14 books – $25
You don't have to order the MAXIMUM – you can order any combination you want as long as it meets your shipping limit.
INTERNATIONAL SHIPPING IS $45
(EVERYTHING IS GOING PRIORITY MAIL)
2-book MAXIMUM PER ENVELOPE. IF YOU WANT MORE THAN TWO BOOKS YOU WILL NEED TO PAY SHIPPING FOR A MEDIUM BOX – DEPENDING ON WHERE YOU LIVE IN THE WORLD THAT WILL COST $75-$100. I KNOW THE SHIPPING IS STUPID HIGH, BUT I DON'T HAVE ANY CONTROL OVER THAT, SORRY. 
IMPORTANT: IF YOU DO NOT COMPLETE CHECK-OUT AFTER YOU HIT SUBMIT, YOUR ORDER WILL NOT BE PROCESSED. MAKE SURE YOU GET A CONFIRMATION EMAIL FROM PAYPAL
THANK YOU!
JA HUSS
---
CLICK HERE TO ORDER IF YOU LIVE IN THE USA

CLICK HERE TO ORDER IF YOU LIVE OUTSIDE THE USA

THANK YOU!