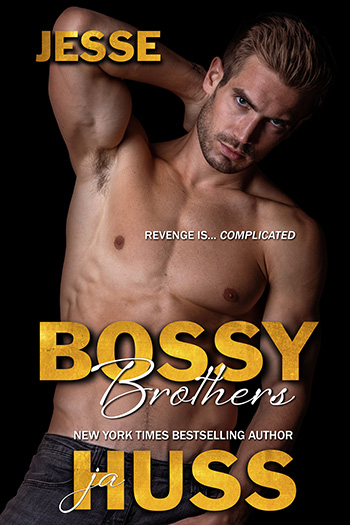 BOSSY BROTHERS: JESSE
Series: Bossy Brothers 1
So WHY is she kidnapping the billionaire she just bought in the bachelor auction?
Thirteen years before Emma Dumas bought me in a bachelor auction to teach me a lesson she stole my heart down on Key West. I fell so hard for this girl I made all the promises. Only with Emma, I really meant them.
And then I disappeared.
But it wasn't my fault. Let's just call my reason "Family Business". I'd tell you what that business is, but then I'd have to kill you. Just kidding. I can't tell you what my family business is because it's so secret, even I don't know.
My point is… I didn't ghost. It was a weird twist of circumstances. And OK, yes. I did hook up with pretty much every girl on the island that week. But after I met Emma, I was ruined. She's the only one I wanted.
It's been thirteen years. I'm a changed man. I STILL want her. I have ALWAYS wanted her.
But it's kind of hard to tell her that with a gag in my mouth and a hood over my head.
*****
Bossy Brothers: Jesse features a bachelor auction gone wrong, four smart ladies who botch a crazy revenge kidnapping, a fancy power dream date with fast cars, private jets, and expensive yachts, lots of ex-sex, and a happily ever after that proves… sometimes the best man for the job is a woman.
THIS BOOK IS FREE EVERYWHERE!
But all the other books are still in Kindle Unlimited!
THE FIRST TWO AUDIOBOOKS ARE ALSO FREE IN THE AUDIBLE PLUS PROGRAM!
LISTEN TO THE FREE AUDIOBOOK SAMPLE!
PERFORMED BY AVA ERICKSON AND TEDDY HAMILTON
Get the e-book:
Paperback available at:
Hardback available at:
Audiobook available at:
Praise
"
This is a well written hilarious story, with witty banter, and is filled with drama, suspense, secrets, and twists...
"
-- Amazon Reviewer Wendy Livingston

"
It's a lighthearted, fun romance, that is until we get the fantastic 'what the hell' JA Huss twist which'll leave you gagging for the next book in the series.
"
-- Goodreads Reviewer Jill Kirtley

"
Omg, this was a laugh out loud, sexy, enemies to lovers, Steamy romantic suspense and I need more now! I couldn't put this down!
"
-- MissPetiteBrunetteBookBlog

"
Bossy Brothers is filled with action, laughter and love tied in a tight bow of secrets and deceit, but it is written impeccably well and I fell in love with the characters from the very 1st page!
"
-- Goodreads Reviewer Tami czenkus

"
If you are a new reader to Julie's books, welcome, you will not be disappointed, this was a refreshing read, I was taken by the characters first chapter, the heroine was my kinda lady, take charge, strong, intelligent, independent and willing to kick some butt! I have a girl crush on Emma!"
"
-- Goodreads Reviewer That Damn Canadian

"
I want more of the Boston boys. I want more, well written and strong heroines to keep them on their toes and I want them all now!
"
-- A Book Lover's Emporium Book Blog

"
The chemistry and back and forth banter between these two had me laughing my a*s off. Jesse definitely met his match when it comes to sassy Emma. She is one pocket rocket and can definitely hold her own.
"
-- Karen - Kazza's Books Blog and Reviews

"
I absolutely fell in Love and wanted to immediately re-read it and that doesn't happen often, I wasn't ready for it to be over because these people they will be all of "OURS" forever, I just know it!!!
"
-- Goodreads Reviewer Susie Price

Get the e-book:
Paperback available at:
Hardback available at:
Audiobook available at:
Other Books in This Series