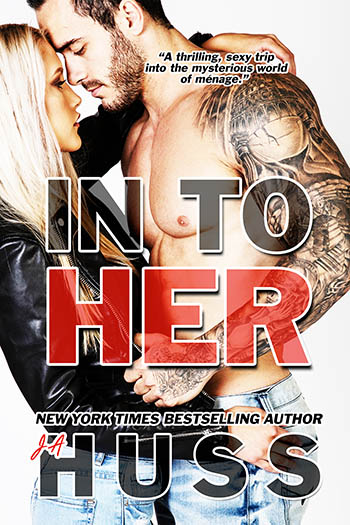 In To Her
When AJ and Logan walked into Yvette Nightingale's bar
… they didn't expect to be there long. They certainly didn't expect to be dancing with her, or having sex with her, or spending the night with her.
Because they were sent there to kill her.
Not fall for her.
Not feel sorry for her.
Not want to take care of her, or protect her, or be in to her.
But sometimes people enter your life for a reason. Sometimes they even enter at the very moment you need them most. And Yvette Nightingale needs AJ and Logan.
She needs them even more than they need her.
Get the e-book:
Paperback available at:
Audiobook available at:
Praise
"
Wonderful blend of erotica and mystery, as only J.A. Huss can deliver! I loved it!
"
-- Amazon Top 1000 Reviewer

"
HOLY CRAP. This book was a fucking surprise that came out of nowhere. JA Huss is a master storyteller and her words just pull you in and make you never want to leave. This book had so many twists and turns, it gave me whiplash. Just when I thought I knew what was going to happen next, I realised that actually I had no idea at all. The best advice I can give you is, go in blind. DO NOT read any spoiler reviews because it will completely ruin the whole experience. IN TO HER is definitely going to be on my "Best of 2019" list.
"
-- GoodReads Reviewer

"
This book was way deeper than I was expecting. It's hot. It's smutty. Its a ménage-ish. It's a little dark, but it's also emotional and makes you think some. A smidge of suspense, but I had a gut feeling what was going on, because the author kind of leads you that way. Plus the ending. So good. So perfect for this story and how these people came together.
"
-- GoodReads Reviewer

Get the e-book:
Paperback available at:
Audiobook available at: