This book is going to DO things to you. And I hope to start by making you lust over this cover. This beautiful pic was taken by the amazing Sara Eirew and surely you recognize this model by now! Mike Chabot is on a lot of my covers. I don't think he can take a bad picture if he tried. 
Sick Heart was a long process. It took a long time to write. It comes in at 127,000 thousand heartbreaking and beautiful words. It has a perfect ending. And it deals with some very dark shit.
But lest you think my Sick-Hearted Hero needs redemption–no. He doesn't. He will not be apologizing for one fucking bit of his story. And neither will my heroine. These two characters are survivors and this book is about their fight. 
Oh, there IS a real fight in this book. It's a dirty, bloody mess. But they're not gonna apologize for that either. 
Not one drop of blood. Not one punch in the mouth. Not one horrific memory.
I will defend this story until my dying fucking day. These characters aren't dark — that description belongs to the evil subhumans around them. These characters are STRONG and their love story is SWEET. 
And so… I present to you…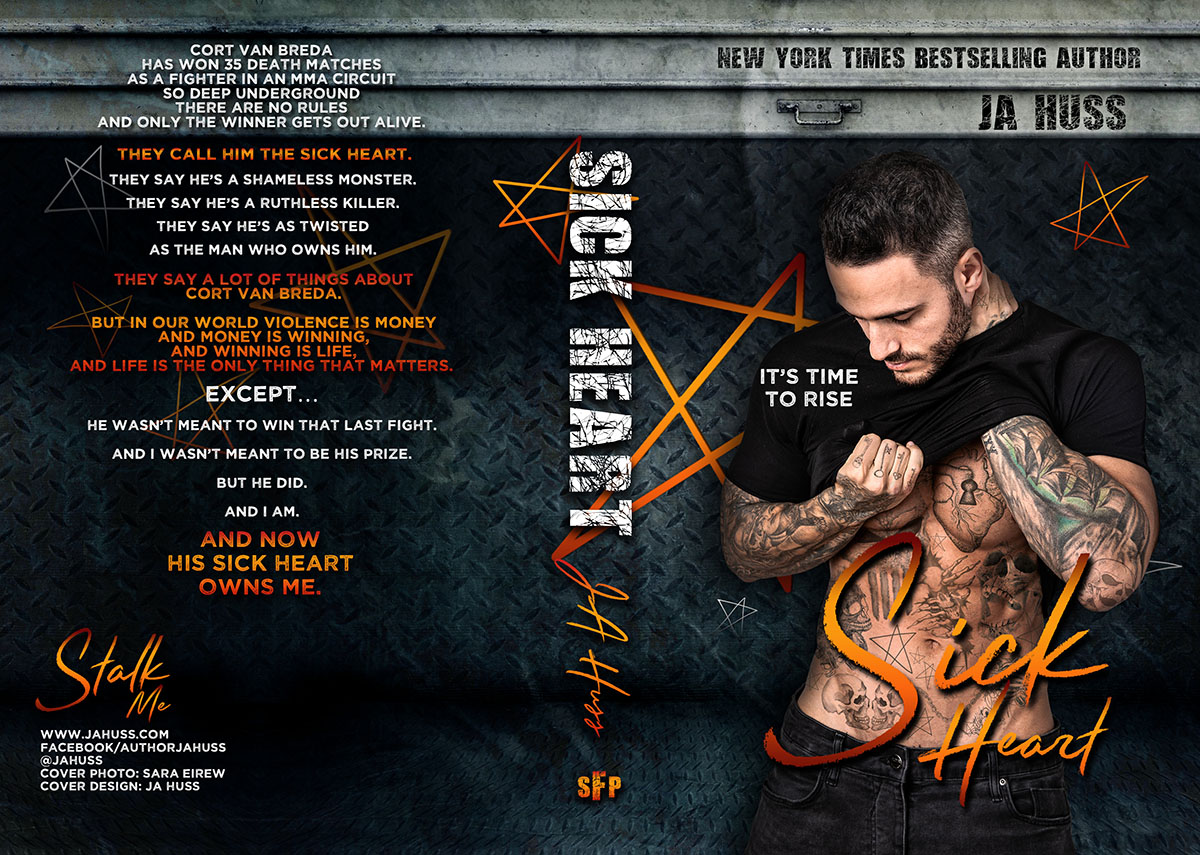 ---
Cort van Breda has won 35 death matches as a fighter in an MMA circuit so deep underground there are no rules and only the winner gets out alive.
They call him the Sick Heart.
They say he's a shameless monster.
They say he's a ruthless killer.
They say he's as twisted as the man who owns him.
They say a lot of things about Cort van Breda.
But in our world violence is money, and money is winning, and winning is life, and life is the only thing that matters.
Except… he wasn't meant to win that last fight.
And I wasn't meant to be his prize.
But he did.
And I am.
And now his sick heart owns me.
WARNING: This is a sweet love story adrift in an ocean of evil. It is about two survivors dealing with their darkest secrets while they fight to change their lives. It is for mature readers only and has descriptions of deeply disturbing situations. There will be pearl clutching.
---
ON PRE-ORDER HERE
IMPORTANT! SICK HEART WILL RELEASE LIVE IN KINDLE UNLIMITED ON MARCH 30TH!
(crossing fingers it goes live on time – always at the pleasure of the Zon)
It will release ONE DAY EARLY on these three platforms above (March 29) and will NOT BE FOR SALE ANYWHERE BUT AMAZON AFTER THE PRE-ORDERS DROP!
So if you want to buy the book on a platform other than AMAZON, you have to get it on pre-order.
---
THE AUDIOBOOK WILL RELEASE THIS SUMMER.
---
GIVEAWAY