THE FRIDAY NIGHT FREEBIE!
NOW BIGGER THAN EVER!
Starting this week I will have guest authors co-hosting the Friday Night Freebie with me and every week there will now be TWO GIVEAWAYS! One major prize here on the blog and one gift card prize on Instagram! The same rules below still apply.
The Friday Night Freebie is super simple. The giveaway starts every Friday afternoon (usually between 3-4 PM Mountain Time) and it ends Monday at 12:01 AM. Winners are chosen and announced on Monday. Very short giveaway. Super fun thing to do real quick.
Your chances of winning are pretty high because this ONLY runs on my blog. No other blogs host it so there won't be very many people entering.
YOU DO NOT HAVE TO DO "ALL THE THINGS" IN THE RAFFLECOPTER. You enter the way you like best. So if you don't want to join a newsletter list – DON'T. If you don't want to share a post on Facebook, SKIP IT.
None of it is required. As long as you enter at least one way, you're eligible to win.  And there is ALWAYS a very simple "Leave a comment" option. I love comments! 
---
IF YOU ARE A ROMANCE AUTHOR and would like to co-sponsor a FRIDAY NIGHT FREEBIE with me, feel free to fill out this form! 
The dates are full through April but I will open it up to new dates in January 2020. 
---
THIS WEEK'S SPONSOR IS
NATASHA BOYD

THIS WEEK'S PRIZE IS:
Signed paperbacks of both ACCIDENTAL TRYST and INCONVENIENT WIFE plus bookmark

A gorgeous "Gratitude" journal

A bundle of some of my favorite make-me-pretty items to treat yourself this Thanksgiving: 

BULGARI Perfume 

Mile High Club mascara for gorgeous long lashes

Desert Bloom eyeshadow palette

Deep maroon lip stain 

Duo Palette Blush 
Natasha Boyd is a USA Today bestselling and award-winning author of both historical fiction and sexy contemporary romance. She lives surrounded by men: with her husband, two sons and a boy dog. She loves black tea, honey, pajamas, fluffy duvets and salted licorice.
---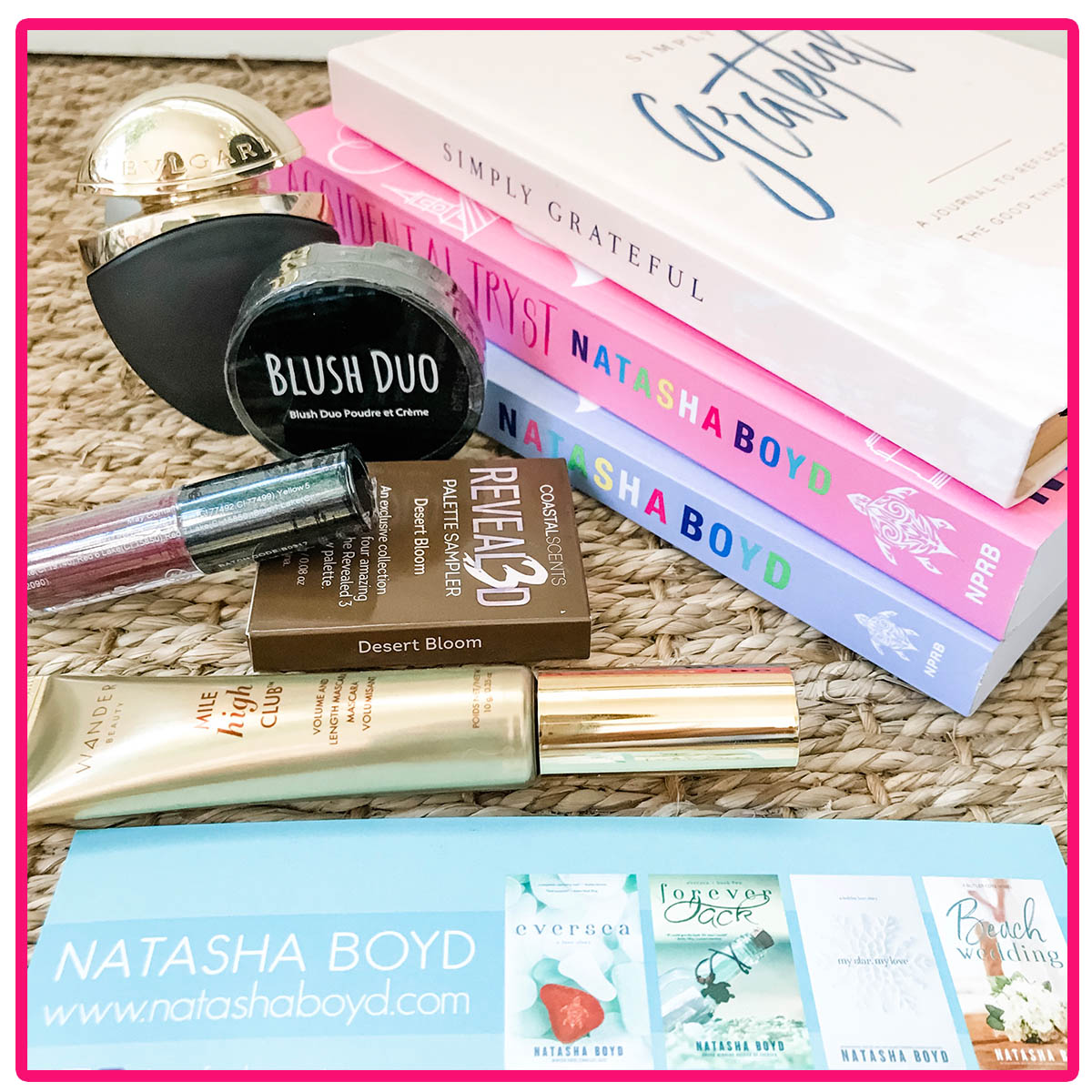 In ACCIDENTAL TRYST, my steamy rom com (a signed copy is included in the giveaway)… Emmy accidentally switches phones with a high powered suit monkey. They are briefly forced to work together to navigate their lives… but their instant and sizzling sexual chemistry over phone, text and email make it clear that this accident could be a fated mistake, even though she has no idea what kind of man he is in real life…
Should she take a chance?
Who would you pick if you could?
You HAVE to choose 😉
A) the billionaire who flies you to Paris for dinner
B) the sexy nerd who can fix anything
C) the childhood sweetheart who makes you laugh, brings you breakfast in bed and calls you beautiful
D) The stranger who makes your heart pound and your palms sweat and can give you toe-curling orgasms over the phone.

Click the "Leave a blog post comment" option!
GRAB ACCIDENTAL TRYST HERE
STALK NATASHA BOYD AT ALL THESE PLACES!
GIVEAWAYS ARE ALWAYS OPEN INTERNATIONAL!
Winners are picked at random using the Rafflecopter app. NO INFORMATION on the Rafflecopter will EVER be shared with another party. Nor will I ever use your private information in way you have not authorized. i.e. I will NOT be secretly adding you to my email list! 😉
---
If you're not following my blog make sure you subscribe! You'll get an email every time I post a new Friday Night Freebie!
Subscribe to Blog via Email
Join 4,937 other subscribers
---

---
ENTER THE BIG GIVEAWAY!
EVERYTHING IS OPTIONAL
ENTER THE WAY YOU LIKE BEST!
---
MY NEWEST RELEASES AND PRE-ORDERS!
MANY ARE FREE IN KINDLE UNLIMITED!
The Misters Box Set is on sale for only $5.99 FOR JUST A FEW MORE DAYS! ALL 7 BOOKS!
Thanks for stopping by! Come back soon!