First – congrats to Mirele from Brazil!
She is the winner of last weekend's Friday Night Freebie. I have a lot of cool things coming up in the Friday Night Freebie. Most weeks will now feature a guest author so you can win cool, huge prize packs from other people not just me! hahah So keep your eyes peeled every Friday afternoon for a new chance to win a huge prize!
Second – The Mister's Box Set is on sale!
This is for a short time only. Right now it's $5.99 but it will go up to $9.99 after Cyber Monday and then it will be taken off sale completely some time in December. For me, Box Set Sales are short-term things. I don't put them up often and I don't keep them up for sale for very long. But I do always offer a great deal on them. These SEVEN BOOKS purchased alone would cost $26.93 in ebook. So $5.99 is getting each one for LESS THAN A DOLLAR.
And if you're not sure where the Misters fit into my reading series order I just made a cool new reading series order graphic last night. Just scroll down to take a look at it.
GRAB THE MISTERS BOX SET ON SALE AT THE LINKS BELOW

Want to get in on the fun but you're not sure where to start?
I've got you.
I have a lot of books and most of them are in a long series with several entry points. I'll get that below but first let me entice in you into the JA Huss romance world with three FREE BOOKS!
Rook and Ronin is my FLAGSHIP SERIES. It's one of my first and the one that fans and new readers consistently rave about whenever you bring up one of the characters.
Go ahead and grab the first TWO BOOKS in this series for free. No strings. Just click your favorite store link below, pop over there, and download them.
FREE!
Tragic
When Rook is offered a job as an erotic model all she wants is to get off the streets and feel safe again. Forget she ever had another life in another state. Forget all the tragic things that had happened to her. She wasn't looking for love or for anyone to save her. This time, she was going to save herself. But Ronin wants to save her. He wants to protect her and heal her damaged heart. He falls hard for the tragic girl assigned to be his modeling partner and soon the flirty, fun attraction becomes something of a second chance for both of them.
Manic
Even though Rook's new friends are starting to feel like family, she's is determined to make it on her own and not rely on the kindness of others. This is why she agrees to be Spencer Shrike's "canvas" for the bodypainting ad campaign for his custom motorcycles, Shrike Bikes. But when Rook's ex comes back to claim her, Ronin will do anything—even revisit his dark past and make a new 'deal with the devil'—to protect the woman he loves.
Nine-Book Series

ROOK & RONIN AND THE COMPANY
---
Looking for something dirty & depraved?
I've got you.
This one is a standalone. Three, Two, One is a super hot, super, sexy, and sometimes super shocking dark, MFM menage that will rip your heart out and then glue it back together. To get this one free just click the Bookfunnel Link below, enter your email, and the book will be sent to the eReader device of your choice.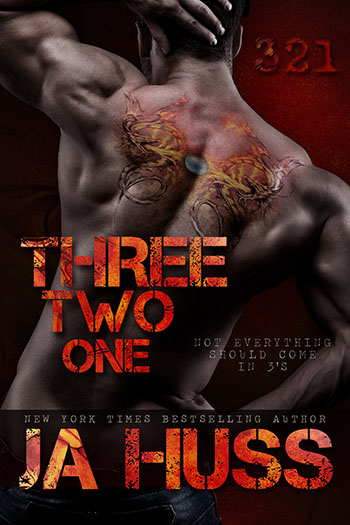 Blue was taken captive a year and a half ago but now that she's free she can't go home. Ark and JD are best friends who made millions filming porn and Blue is their new muse. JD is content to keep her forever and never ask questions. But Ark needs to know her secrets and he will stop at nothing to get them.
---
CURIOUS ABOUT HOW MY MAJOR SERIES FIT TOGETHER?
HERE'S A COOL INFOGRAPHIC TO MAKE IT EASY!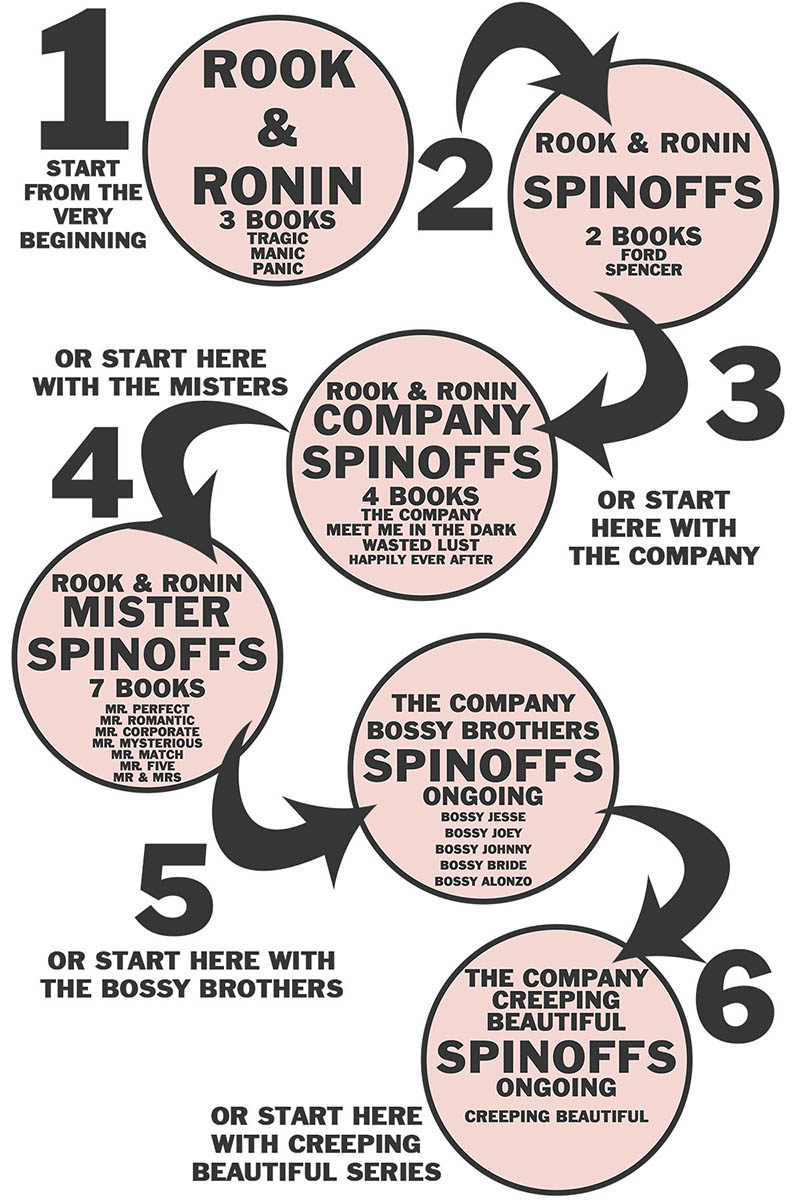 ---
If you're not following my blog make sure you subscribe!
You'll get an email every time I post a new Freebie!
Subscribe to Blog via Email
Join 4,937 other subscribers