AND NOVEMBER IS A WRAP! This year is almost over folks! I know, I can't believe it either. We're about to head into a new decade and I don't know about you, but I'm so ready for 2020!
November was a pretty busy month for me even though I only released one book (The Misters Box Set) and one audiobook (LAdy Luck – Harem Station #3). But I have also been working on a bunch of things behind the scenes so let me update you on all of that right now!
ONE – CREEPING BEAUTIFUL IS ABOUT TO START AUDIO PRODUCTION!
CREEPING BEAUTIFUL – RELEASING FEBRUARY 19 and on pre-order everywhere – was finished last month but then it had to go to my editor for a couple weeks and when I got it back I took about a week to tidy up the manuscript and add a super cool surprise at the end. I thought I was going to save this little revelation for a later book but I realized it was too important to the story so it got a new, better epilogue. 
So now it's with my proofing team and then later this week I'll send it into my audio publisher and we'll get the casting nailed down so we can start production. I'm not sure we'll actually get this audiobook out ON release day, but it won't be a long wait even if we miss it. My audio publisher won't typically get the manuscript to start planning until right before release day. And Creeping Beautiful won't release until mid February, so we have a really nice head start.
And the most exciting thing about this audiobook is that it will have a full-cast narration. This is NOT a "Hey, let's take this book I wrote and do a full-cast with the audio!" No. This book WAS WRITTEN FOR FULL CAST. That means some of the annoying things you see in other full-casts narrations won't be present. Like dialogue tags. There are almost no dialogue tags. If you're not familiar with what a dialogue tag is, it's the "he said," and " she said" tags that go after a character is speaking. And there's special chapters in the "Donovan" point of view that will really make it special. 
It's the longest book I've ever written. Which makes me super excited. If you've been following my End of Month Shits this year you know I took a break from long books in the spring and released some shorter books. And by short, I'm not talking a novella! lol. "Short" for me is like 55,000-60,000 words. Which is actually the average length for a romance book.
But after I did those three books (The Naughty Things Standalone books) I realized that I'm just not a "short writer". I like to write long books. And Creeping Beautiful comes in at 110,000 words (and the EOBS is another 3700) so a grand total of almost 114,000 words. 
I don't know if I mentioned this before but Creeping Beautiful is a standalone book, but also part of a series. There is an ending. And even if I never wrote another book in the series, you would have the answers you need. But I AM WRITING THREE MORE BOOKS  IN THIS SERIES. (for a grand total of Four- at least) And let me tell you, it's a WILD, TWISTED ride.
If you're a long-time fan and have read The Company Series and Spin-off books, then you cannot miss this book. And if you're new to me, you can pick it up right here with Creeping Beautiful. Because this is a whole other side to the story. SCROLL DOWN TO SEE MY NEW READING ORDER GRAPHIC!
Here's a little teaser to get you excited and just a reminder – this book will not be in Kindle Unlimited and is already up for pre-order everywhere at the links below.
Core McKay and I grew up together. He's from Alaska, not Louisiana. His father was an arms dealer for the Company up there and normally that would mean that one day he would take his father's place. Keep the family business going.

But McKay had two older brothers so his future wasn't written in stone. My father and I were up in Alaska when I was ten and McKay was nine to coordinate with another Untouchable Company man about a job that was coming up in the Ukraine.

And I took to McKay. He was as tall as me, even though I was older. And we kinda resembled each other with the light hair, and the light eyes, and the build of our lean bodies back then. So my father bought him for me and he came home with us.

Not to Old Home. Back then this mansion was nothing but an old mess and while we did spend summers there before McKay came, afterward we lived in New Orleans in a big old house in the French Quarter. I didn't go to school, I had private tutors. This was common among the Untouchable families. So when McKay came to live with us I suddenly had a best friend and a classmate, when every day prior to that one, I had been alone.

This is how I know that Nate and Indie will be bonded forever.

She is who she is. Lonely, and sad, and tough, and eager for a friend.

Just like me.

And Nate, though not Company the way McKay was, is just like him.

Desperate for more.

And even though Nathan St. James is only twelve years old, and even though he doesn't know it yet, living next door to Indie Anna Accorsi will be the highlight of his life.

People don't walk away from that.

Just ask McKay.

And this bond is something special.

Just ask me.

I love McKay. I would die for McKay.

If McKay walks away, I go with him.

PRE-ORDER CREEPING BEAUTIFUL NOW!
TWO – BOSSY BRIDE CHRISTMAS RELEASES DECEMBER 18
Bossy Bride Christmas is THE funnest book I've written all year. It's a full-length, rompy, romantic comedy AND it's both the PERFECT WEEDING BOOK AND THE PERFECT CHRISTMAS BOOK.
And you DO NO HAVE TO READ THE ENTIRE BOSSY SERIES TO READ THIS ONE. Just Book One – Bossy Brothers: Jesse.
So if you're behind on your reading, no worries! This is a just fun, laugh-out-loud, totally ridiculous epilogue to Bossy Jesse. This is also available for pre-order everywhere but it will be in KU the week after release. 
LOOK FOR A VERY SPECIAL SNEAK PEEK OF CHAPTER ONE
TUESDAY HERE ON THE BLOG!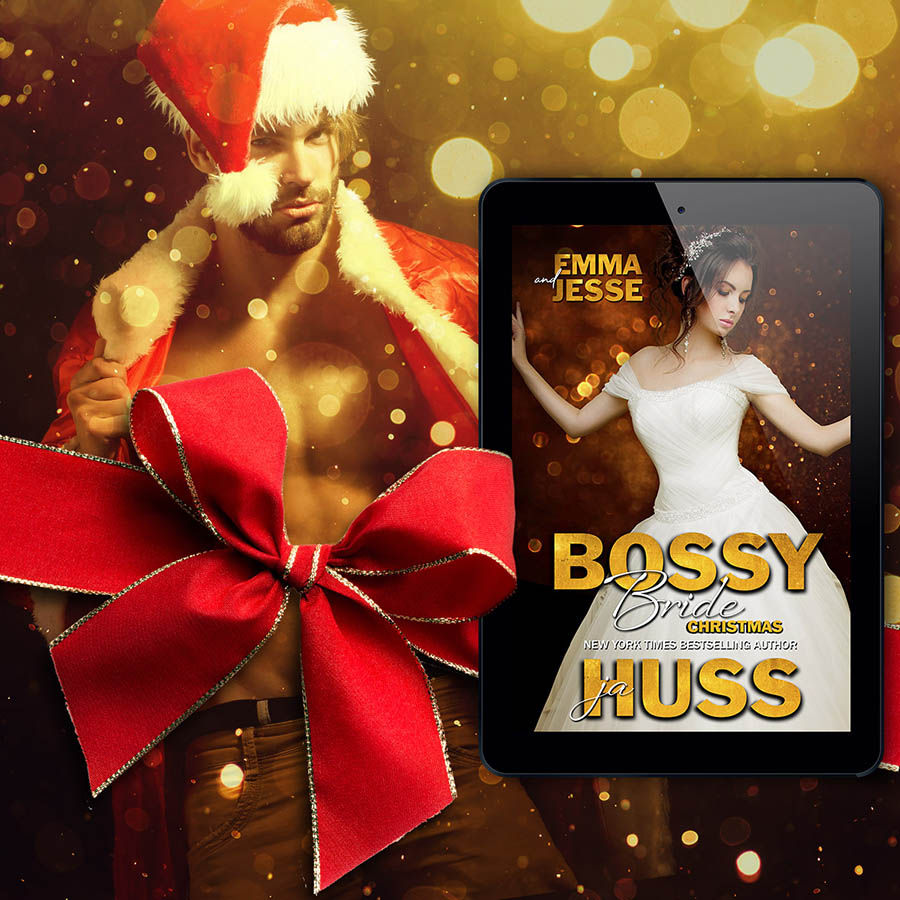 PRE-ORDER BOSSY BRIDE NOW!
THREE – THE MISTERS BOX SET IS ON SALE FOR 1 MORE WEEK!
It was on sale for 99¢ for one day only last week but right now it's still only $5.99 FOR ALL SEVEN BOOKS! Less than 99¢ a book! THIS COMING FRIDAY IT WILL GO UP TO $9.99 until New Year's Eve and then it will disappear. I don't keep box sets for sale all the time like a lot of authors. They are special deals and only happen once in a blue moon. So if you haven't read the Misters yet – GRAB IT NOW!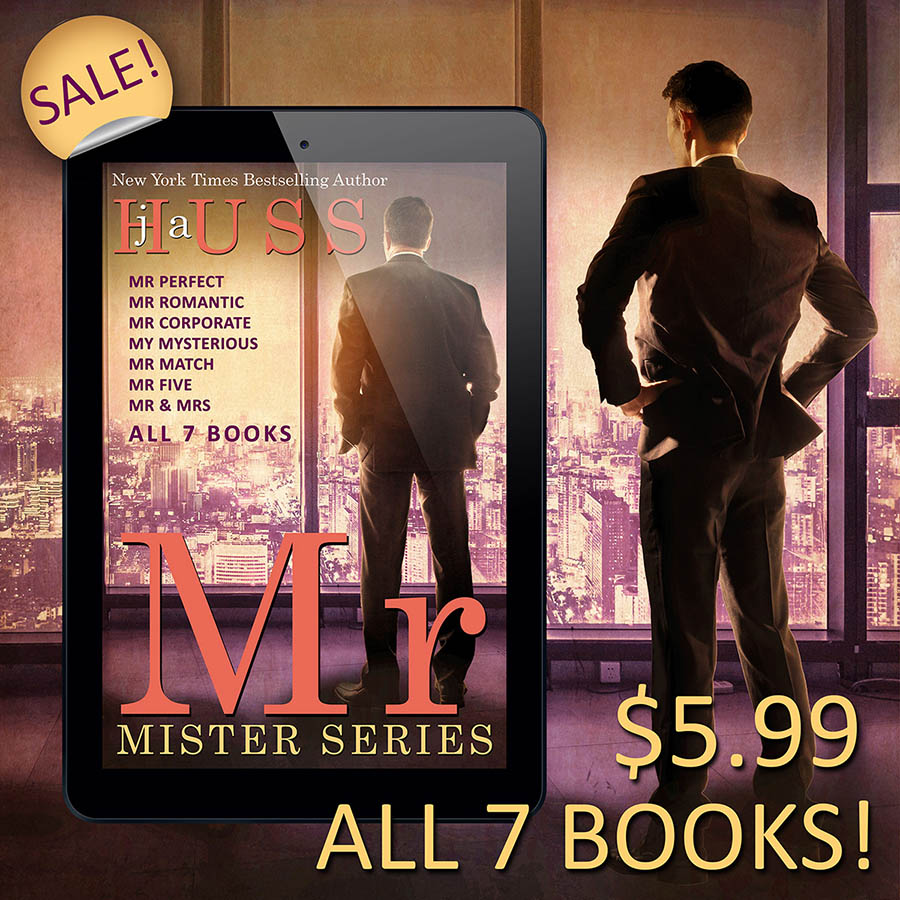 GRAB ALL THE MISTERS TODAY!
FOUR – I HAVE A SERIES READING ORDER GRAPHIC!
This is only for the Rook & Ronin Series, The Company, The Misters, Bossy Brothers, and Creeping Beautiful. I do this for two reasons. One – because all these books, characters, and worlds connect in some way. But there are several ways to enter the series. And because Creeping Beautiful is a spin-off of the Company books (and because all these books go back to the Company in some way) I wanted to make sure everyone was aware of how they all connect and where it's safe to just JUMP IN AND READ, and which books should be read in a certain order. 
So here's the graphic. It's simple, but to the point. And I think it explains a lot. If you have any questions just leave me a comment and I'll answer it here on this page.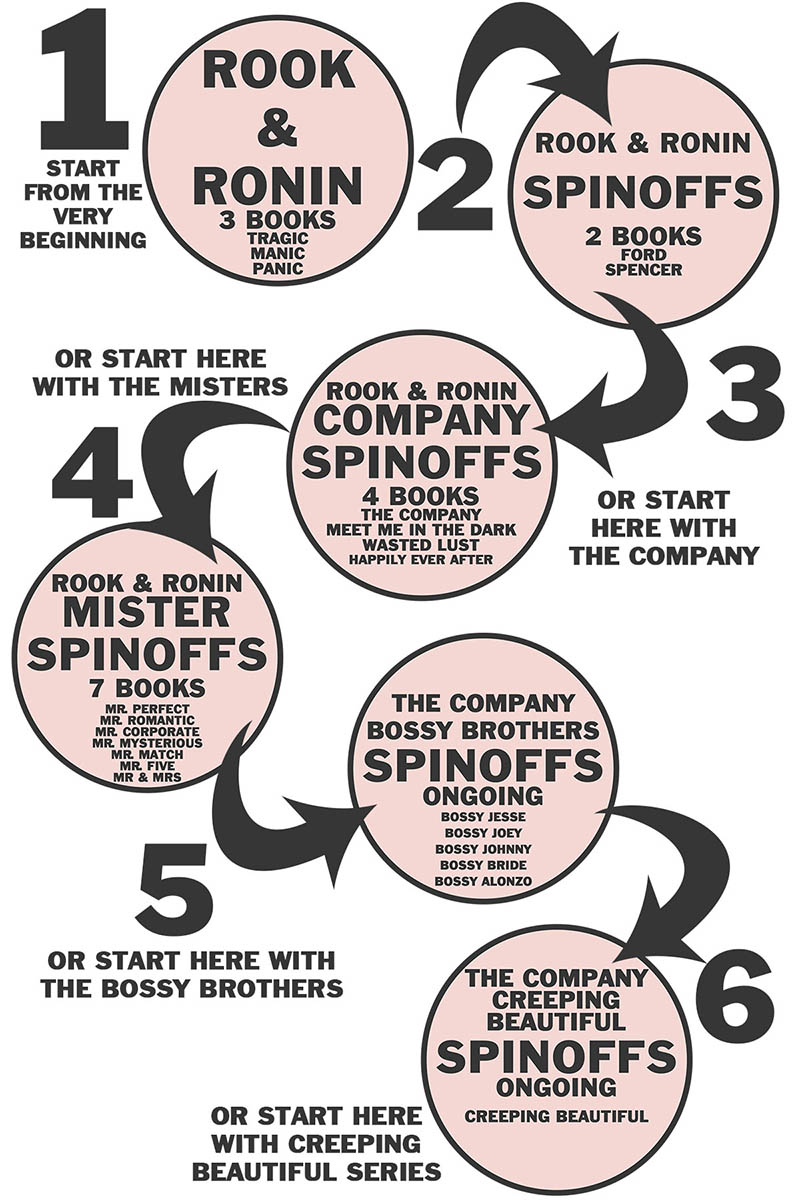 FIVE – MY SECRET PROJECT IS ALMOST READY TO UNVEIL!
I've been working on a secret project for the last couple months and I'm finally almost ready to tell you about it. I told you last month that it was a coffee table book, and it is. But it's a lot more than that. So if your husband, partner, friend, child, grandma etc has been bugging you about what you want for Christmas, this might be a good option. I should have the book in my hands in about a week and then I'll give you all the details!
SIX – BOSSY JESSE EBOOK WILL BE FREE THIS WEEK!
It's in Kindle Unlimited and that's where it will stay for about three more months, but even if you don't have Kindle Unlimited it will be FREE ON AMAZON DECEMBER 4TH through the 8TH! So if you haven't read Jesse yet, GRAB IT WHILE IT'S FREE! Then YOU CAN JUMP RIGHT INTO BOSSY BRIDE and go on the most hilarious Christmas Wedding Adventure ever!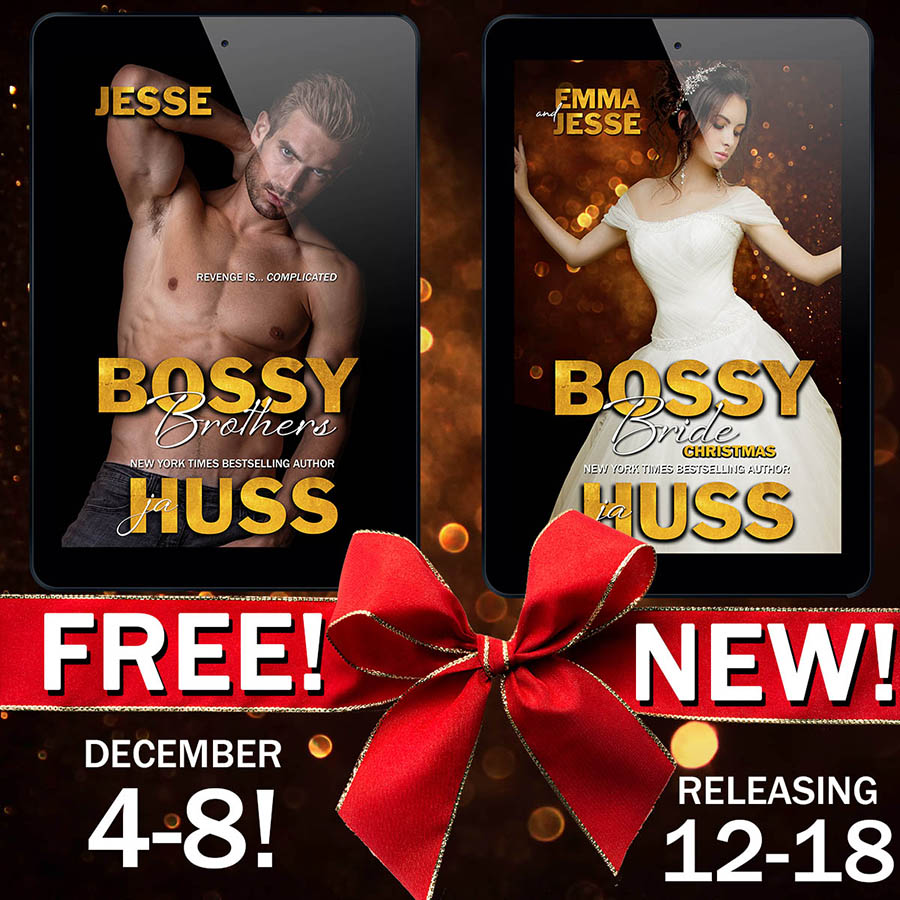 ---

All I have to say about this is… hot! Both of these books are smokin! And they have some of the BEST NARRATORS IN THE BUSINESS!
LADY LUCK RELEASED NOVEMBER 19!
BOSSY BROTHERS: JOEY IS COMING DECEMBER 31!
---
If you're not following my blog make sure you subscribe! You'll get an email every time I post a new Friday night Freebie!
Subscribe to Blog via Email
THANKS FOR STOPPING BY AND I'LL SEE YOU NEXT MONTH!