CONGRATS TO MY WINNER: Brenda Buschmann
You have been emailed – please reply to the email to collect your prize.
(I just realized I never chose a winner for this giveaway when I was pulling a winner for Savage Saints. Sorry I'm so late!)
---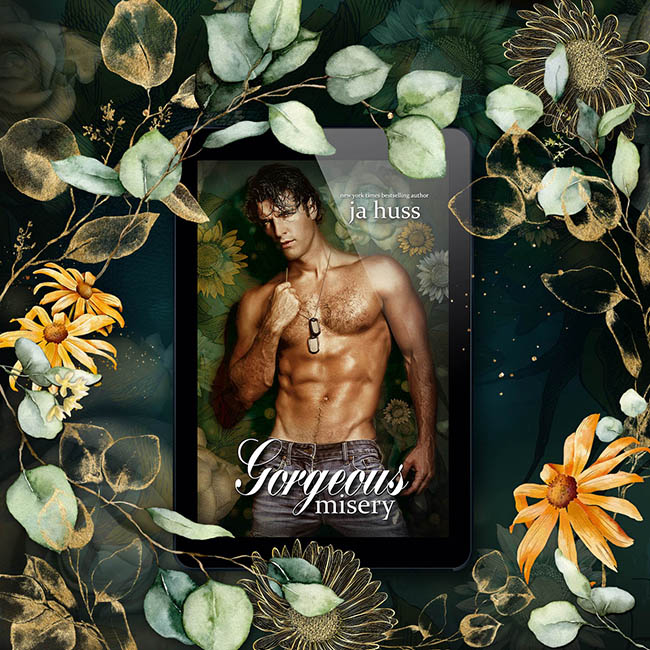 Little Company girls are dangerous creatures—but the women they become are downright deadly.
Adam Boucher is an elite member of a global shadow government called the Company. He and his friends, McKay and Donovan, have been raising Indie Anna Accorsi to be a Company assassin since she was ten. She was trained, and fed, and educated, and loved.
But it wasn't enough.
These little girls are bred for killing and no amount of normal life will ever make them normal.
And now, at age twenty-four, Indie is spinning out of control.
She disappears.
She loses time.
She has no remorse.
She is wild.
And if they want to save her, they need to do it now.
Because if they don't, she just might kill them next.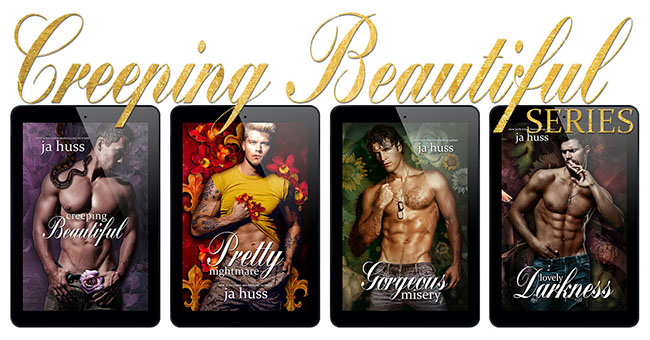 I KNOW YOU'VE BEEN WAITING A LONG TIME for this series to continue–and I appreciate your patience VERY MUCH! Almost no one bothered me about how long this series took. It was very nice. But it's done now. The final two books have actually been done since last fall but the audiobooks were in production and that takes a while because of scheduling. 
This is a COMPANY STORY. And if you're new to me that means it has roots in other books. You can read it without the other books and it's all fine. Most of these characters don't show up in those other books and if you need to know any of the crossover story lines, it's explained. You won't get all the details, of course, but I make sure you get what you need to know. 
I'm going to tell you right now–GORGEOUS MISERY IS A CLIFFHANGER. So if you hate those you can wait two months for the last book to come out. I don't care what people think about cliffhangers, and I get accused of writing them all the time (even though I don't), but if you want to see what a REAL cliffhanger is, here you go. Exhibit. Fucking. A.
Ever since I started writing people in this business have always been trying to tell me how to write, what to write, blah, blah, blah. They always want to give me advice on how to make my books "more popular". But I'm not really interested in being "more popular". If I was, I'd write rom com and call it good. I'd write simple plots, or no plot, with stock characters and set the whole thing in a coffee shop ala "Friends".
But then I'd be writing books I'd never read. And I made a promise to myself way back in 2012. If I was going to write romance then I was going to make sure that the final product would be something I would read. And I don't read rom coms. They're just not 'my thing'. And I don't care for simple plots with stock characters. I like this kind of twisted shit with dark undertones. I like characters who live on the edge of society (or even better, outside of society) because I live on the edge of society. My entire life has been decades of watching the masses do their thing from the cover of trees and I like it that way. I don't want to be popular. I never want to be famous. And I don't get FOMO.
I have lived my life 'my way' and I write books about characters who do the same. 
So even though my stories aren't meant for the 'masses' the way some stories are, that's just fine with me.
And after ten years, and coming up on almost 100 books, why should I care who reads them? I don't. It's all about what you like, right? Not everyone likes my stories but if they were meant for everyone to read, they wouldn't be special.
I have the BEST fans in the entire fucking world.
I write for me and I write for them.
And THIS SERIES is 100% what I'm about as an author. 
Enjoy!
JA Huss






LOVELY DARKNESS RELEASES MARCH 29, 2022

I have to take a moment to do a HUGE SHOUT OUT to all the incredible, amazing, talented performers who helped bring this series to life on audio. It's a true all-star cast of the best-of-the-best narration in Romance Fiction. 
HUGE THANK YOU TO ALL THESE WONDERFUL, AMAZING, TALENTED HUMAN BEINGS!
TEDDY HAMILTON – ADAM
ZACHARY WEBBER – McKAY
AVA ERICKSON – INDIE
SHANE EAST – DONOVAN
JASON CLARKE – NATHAN
HATHAWAY LEE – WENDY
TROY DURAN – MERC
JOE ARDEN – NICK
I don't have the files for Lovely Darkness yet, so I can't give you a sample of that book. But I have the first three here for you to check out.

CREEPING BEAUTIFUL
SAMPLE NARRATION BY ZACHARY WEBBER
NARRATORS: Teddy Hamilton, Ava Erickson, Zachary Webber, Shane East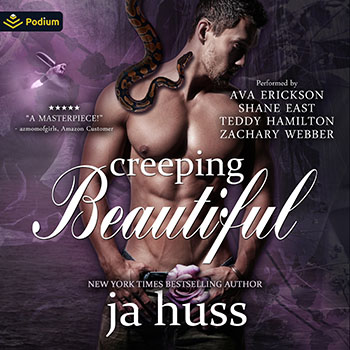 PRETTY NIGHTMARE
SAMPLE NARRATION BY TEDDY HAMILTON
NARRATORS: Teddy Hamilton, Ava Erickson, Shane East, Zachary Webber, Jason Clarke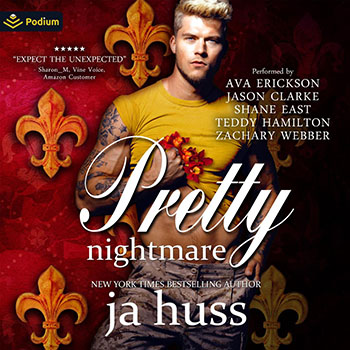 GORGEOUS MISERY
SAMPLE NARRATION BY JOE ARDEN
NARRATORS: Joe Arden, Hathaway Lee, Troy Duran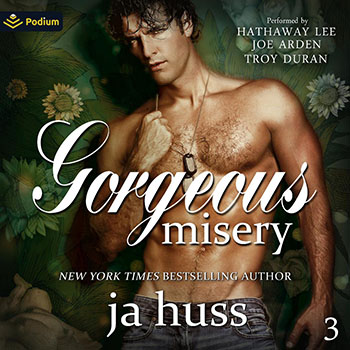 LOVELY DARKNESS is not up for pre-order just yet (but will be soon!) but here are the narrators: Teddy Hamilton, Ava Erickson, Joe Arden, Troy Duran, Shane East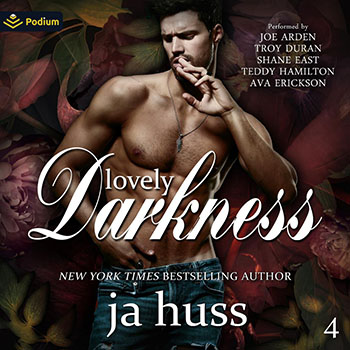 DON'T FORGET TO ENTER THE GIVEAWAY!

I was going to do a really big giveaway with lots of paperbacks but I have no clue when these paperbacks will show up. Shipping is a fucked-up mess right now. So I'm just going to put up a gift card for this giveaway and then I'll do something big and special once the last book releases in March. 
TO ENTER TO WIN A $50 GIFT CARD LEAVE A COMMENT BELOW AND ANSWER THIS QUESTION:
What are your plans for spring? Got any? Looking forward to anything this year?
I will choose one winner on February 15, 2022.
Winner will be notified via the email they use to leave the comment.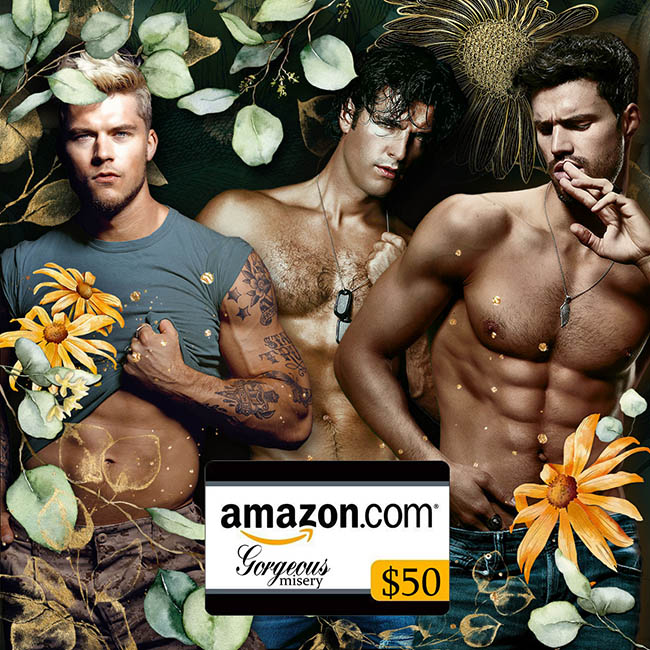 I actually have a shit-ton of things coming up for spring and summer and almost none of them are about books. 🙂 I'm finally settling in to this piece of land I bought almost five years ago. They always say when you buy a big piece of land you should live on it for a while before you make changes so you can get to know it better. I'm going to pretend that's why I've waited so long. lol
But this is the year I get my shit together. I have chicks coming in March so I will be building and painting my coop for them soon. I'm exited to raise chickens again and they are all egg layers, so I won't ever have to buy eggs again.
I have dairy goats coming sometime this spring–the breeder is going to pick them out for me, so I'm not sure which goat I will get or when they will be born. But I'm getting ready for them by building a new fence that will go up in March and I ordered a custom goat shed that will be delivered around the same time. 
And I have bees coming in May. I have always wanted to raise bees so I decided, why not just jump in to this farm life feet first and get them now. I already have the hive and I'll be painting that soon. I am not allergic to bees and I am not afraid of bees, but I really enjoy them. This property has thousands of bees that buzz around all summer. I can't even name the number of different kinds. But I want to harvest my own honey, so I need my own bees.
Also, I will have a section of the ranch devoted to raised-bed gardening. I will only have five of them because to be honest, I'm not very good at gardening. But I'm gonna give it a try this year so I can have a constant source of tomatoes and cucumbers all summer. Maybe pumpkins too. I'd have to plant those in the field outside my new fence, and we have a LOT of deer. So maybe I'll just do a couple this year to make sure the deer don't destroy them.
It sounds like a lot but really, all this stuff will fit on about an acre. And I have almost forty of them, so it's only a teeny, tiny part of my property. 
But I will also be writing. I'm hard at work on Savage Saints right now. It's been up for pre-order since last year and will release on time on April 26, 2022. But the audiobook won't be out until maybe August? I'll keep you posted on that. 
So that's my spring. It's going to be very busy but I'm excited that I finally have time to turn this land into what I envisioned when I bought it.
Welp, that's what I'm up to. I hope you guys are all hanging in there. I know this year is already starting to look like a shit show, but I still think it's going to get better. 
THANKS FOR STOPPING BY!