THE FRIDAY NIGHT FREEBIE IS BACK!
The Friday Night Freebie is super simple. The giveaway starts every Friday afternoon (usually between 3-4 PM Mountain Time) and it ends Monday at 12:01 AM. Winners are chosen and announced on Monday. Very short giveaway. Super fun thing to do real quick.
Your chances of winning are pretty high because this ONLY runs on my blog. No other blogs host it so there won't be very many people entering.
YOU DO NOT HAVE TO DO "ALL THE THINGS" IN THE RAFFLECOPTER. You enter the way you like best. So if you don't want to join a newsletter list – DON'T. If you don't want to share a post on Facebook, SKIP IT.
None of it is required. As long as you enter at least one way, you're eligible to win.  And there is ALWAYS a very simple "Leave a comment" option. I love comments! 
---
IF YOU ARE A ROMANCE AUTHOR and would like to co-sponsor a FRIDAY NIGHT FREEBIE with me, feel free to fill out this form!
---
THIS WEEK'S PRIZE IS:
HANDCRAFTED JOURNAL
OUT-OF-PRINT SIGNED COPY OF TOTAL EXPOSURE
OUT-OF-PRINT SIGNED COPY OF EIGHTEEN
MAKE-UP BAG AND STICKER
I made an all-new design for the journal this week. I was stuck on the color yellow. So this week's Friday Night Freebie is all about yellow! I have the new journal (see pics below), and out-of-print yellow copy of Total Exposure, the out-of-print-yellow cover of Eighteen, a cute little wool make-up bag, and a JA Huss sticker. 
There are also THREE BONUS GIVEAWAYS at the bottom of the post so make sure you check them out. 
AND BOSSY JOHNNY RELEASED YESTERDAY! THE WHOLE TRILOGY IS NOW FREE IN KINDLE UNLIMITED! GRAN IT HERE.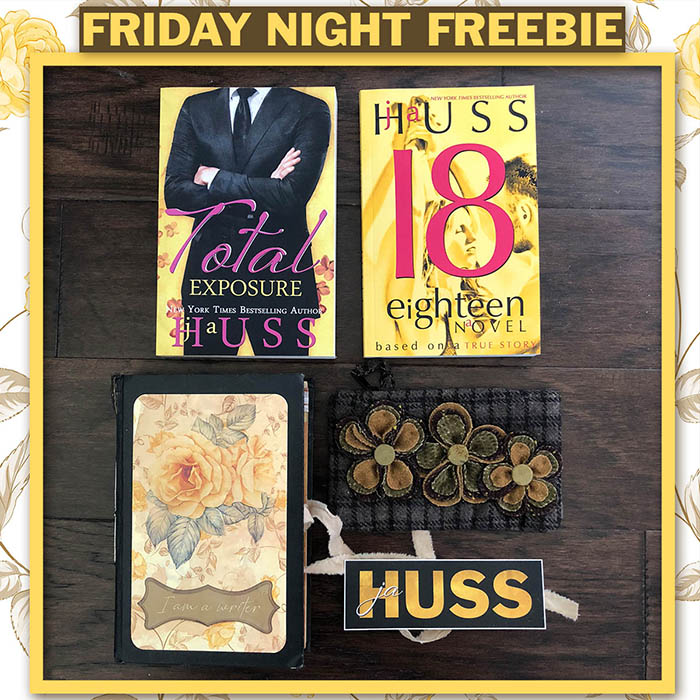 Peek at the journal pics below and then enter the giveaway!
(click on them to make them open full size – then hit the back button to return to giveaway!)
GIVEAWAYS ARE ALWAYS OPEN INTERNATIONAL!
Winners are picked at random using the Rafflecopter app. NO INFORMATION on the Rafflecopter will EVER be shared with another party. Nor will I ever use your private information in way you have not authorized. i.e. I will NOT be secretly adding you to my email list! 😉
---
If you're not following my blog make sure you subscribe! You'll get an email every time I post a new Friday night Freebie!
Subscribe to Blog via Email
Join 4,937 other subscribers
---
ENTER THE GIVEAWAY
EVERYTHING IS OPTIONAL
ENTER THE WAY YOU LIKE BEST!
---


---

---

---
MY NEWEST RELEASES AND PRE-ORDERS!
MANY ARE FREE IN KINDLE UNLIMITED!
Thanks for stopping by! Come back soon!