I had  THREE COVER REVEALS this week because I put two pre-orders up for the Bossy Series and this one here for a brand new book releasing in February called CREEPING BEAUTIFUL. Of the two Bossy books only one got a proper blog post, Bossy Bride (because the Bossy Brothers: Alonzo pre-order didn't go live on time so I just said fuck it and put up the announcement in Shrike Bikes!) lol So that means Bossy Alonzo didn't get his own giveaway. But I will put it up next week and all will be well in the world!
AND – the FRIDAY NIGHT FREEBIE IS GOING UP RIGHT AFTER THIS POST! I didn't forget about that! (I will link it here when it goes live!)
I explained a lot about Creeping Beautiful in the Bossy Johnny END OF BOOK SHIT (This Johnny book went LIVE yesterday, by the way!) And I'm not going to explain all that stuff here in this post. But I will say this – CREEPING BEAUTIFUL is a COMPANY book. HOWEVER there are four NEW characters and none of the previous story really has any impact on this new story EXCEPT that there are a few OLD characters from the Company (Nick Tate and Sasha Cherlin) who will appear in the story from time to time. 
THE STORY IN CREEPING BEAUTIFUL IS NOT CENTERED ON NICK. I need to spell that out. Or SASHA. They are very secondary to the four main characters who are: McKay, Indie, Adam, and Donovan. This is a MMFM (kind of reverse harem), though it's NOT like Bossy Joey was. It's much more like Taking Turns.
The Creeping Beautiful story is a TWISTED, GUT-WRENCHING, ROMANTIC, EROTIC, DARK, INNOCENT, SATISFYING, SWEET, HEART-POUNDING romantic suspense.
These four characters love each other FIERCELY. They were a tight team at once time (and if you read Bossy Johnny you will learn more about that because some of this story starts there. If you choose not to read Bossy Johnny, it's all good. You won't miss anything in Creeping Beautiful.) But then shit happened and they fell apart. And well… that's all I'm going to say for now. I'll let you read the blurb, look at the cover, and enter the giveaway!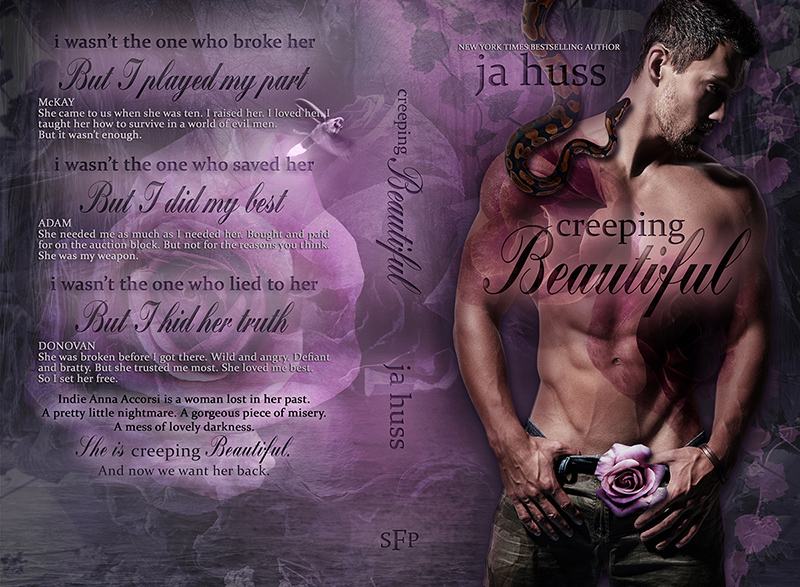 Creeping Beautiful
By JA Huss
Romantic Suspense
Publishing February 19, 2020
EBOOK ISBN: 978-1-950232-20-8
DESCRIPTION
McKAY
I wasn't the one who broke her but I played my part.
She came to us when she was ten. I raised her. I loved her. I taught her how to survive in a world of evil men.
But it wasn't enough.
ADAM
I wasn't the one who saved her but I did my best.
She needed me as much as I needed her. Bought and paid for on the auction block. But not for the reasons you think.
She was my weapon.
DONOVAN
I wasn't the one who lied to her but I hid her truth.
She was broken before I got there. Wild and angry. Defiant and bratty. But she trusted me most. She loved me best.
So I set her free.
Indie Anna Accorsi is a woman lost in her past.
A pretty little nightmare.
A gorgeous piece of misery.
A mess of lovely darkness.
She is creeping beautiful.
And now we want her back.
---
GIVEAWAY
Everything is optional.
Enter the way you like best!