Well, it was yet another super-busy month. I was so busy this month I forgot to tell you about TWO AUDIOBOOKS that released. So I will do that below.
Mainly my September was spent finishing up the Bossy Brothers: Johnny book which, when all was said and done, came in at just about 97,000 words. I had a lot to say about that guy! Actually, it more about the world the Bossy Brothers takes place in and how it will continue and connect with the Dumas Brothers – which will start releasing with ALONZO in January 2020 – AND a brand new book called CREEPING BEAUTIFUL that will release in February 2020. (See the cover, read the blurb, and enter the giveaway for Creeping Beautiful HERE)
Things are getting twisted up once more. I had taken a pretty long break from my flagship world of Rook & Ronin, The Company, and The Misters over the past couple years to write some Julie & Johnathan books, some short series, and a few standalones.
But we're back now. Bossy Brothers has "officially" crossed over into the Company world. Whether or not the Rook & Ronin crew will show up remains to be seen. The timeline works for me now and that was always the biggest issue. And I never get tired of writing about the Shrike Family so there is a good chance that will happen at some point.
I'm very excited to continue the Bossy world with a Christmas Wedding book releasing in December (Bossy Bride: Emma & Jesse) and the first of three Dumas Brothers books. And then sometime next year I will write a book about Zach Boston. From there, I'm not sure. I plan on letting the Creeping Beautiful world consume all my thoughts for a while. I'm just that enthralled with it. I wrote a pretty detailed End of Book Shit in the Johnny book about all this so make sure you pick that up and read it.

Johnathan and I have started our second draft of our pilot show and things are going pretty great in that little corner of my world. We had a call yesterday afternoon to discuss some details of the script. Oh, and even though Johnathan has quit Facebook (this was not out of the blue – he's been talking about it for months) we're still in contact and busy. Writing for Hollywood is just a whole lot of hurry up and wait. You make a thing, you show that thing around, take phone calls and meetings, get notes. Always, there are notes. You make changes to the thing. Have more phone calls. Get more notes. It's a long process. But we're still moving forward, it's not dead, and that's about as good as it gets in Hollywood writing until you sell a thing, and then all that waiting, and calls, and meetings, and notes starts all over again until the next step happens. And it all just pretty much takes forever.
But Johnathan is busy doing a bunch of other projects and I'm busy doing a bunch of other projects, so that's fine. We will fill our days with other things while we wait.
Namely – we are talking about the LOVENOTES PODCAST AGAIN! No schedule as of yet but we will be setting up new author interviews soon and maybe a narrator or two? I would love, love, love to interview some narrators but we haven't talked too much about that yet. So we'll see.
ALSO – BECAUSE SO MANY PEOPLE HAVE BEEN ASKING ABOUT THE CIRCLE (Shape of Love Book 3) we talked about it yesterday and are hoping to be able to start writing it in JANUARY. We really wish we had time to get into this right now, but we just don't.
So that book IS COMING! WE PROMISE!
And I cannot believe it's freaking October today. Here on my little 36 acres of Colorado we had a pretty intense winter last year. I don't think we've had that much snow since like 2002, maybe? LONG TIME ago. We got dumped. Just dumped. And the snowmelt really fucked up my dirt driveway. So that JUST got fixed a couple weeks ago and now we're setting up our hay delivery, and putting the lawnmower to bed, and looking at the weather in the mountains wondering when our first snow will come. They are already getting snow up there and that means we are not that far behind (we sit at @7200 feet) so damn. Not much of a break here! I really hope there are no bomb cyclones in our future this winter.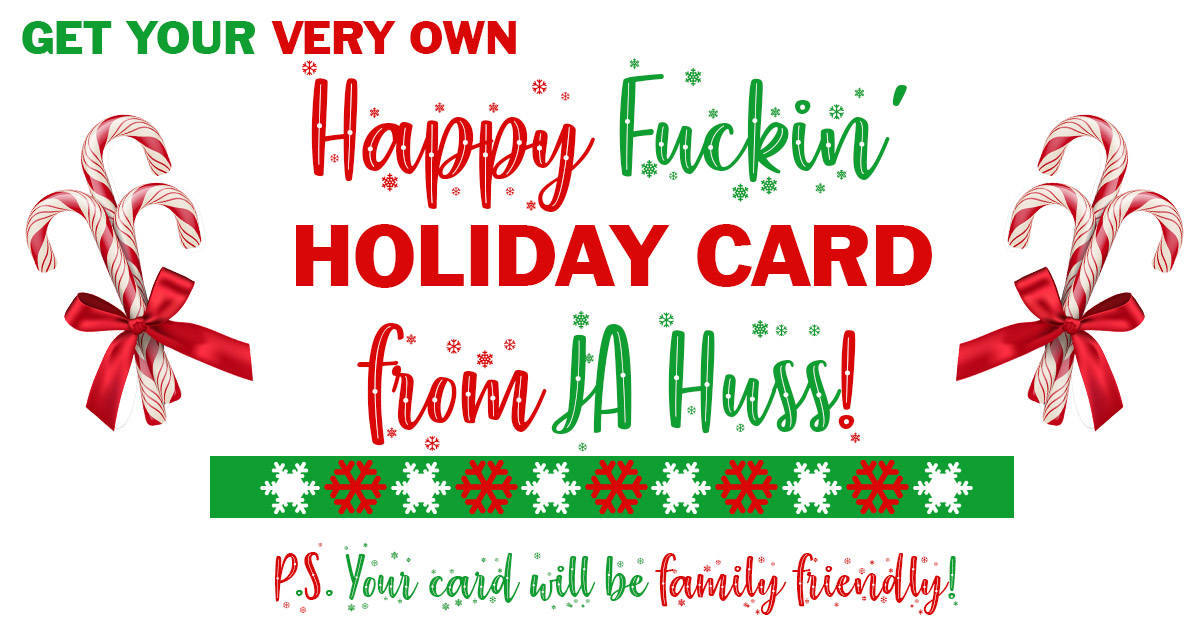 And the holidays are just around the corner so I put up a holiday card request form a couple days ago. I already have over 500 people on my holiday card list as of this morning so I will be closing this form down tonight. I really didn't think it would fill up so fast, BUT THANK YOU ALL for wanting a card! It makes my cold, black heart happy to know this! As of the time of this blog posting the form is still open – so if you want a card from me this December sign up TODAY!

In September I released one ebook and two audiobooks. Bossy Brothers: Johnny completes the Boston Brothers trilogy and sets up for the Bossy Bride Wedding book in December and the Bossy Alonzo book in January. Bossy Bride is not a mystery, it's just a fun rom-com wedding book. And Alonzo will start a new storyline in the Bossy world and it too will be a lighter read with the majority of the mystery and suspense coming in the later Dumas Brothers books in 2020.
TRILOGY COMPLETE!
READ FREE IN KINDLE UNLIMITED!
BOSSY BRIDE & BOSSY ALONZO BOTH ON PRE-ORDER NOW

September audio releases were BIG DICKER (book 3 in the Harem Station series) with Tad Branson (AKA Johnathan McClain) and Anne Pepperidge narrating. BIG DICKER ALSO INCLUDED the FREE Starcrossed novella audiobook at the end. The novella audio is also free over at the Audfans website, but this is just makes it easier to listen to it though Audible. Just skip ahead to the last chapter (that is like 2 hours long) and the Starcrossed book will play.
I also released WILD THING (book 3 in the standalone Naughty Things series) with Christian Fox and Emma Wilder narrating. Remember – ALL three of the Naughty Things books are complete standalones. There is no reason at all to listen to or read them in order. They do not crossover.

In October 29 I'm releasing Bossy Brothers: Jesse (Book One in Bossy Brothers Series), with Teddy Hamilton and Ava Erickson narrating. No pre-orders for that yet, but I will keep you posted. I just got the release date for Lady Luck – Book Four in the Harem Station Series and that will be NOVEMBER 19 with Jacob Morgan and Emma Wilder narrating that crazy couple! 


And on October 21 VEILED VIXEN (Harem Station Book 6) will release in ebook and paperback. I'm just finishing up this book this week and getting ready to send to the editor on Friday. THE ENTIRE HAREM STATION SERIES IS FREE TO READ IN KINDLE UNLIMITED!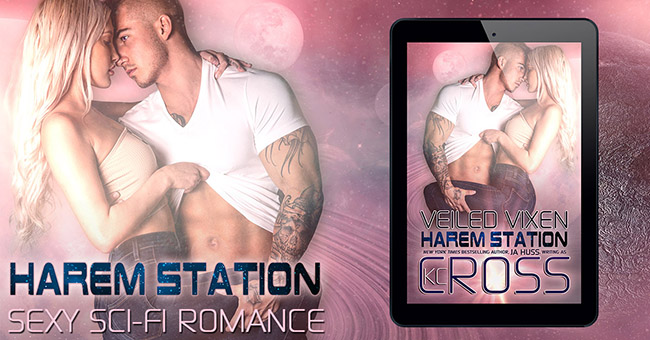 I also have THREE OPEN GIVEAWAYS AT THE MOMENT. All of which you can enter by clicking the links below. And the FRIDAY NIGHT FREEBIE this week will be AMAZING! So don't forget to drop by and enter that. I don't send a newsletter every week. I'm just really bad at newsletters. But if you fill out the form below and follow my blog you'll be notified every time a Friday Night Freebie goes live.
If you're not following my blog make sure you subscribe! You'll get an email every time I post a new Friday night Freebie!
Subscribe to Blog via Email
---

Also, if you're a romance author and you filled out my form to co-sponsor a Friday Night Freebie with me, I will be sending out an email this week (or maybe next) about scheduling those. If you're a romance author and have not filled out the form, but would like to co-sponsor a FNF with me, you can fill it out HERE.
I WILL BE STARTING A NEW AUTHOR TIPS SERIES SOON! 
---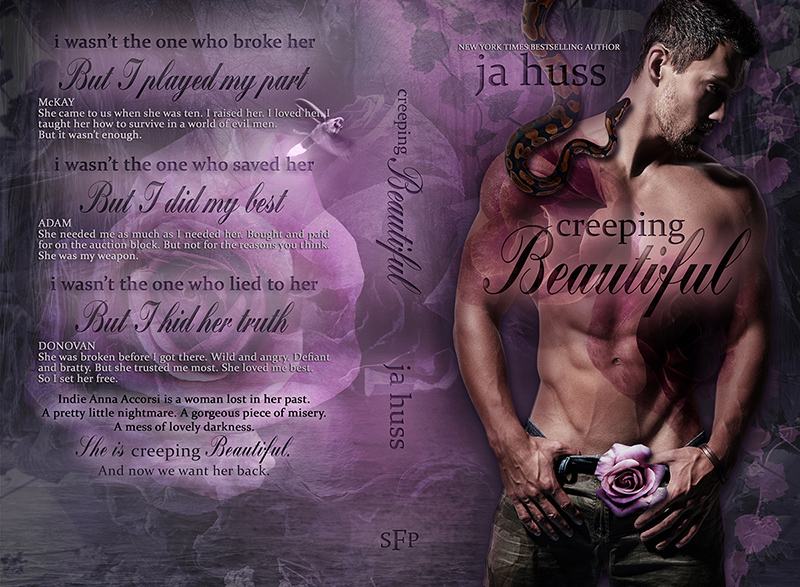 If you're a huge fan of my books 321, Company, and/or Taking Turns series I want you to know that CREEPING BEAUTIFUL is A BOOK YOU WILL NOT WANT TO MISS! I will have an advanced reader copy sign-up form in December for those of you who are into leaving reviews, and I have some very special things coming in the way of gift boxes that will be announced in December too.
Lots of fun coming and I can't wait to share it all with you!
But I think that's it for my month wrap up for now. November will be here before you know it so I'll talk to you all again soon!
P.S. If you'd like to chat with me I'm always available in my Facebook fan group called Shrike Bikes. Just ask to join and someone will add you as soon as they see your request.
Have a fantastic October!
Julie
JA Huss
P.P.S. – don't forget to enter the open giveaways below!

---

---

---
MY NEWEST RELEASES AND PRE-ORDERS!
MANY ARE FREE IN KINDLE UNLIMITED!