GIVEAWAY IS NOW CLOSED!
The winner of the IN TO HER Prize is: Brenda Buschmann
Please check your email!
---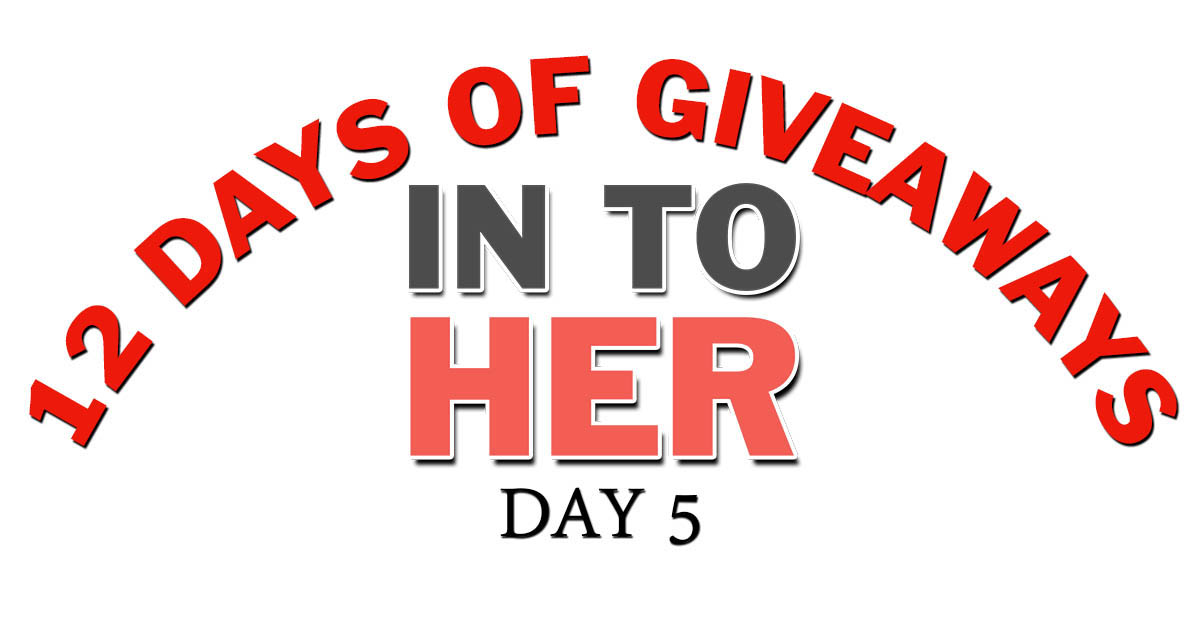 TODAY'S GIVEAWAY IS AN ANGST-Y DARK EROTIC ROMANCE WITH AN UNEXPECTED ENDING.
When AJ and Logan walked into Yvette Nightingale's bar they didn't expect to be there long. They certainly didn't expect to be dancing with her, or having sex with her, or spending the night with her after getting snowed in at her mountain top bar.
Because they were sent there to kill her.
Not fall for her.
Not feel sorry for her.
Not want to take care of her, or protect her, or be in to her.
But sometimes people enter your life for a reason. Sometimes they even enter at the very moment you need them most. And Yvette Nightingale needs AJ and Logan.
She needs them even more than they need her.
In To Her is 320 pages of dirty smut, fantasy scenes with erotic toys, MFM and MMF ménage, and an angst-y HEA that will leave you guessing until the very last page. (This is not a love triangle).

---
CHECK OUT AN AUDIO SAMPLE FROM TEDDY HAMILTON!
BUT BEWARE – THIS SAMPLE IS NOT SAFE FOR KIDS!
AUDIOBOOK is not free, but it is Whispersynced on AMAZON (So you can get it for $7.49 if you already own the eBook) and available at AUDIBLE and APPLE.
---
HERE IS THE 'IN TO HER' PRIZE!
1. Signed Hardcover of In To Her.
2. Japanese Cherry Blossom Hand Cream
(from Bath and Body Works)
3. Delightful Holiday Soap
(from Basin – my favorite skin product store!)
4. $25 Amazon Gift Card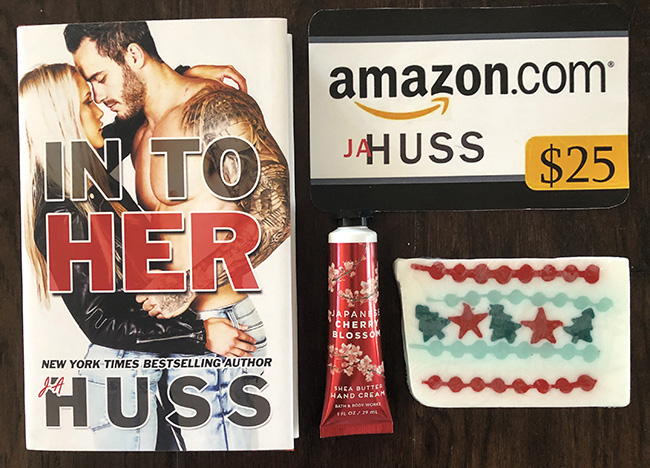 ---
AND HERE'S HOW TO ENTER TO WIN:
(1) MAKE SURE YOU ARE FOLLOWING my Facebook Author page HERE
(2) LIKE, SHARE, AND COMMENT on ANY post on my Facebook Author Page.
(3) COMMENT HERE on the blog (below) and tell me which post you did that on. 
WINNERS FOR ALL GIVEAWAYS will be chosen on December 14 and announced on FB, IG, my fan group, my blog, and my newsletter. All gifts will be mailed on December 15th with priority mail, so hopefully you get them before the big day. ALL MY GIVEAWAYS ARE ALWAYS OPEN INTERNATIONAL.
---
TOMORROW'S GIVEAWAY prize is a DELICIOUS TRAGIC GIFT SET!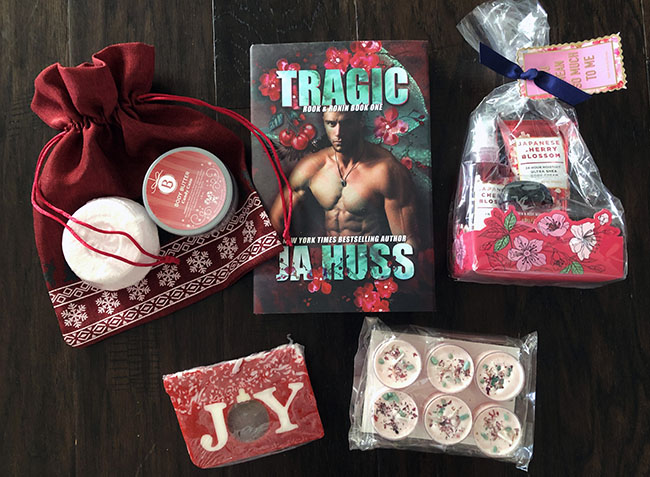 ---
Thanks for stopping by!
See you tomorrow!