GIVEAWAY IS NOW CLOSED!
The winners of the BULLY KING Prize are:
3-month subscription to audiobooks.com #1 – Sharon Marzola
3-month subscription to audiobooks.com #2 – Crystal Zapata
BULLY KING PRIZE – Abby Evans
YOU HAVE BEEN EMAILED!
---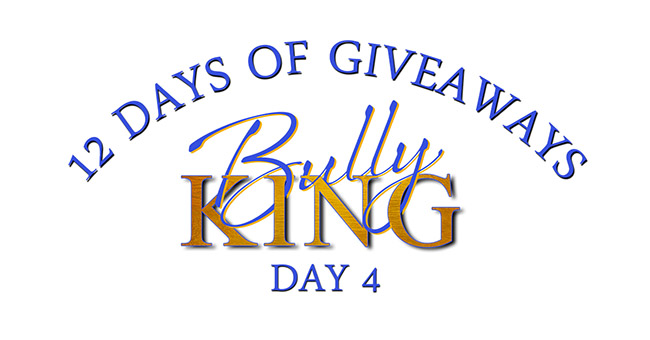 TODAY'S GIVEAWAY IS ALL ABOUT THE BULLY KING!
This was my first Bully Romance and I loved writing it. And don't even get me started on how much I love the absolutely PERFECT narration by Jacob Morgan and Emma Wilder. I have a sample for you below. This is a twisted story of one young man's journey of redemption and one young woman's journey of belonging. And if you haven't read this book, and you THINK you have an idea of what it's about, YOU DON'T.
It's twisted. And yes, you WILL hate Cooper Valcourt. And then you will love him. 🙂
High Court College isn't for everyone. And the secret society that meets deep in the woods is even more exclusive. Only a select few will get in during the summer rush–and Cadee Hunter wants to be one of them. Too bad it's Cooper Valcourt's mission to make sure she fails.
Bully boys.
Arrogant tyrants.
Blue-blood bastards.
Call them whatever you want.
Around here, we just call them Kings.
Fancy boats.
Lakeside mansions.
Luxe watches and bespoke suits.
The Kings of High Court College act like Gods.
And Cooper Valcourt is the worst of them.
He is the bully king.
His family owns everything.
And his mission is to put me in my place and send me packing.
But Cooper and I have a history filled with secrets.
And everyone knows that power doesn't come from having money.
It comes from holding secrets.
And I'm holding one of his.
A very dark secret that can bring him to his knees.
*****
Bully King is new-adult, dark, bully romance from New York Times bestselling author JA Huss featuring boys with power and girls at their mercy. It's a campus shrouded in lies and a summer rush into an elite society that can propel a poor girl straight into the ruling class.
If… she's willing to pay the price.
READ IT FREE IN KINDLE UNLIMITED OR BUY IT ON AMAZON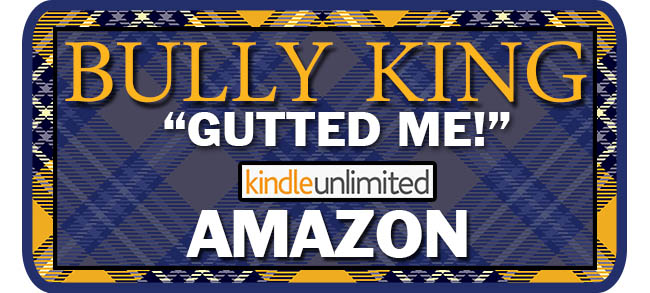 ---
So there has been MAJOR FUCKERY afoot over at Audible and ACX. If you're not aware of what ACX is, it's the place where Indie Authors upload their audiobooks to distribute on Audible and Amazon. The way they are cheating Indie Authors over there is rather disgusting. I'm not going to get in to it here, because the 12 Days of Giveaways is all about being happy, and no joy comes from fuckery.
But if you want to know what's going on in the world of Indie authors and Audible, you can read these two blog posts by author, Susan May.
The bottom line  is – AUDIBLE IS BEING DISHONEST WITH INDIE AUTHORS.
And I would like to offer up an alternative to Audible called AUDIOBOOKS.COM. It's just like Audible in a lot of ways. But unlike Audible, they are not out to fuck over Indie Authors. And to get you interested in this new audiobook store I'm going to ADD TWO 3-MONTH SUBSCRIPTIONS (worth $45 each) to the DAY 4 GIVEAWAY!
---
HERE IS THE BULLY KING PRIZE
THREE WINNERS
1. Signed paperback of Bully king
2. Bully King sticker/magnet set
3. Bully King candle (Cashmere Plum Scent)
4. Ruling Class candle (Oakmoss & Amber Scent)
5. Frosted Coconut Snowball soap
from Bath & Body Works
PLUS TWO 3-MONTH SUBSCRIPTIONS TO AUDIOBOOKS.COM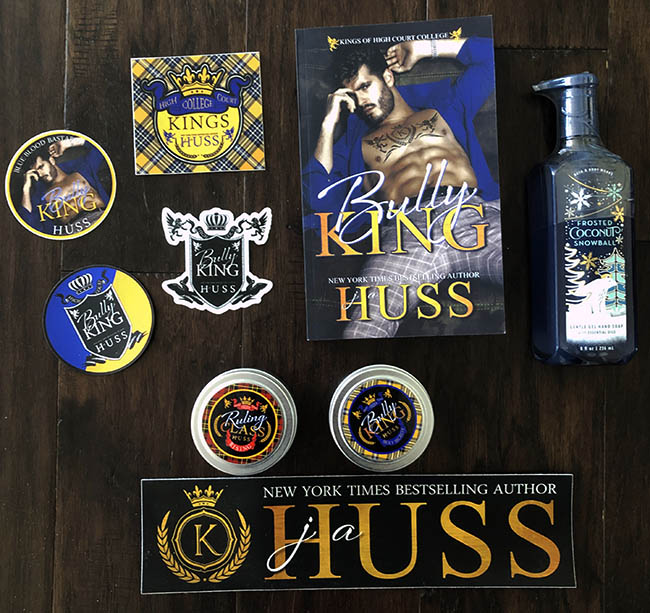 Not sure of Bully King is your kind of Book?
How about a free one-chapter sample?
Click the pic below and check out Jacob Morgan's amazing narration of Cooper Valcourt.
WITH YOUR 1-MONTH FREE TRIAL AT AUDIOBOOKS.COM
THREE PRIZES and THREE WINNERS for today! The Bully King Prize, plus two 3-month subscriptions to audiobooks.com.
By the way – you can get your own 1-month FREE Subscription over at Audiobooks.com right now. No need to win anything! You get a FREE credit if you sign up AND you can download the Bully King. (That's not an affiliate link. I don't use affiliate links. Ever. When I recommend something to you, it's because I like something and it's never about making money.)
---
AND HERE'S HOW TO ENTER TO WIN TODAY'S PRIZES:
(1)  COMMENT HERE ON THE BLOG (BELOW) JUST AND TELL ME IF YOU'RE AN AUDIOBOOK LOVER! And if you are, tell me what is the best audio you've listened to this year.
WINNERS FOR ALL GIVEAWAYS will be chosen on December 14 and announced on FB, IG, my fan group, my blog, and my newsletter. All gifts will be mailed on December 15th with priority mail, so hopefully you get them before the big day. ALL MY GIVEAWAYS ARE ALWAYS OPEN INTERNATIONAL.
MY FAVORITE AUDIOBOOK THIS YEAR…
OK, so if you know me, you know I don't really read romance. I write so much romance that when I read I want something different. And I'm a young adult fan! haha. I know that's kinda stupid since I write some pretty erotic books, but I just really love the young adult sci-fi and fantasy stories. So that's what I gravitate to. 
And I wasn't sure I would have a favorite audiobook this year. I've listened to some pretty good ones but they weren't BEST OF THE YEAR kind of books.
And then… THEN…
THEN… The Invisible Life of Addie Larue by VE Schwab came along. And I didn't really think I would like this book because I'm not that interested in historicals. BUT this book is told on two timelines – one in historical France and one in contemporary New York. And I LOVED the historical part so much. I have listened to this audiobook 3 times and it just came out like a month ago. And it's fucking long too. 
This is a romance between the darkness and a girl who craves freedom.
And it is SPECTACULAR. 
So THE INVISIBLE LIFE OF ADDIE LARUE by VE Schwab  is my best audiobook of 2020. The narration by Julia Whelan is fucking amazing. She is at the top of her game in this performance.
---
TOMORROW'S GIVEAWAY IS AN IN TO HER PRIZE PACK!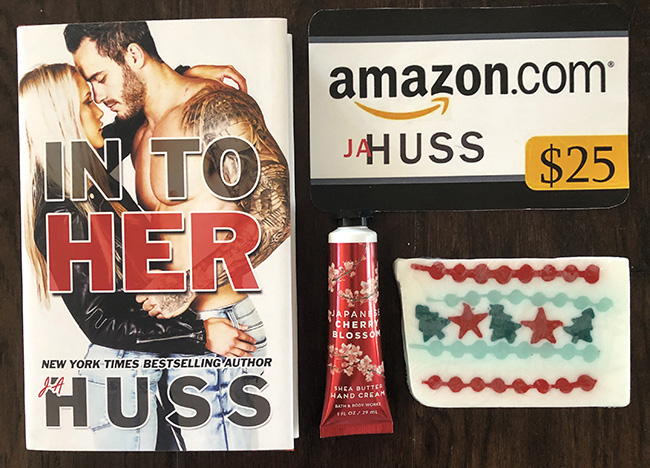 ---
THANKS FOR STOPPING BY TODAY!
SEE YOU TOMORROW!