GIVEAWAY IS NOW CLOSED!
The winner of the BOOTY HUNTER Prize is: Sandra Ramirez
Please respond to the PM I sent you from my personal FB profile with your mailing address.
---

I have THREE MAJOR THINGS to tell you about today!
1. Uncrossed Cover Reveal and Giveaway
2. Booty Hunter is FREE EVERYWHERE!
3. Giveaway Day 10!
---

UNCROSSED
By JA Huss and KC Cross
HAREM STATION #7
Publishing January 26, 2021
Sci-Fi-Alien Romance
 
Princess Corla was supposed to be my soulmate.
But we were star crossed.
Two ships passing in the dark. Meant to be together, but never able to be together.
At least that's what I thought.
But it turns out—my life is a lie, evil forces are out to get us, Harem Station is spinning chaos, and the soulmate bond won't protect us.
Sounds pretty bad, right?
But here's the best part.
I can change it.
I can change all of it.
If I can just find a way to get myself uncrossed.
Uncrossed is the last book in the Harem Station Series and features a man chasing his star-crossed soulmate through time, a bazillion enemies at the gate, an entire station in chaos, and an explosive ending that proves, once and for all, that love WINS in the end.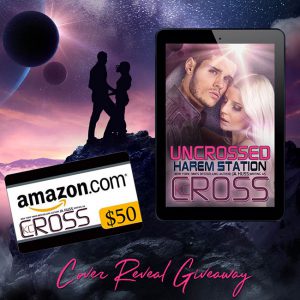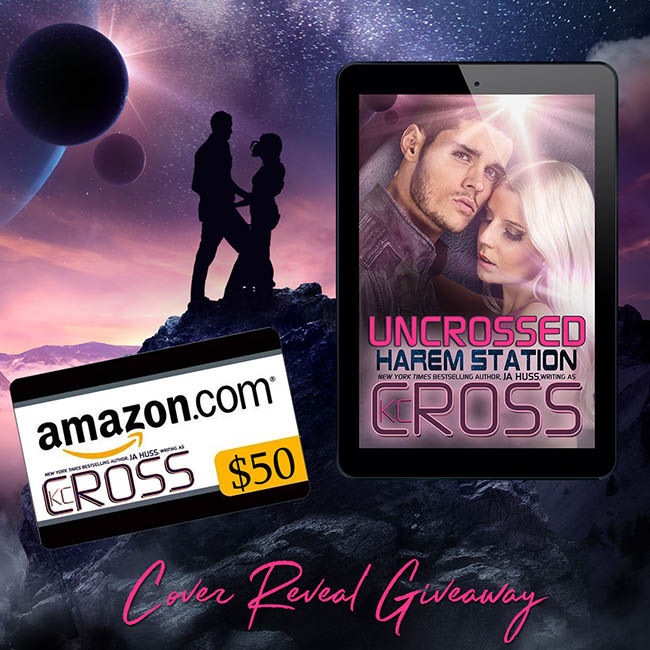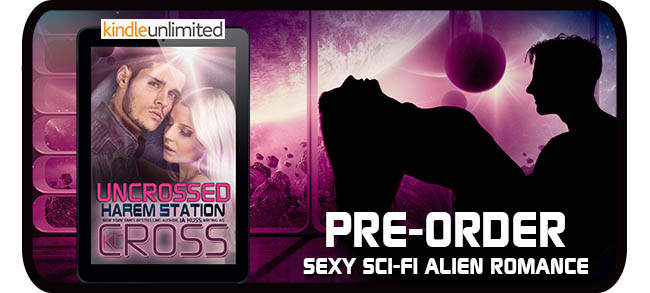 ---
BOOTY HUNTER IS FREE EVERYWHERE!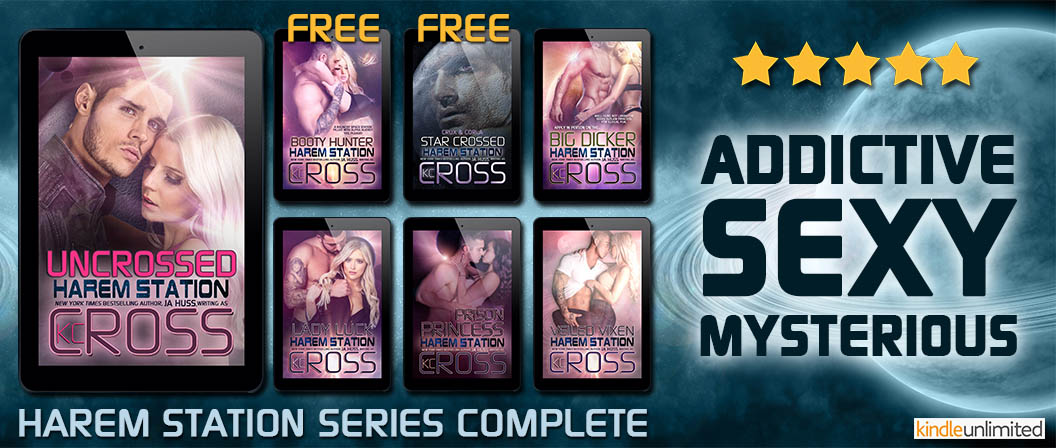 A raunchy space station filled with alpha aliens?
Yes, please!
Bounty hunter, Serpint, has just returned to Harem Station with a prize addition to his brother's elite collection of Cygnian princesses. But Serpint sacrificed a lot to bring this little gift home and now all he wants is some no-strings sex with a simple, obedient girl and a bottle of whiskey.
Enter Princess Lyra. She's any filthy-minded rebel's one-night-stand erotic dream. If you don't mind her bad attitude and lack of… Luster
Not quite the obedient girl Serpint was craving. But Cygnian princesses are hard to pass up. Even one with dark secrets. Because they have a very special, very specific, sexual talent… They glow when they climax.
Lyra thinks she's one of the strong ones. If anyone can resist an overzealous alpha like Serpint, it's her. But his touch makes her light up like the sun. And she has never been with an AKEELIAN before—they have two—yes two—super LONG, super thick, super BIG… c**ks!
How long can she resist that?
GET IT FOR FREE!
AUDIOBOOK is not free, but it's Whispersynced on AMAZON (So you can get it for $7.49 if you already own the eBook) and available at AUDIBLE and APPLE.
CLICK THE PIC TO LISTEN TO A BOOTY HUNTER AUDIOBOOK TEASER
Narrated by Teddy Hamilton and Savannah Peachwood
---
HERE IS THE BOOTY HUNTER PRIZE!
1. Signed Paperback of Booty Hunter
2. A Thousand Wishes Gift Set
(from Bath & Body Works)
3. Unicorn Socks
(from Bath & Body Works)
4. Fluffy Unicorn Key Chain
5. Unicorn Notepad and Pencils
6. Gold Star Bath Bomb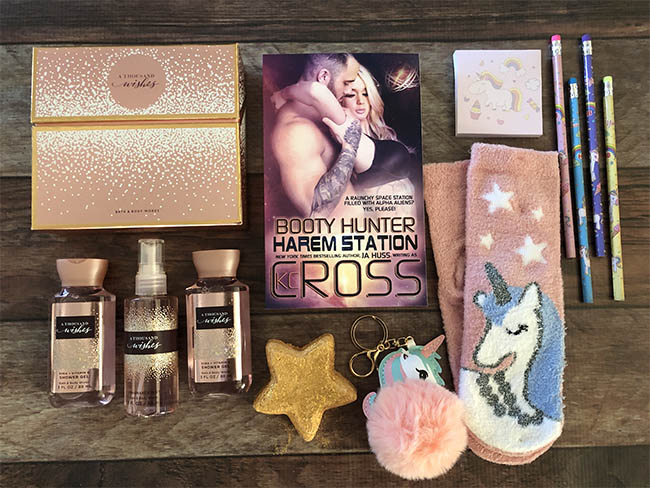 ---
AND HERE'S HOW TO ENTER TO WIN:
(1) MAKE SURE YOU ARE FOLLOWING my Facebook Author page HERE
(3) COMMENT HERE on the blog (below) just to say hi!
(#3 is not required, but I still love comments and I read every single one! I don't always have time to reply, but I really do read them all)
WINNERS FOR ALL GIVEAWAYS will be chosen on December 14 and announced on FB, IG, my fan group, my blog, and my newsletter. All gifts will be mailed on December 15th with priority mail, so hopefully you get them before the big day. ALL MY GIVEAWAYS ARE ALWAYS OPEN INTERNATIONAL.
---
MY FAVORITE PLANET OR MOON…
I'm a total space nerd so this is actually like a deep philosophical question! haha I'm not even sure I can pick a favorite but I guess if I had to narrow it down to just four I would choose:
The Sun (I know, not a planet  or a moon but it's the celestial body for LEO and I'm a LEO!)
The Moon – I love the moon because it's so BIG. And I have a perfect view of it outside all my huge south facing windows. 
Jupiter – Because I think it's pretty.
And… Pluto. Because bitches be saying Pluto isn't a planet so I always need to root for the underdog. 🙂
ALSO – DID YOU KNOW THAT JUPITER AND SATURN will form a GREAT CONJUNCTION on December 21st? (The Winter Solstice). They WILL. And this is a big deal. They will be so close together (relatively speaking and only from our vantage point) that they will appear to be ONE GIANT STAR. So you gotta look up on December 21st and see it. 
---
TOMORROW'S GIVEAWAY prize is for CREEPING BEAUTIFUL!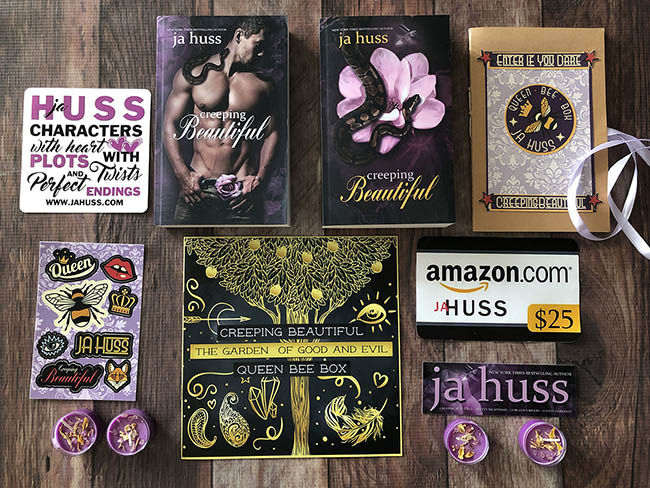 ---
THANKS FOR STOPPING BY!
SEE YOU TOMORROW!