I was recently browsing through some reviews for one of my books. I don't remember which book but I think I needed the link to it for some promo reason, so I was on Audible to get that. And I scrolled down and read the top review—it was a good one. Then kept scrolling—which I almost never do. I will read a few reviews when the book first launches, but mostly I just don't care about reviews.
But this review caught my eye because it had a headline that said something like "Red Flag Book!" with five red flags at the top of the review. It made me pause because I haven't seen the trigger warnings phrased this way before. So I was curious. Also, it kinda made sense to me. Much more sense than trigger warnings do. I didn't read most of it. Just the first paragraph. But I got the gist of it and it was this – whatever book this was, it wasn't this listener's cup of tea. But the really interesting thing was that she still gave the book 3 stars.
Which I totally appreciate for several reasons. Number one being – she didn't one-star it. And that's how I knew it was real. Because I don't write one-star books. Three-star, OK. Even I can admit I've written some three-star books. This book wasn't one of those (in my mind) because if it was, I wouldn't have been wasting money on a promo and that's why I was there getting a link.
I'm pretty sure this reviewer got through the whole book because her review was long. And I don't think it was nasty – I think the purpose of her review was to sincerely warn people of all the "red flags".
Which I also appreciate.
But anyway, this post isn't about the review or the reviewer – it just got me thinking about 'red-flag' books. Because I like this term. I think 'red-flag' is an accurate description of what people are getting in to when they pick up one of my stories.
With very few exceptions, if you open up one of my books, at some point you are going to be uncomfortable. How that plays out is different for everyone so there's no point in defining 'uncomfortable'.
If you're looking for a fun, safe, romantic romp through a fantasy life of "everyday" characters – JA Huss is not for you. That's not what I'm interested in – that's not the kind of life I have lived, or live now – and that's not the kind of book I write.
And if people don't like that, that's fine. Whoever this reviewer was I know one thing about her automatically – she's a thinker. Not only that, she's a critical thinker. Because she was both able to appreciate the book, story, writing style (whatever) and still object to it. In other words… she didn't accuse me of anything. She just read the story and gave an opinion.
Most people who hate my books want to accuse me of something. Promoting this 'forbidden thing', or that 'forbidden thing', or what have you. They think I am the characters. They think that I agree with everything my characters say or do. They are unable to separate me from the fiction I write.

Someone once asked me if I've ever killed anyone. And I was like… WTAF? I mean, maybe people go around asking Stephen King if he's ever tortured anyone, or Cormac McCarthy if he's ever cooked babies over a campfire—but I really don't think it's 'a thing'.
It's. Fiction.
I once even had a person change my blurb before promoting a book because they were… offended, I guess? I dunno. But if you're offended by the blurb, just stop. This story isn't for you. But don't go change my words, for fuck sake. You don't have to like my words but the very least you can do is leave them the fuck alone. Choosing a different word than the one that might 'offend' doesn't change anything. The story is the story.
If I offend you, well… I don't know what to say about that. It's really not my problem. I don't go forcing my books on people. None of it is 'assigned reading'. Everyone is responsible for the choices they make. So anyone who is offended by my books – why are you reading them? Just move on and find something you prefer.
Because I write Red-flag Books.
Yep. I really like that term. I'm glad I saw it. And the reason I write red-flag books is because somewhere out there is a person who relates. And I have no other way to reach these people other than these stories. And they need these books.
Believe it or not some people work through their trauma by relating to fictional characters who are going through a similar situation. And since my books all have a happy ending, when the reader gets to the end the character has worked through many issues and problems. And perhaps, those of you out there who think I write 'porn' might consider the alternative idea that I write therapy.

I once had a reader tell me she was in a horrible accident and had to learn to read all over again and she did that reading MY books. I had a lot of people message me on Facebook after I wrote the book 18 to thank me for giving them a story they could relate to. So many messages from readers who not only 'get' my stories, but learn from them.
Readers, authors, and others in this world of books have a hard time relating to me because I just refuse to follow the leader. I refuse to fit in. I refuse to play the games. And they don't believe me, or anyone else, who claims they don't want to be 'in the group' because they can't even begin to conceive what it might be like to traverse the world as an outsider.
It scares the fuck out of them.
And all that is fine with me. We're all here to walk our own path. I'm not going to interfere with anyone's destiny as long as they don't interfere with mine–but I prefer the outside. I don't want to belong.
"Belonging" is the antithesis of everything I believe in.
I don't care about 'the group'. I don't want to be 'in the group'. I'm happy here on the outside. Some people get this immediately because they are like me. Happy to be on the edge of things watching all the 'belongers' from a distance. For me, it's an exercise in human nature. I'm fascinated by the people who run the rat race to get that BMW, or the designer purse, or the fancy kitchen.
I don't 'get' it. Like at all. But I find it fascinating.
I do like stability. Of course, I do. But it's so unrealistic. If I thought there was a chance in hell of achieving "stability" in this life I'd give it a go. But fitting in and being safe doesn't get you stability. It gets you… well. I don't actually know what it gets you. Some kind of satisfaction, I guess. Otherwise people wouldn't do it. But it's certainly not stability. And if you think it is, you should really be more honest with yourself.
There is no stability. Every moment brings change and change is the definition of unstable. But we all deal with this instability in our own way. Some of us just embrace it. Some of us hide from it. Some of us work through it in a safe way—gaming, or movies, or books. Or a less safe way like mountain climbing, or jumping out of airplanes, or choosing to be a soldier, cop, or firefighter.
I embrace life on the outside because that's just how I learn. I watch. I listen. I think. I take a really long time to make up my mind about people, or news, or happenings. And I reserve the right to change my opinion about all of it any time I want without having to explain my reasoning.
I cannot be influenced, I cannot be bought, and I cannot be shamed. Because I have been walking through this life embracing the worst-case scenario since I was a child. And when it's over—well, at least I'll be able to say it was a helluva ride.
The reason I write Red-Flag Books is because I learn from the mistakes of my characters. It gives me new perspectives, and alternative viewpoints, and lets me see inside the head of assholes and heroes alike.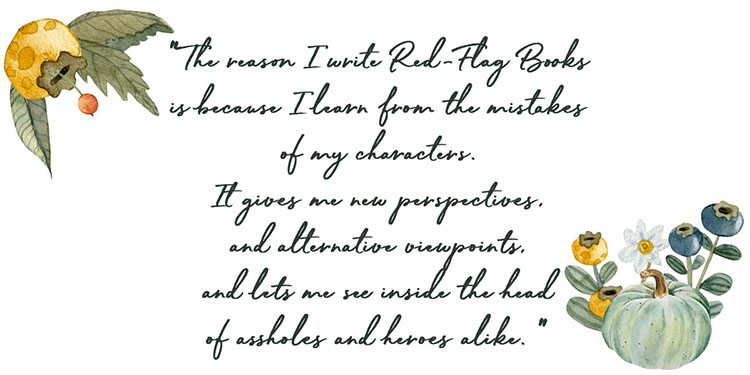 But I also get to learn their lessons, and overcome their challenges, and rejoice in their wins.
Maybe it's just me, but I want to do these things in a big way, not a small one. So if I'm gonna spend one third of every day working on a story, then I'm gonna go all in and write something bright fuckin' RED.
(And anyone who wants to come along for the ride is welcome. It's a whole lot cheaper than therapy.)