Can you really fall in love with a dirty-talking stranger who lives far, far away?
What do you think? Have you ever had an online prince?
Bossy Brothers: Alonzo comes off pre-order next Wednesday. It's available everywhere right now but it will go into Kindle Unlimited the day after release.
Learn more about this six-foot-four, hot-as-fuck, dirty-talking prince covered in mermaid tattoos by reading the Chapter One Tuesday Teaser: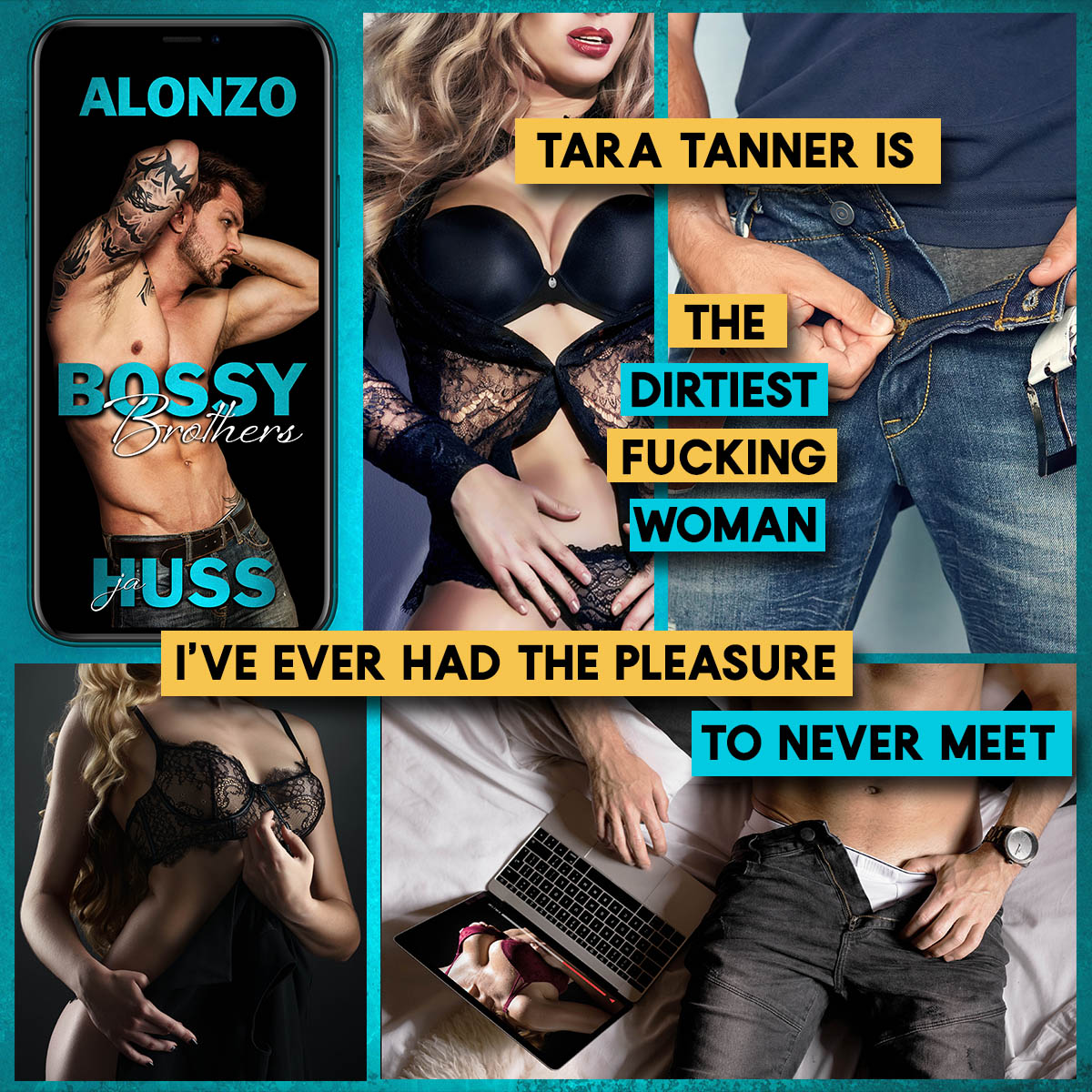 ALONZO
One hand pops the button on my shorts and slips inside them, while the other one tabs Tara's contact on my phone.

She answers on the fourth ring, trying to play hard to get. "Hello." Her voice is soft and sultry now, completely different than the way she sounded earlier.

"Hello." My voice is different too. Not Lonnie the accountant. Nothing like Lonnie the accountant. Much more like Alonzo, the fisherman. "I'm looking for Tara Tanner."

"I'm Tara Tanner. Who is this? I don't recognize the number."

"This is Alonzo."

"Well, Alonzo, how can I help you?"

"You can start by taking your clothes off."

She laughs softly. "Why would I do that?"

"Because I'm going to fuck you over the phone right now. And I want you to be naked when I do it."

"Promises, promises."

"Hey! You're not allowed to break character!"

"I'm naked!"

"You're not naked! You were just bitching about work. Now I have to start all over again. Hang up and—"

"Fuck you, Lonnie! Just… start talking. I swear to God, I'm butt-ass naked. I'm ready."

"Pic or it never happened. I want you to close your eyes and stick out your tongue in the pic so I know it's real. You have ten seconds or no phone fuck."

"Oh, my God!"

"Ten. I know you're not naked. Nine."

"Fine!"

There's the tell-tale soft sound of a person repositioning themselves.

"This is cheating," she whines.

It is. Pics or it never happened. I make her do this all the time.

But it's really her fault. She always sends me something so damn sexy. Tara Tanner has the overachiever gene. She's competitive, and focused, and always feels the need to go above and beyond.

She's a pleaser too.

If I tell her to hold up four fingers, her thumb is pulling her panties aside.

If I ask her to take a pic of her ass, she's always bending over so I get a pussy shot from behind.

If I ask for her lips, she'll suck her fingers and send me a video.

And you would think there's no way you can make an eyeball sexy, but she sent me the most provocative wink I've ever seen when I asked for that.

She's a naughty little bookworm who gets off on dirty-posing for me in pics, and roleplaying over the phone, and moaning as she comes while I jerk off two thousand miles away.

Tara Tanner is, quite simply, the dirtiest fucking woman I've ever had the pleasure to never meet.
TARA
Lonnie Derringer is a filthy-mouthed, dirty-talking, long-distance fling.
That's been going on for two years.
I know, I know. That's not a fling. This might be getting serious.
I think about him all the time. I look forward to our quickie lunch chats and the way he whispers in my ear every night from two-thousand miles away.
He's the best boyfriend I never had.
Until I found out his name isn't Lonnie, it's Alonzo.
Until I found out he's not some boring accountant with a dead-end job who wears wrinkled button-downs and baseball caps. He's a six-foot-four, yoked-out, tatted-up fisherman in Key West.
Until I found out he's been catfishing me online for two years!
And then he becomes more than just the best boyfriend I've never had.
He becomes my reality.
ALONZO
Tara Tanner is the perfect long-distance girlfriend.
She's bookish, stylish, open-minded and every time I ask her to 'send me a pic or it never happened' she goes above and beyond.
She's a dirty, little bundle of sexy overachiever who lives two thousand miles from me in the land of Far, Far Away.
I never planned on lying to her and I never planned on meeting her.
But one day she shows up at my house, and guess what?
She wasn't the only being catfished for two years.
Because she's not who she said she was either.
*****
Bossy Brothers: Alonzo can be read as book five in the Bossy Brothers series or as a standalone story and features a sexy game of guess-who between a librarian obsessed with pencil skirts and a fisherman tatted up with mermaids. It's long-distance game of dirty-talking, and slutty selfies, and safely-hidden secrets.
Until the day they meet and realize… Love in the Land of Far, Far Away can't compare to the real thing.