CONGRATS TO MY WINNER: Holly Kingsbury
You have been emailed. 
Please reply to the email to collect your prize! Check your spam folder if you don't see it.
---
SAVAGE SAINTS IS LIVE!
Now in Kindle Unlimited!
SCROLL ALL THE WAY DOWN FOR THE GIVEAWAY AND NEWS!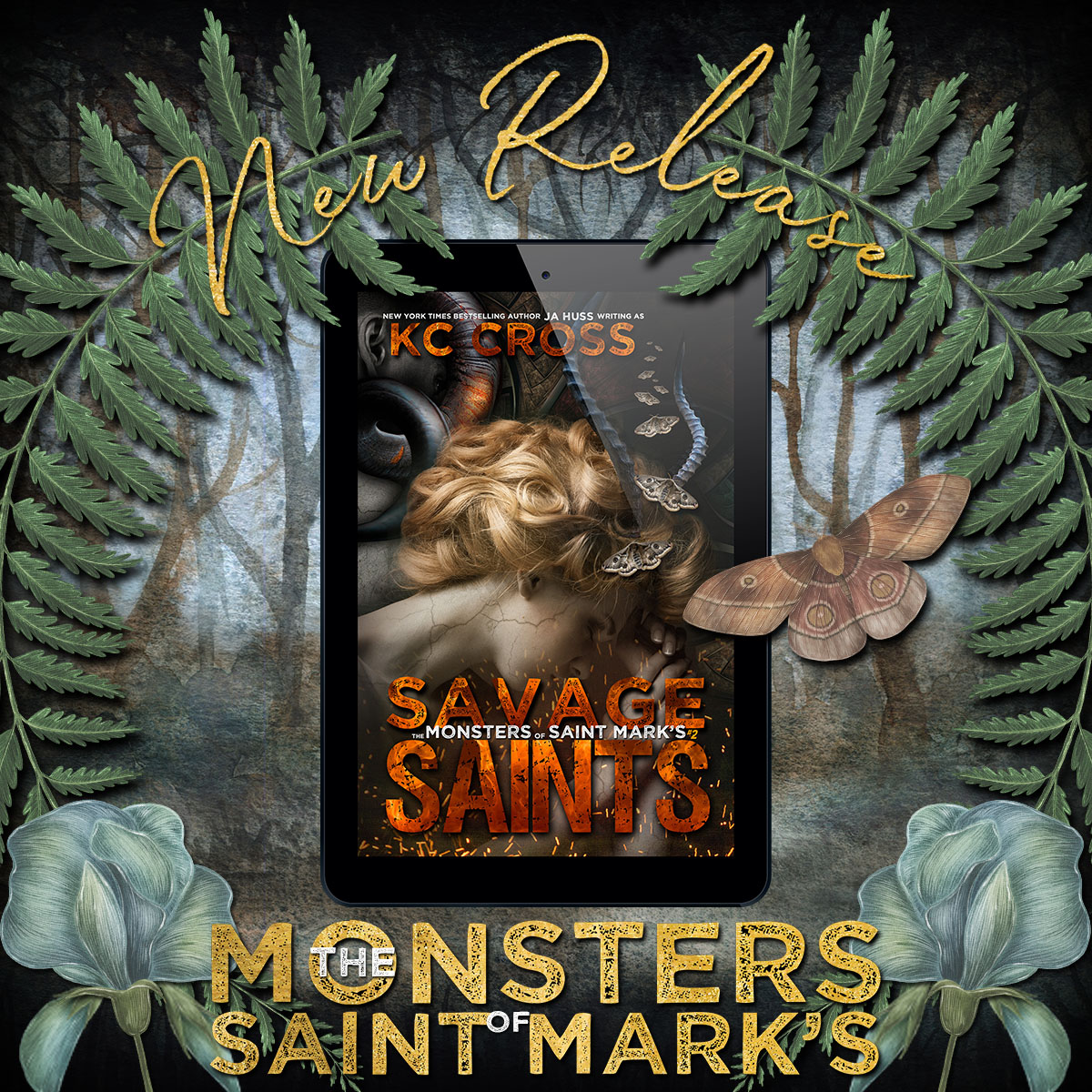 A wood, a buck, a nymph, and stone.
A way into a satyr's home.
A door appears, the nymph walks through,
And now their lives begin anew.

Pell learns to love pants.
Pie learns to love magic.
And Tomas learns to love a woman.
Pie and Pell are like two peas in a pod. Meant for each other, madly in love, and living their best lives as Mr. and Mrs. Monster of Saint Mark's.
Kind of.
Pie is dreading her new job working for the tall, dark, and sleek Modern Minotaur. And the irony that just a few weeks ago she was demanding that Pell allow her to get a job to support the sanctuary, isn't lost. It's like the gods are playing with her on purpose.
Pell is still his grumpy self but he's got a new job as well—babysitting a bag of magic rings that seem to have a mind of their own. No matter where he hides them, they will not stay put. Add in a doorway he can suddenly see and a new power he forgot he had, and well… things are getting interesting.
Tomas is a brand-new man. Literally. His new freedoms are just the beginning of his adventure into modern humanity. Not only can he leave the sanctuary, drive a truck, and spend time with the people in Granite Springs—he also learns how to cheat the rules.
Everything has changed for the better. But when Pie discovers the secrets of magic, Pell uncovers the real purpose of the rings, and Tomas falls in love with a Townie… things change again.
Only this time, they're the ones with all the power.
Savage Saints is a fun, romantic romp through an ancient curse. It is book two in the Monsters of Saint Mark's series and must be read in order. Written by New York Times bestselling author, JA Huss, under her pen name, KC Cross.


AUDIOBOOK UPDATE – This audiobook will be released in late summer. Maybe August, but I don't have a date yet. Narrators are scheduled to start recording in May/June.
---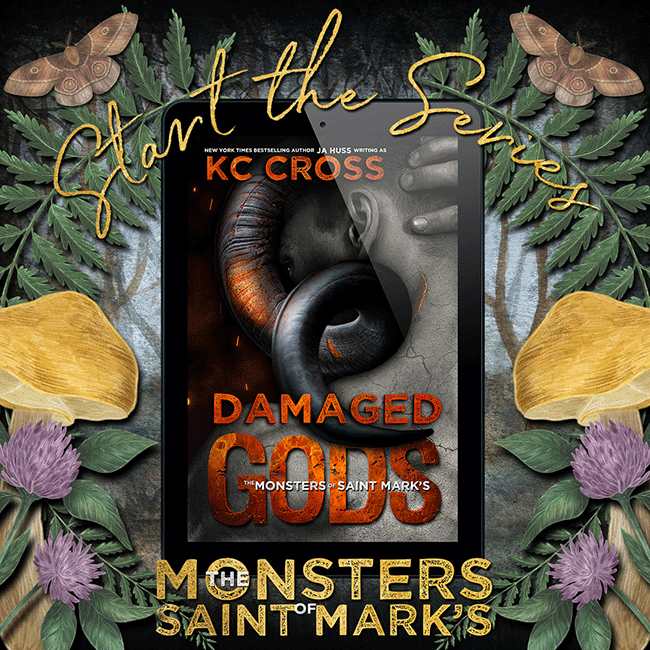 "The most fun you'll have in a book this year!"
"Monster romance is now a thing!"
When Pie stumbles into a monster's 2000-year-old curse she has no idea that her life is about to get a bazillion times better. Damaged Gods is a fun, romantic romp through the world of ancient gods and hot monsters where fangs, and horns, and hooves are all part of "the ultimate package".
Now… if only her new monster would put on some PANTS!
Pie just wants to be ordinary. But she's homeless and the talking imaginary bird who lives in her pocket makes "fitting in" nearly impossible. So when she stumbles into a job opportunity as a caretaker of a place called Saint Mark's Sanctuary, she figures, why not. It's better than overstaying her welcome on an old friend's couch.
What comes next is a grumpy monster who won't wear pants, a friendly hot dude who lives in the dungeon, and a 2000-year-old curse that she is now in charge of breaking. And somewhere along the way Pie realizes that being extraordinary is… maybe… her thing.
Damaged Gods is book one in the brand new Monsters of Saint Mark's paranormal romance series and is filled with laugh-out-loud magical moments and a rule book that suspiciously sounds like a manual for an "adult" fun club.
THIS AUDIOBOOK IS UH-MAZING!
If you love audio and romance then you are in for a TREAT!
Perfectly narrated by Jason Clarke and Hathaway Lee!
You will NOT stop listening!

---

BOOK 3 IS NOW ON PRE-ORDER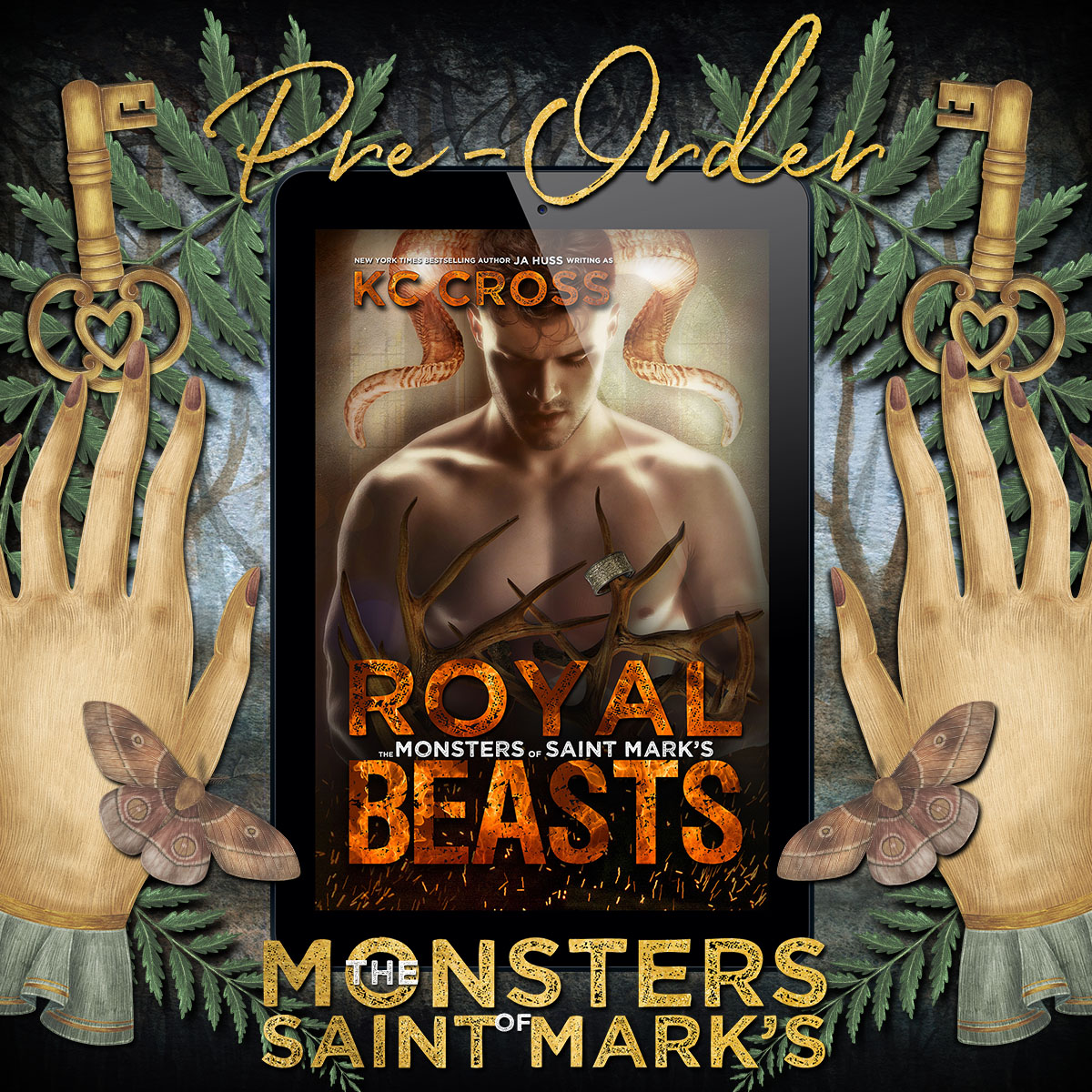 THIS BOOK WILL BE IN KINDLE UNLIMITED ON RELEASE DAY – DECEMBER 6, 2022

---

I just did a pretty long update in last week's newsletter but I wanted to make sure some of the info in there for put up on the website.
First, the first phase of my huge website update is complete. It doesn't look much different yet—but that's because I haven't had time to make new graphics for the redesign. But that's coming. The biggest updates were all done on the backend. I got a brand new private server so the site is much faster now. Plus, it's got tech-y bells and whistles that you probably don't care about.
A couple notable new things though – ONE – I have a dedicated Audiobook page. This lists all my audiobooks under each author name and each one has a sample you can listen to! You can also sort the books by series.
JA Huss Audio can be found HERE
KC Cross Audio can be found HERE
Some of the KC Cross books are JA Huss but I put them over there because they are Sci-Fi or Paranormal Romance. 
There are also some series links in the TOP MENU now. If you hover on Desktop or open the menu on phone or tablet you can see the series. I will be doing a lot more in the future, this is just to get started. 
I'm also working on the new Shrikebikes.com – which will be a new PRIVATE forum to hang out on. Shrike Bikes at Facebook will not go away, but you never know when a tech billionaire might want to shut you up. So it's best to plan ahead. I anticipate that the forum will go live some time in May. It's really just a matter of me fucking around with the software and setting up forums. I've never used this particular forum software before, so there's a little bit of a learning curve. I would also like to get a custom theme for it, but that might come later.
In book news – obviously Savage Saints is out today. And it's already in Kindle Unlimited. So if you were waiting for that, you can grab it at the link above. Very sorry that my publisher and I could not get the audiobook out in time for the ebook and paperback release, but scheduling is scheduling. It will be out in late summer. Maybe August, but I don't have a firm date yet.
Damaged Gods is still on sale but that sale will be over on Monday, May 2. So if you want to grab it for 99 cents so you can have it forever instead of borrowing it from KU, now is your chance. There is a link above.
Book Three, ROYAL BEASTS, is on pre-order everywhere. This book will release on December 6, 2022. When Damaged Gods released I had a lot of complaints about waiting 9 months between books. Which is not reasonable. 9 months isn't that long. Especially when this is a side project for me. My main genre is dark, contemporary romance. So I need to write those books too.
If you're wondering why this third book will be 8 months out it's because I literally just finished Savage Saints about 3 weeks ago because I wrote 3 other books between Damaged Gods and Savage Saints. (Vic Vaughn is Vicious, Gorgeous Misery, and Lovely Darkness).
And I have spent every day since finishing Savage Saints writing my summer dark romance release. I will have a cover reveal and pre-order up for that soon. I am anticipating a late July release – The audiobook narrators are already on the schedule, so there should be no problem releasing the audio with the ebook and paperback for this one.
Then, the very moment I am done writing that (which is in about 2 weeks) I have to start MY VAMPIRE BOOK! That will release in October and those narrators are also on the schedule. So plan on a simultaneous ebook/audio release for that too.
So I will not even be able to start Royal Beasts until late June. Then it has to go to the audiobook publisher in September and audio production just takes a while. So, the soonest we can have it ready is December 6th.
I think that's all I have for news. Except for my farm. I have SO much going on at the farm and I will be posting lots of updates on all that stuff coming soon. (I'm getting BEES this weekend!) 🙂 And you guys, my frickin' hive is so damn cute, I just can't. I painted it up all custom and I will have a picture of it this weekend. I'm going to be putting it outside on Friday.
I also have horse news coming—Annie is settling in nicely and I will start training her to the Endurance saddle I bought in a few weeks. I'm still waiting on my fucking fence. I have a little shed coming tomorrow that I will use for a milking barn and tack and feed room and the goats will all be here on May 10th!
So there will be lots of fun things coming this summer!
I think that's all I have for now. I hope you enjoy Savage Saints. I'm really, really, really happy with this series/story. I love it so much and I'm so glad I took a chance and started writing it. I see many, many books in this world coming.
DON'T FORGET TO ENTER THE GIVEAWAY! Usually I do a $50 giveaway but this time I'm doing $100. Inflation man, it's fucking stupid. $50 does not go far anymore. Sad.
Anyway, thank you and enjoy the MONSTERS!!
Julie
JA Huss
---


THIS IS A SOCIAL MEDIA FREE GIVEAWAY!
Enter to win by leaving a comment below – you can say anything you want. But I would love to get a tiny update on what you're up to these days!