SPECIAL ANNOUNCEMENT: LISTEN TO THE NEW TRAGIC AUDIOBOOK IN MY FACEBOOK FAN GROUP FOR FREE
Since Audible is taking FOR-ever to put the new Rook & Ronin audiobooks up for sale – AND because my exclusive contract with them doesn't legally go into effect until they area actually live on the site, I'm giving Tragic away free in my Facebook fan group until the books go live. (Then I have to take them down). So if you want to listen to the new TRAGIC (featuring Jason Clarke and Erin Mallon as Ronin and Rook) just hop on over to the fan group and check it out. I put five chapters up yesterday, three are going up today, and then I'll do one chapter a day until the books go live. 

---
LAST CHANCE TO BUY SIGNED BOOKS!
The annual order form for signed books will close tonight at midnight (Mountain Time). Paperbacks and hardcovers available. Both US and International. There are candle goodies,tree ornament options, and cloth bookmarks also available.
GO HERE to place your order.
---
NAUGHTY THINGS BOX SET SALE
THREE FULL-LENGTH TABOO ROMANCES!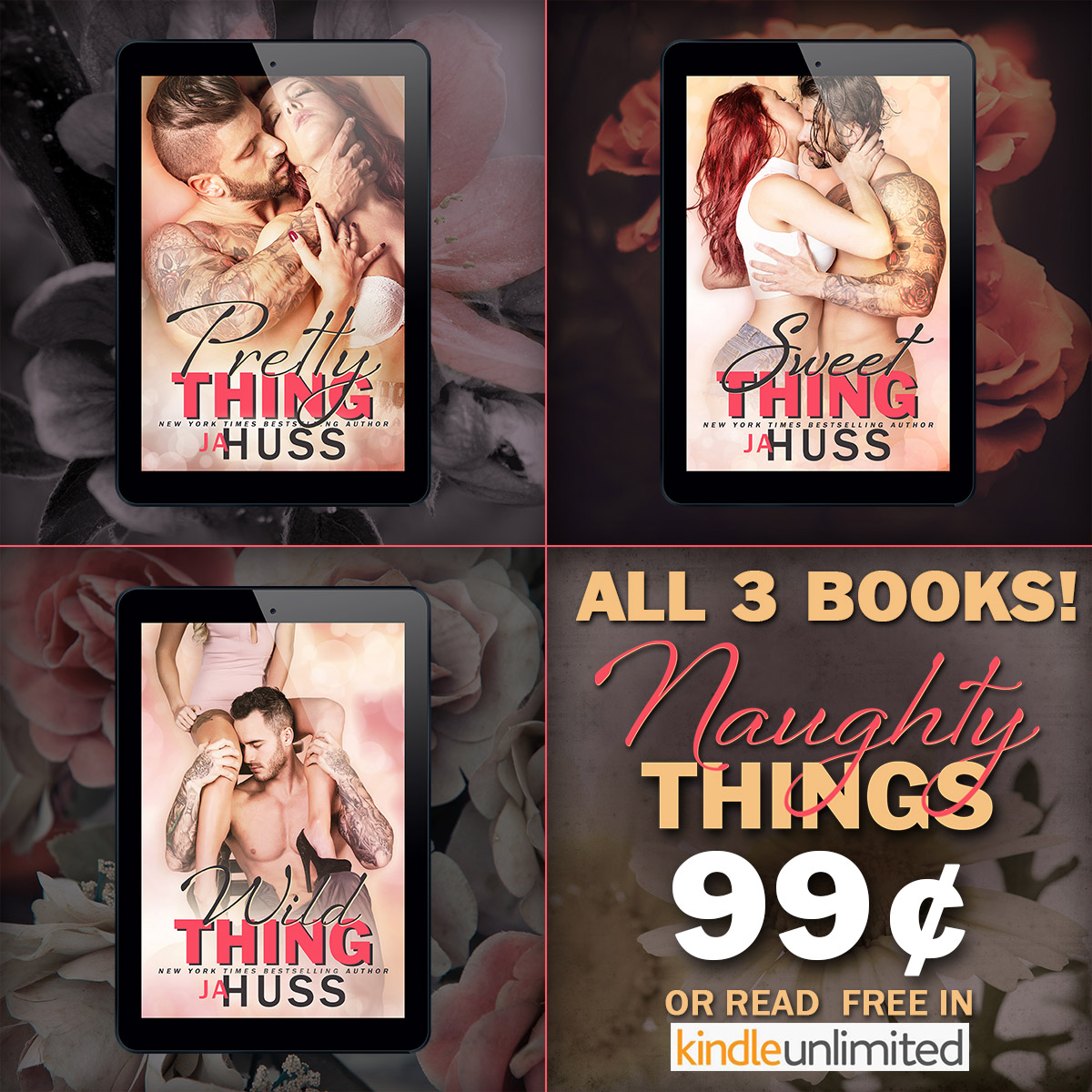 ---
FOR A LIMITED TIME YOU CAN GET ALL THREE NAUGHTY THINGS BOOKS IN ONE 99¢ BOX SET!
---
SWEET THING is a standalone older-man-very-young-woman sexy romance filled with forbidden lust, too many 'first times' to count, inappropriate touching in public, and an angsty, but perfect, HEA.
Aria Amherst lied about her age the first night she and Ryker met.
But when he kissed her… he just didn't care.
WILD THING is a smokin'-hot, sexy story of a runaway princess and her reluctant Prince Charming. A tantalizing tale of forced marriage, captive submission, and a hero who doesn't know he's a hero until he meets the girl he was meant to save.
Kidnapping Lyssa was the easy part.
Taming her into submission for a pre-arranged marriage was another story altogether!
PRETTY THING is new sexy, brother's-best-friend romance filled with tender moments, second chances, and steamy love scenes that will make you sigh with happiness when you turn the last page!
Off. Limits.
That was my best friend's rule when it came to his sister.
All these years I've honored that. I never broke his trust. Until now.
---
FREE TO READ IN KINDLE UNLIMITED
ALL THREE BOOKS ARE ALSO ON AUDIO!
Performed by the amazing Christian Fox and Emma Wilder!