OMG, you guys! I'm so excited to introduce you to this hot-as-fuck, yoked-out, tatted-up fisherman called Alonzo Dumas!
He's a filthy-mouthed dirty-talker and he's found himself a girl (two thousand miles away) willing to let him phone fuck her! (Like that's a sacrifice! amiright?)
Alonzo and Tara will take you back to the days of Spencer and Veronica! You even get to visit Fort Collins (and those Sick Boys make an appearance!)
Alonzo and Tara have been catfishing each other for two years but now it's time to get serious. They're ready to take their virtual relationship into the land of reality! And when they finally meet face-to-face for the very first time – exploding orgasms for everyone!
It's a fun book that can be read as a standalone or as book five in the Bossy Brothers series.
BOSSY ALONZO IS NOT IN KINDLE UNLIMITED YET! But he will be by Friday! So if you like to buy your books at Nook, Kobo, or Apple, you need to grab it by end of day tomorrow! Because it will only be available at Amazon after that.
ALSO – I need to tell you about this week's FRIDAY NIGHT FREEBIE! Because it will be HUGE! Kitty Thomas and I have teamed up this week to celebrate our new releases and we've got a giveaway planned for you that you will not want to miss! So look for the Friday Night Freebie announcement on Facebook, Instagram, Twitter and my website this Friday afternoon!
READ MORE ABOUT ALONZO BELOW!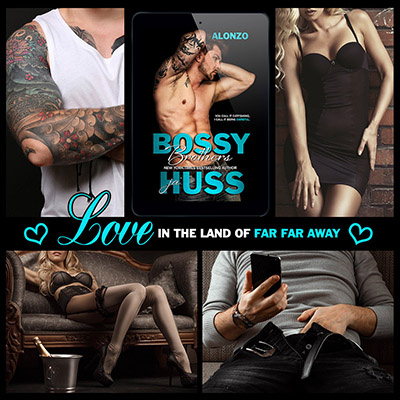 TARA
Lonnie Derringer is a filthy-mouthed, dirty-talking, long-distance fling.
(That's been going on for two years.)
I know, I know. That's not a fling. This might be getting serious.
I think about him all the time. I look forward to our quickie lunch dates and the way he whispers in my ear every night from two-thousand miles away.
He's the best boyfriend I never had.
Until I find out his name isn't Lonnie, it's Alonzo.
Until I find out he's not some boring accountant with a dead-end job, he's a six-foot-four, yoked-out, tatted-up fisherman who never wears a shirt!
That's right, girls. He's been catfishing me online for two… freaking… years!
And then he becomes more than just the best boyfriend I've never had.
He becomes my target.
ALONZO
Tara Tanner is the perfect long-distance girlfriend who lives in the Land of Far, Far Away.
She's a blonde, bookish bundle of sexy-overachiever. A wicked little siren with a filthy mind and an eye for pencil skirts. And every time I ask her to 'send-me-a-pic-or-it-never-happened' she goes above and beyond.
She is, quite simply, the most perfect woman I've ever had the pleasure to never meet.
I didn't set out to lie to her and I didn't expect to meet her.
But one day she shows up at my house, and guess what?
She wasn't the only one being catfished for two years.
Because she's not who she said she was either.
---
ON SALE EVERYWHERE TODAY ONLY!

THIS BOOK WILL BE IN KINDLE UNLIMITED BY FRIDAY!

So if you like to shop at AppleBooks, or Nook, or KOBO – GRAB IT NOW!
GRAB BOSSY ALONZO NOW!
READ A FLIRTY-DIRTY EXCERPT OF ALONZO!
ALONZO

"Fort Collins Public Library, how can I help you?"

"Yes. Hello. I have a question about a book."

"Yes, sir. That's wonderful. I can't wait to hear it."

"Well, it's not a question about a book, per se. I'm looking for something specific. To read."

"Well, you're talking to the right girl. I'm a book expert. I even have the pencil skirt, tight white blouse, severe ponytail, and dark-framed glasses to prove it."

"Hmmm. What's your name? It's just… I like to use a woman's name when I talk books with them."

"Ohhh… Tara. I'm Tara. Do you… like women who talk books back to use your name as well?"

"Hmmm. Intriguing question, Tara. I've never thought about it before. But yes. Yes. I'd like that. I'm Lonnie. A too-smart, button-down-shirt-wearing accountant who loves numbers and making things… balance."

"Balancing. I like that."

"You do?"

"Mmm-hmmm."

"What kind of balancing are you picturing? Like… financial statements and checkbooks?"

"Nnn-nooooo. More like… the kind of balance you need when a hot, sexy accountant is fucking you up against a wall."

"Oh."

"Sorry. My imagination is… well, wild. And I'm a bit bored at the moment. There's absolutely no one else here in the library with me. I guess I'm just looking for a little fun while no one's watching."

"Are you sure you're a librarian?"

"Positive. But I'd like to clarify one thing before we continue. I don't mind people watching."

"Oh."

"Now tell me. What kind of specific book are you looking for? I'm excited at the prospect of pleasing you."

"This might sound a little weird, Tara."

"Oh, don't worry about that. I've heard it all, Lonnie."

"It's a very… odd trope I'm looking for."

"Trust me, Lonnie. I'm here to help. What trope are you looking for today?"

"OK, so… it's the one about the… well, let's call him under-socialized—"

"Got it. Our protagonist is a man who is maybe… an accountant?"

"Exactly."

"Great. Keep going."

"And he meets this… other under-socialized person. Female. Maybe a…"

"A librarian?"

"Yes! Exactly. This accountant meets a librarian and they…"

"Fuck?"

"No."

"Have cam sex?"

"Mmmm… not quite. But close."

"OK. I think I understand. But I need a little clarification, if you don't mind."

"I don't mind at all, Tara. How can I clarify?"

"Well, this accountant. Can you give me a better description? Just so, you know, I can clearly envision this… book… in my head."

"Sure. He's about six foot four."

"Oh, my."

"Yeah. He's big."

"Big as in…?"

"Tall. Yup."

"Oh."

"But he's big in other ways too."

"Really?"

"Yeah. Like… you know. Biiiig."

"Big as in… I can't fit my hand around it?"

"How big are your hands?"

"Small to average."

"Then definitely not."

"I see. OK. Got it. He's girthy."

"Exactly."

"What else?"

"Well, his hair is light brown."

"Hmm. Eyes?"

"Let's go with hazel."

"Hazel green? Hazel blue? Or hazel brown?"

"Hazel green-brown."

"Delicious."

"What?"

"Oh. I'm eating pudding. And I just licked my spoon. It's delicious."

"Pudding, huh?"

"Mmmm. Pudding. OK. I have a better picture of our hero. But what of our heroine? This… librarian."

"Well… she's a typical librarian. And you're a librarian."

"That I am, Lonnie."

"Well, this librarian is on the small side."

"Small as in petite? Or small as in… not more than a mouthful?"

"Petite."

"Oh. So she's ample in all the right places. Like me."

"Like you, huh?"

"Mmmm-hmm."

"And she wears… well, pencil skirts."

"Also like me."

"And a tight, white, button-down blouse that shows off her ample…"

"Breasts?"

"I was going to say 'pocket protector.'"

"Lonnie?"

"Tara?"

"You're making this difficult."

"How so?"

"I'm on my lunch break here."

"Oh, am I disturbing you?"

"Not at all. I'm just waiting for you to get to the good parts."

"The part where they bond over books and numbers?"

"No, the part where he talks dirty to her on the phone while she's on her lunch break so she can come on her fingers and make him pretend to lick them."

I laugh.

"It's not funny. Come on!"

"It's roleplaying."

"I know. I'm done with it. I gave you the perfect in and all you had to do was say, 'Yeah, the kind of balance when he fucks her against a wall' and we'd be halfway home right now!"

"Where's the fun in that?"

"You're doing this on purpose! You know I only get thirty minutes for lunch today! It's book club Monday and I've got every damn housewife in Fort Collins in here with her wine-stained book-of-the-month-club edition paperback acting like she's all literate and shit."

I laugh again.

"Lonnie. Phone-fuck me right now. Or I'm hanging up and never answering your pervy calls again."
ON SALE EVERYWHERE TODAY ONLY!

THIS BOOK WILL BE IN KINDLE UNLIMITED BY FRIDAY!

So if you like to shop at AppleBooks, or Nook, or KOBO – GRAB IT NOW!
GRAB BOSSY ALONZO NOW!
READ THE ENTIRE BOSSY BROTHERS SERIES FREE IN KINDLE UNLIMITED!
ENTER THE GIVEAWAY!
---
DID YOU HEAR ABOUT THE FREE BOOK CLUB I'M A PART OF?
BILLIONAIRE BOOK BOYFRIENDS AND NICOLE FRENCH! 
DOES IT GET ANY BETTER THAN THAT? 
THIS MONTH'S FREE BOOKS IS HERE!

ABOUT THE AUTHOR:
JA Huss is the New York Times Bestselling author of 321 and has been on the USA Today Bestseller's list 21 times in the past five years. She writes characters with heart, plots with twists, and perfect endings.
Her new sexy sci-fi romance and paranormal romance pen name is KC Cross and she writes novels and teleplays collaboratively with actor and screenwriter, Johnathan McClain.
Her books have sold millions of copies all over the world, the audio version of her semi-autobiographical book, Eighteen, was nominated for a Voice Arts Award and an Audie Award in 2016 and 2017 respectively. Her audiobook, Mr. Perfect, was nominated for a Voice Arts Award in 2017. Her audiobook, Taking Turns, was nominated for an Audie Award in 2018. Five of her book were optioned for a TV series by MGM television in 2018. And her book, Total Exposure, was nominated for a RITA Award in 2019.
She lives on a ranch in Central Colorado with her family.