THE FRIDAY NIGHT FREEBIE!
NOW BIGGER THAN EVER!
I will have guest authors co-hosting the Friday Night Freebie with me and every week there will now be TWO GIVEAWAYS! One major prize here on the blog and one gift card prize on Instagram! The same rules below still apply.
The Friday Night Freebie is super simple. The giveaway starts every Friday afternoon (usually between 3-4 PM Mountain Time) and it ends Monday at 12:01 AM. Winners are chosen and announced on Monday. Very short giveaway. Super fun thing to do real quick.
Your chances of winning are pretty high because this ONLY runs on my blog. No other blogs host it so there won't be very many people entering.
YOU DO NOT HAVE TO DO "ALL THE THINGS" IN THE RAFFLECOPTER. You enter the way you like best. So if you don't want to join a newsletter list – DON'T. If you don't want to share a post on Facebook, SKIP IT.
None of it is required. As long as you enter at least one way, you're eligible to win.  And there is ALWAYS a very simple "Leave a comment" option. I love comments! 
---
HEY! you know about the free book club I'm in, right?
If not, OMG, IT'S TOTALLY FREE!
And this month's book club book is HERE!
NICOLE FRENCH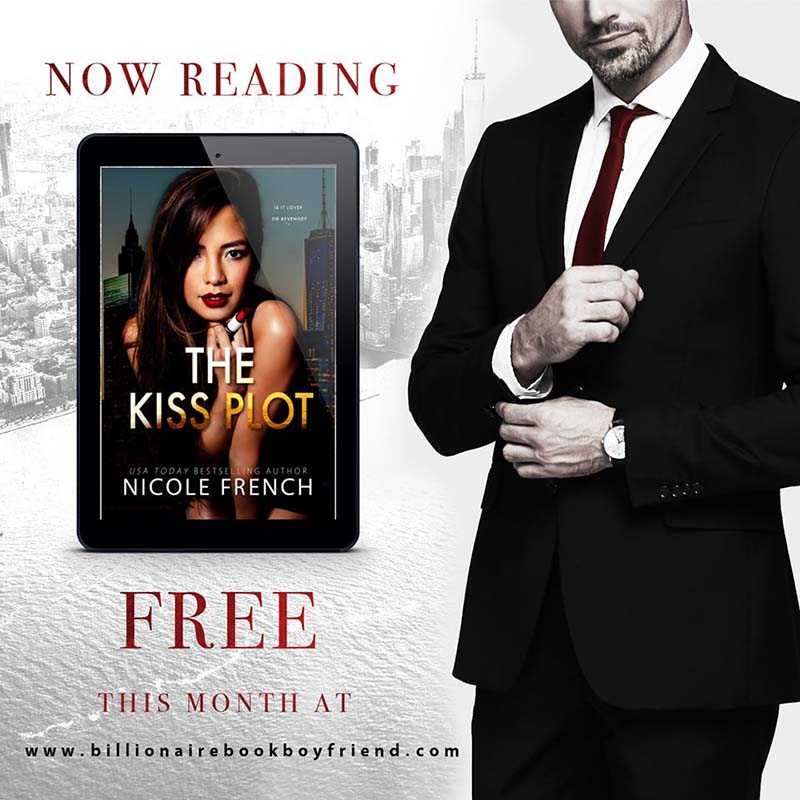 ---
IF YOU ARE A ROMANCE AUTHOR and would like to co-sponsor a FRIDAY NIGHT FREEBIE with me, join THIS FACEBOOK GROUP FOR DETAILS! 
---
THIS WEEK'S SPONSOR IS
ME

I released Bossy Brothers: Alonzo this week and I'm so happy, happy, happy that everyone seems to be loving these two crazy kids! Alonzo and Tara are long-distance "virtual lovers" who find out that they've each been lying about who they are after two years of phone fucking!
Anyway – it's super cute, and incredibly sexy so I hope you pick it up.
THIS BOOK IS A STANDALONE!
(The whole series is!)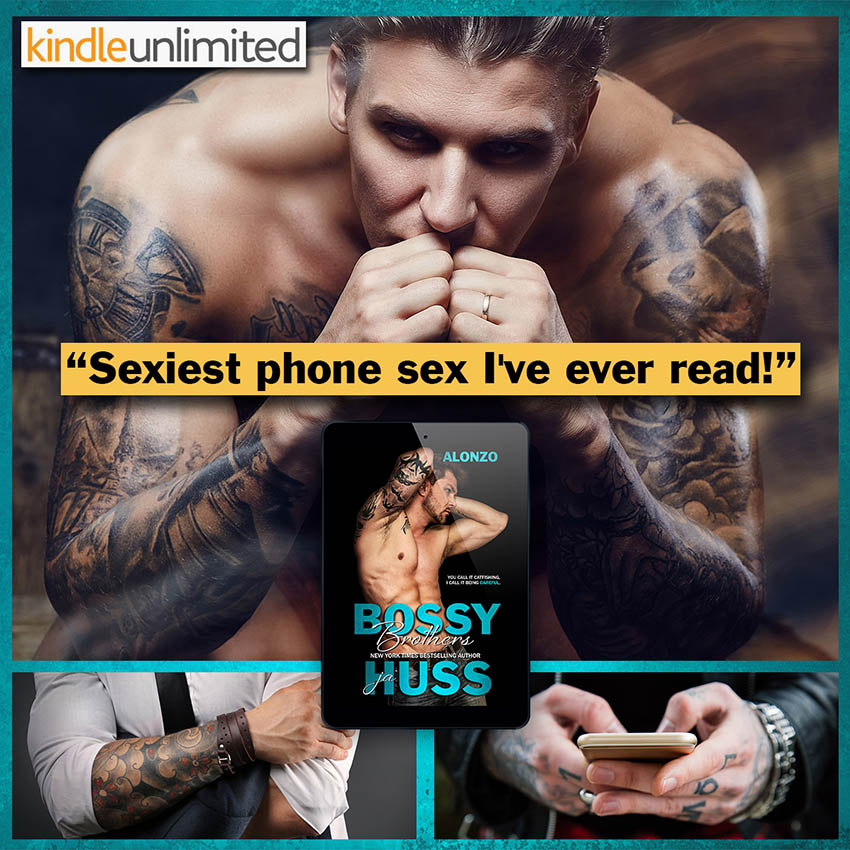 ---
THIS WEEK'S PRIZE IS:
Signed paperbacks of the complete Bossy Brothers Series
PLUS a "Whatever Bitches tote bag
PLUS swag pack!
BOSSY BROTHERS: Jesse
BOSSY BROTHERS: Joey
BOSSY BROTHERS: Johnny
BOSSY BRIDE: Emma & Jesse
BOSSY BROTHERS: Alonzo
---
ABOUT JA HUSS
JA Huss is the New York Times Bestselling author of 321 and has been on the USA Today Bestseller's list 21 times in the past five years. She writes characters with heart, plots with twists, and perfect endings.
Her new sexy sci-fi romance and paranormal romance pen name is KC Cross and she writes novels and teleplays collaboratively with actor and screenwriter, Johnathan McClain.
Her books have sold millions of copies all over the world, the audio version of her semi-autobiographical book, Eighteen, was nominated for a Voice Arts Award and an Audie Award in 2016 and 2017 respectively. Her audiobook, Mr. Perfect, was nominated for a Voice Arts Award in 2017. Her audiobook, Taking Turns, was nominated for an Audie Award in 2018. Five of her book were optioned for a TV series by MGM television in 2018. And her book, Total Exposure, was nominated for a RITA Award in 2019.
She lives on a ranch in Central Colorado with her family.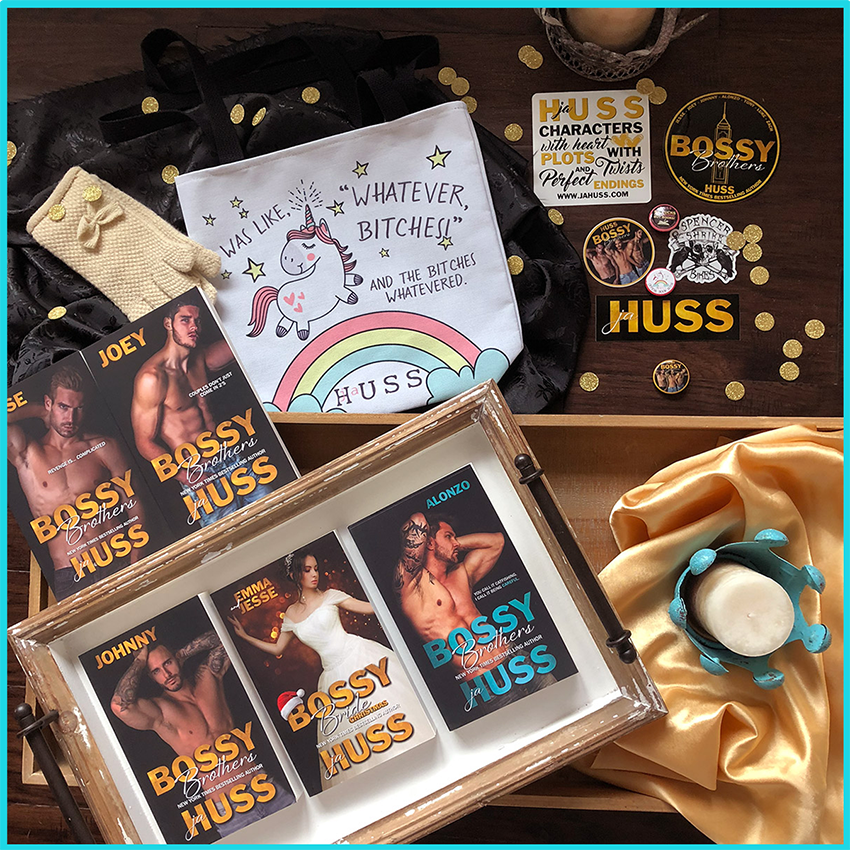 OK, MY LITTLE PRINCESS UNICORNS… TELL ME WHICH KIND OF STORY IS YOUR FAVORITE:
A) Dirty-as-Fuck Menage
B) Sweet and Sexy Rom Com
C) Thrilling Romantic Mystery
D) Angsty Brother's Best Friend
E) High Drama Enemies to Lovers
F) Bossy Office Romance
G) Sexy Paranormal/Sci-Fi

Click the "Leave a blog post comment" option!
STALK JA HUSS AT ALL THESE PLACES!
---
SURPRISE!
THERE ARE TWO BIG GIVEAWAYS THIS WEEK!
(AND TWO WINNERS!)
THE SECOND SPONSOR IS:
KITTY THOMAS

Kitty also has a new release this week.
 
THE ESCAPE ARTIST
Claire was held captive for 43 days by a man who did unspeakable things to her.
Three years after her escape, she gets her revenge. The only problem is, she's got the wrong man.
God help her if he escapes.
---
THE SECOND PRIZE IS:
SIGNED hardcovers of the COMPLETED Pleasure House series
Guilty Pleasures
Broken Dolls
Surrender
Pretty Lies
Twisted Fates
AND SIGNED paperbacks of
The Con Artist
The Escape Artist
(7 books total!)
---
ABOUT KITTY THOMAS
KITTY THOMAS writes dark sexy stories that play with power. She began publishing in early 2010 with her bestselling COMFORT FOOD and is considered one of the original authors of the dark romance/erotic subgenre.
This work is meant for an adult audience. The author does not endorse or condone any of the behavior carried out by characters in her stories. She believes fiction is meant to challenge the reader, not teach morality. If you haven't developed morals by the time you start reading erotica, it's probably too late.
Kitty writes standalone novels except for the Pleasure House Books which are interlocking standalones.
---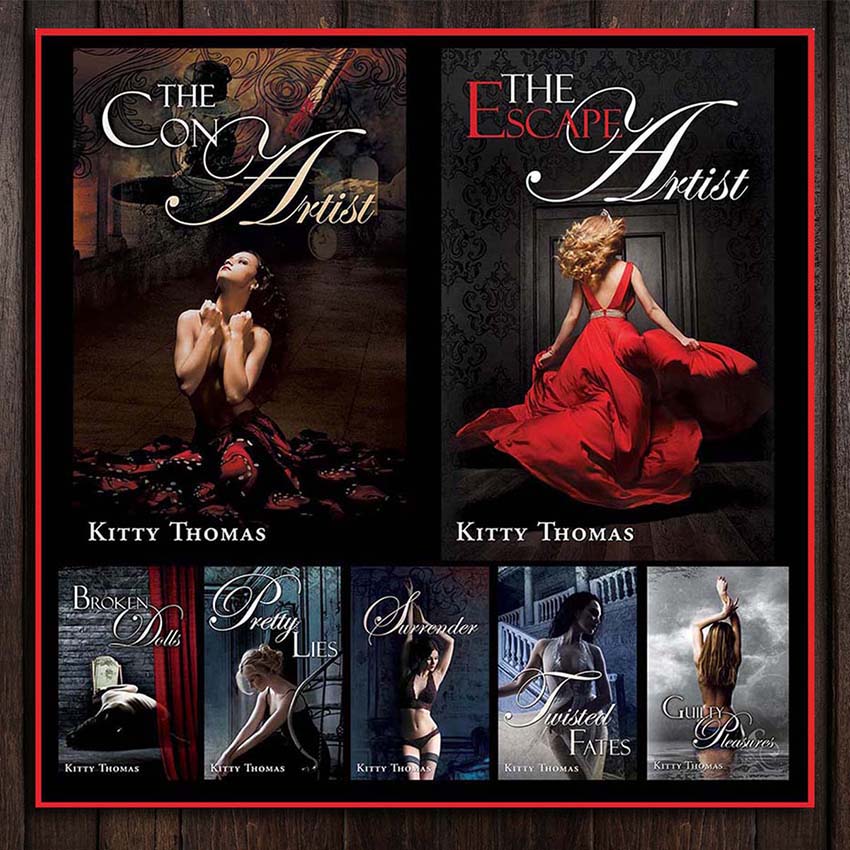 You've been taken hostage and have no chance of escape.
Who do you hope has you:
A) A guy that looks like a Viking off a battlefield but is mostly gentle with you
B) A bald guy that looks like a bouncer. He's a quiet type and has a dragon tattoo on his back
C) A gorgeous but arrogant and brooding dangerous artist who has decided to share you with his equally hot friends

Click the "Leave a blog post comment" option!
---
STALK KITTY THOMAS AT ALL THESE PLACES!
GIVEAWAYS ARE ALWAYS OPEN INTERNATIONAL!
Winners are picked at random using the Rafflecopter app. NO INFORMATION on the Rafflecopter will EVER be shared with another party. Nor will I ever use your private information in way you have not authorized. i.e. I will NOT be secretly adding you to my email list! 😉
---
If you're not following my blog make sure you subscribe! You'll get an email every time I post a new Friday Night Freebie!
Subscribe to Blog via Email
---
ENTER THE BONUS GIVEAWAY ON INSTAGRAM!
IT'S ANOTHER HUGE PRIZE!

---
ENTER BIG GIVEAWAY 1!
EVERYTHING IS OPTIONAL
ENTER THE WAY YOU LIKE BEST!
---
ENTER BIG GIVEAWAY 2!
EVERYTHING IS OPTIONAL
ENTER THE WAY YOU LIKE BEST!
---
ENTER TO WIN A WHATEVER BITCHES TOTE BAG AND A SIGNED COPY OF ALONZO!
JOIN MY FAN GROUP ON FACEBOOK TO ENTER.
(If you're not a member just ask to join and someone will add you)

---
MY NEWEST RELEASES
Thanks for stopping by! Come back soon!