WHAT'S DOWN BELOW…
Sick Hate Release
Sick Hate Giveaway
Savage Rage of Fallen Gods
Signed Book Order Form
What's Next!
What's Next AFTER What's Next!
What I'm Working on Now
Summer Farm Vids from Instagram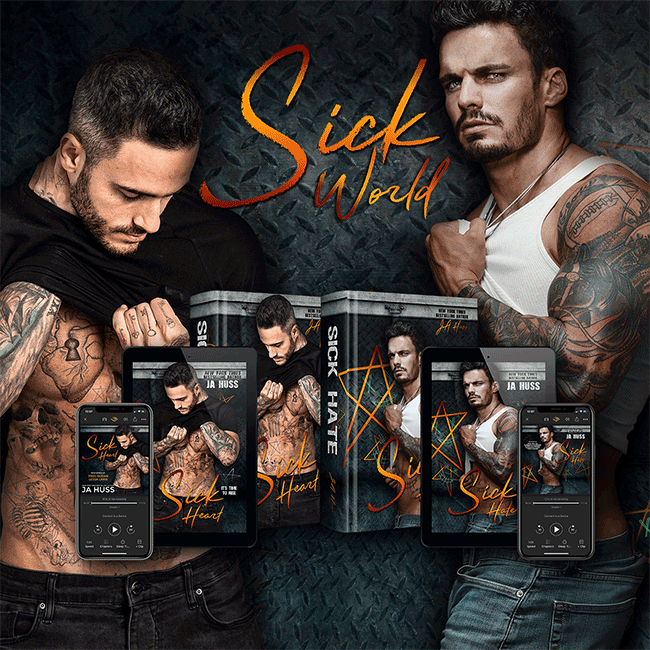 The big news this week is the release of SICK HATE. I'm so excited to release this book into the world – it's filled with some of my favorite characters and the audiobook is beyond amazing featuring FIVE narrators! Eric Nolan as Eason, Samantha Summers as Irina, Rupert Channing as Maart, Samantha Cook as Beth, and Troy Duran comes back as the voice of Cort and other side characters.
I'm totally in love with it and he's what everyone's been saying so far: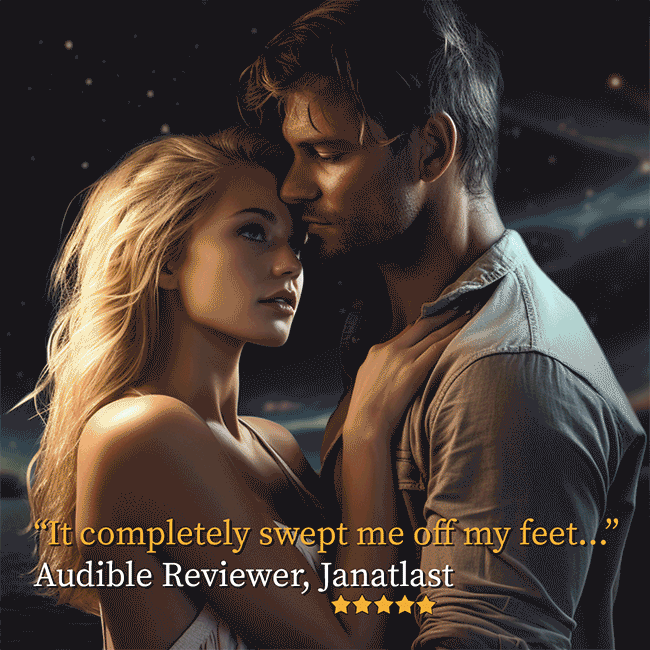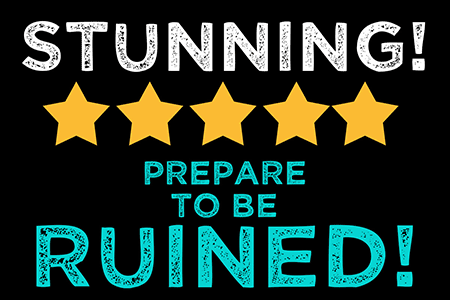 This is the second book in the Sick World Series and while it is a standalone story, it should be read after Sick Heart. It's a very different book than Sick Heart (do what you will with that!)
Irina and Eason are our new couple – this book takes place seven years after Sick Heart so Irina is 20 now and her life has changed in many ways. Much like Sick Heart, Sick Hate is a sweet love story within a background of evil.
You can get it here (Read FREE in Kindle Unlimited if you want)


And you can pick up the BEYOND AMAZING audiobook here.

---

To further celebrate the release, I have a GREAT GIVEAWAY for you guys. All you have to do to enter is LEAVE A COMMENT BELOW ON THIS BLOG POST.
For a chance to win a $150 gift card
(or PayPal cash equivalent)
ANSWER THIS QUESTION IN THE COMMENTS BELOW:
It's already the middle of September and this year is just about over.
So tell me something good about your year so far.
My year has been pretty chill. I have written a LOT of words! Now that Sick Hate is out, I still have TWO completely finished books ready for release right now—but I'm holding them until 2024 for a whole list of various reasons, none of them particularly interesting, just business decisions.  
My 2023 Releases are:
Blood Lovers
(American Vampires)
The Circle
(With Johnathan McClain)
The Ro Bro
(With Johnathan McClain)
The Savage Rage of Fallen Gods
(Monsters of St. Mark's Spin-off Series)
Sick Hate
(Sick World)
But honestly, the best thing about my year so far is getting to ride the horse (Moju, if you're not keeping up on the socials). He's really coming along as a trail horse and I rode quite a bit this spring and summer. The baby goats in May were a complete delight too! They grew up (as babies do) and went home with my friends/book signing assistants, Tim and Nicole Alexander to live on their farm in Kansas. 
The garden got ruined by a huge storm that blew through in June while I was away at Book Bonanza, so that was a disappointment. But whatever. Shit happens, right. The sunflowers made it, the potatoes made it (which we ate! While Tim and Nicole were here picking up goats, actually!) and there is one pumpkin out on the vine still. A bunch of tomatoes actually recovered, but too late. They will never ripen as it is getting cold quick here. 
Anyway, that's my 2023 report so far. How about you? Tell me something good…
GIVEAWAY WILL CLOSE AND WINNER WILL BE CHOSEN ON OCT 1, 2023 AND NOTIFIED VIA EMAIL USED TO FILL OUT THE COMMENT FORM HERE ON THE BLOG. 
---
---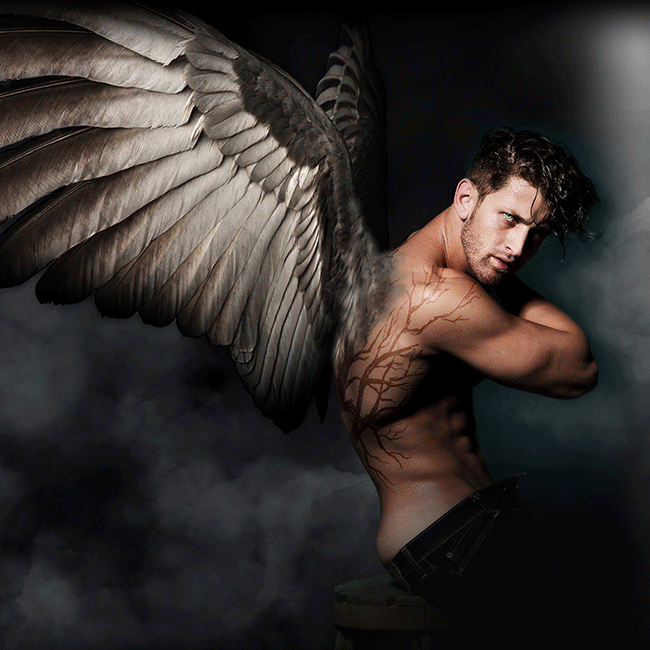 DARK Romantasy
Touch her and die
Spicy Frenemies
He falls first
Only soft for her
Angsty and Heart breaking
Ancient Gods and Monsters
Portal Magic
I never did make a blog post about THE SAVAGE RAGE OF FALLEN GODS so I might as well put all the details here! The audiobook is also AMAZING and features Tad Branson (Johnathan!) and Molly Glenmore. It's a dual narration, not a duet, but I loved it!
DESCRIPTION
Welcome to Savage Falls, where the men have horns, doors have agendas, and the God of Love will never fall in love. Hate is his soulmate. His soulmate is hate.
Love. When mutual, it's Heaven on Earth. When one-sided, it can tear you apart.
There is no greater weapon than the heartsick soul. That is the power I wield, for I am the God of Love. No one has power like me. No one can poison a heart and pollute a mind the way I can. That is why the gods kicked me out. That is why they made me fall.
But then a door appears on the side of my hill. The opportunity to ruin kings and destroy gods is mine once more. I can crush the whole wicked world if I can just get back the power I lost.
But this magic of mine requires sacrifice.
And now, I have to decide… am I willing to pay the price?
Savage Rage of Fallen Gods is a story of a broken man. It is a tale of regret, promises, and how revenge can darken a god's soul. It is a new start of a spinoff series by New York Times bestselling author, JA Huss, writing as KC Cross
NARRATED BY: Tad Branson, Molly Glenmore

---
---

I AM HAPPY TO REPORT that the signed book order form will be going up this weekend! I don't have it ready quite yet, but it will be live on Sunday.
If you're new to this, it's just a way to order signed books without having to attend a book signing. PLEASE BE AWARE that IT IS A PRE-ORDER. The order form is open for about 4 weeks. I order all the books at once (it takes about 3-4 weeks to get them in) and then I sign and pack them.
Packing and shipping is a MASSIVE operation. I have written a fuck-ton of books and almost all of them are on this form. Every order has a different combination of books and some people order 30 or 40 books at once. (Oh yes, they really do!) So this packing thing is a BIG, HUGE deal and takes some time.
But hopefully you can expect them to be delivered approximately in early December.
I say "approximately" because let's face it, the world is crazy. One cannot simply assume it won't flip out on us and ruin all our plans. But barring some world-wide fuckery, US orders should arrive before Christmas.
I can't guarantee arrival time for international orders. Every country is different and some are speedy while others are not. But they will be SHIPPED at the same time as the US orders.
Please also be aware that INTERNATIONAL SHIPPING COSTS WILL MAKE YOU CRY. I have no control over that, I'm sorry. I ship flat-rate priority mail only so it's all tracked and it just costs a fortune.
While you're waiting for the official form to go live, you can download this checklist here to keep track of which signed books you already have, and which ones you still want.
JUST RIGHT-CLICK THE IMAGE BELOW, SAVE IT, AND THEN PRINT IT OUT OR USE ON YOUR TABLET.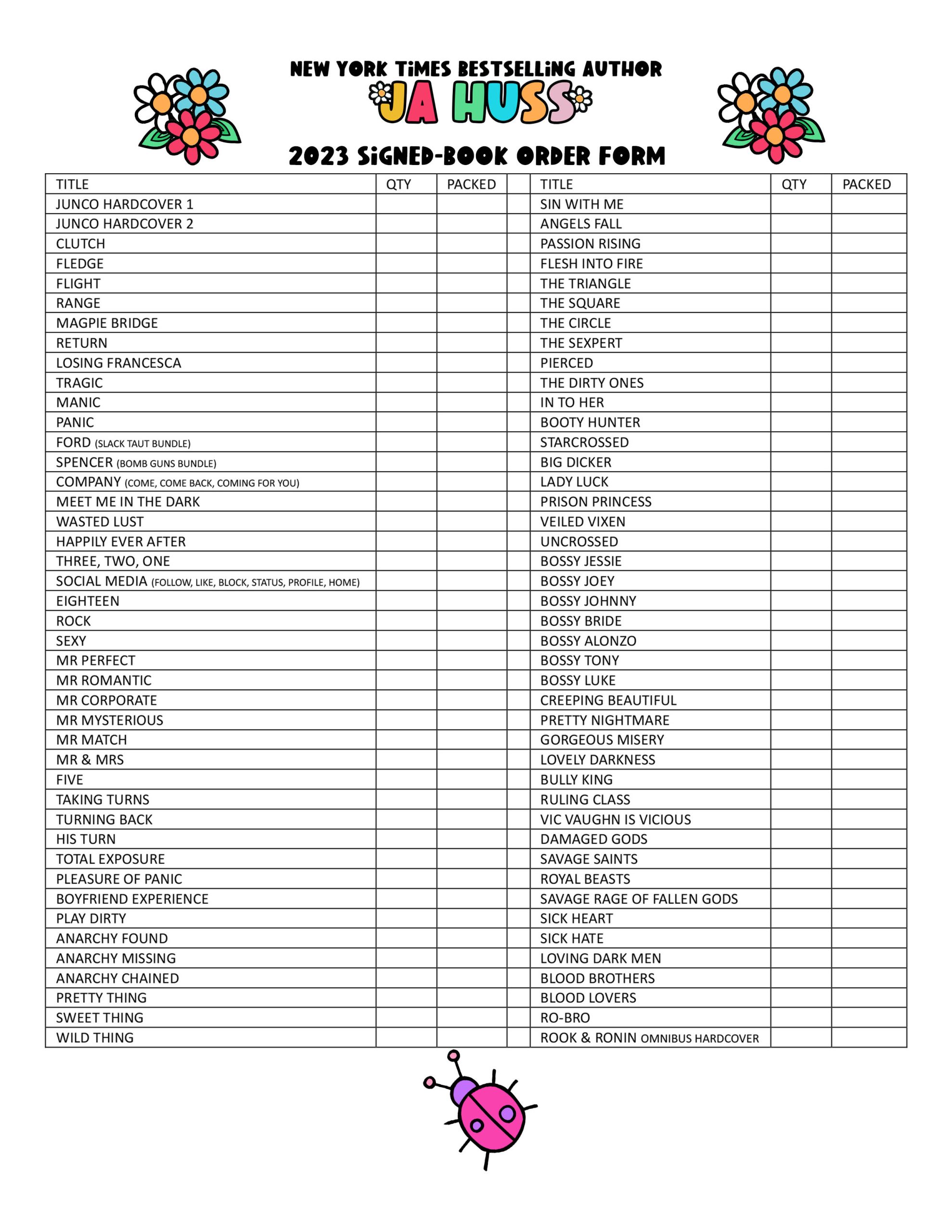 ---
---

I have two books completed that have not released yet. The first is BLOOD BROTHERS – Book 2 in the American Vampires series. That will probably release in January of 2024.
The second book is a contemporary romance – book 1 of a brand-new trilogy. But I'm holding that one off until I finish books 2 and 3 so i can do a rapid release of all three of them. So that will be in 2024 as well. 
The Blood Brothers audiobook is still in final editing but I will have a bunch of teasers for that soon! It should be back to me in about a month. 
The new Book 1 audiobook is also 100% complete and I have those final files already. You can expect some cover reveals and audiobook teasers coming soon as well. 

My WORK-IN-PROGRESS right now is a dark fantasy. I came up with this story last spring, I think. And I was so intrigued by it that it just kinda took over all the space in my brain. Even though this one is not even finished yet it will probably release after Blood Brothers and BEFORE the new book 1 series. 
This is a standalone dark romantasy with some pretty cool twists. I just sent in my request for narrators to give myself a deadline so I know for sure it will be done and on it's way to audiobook production by November 20th or so. 
I will be in Vegas for the 20Books Author Conference from November 5-10. This is not for fans, just authors. And I'm gonna hang out with the #manfriends, Terry Schott and Shawn Inmon. Not really a work-in-progress update, but it will take a week off of writing, so it actually does affect this book I'm writing. I work best on deadlines. I work my very, VERY best on tight deadlines. I don't know why–and I actually hate the stress of tight deadlines–but this Vegas trip will be the absolute TIGHT DEADLINE to get the book off to my editor before I leave for the trip. 
Like the other two books mentioned above, I will have a LOT more to say about this book, the cover, and all the other stuff coming soon!
Another thing I should tell you is that I WILL NOT BE SIGNING AT BOOK BONANZA IN 2024. I've done the signing 3x now–all of them were fantastic! But I don't get a lot of opportunities to walk away from my farm for a week at a time and next year I want to do something new. 
So I WILL BE SIGNING AT DARK STAR CON in New Orleans! All the information can be found HERE if you'd like to come out for this first-ever spectacular celebration of authors and AUDIOBOOKS! That's right, it's a book signing with audiobooks as the star of the show! I can't wait – I think it's going to be AMAZING!
Tickets are on sale now so GO HERE to get all the info!
---
---

I haven't updated the Farm Pics on the website lately because I HAVE BEEN POSTING (almost daily) farm updates over on Instagram. If you want to see all the vids just click HERE and it will take you do my summer highlight reel. 
Well, that's it for now. I will have more updates on the Signed Book Order Form on SUNDAY!