THE FRIDAY NIGHT FREEBIE!
NOW BIGGER THAN EVER!
I will have guest authors co-hosting the Friday Night Freebie with me and every week there will now be TWO GIVEAWAYS! One major prize here on the blog and one gift card prize on Instagram! The same rules below still apply.
The Friday Night Freebie is super simple. The giveaway starts every Friday afternoon (usually between 3-4 PM Mountain Time) and it ends Monday at 12:01 AM. Winners are chosen and announced on Monday. Very short giveaway. Super fun thing to do real quick.
Your chances of winning are pretty high because this ONLY runs on my blog. No other blogs host it so there won't be very many people entering.
YOU DO NOT HAVE TO DO "ALL THE THINGS" IN THE RAFFLECOPTER. You enter the way you like best. So if you don't want to join a newsletter list – DON'T. If you don't want to share a post on Facebook, SKIP IT.
None of it is required. As long as you enter at least one way, you're eligible to win.  And there is ALWAYS a very simple "Leave a comment" option. I love comments! 
SPECIAL ANNOUNCEMENT!
GRAB IT QUICK BEFORE YOU HAVE TO PAY! lol

---
IF YOU ARE A ROMANCE AUTHOR and would like to co-sponsor a FRIDAY NIGHT FREEBIE with me, feel free to fill out this form! 
The dates are full through April but I will open it up to new dates in January 2020. 
---
THIS WEEK'S SPONSOR IS
MELANIE MORELAND

THIS WEEK'S PRIZE IS:
Signed copies of The Contract Series – The Contract, The Baby Clause and The Amendment

Ebook copies of The Contract Series (or three from catalog winners choice)

Book Hangover Swag Pack
New York Times/USA Today bestselling author Melanie Moreland, lives a happy and content life in a quiet area of Ontario with her beloved husband of twenty-seven-plus years and their rescue cat, Amber. Nothing means more to her than her friends and family, and she cherishes every moment spent with them.
While seriously addicted to coffee, and highly challenged with all things computer-related and technical, she relishes baking, cooking, and trying new recipes for people to sample. She loves to throw dinner parties, and also enjoys traveling, here and abroad, but finds coming home is always the best part of any trip.
Melanie loves stories, especially paired with a good wine, and enjoys skydiving (free falling over a fleck of dust) extreme snowboarding (falling down stairs) and piloting her own helicopter (tripping over her own feet.) She's learned happily ever afters, even bumpy ones, are all in how you tell the story.
---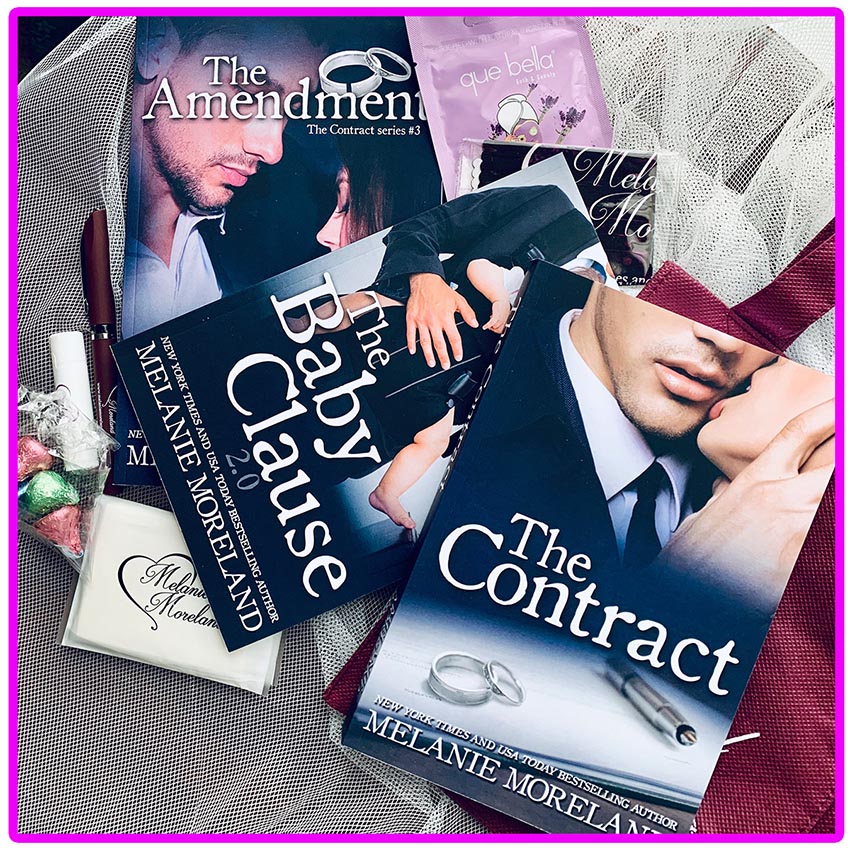 How much angsty trouble do you like our hero to dole out to our heroine?
On a scale of Vodka, Kleenex or Pitchfork
A) A bottle of top-shelf Vodka
B) Big Box store size package of Kleenex
C) Sharpen those points! I want our hero to really feel that pitchfork hit his fine ass

Click the "Leave a blog post comment" option!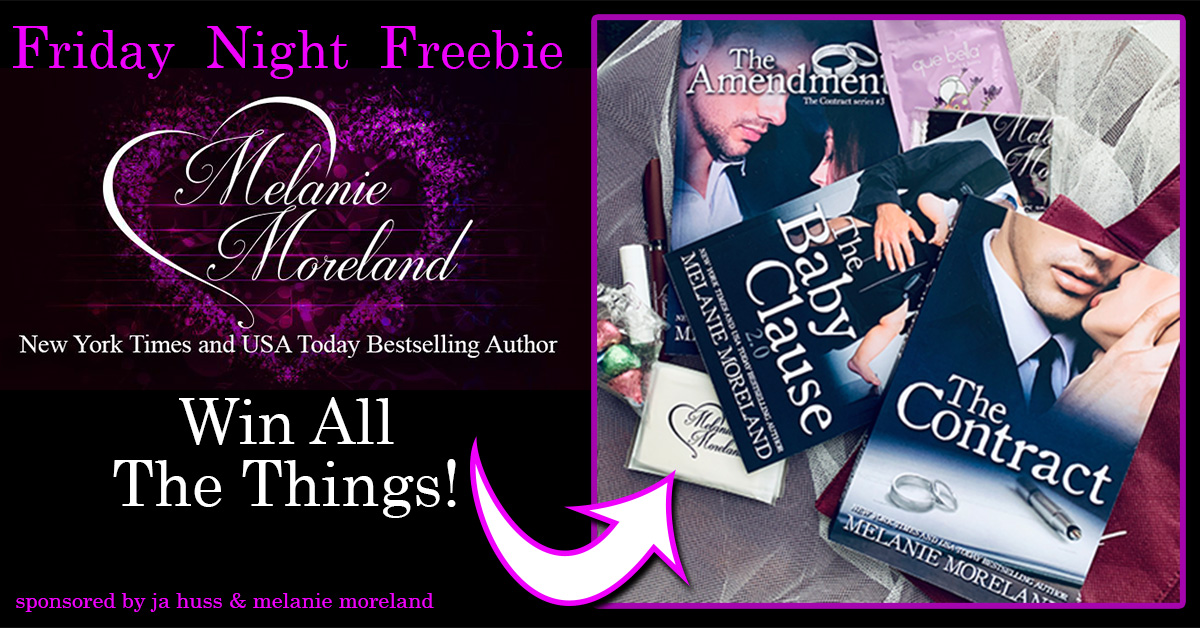 GRAB THE CONTRACT SERIES HERE
READ FOR FREE IN KINDLE UNLIMITED!
STALK MELANIE MORELAND AT ALL THESE PLACES!
GIVEAWAYS ARE ALWAYS OPEN INTERNATIONAL!
Winners are picked at random using the Rafflecopter app. NO INFORMATION on the Rafflecopter will EVER be shared with another party. Nor will I ever use your private information in way you have not authorized. i.e. I will NOT be secretly adding you to my email list! 😉
---
If you're not following my blog make sure you subscribe! You'll get an email every time I post a new Friday Night Freebie!
Subscribe to Blog via Email
---

---
ENTER THE BIG GIVEAWAY!
EVERYTHING IS OPTIONAL
ENTER THE WAY YOU LIKE BEST!
---
MY NEWEST RELEASES AND PRE-ORDERS!
MANY ARE FREE IN KINDLE UNLIMITED!
GRAB IT QUICK BEFORE YOU HAVE TO PAY! lol

PRE-ORDER BOSSY BRIDE NOW!
Thanks for stopping by! Come back soon!