THE FRIDAY NIGHT FREEBIE!
YES, I DO REALIZE IT'S SATURDAY MORNING!
BIG GIVEAWAY AT THE BOTTOM OF THE POST
I'm going to skip the blah, blah, blah stuff that usually goes here at the top explaining what this is and just jump right into things!
FIRST – sorry that the giveaway is late! I was just too busy last night to fuck with it. BUT I'm going to let this one run until Thursday instead of Monday. Then we will be back on track next Friday.
---
THIS WEEK'S SPONSOR IS
ME!

ABOUT ME
JA Huss is the New York Times Bestselling author of 321 and has been on the USA Today Bestseller's list 21 times in the past five years. She writes characters with heart, plots with twists, and perfect endings.
Her new sexy sci-fi romance and paranormal romance pen name is KC Cross and she writes novels and teleplays collaboratively with actor and screenwriter, Johnathan McClain.
Her books have sold millions of copies all over the world, the audio version of her semi-autobiographical book, Eighteen, was nominated for a Voice Arts Award and an Audie Award in 2016 and 2017 respectively. Her audiobook, Mr. Perfect, was nominated for a Voice Arts Award in 2017. Her audiobook, Taking Turns, was nominated for an Audie Award in 2018. Five of her books were optioned for a TV series by MGM television in 2018. And her book, Total Exposure, was nominated for a RITA Award in 2019.
She lives on a ranch in Central Colorado with her family.
---
THIS WEEK'S PRIZE IS:
PRETTY NIGHTMARE QUEEN BEE BOOK BOX
$120 RETAIL VALUE
Signed Hardcover of Pretty Nightmare
Hand-Sewn Tote Bag
Hand-Sewn Cloth Bookmark
Handmade Wax Seal Key Chain
Hand-poured 8 oz Soy Candle
4 Tea Lights
Swag Bag
IF YOU'D LIKE TO LEARN MORE ABOUT THE QUEEN BEE BOOK BOXES (WHICH ARE ALSO ON SALE RIGHT NOW FOR A LIMITED TIME) YOU CAN CHECK THEM OUT HERE.


WHAT DOES YOUR DREAM CORONAVIRUS LOCKDOWN LOOK LIKE?
A) Drinking Mimosas on a Private Beach
B) Camping in the Mountains Away from all the Assholes
C) Coordinating a Charity Event to Help People in Need (aww, you are so sweet!)
D) At Home Learning Something New with the Fam
E) Zoom-Calling all Your Friends Planning your First Night of True Freedom

Click the "Leave a blog post comment" option!
---
YOU ALREADY STALK ME SO I'MMA USE THIS SPACE FOR SOME SHAMELESS SELF PROMOTION ABOUT CREEPING BEAUTIFUL AND PRETTY NIGHTMARE!
---
CREEPING BEAUTIFUL IS ON SALE!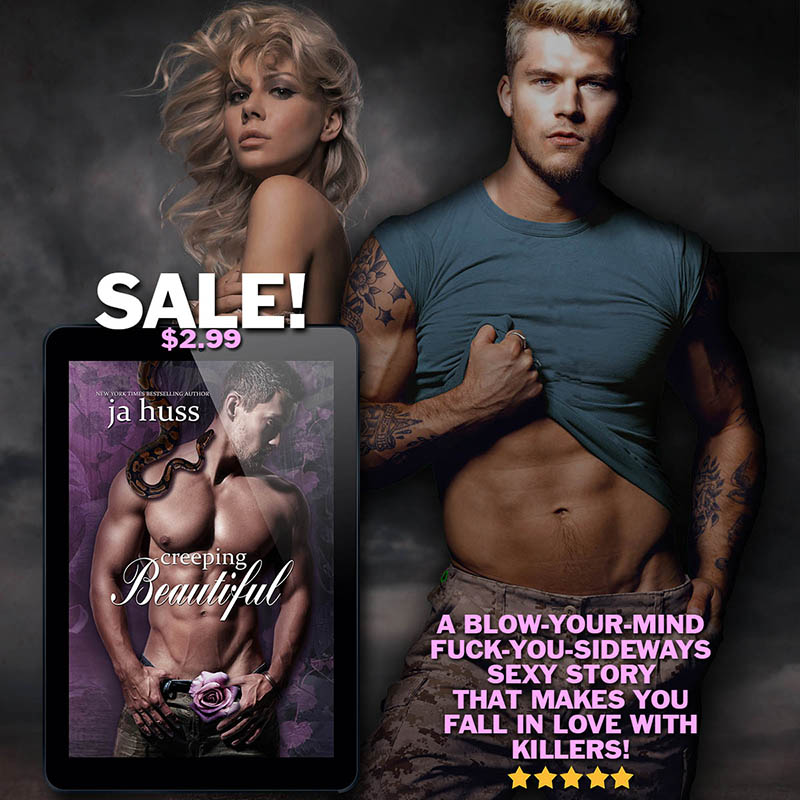 $2.99 ONE WEEK ONLY!

ALREADY READ CREEPING?
PICK UP PRETTY NIGHTMARE TODAY!
TRUST ME – if you like MMFM menage, a dramatic WTF plot, and an ANOTHER ENDING that will BLOW YOUR MIND – then YOU NEED THIS BOOK!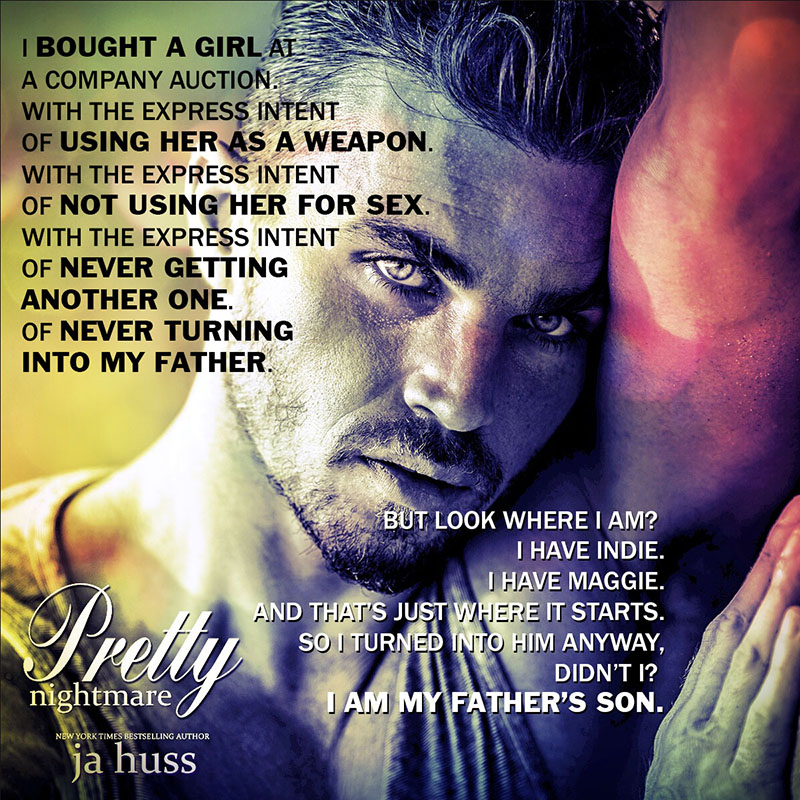 RELEASES TUESDAY 5-26!
GIVEAWAYS ARE ALWAYS OPEN INTERNATIONAL!
Winners are picked at random using the Rafflecopter app. NO INFORMATION on the Rafflecopter will EVER be shared with another party. Nor will I ever use your private information in way you have not authorized. i.e. I will NOT be secretly adding you to my email list! 😉
---
If you're not following my blog make sure you subscribe! You'll get an email every time I post a new Friday Night Freebie!
Subscribe to Blog via Email
---
ENTER THE BONUS GIVEAWAY ON INSTAGRAM!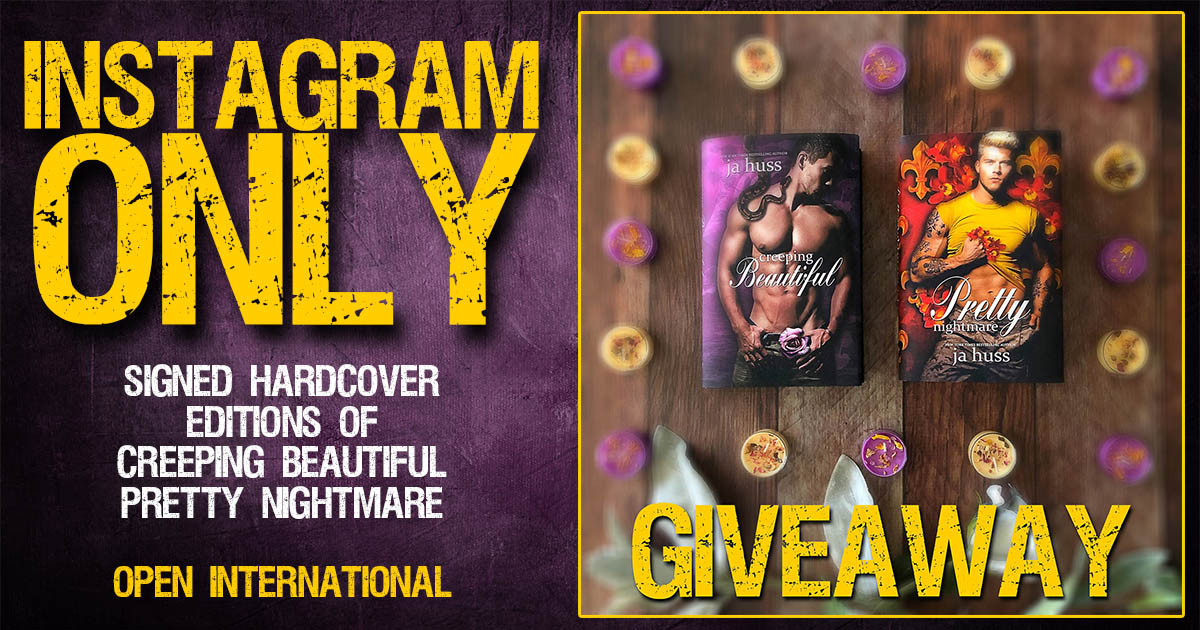 ---
ENTER THE BIG GIVEAWAY!
EVERYTHING IS OPTIONAL
ENTER THE WAY YOU LIKE BEST!
---
MY NEWEST RELEASES
Thanks for stopping by! Come back soon!