WELCOME TO THE FRIDAY NIGHT FREEBIE!
I used to do these giveaways every Friday but I got a little burned out on it last year because it takes a lot of time to set them up and stuff. But I have a MASSIVE, AMAZING PRIZE for the Vic Vaughn is Vicious release so I decided to do a throwback Friday Night Freebie for fun. 
So if you haven't heard Vic Vaughn is Vicious released this past Tuesday and it's a bad-boy-trying-his best-to-win-her-back romantic comedy about a misunderstood tattoo-artist-biker called Vicious and a good girl named Daisy who ghosted him seven years ago after she came to her senses. It's filled with funny twists, dreams of grandeur, and all seven members of the most inappropriate family in all of Colorado.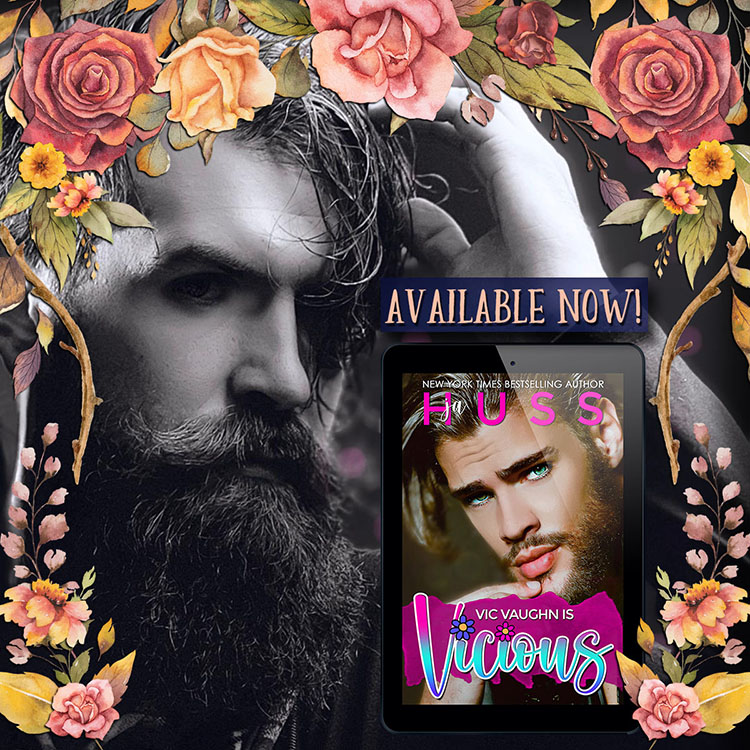 ---
My name is Vicious. God-given name, I cross my heart.
And it fits.
I'm a hot-as-f, inked-up tattoo artist at the trendiest shop in the Rocky Mountains.
I have the looks, I have the bike, I have the reputation.
That means I get the ladies.
Sure. There are lots of women out there who hate tattoos. Wouldn't be caught dead with guys like me. And that's fine. I'm not looking for girls like that.
I'm looking for that other kind of girl.
The wild one, the bad one, the crazy one.
Funny thing is… the one I fell for isn't that girl.
She's the Good Girl.
And maybe back when she was nineteen I came off as a 'maybe', but after seven years of distance I am now the definition of 'not a keeper'.
But I can be a keeper.
I can make the good girl swoon.
I can be the dream guy she never saw coming.
If she would just… not press charges… I'm pretty sure I can turn this whole relationship around.
CURL UP WITH VIC VAUGHN TONIGHT!

---
giveaway!
I've made the prize just as fun as the book. Up for grabs in this giveaway is:
$50 Amazon Gift Card
Vic Vaughn is Vicious Special Edition Book Box (Limited edition hardcover, swag, box, and Christmas ornament)
Vic Vaughn is Vicious retail hardcover
Bath and Body Works Honey Wildflower lotion, shower gel, and body spray
Viciously Delicious handmade scented candle
Handmade Daisy-Chain soap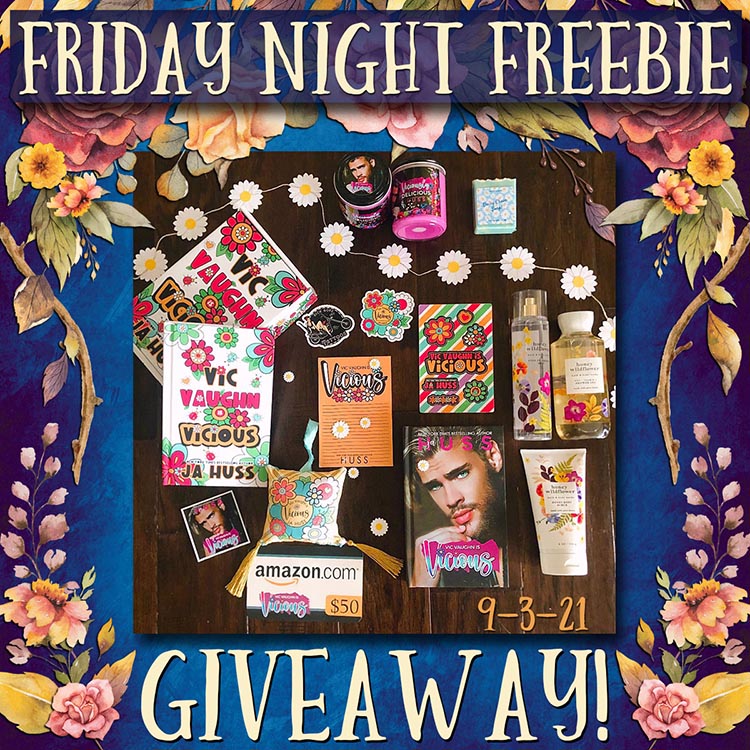 The FNF is a QUICK WEEKEND GIVEAWAY – so it starts right now and ends Sunday at midnight. Winner will be chosen and notified on MONDAY. There are LOTS of ways to enter in the Gleam App below but if you're not in to sharing posts and stuff, you can always just leave a comment HERE on my blog as your entry. 
Good Luck and have a great Labor Day Weekend! 
FRIDAY NIGHT FREEBIE – VIC VAUGHN IS VICIOUS