Welcome to 2021
Welp, we're back. I don't even know what to say about 2020. It was a shit show from start to finish. It very much feels like a stolen year. At the beginning of the new year I take a look back on what I accomplished in the previous one. I think this is a good idea even if you think your year was shit. Because you will often figure out that you did a lot more than you thought. And sometimes life gets hectic and it's hard to appreciate achievements in the moment.
January 3rd is my fiction writer anniversary. On this day in 2012 I started writing my first book, Clutch. A sci-fi thriller that turned into a 6-book series and is now sold in two omnibus editions called I Am Just Junco and I Am Not Junco. Those books got a brand-new audiobook version in 2020 and that (seriously) was one of the highlights of my year. I'm so in love with the narrators and their talent, and how they brought my first vision in fiction to life eight years after it was written. There are a bunch of narrators for Junco because there are FIFTY HOURS of audio and the last book had seven points of view. But most of it was narrated by Kristen Sieh as Junco and a little cameo as Tessan.  Steve West was the voice of Lucan, Ray Porter was the voice of Tier, and Maks Daniels was the voice of Ashur with cameos as Isten and Annun.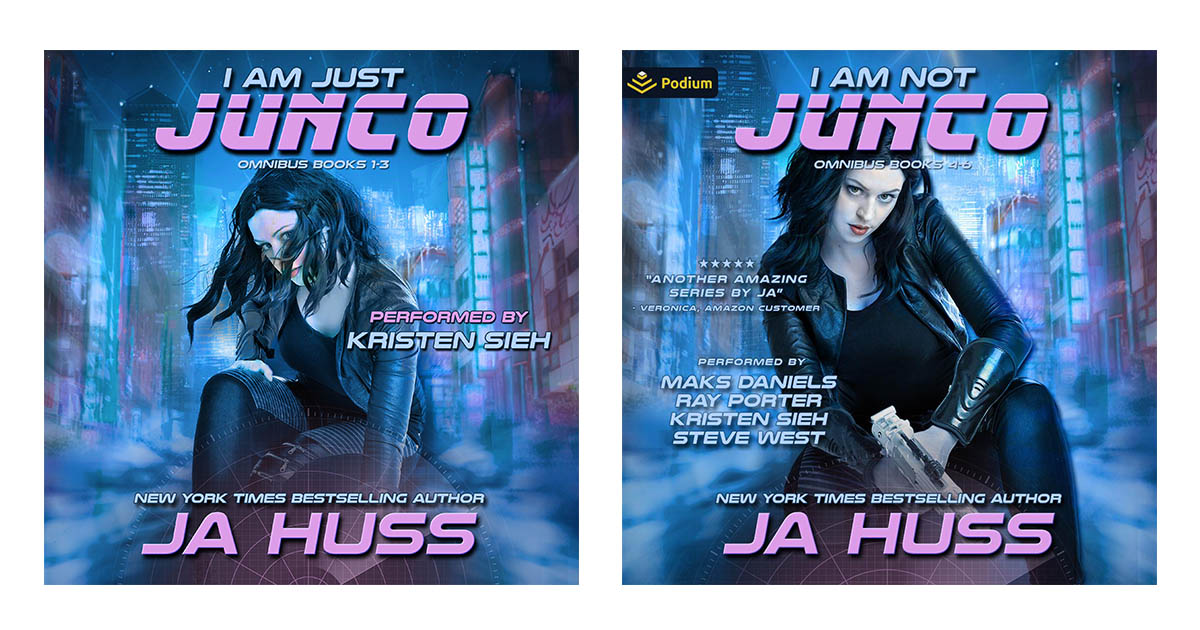 Want to listen to JUNCO? Grab it HERE:
TRY A SAMPLE RIGHT NOW! 
So that was a huge pick-me-up going into summer and now, as I sit here writing this End of Year Shit, I mark the ninth year of being a fiction writer. Most of you probably already know this, but before I wrote fiction, I wrote non-fiction. Specifically, science books for homeschoolers. Because I actually went to school to be a scientist. I have BS in Equine Science because I was going to be a large animal veterinarian. But then, at the last minute, I decided to go to grad school and ended up with a MS in forensic toxicology. But science is filled dumbasses, to be quite honest. And I wasn't in the mood to work with dumbases, so I decided to become a writer instead. (Though, if NASA ever asked my fat ass to get on a ship going to Mars, I'd still fucking do it.)
Anyway, this is January 3rd is a major milestone for me. I have never worked at the same job for nine years in a row before. My non-fiction writing career started in 2007 and then slowly ended in 2013 when I started writing Tragic, book one of my Rook & Ronin series. So, while I have been a full-time writer for fourteen years now, only nine of those have been writing fiction. Funny thing is, I've started writing some non-fiction again. Not going to get in to it here, but it's been a super-fun way to take my mind off the never-ending shit storms that just keep rolling in.
2020 definitely felt like a year that was out to steal our happiness and achievements. So it's important that we take a look back and give ourselves props for what we did accomplish, especially if you don't have people around to say it to you.
---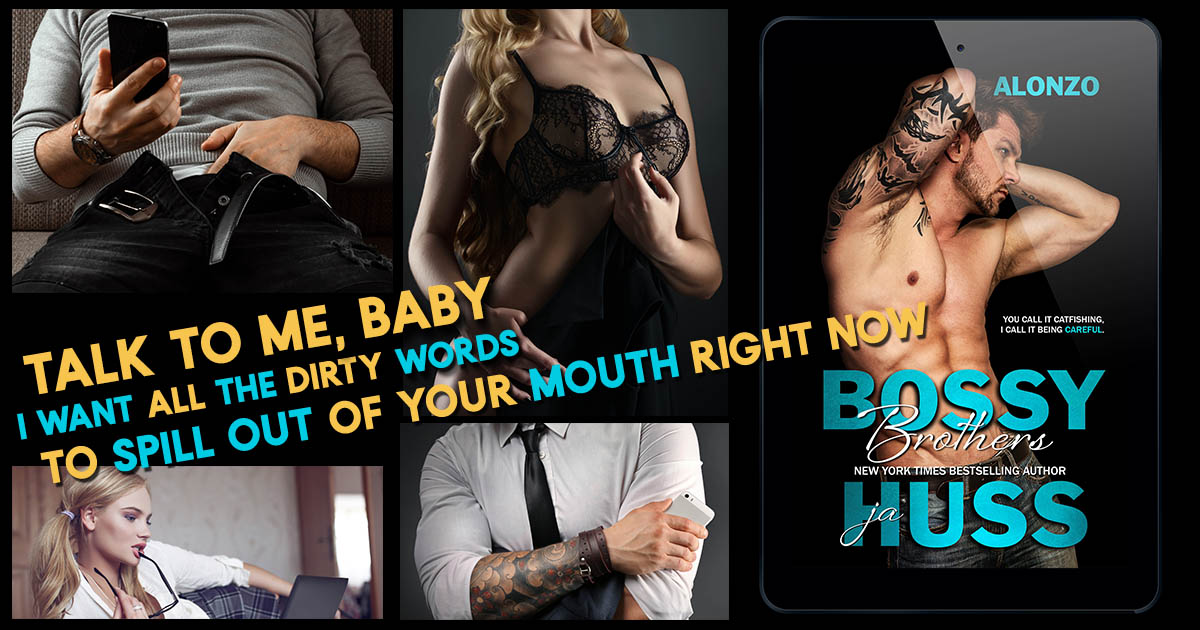 As far as brand-new stories go, I started 2020 with the release of Bossy Brothers Alonzo in January. This was kind of a difficult book to get started since it was switching gears from the Boston brothers to the Dumas brothers. Plus, it was book four in the series and the further you get into a series the harder it becomes to keep your overall plot arc. Because each book has a plot that should resolve by the end of that particular story, but the series also has a plot. And the Bossy Brothers Series was all about untangling the secrets of each family and then, once Alonzo came along, it became about typing the two families together in unexpected ways. (ALL THE BOSSY eBOOKS ARE FREE IN Kindle Unlimited – and Book One is FREE EVERYWHERE – no KU required!)
Want to listen to ALONZO? Grab it HERE:
TRY A SAMPLE RIGHT NOW! 
---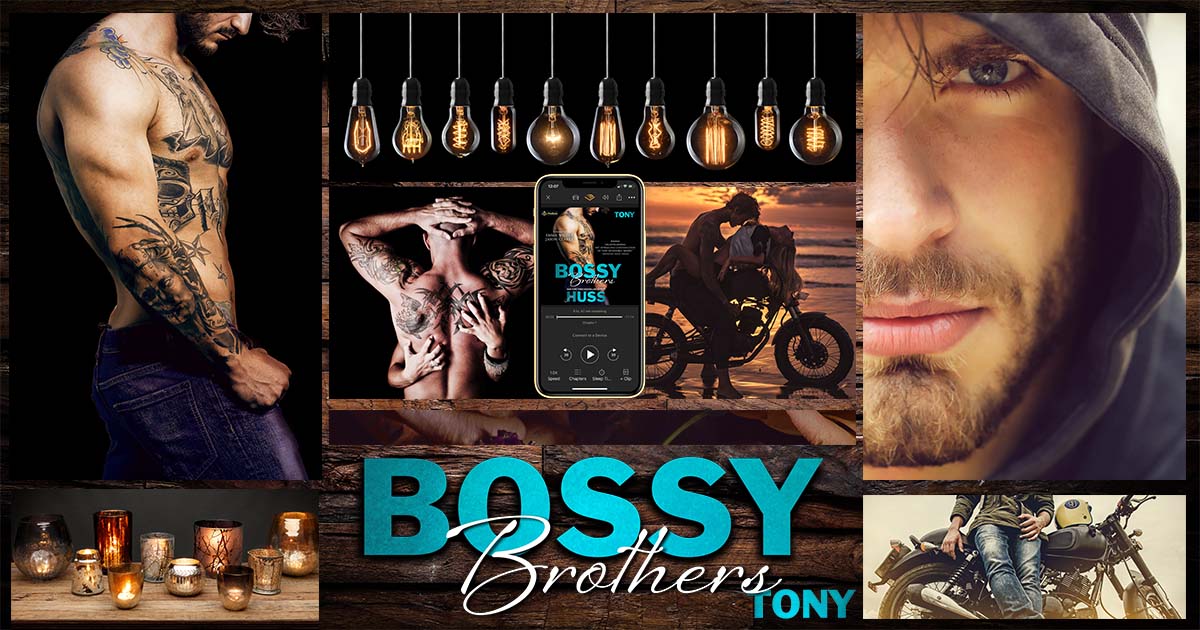 Bossy Tony released in the spring after the COVID bullshit died down a little (at least here where I live). And the last book in the series (Bossy Brothers Luke) is releasing this Tuesday, January 5. I really, really loved the Dumas part in the Bossy Brothers series. I think each book (and brother) was totally unique. Alonzo was mysterious man with a filthy mouth. Tony was putting the past behind him and looking for a second chance at the same time. But the really amazing surprise in that book was an old character from my Rook & Ronin series who came back in the Dumas books and played a major role in Tony's story. And Luke's story is about trying to hold to something. People, and places, and most of all, it was facing your demons.
And the narration for all three of them in audiobook were all fantastic. Just really, really outstanding. Bossy Alonzo is narrated by Jacob Morgan and Erin Mallon. Bossy Tony is narrated by Jason Clarke and Emma Wilder. And Bossy Luke has three narrators – Hathaway Lee, Aaron Shedlock, and James Cavenaugh. (ALL THE BOSSY eBOOKS ARE FREE IN Kindle Unlimited – and Book One is FREE EVERYWHERE – no KU required!)
Want to listen to TONY? Grab it HERE:
TRY A SAMPLE RIGHT NOW! 
---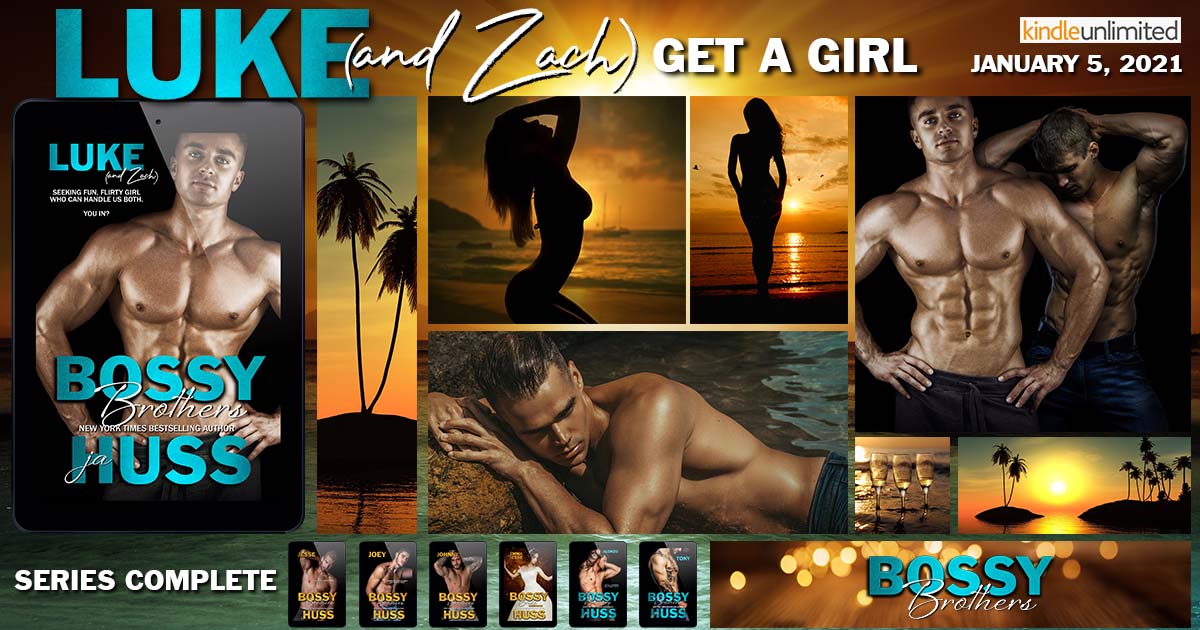 BTW – the Bossy Luke audiobook will release on Tuesday, the same time as the eBook. This is something I changed in 2020 and I love this change. I don't know if I would've had the patience to hold a book back for narration if it was any other year than 2020—because I was just SO not interested in publishing or marketing, even though I was still writing. So it was a good time to make that change and from now on all my audiobooks will release at the same time as the eBooks. (ALL THE BOSSY eBOOKS ARE FREE IN Kindle Unlimited – and Book One is FREE EVERYWHERE – no KU required!)
PRE-ORDER BOSSY LUKE HERE
---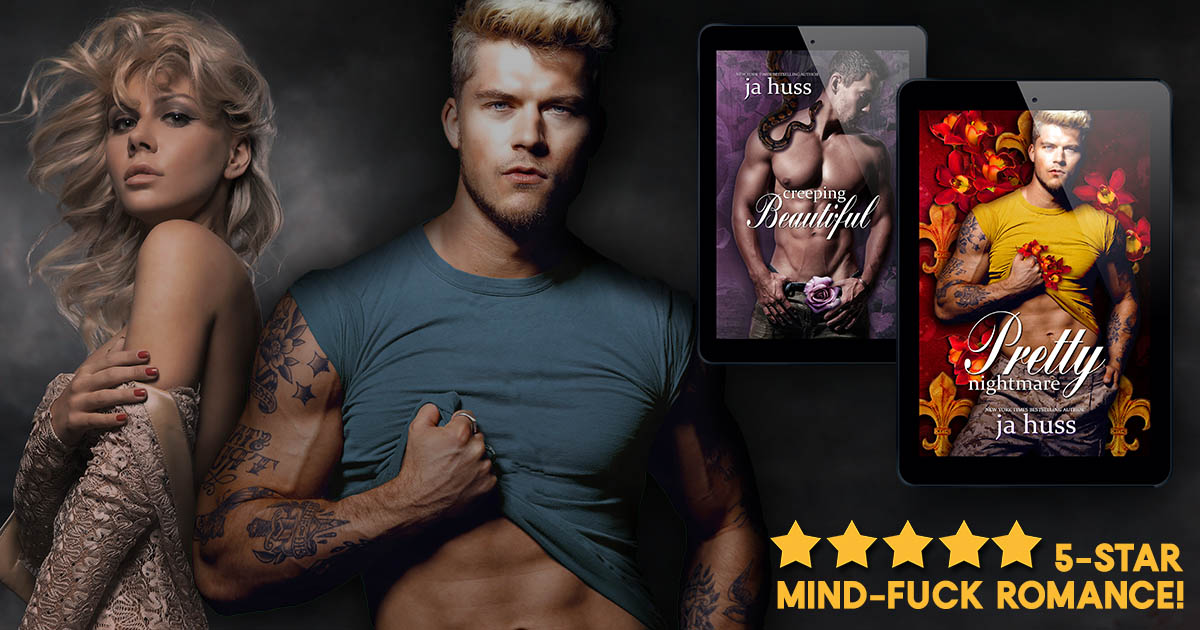 I released Pretty Nightmare in between Bossy Alonzo and Bossy Tony. This is the second book in the Creeping Beautiful series. This is a continuing series, so while the story does wrap up in each book, they all have cliffhangers that lead into the next book. I had planned on publishing the third book, Gorgeous Misery, in the fall of 2020 but that didn't happen. Lots of books I thought I would be writing didn't happen. They are still on the schedule, but as I mentioned, I just wasn't interested in publishing while all this shit as happening in the world.
But I'm loving the Creeping Beautiful series. This story takes a darker, more serious look at the Company storyline that runs through several of my other series—but with all brand-new characters. So if you haven't read any other books by me and you want to pick up Creeping Beautiful, you can. And you won't get lost. Because these books are self-contained.
Both the Creeping Beautiful and the Pretty nightmare audiobooks released in the summer of 2020. These have four narrators – Zachary Webber as McKay, Ava Erickson as Indie, Shane East as Donovan, and Teddy Hamilton as Adam. And then, in Pretty Nightmare, Jason Clarke narrates the parts of Nathan. So there were both a big production and they are amazing. The books are formatted with an interview style between Indie and Donovan, so that was like getting a duet narration surprise in the audiobooks.
I'm just about to start the third book, Gorgeous Misery, in about two weeks. Then I will write the last book, Lovely Darkness, directly after that and the both of them will go to my audio publisher and should release about a month apart sometime in the early summer. Maybe? It all depends on narrator schedules. So I will keep you posted on that.
CREEPING BEAUTIFUL BOOKS are on sale everywhere!
TRY A SAMPLE RIGHT NOW! 
---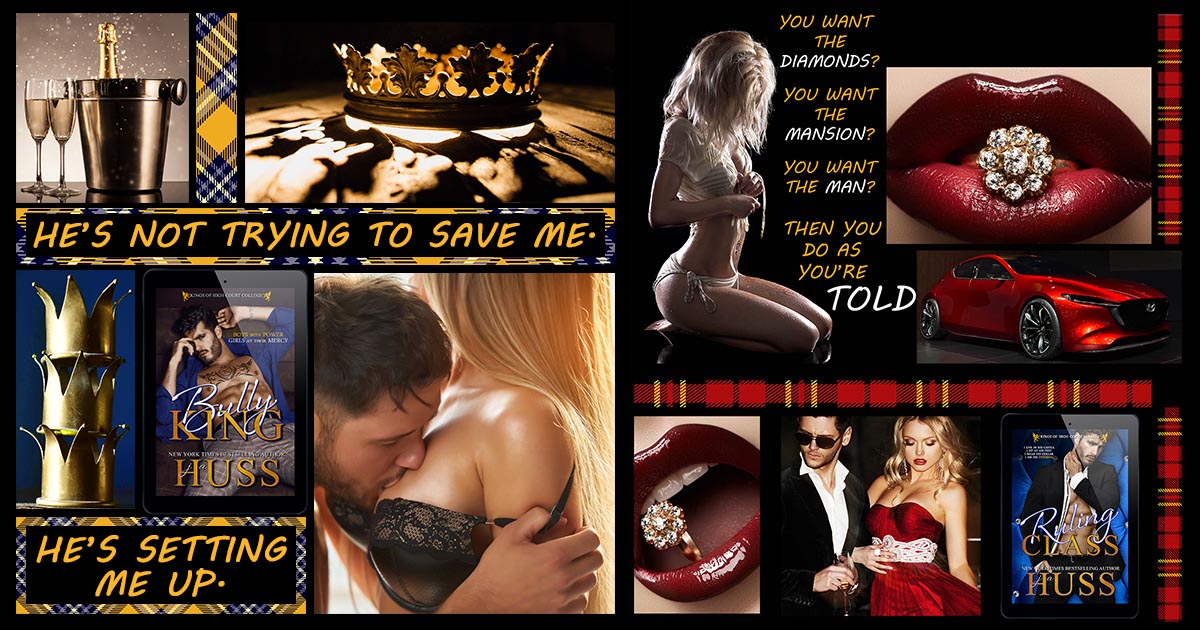 Next, I decided to a little side project called Bully King! Which was a huge hit, both in audio and eBook, and released in the Top 100 on Amazon in August. That was a duet and the second book, Ruling Class, released in September—so that storyline is all finished. And it's not related to any other books or series, so it's a total standalone. I had never written a bully book before and I had not had a true "new adult" title like that in a very long time. Not since the Rook and Ronin series, to be honest. So that was fun. And… AND… the Bully King narration (Jacob Morgan and Emma Wilder) was actually fucking fantastic. I loved it. I will often listen to my favorite parts of my audiobooks, but I almost never listen all the way through. At least, not right when it releases. I usually need to give the story time to settle before I want to hear my own words spoken back to me. But I really enjoyed the Bully King audio. BOTH BULLY BOOKS ARE FREE IN KINDLE UNLIMITED!
AND THE BULLY KING AUDIOBOOKS ARE AVAILABLE EVERYWHERE!
Not Just Audible and iTunes.
Want to listen to BULLY KING? Grab it HERE:
TRY A SAMPLE RIGHT NOW! 
---

And then I I finally finished the last Harem Station book—Uncrossed. So this is funny because Uncrossed was actually the first book I wrote in 2020. But it's the last book in that series, and when it came back from the editor I just didn't have the creative energy to finish it and pull it all together. So it sat on my hard drive for about 7 months before I got back to it and finally, that was sent to my audio publisher in October and will release on Feb 6.
This is actually a CHANGE IN RELEASE DATE.
I haven't changed it on Amazon yet, I'm waiting for the audio files to come back this week so we can be super sure that it's all good to go for the pre-order. Unfortunately, Christian Fox, who was going to narrate this book, had something come up and his scheduled changed. So we got another fantastic narrator to take over. I'll announce that when I know the files are ready! Lol. But for sure, Shane East is back for the "narrator" parts in that book. If you've never read the series, you don't know what I'm talking about. But if you have, then you get what I'm saying. So that's coming up quick.
THE FIRST TWO eBOOKS IN THE SERIES ARE BOTH FREE EVERYWHERE!
ALL THE REST CAN BE READ FOR FREE IN KINDLE UNLIMITED!
Want to listen to BOOTY HUNTER? Grab it HERE:
TRY A SAMPLE RIGHT NOW! 
---
Ohhhhh…. I almost forgot! I re-recorded the Rook & Ronin Trilogy on audiobook this year too! It's AMAZING!! Narrated by Jason Clarke as Ronin, Erin Mallon as Rook, and a cameo appearance by Teddy Hamilton as Ford in the Panic Epilogue! These audiobooks are also WIDE! And I know for sure that they are on Hoopla (library!!!!)
ALSO, BOOKS ONE AND TWO ARE FREE EVERYWHERE! 
ALL OTHERS CAN BE READ FOR FREE IN KINDLE UNLIMITED!
So if you want to check those out  YOU CAN CLICK YOUR PREFERRED STORE HERE
---
So SEE! I actually released a lot of books this year if you add in the audio. A literal shit load of books were released in 2020 by me! lol
The only other thing I wrote in 2020 is a standalone book that should release in late spring of 2021. I'm still working on that one, actually. Should be finished in about two weeks. And then it goes to editing and audio, and then we'll have a release date for you. So details on that one will have to wait.
But enough about 2020, right?
We're all about the future now!
And this year I have so many things planned.
I have that book above.
I have an erotic paranormal romance under the KC Cross name. (Same name I write Harem Station under). This one may or may not be a series. It depends on how people respond and how I feel about it once this book is done.
I have two dark, erotic thrillers planned – also standalone.
And I have Vic Vaughn on the schedule. If you don't know who Vic Vaughn is, don't worry. This will be a standalone book as well. In fact, 2021 is all about the standalone for me. I just want to chill and write new stuff for a while. But if you DO know who Vic Vaughn is… that's fucking cool, amiright?
They could all turn into series. Maybe. But they won't be written with cliffhangers.
One thing I will say about 2020 – I had more story ideas in that year than I've had my entire career. I don't even know where all these ideas came from, but they just kept coming and I have them all written down on my iPad. And I want to write them all. I'm sure all writers feel that way at some point. Too many ideas up in my head – I need to get them all out.
So that's my plan for 2021. Just get these stories out and see which ones have staying power. Maybe they all will. Maybe none of them will and I'll move on to something else.
But I just spent the last two years writing two seven-book series and a standalone sounds really fucking fun right now!
I'm also looking into finding some new narration talent. I LOVE ALL MY NARRATORS. ALL of them. If I didn't, they would not be my narrators because my publisher lets me choose them. But I write enough books, and those fabulous narrators are busy enough, that there is space and time to find new talent and give them exposure and help them get their names out there. Don't worry – I will always have a story for Teddy, Jacob, Emma, Ava, Savannah, Shane, Joe, Jason, Erin etc. etc. etc…. But there are some really great up-and-coming narrators out there and I want to hear them!
I think that's it for my look back.
I did a lot more than I thought I did. I put out a crap load of hardcovers. Which was super cool and many of them have secret, hidden case covers under the dust jackets. And I put out a book box for Pretty Nightmare and I did a MASSIVE annual signed-book order form filled with tons of homemade goodies.
In fact, candle-making turned into my new hobby. When the COVID bullshit first started that was what I did instead of write. lol. I've made nearly five hundred candles this year and I feel like quite the expert now. It's a passion I will definitely continue.
Then I did manage to pull off an incredible 12 Days of Giveaways in December. I put a lot work into that but it was super fun, I got a bunch of new readers, and fourteen people won an amazing prize by the time it was over.
Definitely gonna do that again next year.
OK, well this is long enough. I only wrote 3000 words today in my current work in progress and this blog post is coming in at nearly 2500—which makes me feel like I should've written a helluva lot more fictional words this morning! So I'm gonna let you go, but before I do…
HOW ABOUT A GIVEAWAY?

FOR A CHANCE TO WIN YOUR CHOICE OF MY 2020 BOOKS leave me a comment below and tell me what your #1 read was this year AND which if my books you would like to win!
AUDIOBOOK, EBOOK OR PAPERBACK – YOUR CHOICE!
(caveat – Junco has no paperback – so that's Audio or ebook only because I don't have any extra hardcovers right now)
My number one read for 2020 was The Invisible Life of Addie Larue by V. E. Schwab and narrated by Julia Whelan. I did the audio, so that's why I'm telling you about Julia. The story was amazing and her narration just took it very next level. It's a hard book to describe, but I loved it. I got a special edition hard cover from Illumicrate. I went book-nerd crazy with the young adult book boxes in 2020. I have so many signed special edition books on my shelf now, it's nuts. But this one was my absolute favorite of 2020!
OK, well, I'm out of here!
HAPPY NEW YEAR BOOK LOVERS!
AND DON'T FORGET TO ENTER MY GIVEAWAY by leaving a comment with your #1 read of 2020 AND WHICH OF MY BOOKS YOU WOULD CHOOSE FOR YOUR PRIZE!
AUDIOBOOK, EBOOK OR PAPERBACK – YOUR CHOICE!