It's release day for BLOOD LOVERS today so I have all the usual things below about that. The teasers, the blurb, the giveaway. But as I was pulling all this stuff together I started wondering how many books I've actually written.
So I counted them up. And it's EIGHTY-SEVEN right now. (Thank you, Shrikers, for reminding me about the three I missed on my original list).
Eighty-seven released (not including box sets or bundles. Lots of series have been bundled up – some several times.) So these the titles of the books that went live on release day for the first time.
It's technically NINETY because I just finished two books (like today, I'm finishing two books and they are both going to narrators tomorrow – March 1). And I have another one that's just about done that goes to editing on March 15.
So we'll call it NINETY.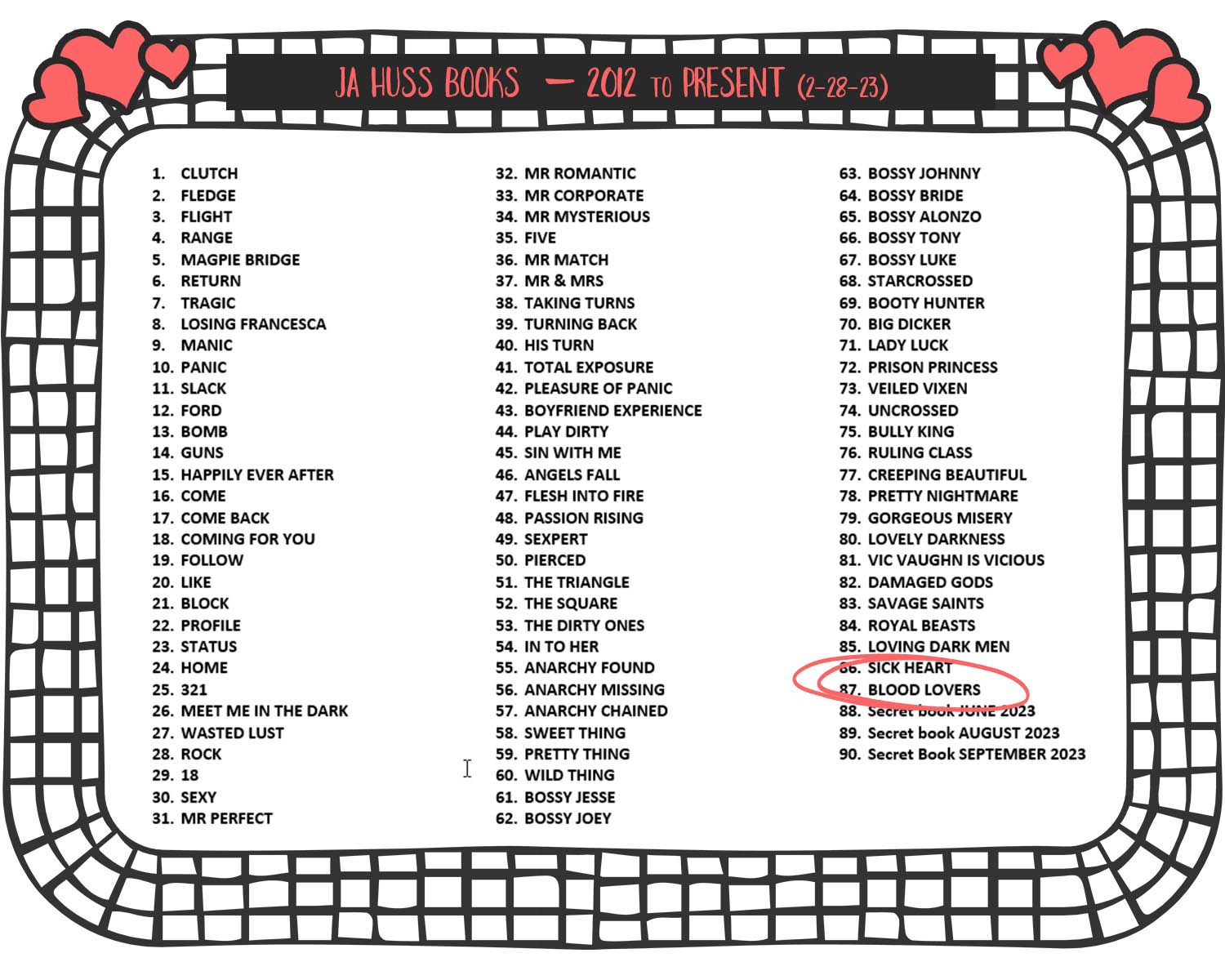 I started thinking about this because something has been popping up in my social timelines over the past few weeks—a reoccurring theme, if you will. Though I have no real interest in taking part in this discussion on socials, I do have an opinion. I've got an opinion on pretty much everything. I just don't care to bother stating it out loud most of the time.
And I am NEVER going to argue with people on social media. I don't care what other people think about the world. Like, I cannot stress enough how I have no fucks to give about what people think or decide to do with their lives.
I'm not out to change anyone's mind or belief system. Believe whatever you want. Your belief has nothing to do with me. It's all you, man.
But the thing that has been popping up is some kind of disagreement between Indie authors and traditionally published authors.
I am an Indie author. I have used a publisher for audiobooks—still do sometimes—but I am an indie publisher. I'm not going to list all my bestsellers, and I use that word 'bestseller' in the literal sense – meaning they made a 'list'. I'm not going to tell you how many awards I've been nominated for. And I'm not gonna brag about how many books have been in the Top 100 on Amazon, or Top 50 on Amazon, or Top 25 on Amazon, or Top 10 on Amazon or Top 5 on Amazon. Because it doesn't matter. But I have all those Tops, and noms, and I have made all the lists.
And I would just like to state publicly that being an Indie author has been a true pleasure and I don't regret a single step taken in my writing career.
Though, I do realize that I only have one side of the story. I don't know what it's like to have a publisher outside audiobooks.
I don't know what it's like to have someone hold your hand through the writing process, and give you feedback, and cheer you on, and spout off new ideas and directions.
I don't know what it's like to NOT make my own cover or write my own blurb, or be in charge of all my marketing.
I don't know what it's like to have someone round up "author reviews" for me or make deals for my books to be sold in Costco or Sam's Club.
I don't know what it's like to do any of that stuff.
Though I do know what it's like to have an audiobook publisher take care of me that way, so maybe my picture of the industry is clearer than most.
It's been an uphill battle, I will say that. And the only wind beneath my wings has been the readers. But if you're an Indie author and you're reading this, I would like to tell you THAT THIS IS ENOUGH.
Stop listening to people who say you cannot make a living as an author.
Stop listening to people who try and convince you that you cannot break through.
Do not take anyone seriously who says you have no chance.
They don't know. They don't know shit because they don't know YOU.
THE NUMBER ONE DEFINING CHARACTERISTIC OF WHETHER OR NOT A CREATIVE 'MAKES IT BIG' IS PERSEVERANCE. (Plus a healthy 'give-no-fucks' attitude on the opinions of others.)

Just. Keep. Going. Really. That's the secret. Just keep going.
We all know that the history of books is filled with great "traditionally published" works. But back before there were publishers, there were people with a desire to write. Not everyone had access to a printing press. Or paper. Or ink. Publishing a book was a daunting thing. And remained a daunting thing up until the release of Kindle and the Kindle Direct Publishing platform.
You guys, we—as readers and authors—are part of a historical movement. We're IN IT. We're making history right now. They're gonna write about this era of publishing for hundreds of years into the future.
We have changed history through our stories.
Because a dozen years ago it was the INDIE authors who had 'THE NEW IDEA'. It wasn't the publishers. They smacked us down every chance they got. They looked down their noses at us with contempt. They called us names, turned us into jokes, and then, when they realized the readers of the world were eager for our stories, they tried to offer everyone a deal.
It was US, the INDIE authors, who pushed all the limits.
It was the INDIE authors who perfected social media marketing.
And it IS the INDIE AUTHORS who put out different viewpoints and showed you the world in a brand new way.
Because the Indie authors don't have to give out any fucks. We don't have to use filters. Some indie writers do. Lots of them, actually. Especially these days. They give way too many fucks. But again, I'm not here to judge or change anyone's mind.
I'm just saying that some of the greatest books of these times have come straight out of the minds of Indie authors because they didn't have to care what an agent thought of their story.
Or what an editor thought of their story.
Or what the massive corporation who owns their House thought of their story.
And it is my opinion that this 'give-no-fucks' attitude is how you get progress.
This is how you get real diverse viewpoints.
TRUE diverse viewpoints.
(Not some parroting of the "current thing" that seems to be so prevalent these days.)
And I'm proud to be part of it.
Blood Lovers is out today. And I'm pleased to say it has no filter, doesn't follow genre expectations, and it's a completely new take on an old trope. Whether anyone likes it or not doesn't even matter.
It's not about who 'likes' what I write.
None of this—none of the NINETY books I've written were ever about people "liking what I write".
It's about a story that started inside my brain and ended up on a page.
That's all it is.
People are free to read it, or not. To like it, or not.
I don't care.
It's just my story and that's all it will ever be.
Mine.
100% Mine.

---
INTRODUCING THE AMERICAN VAMPIRES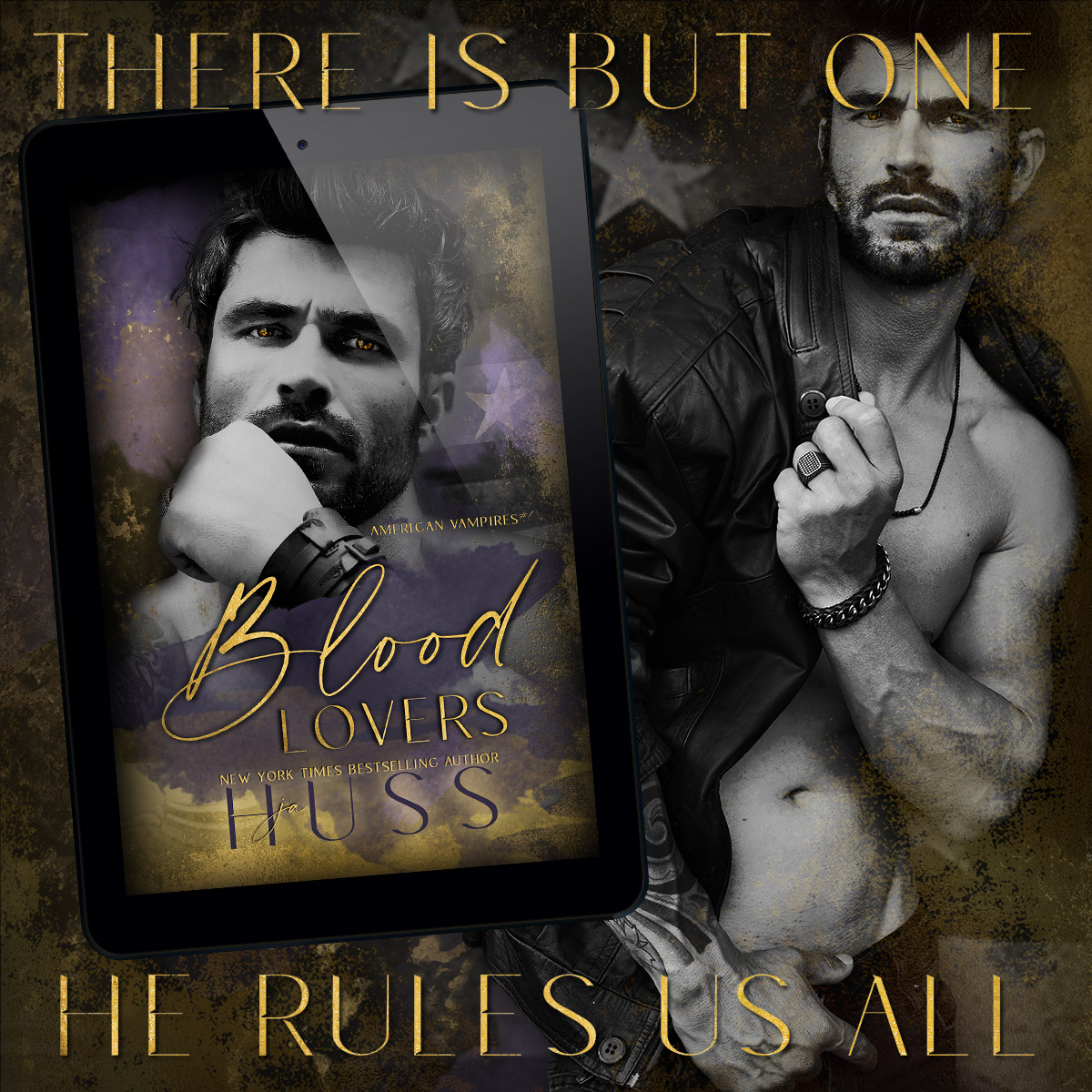 BLOOD LOVERS
By JA Huss
American Vampires, #1
Dark Paranormal Romance
The Devil craves beauty. Even in himself.
The vampire will make magnificent promises and I will say yes.
The man I give my heart to will steal my soul.
Syrsee
My grandma gave me these words of wisdom just before she died.
Then she told me to run.
Because if the old witch is dying, then he needs a new one.
And that's me.
This is my curse.
I am the vampire's power.
I am the vampire's strength.
I am the vampire's food.
And he is very, very hungry.
Ryet
I hate him, but I crave him.
I want to be rid of him, but I also want him next to me.
I want to feed on him and sometimes I dream about him feeding on me.
It feels like a trick. Like abuse.
Like Stockholm syndrome.
But it's not. It's just… the blood.
I am the vampire's scion.
I am the vampire's slave.
I am the vampire's future.
And he will never let me go.
Paul
I am the vampire.
Once you make a deal with me, it's done.
There's no going back.
Once I bite my lip—
Once I bare my teeth—
Once I let it drip—
He's mine.
She's mine.
And together we are blood lovers.
Blood Lovers is a dark, seductive journey into a world where the blood runs black, the dreams are purple, and the demons aren't just dangerous, they're beautiful.

---
READ FREE IN KINDLE UNLIMITED
---
GIVEAWAY
ENDS MARCH 13, 2023
OPEN INTERNATIONAL
PRIZE:
$100 Gift Card
Blood Lovers Box
Signed copy of Blood Lovers
Blood Lovers notepad
Blood Lovers magnet
Blood Lovers sticker sheet
BLOOD LOVERS RELEASE GIVEAWAY