GIVEAWAY IS NOW CLOSED!
The winner of the TAKING TURNS Prize is: Avephoenix Claudia
Please check your Facebook PM's!!
---

There is no better way to start off a Monday than with a giveaway! Are you feeling the holiday spirit yet? If not, hopefully this post will brighten your day. I was on Facebook yesterday and a memory popped up from seven years ago about my December giveaways. And that year it was called the 31 Days of Gift Cards Giveaway! I must've had some extra time on my hands to do a blog post for all 31 days! lol
But people love to win gift cards. And this messed-up world of social distancing really sucks if you're one of those people who love to shop. Today's prize has a gift card. When I did the gift card giveaway 7 years go I had 31 different authors. One new author for each day of the month and everyone gave away a $25 gift card. And while $25 might not be much, every little bit helps.
Anyway – it's Monday and I don't want to take up a lot of your time. I have to go to the post office today to mail the rest of my signed book order form packages and that's always a major event since I live so far away from everything. Plus I'm getting ready for the Uncrossed cover reveal on Thursday and I need to get my media kit ready. So I'm gonna get right down to business today.
---
TODAY'S GIVEAWAY IS ALL ABOUT TAKING TURNS
This book has a pretty cool trailer so I'll drop it here in case you like to watch those. 
---
ABOUT TAKING TURNS
I've never been afraid of the dark…but that doesn't mean I wanted to live in it. And maybe everyone wants what they can't have, but I should've thought it over before I accepted the key and unlocked the door to their forbidden world.
Number One is mostly silent. He watches me with them very carefully. His gaze never wanders. His interest never wanes.
Number Two is mostly gentle. But it's the other side of him I like best. The wild side.
Number Three is mostly reserved. He refuses to cross the line. Even when I beg.
It was carnal, it was sensual, and it was erotic. That's it. That's all it was supposed to be. A trip into the dark. A peek into the forbidden.
I just didn't expect to like them.
---
HERE IS THE TAKING TURNS PRIZE!
1. Signed paperback of Taking Turns
2. Let It Snow gift set
(from Basin)
3. Taking Turns swag
4. $25 Gift Card
---
AND HERE'S HOW TO ENTER TO WIN:
(1) MAKE SURE YOU ARE FOLLOWING my Facebook Author page HERE
(2) COMMENT ON THIS FACEBOOK POST and tell me which winter holiday you celebrate!
(3) COMMENT HERE on the blog (below) just to say hi!
(#3 is not required, but I still love comments and I read every single one! I don't always have time to reply, but I really do read them all)
WINNERS FOR ALL GIVEAWAYS will be chosen on December 14 and announced on FB, IG, my fan group, my blog, and my newsletter. All gifts will be mailed on December 15th with priority mail, so hopefully you get them before the big day. ALL MY GIVEAWAYS ARE ALWAYS OPEN INTERNATIONAL.
---
TOMORROW'S GIVEAWAY prize is for TOTAL EXPOSURE!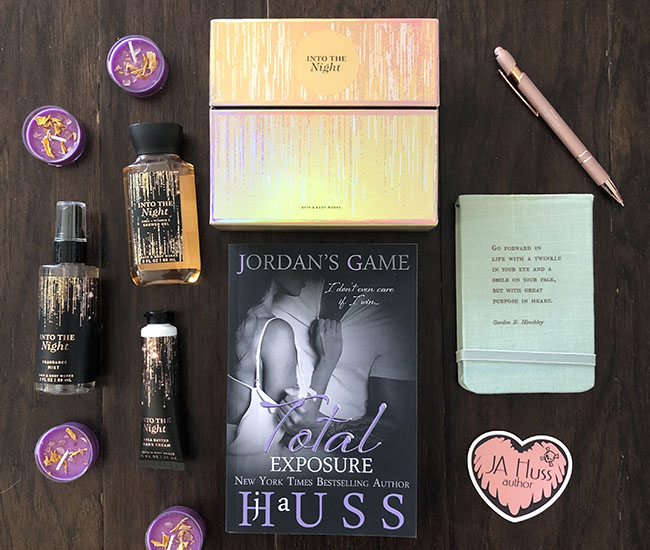 ---
Thanks for stopping by!
See you tomorrow!