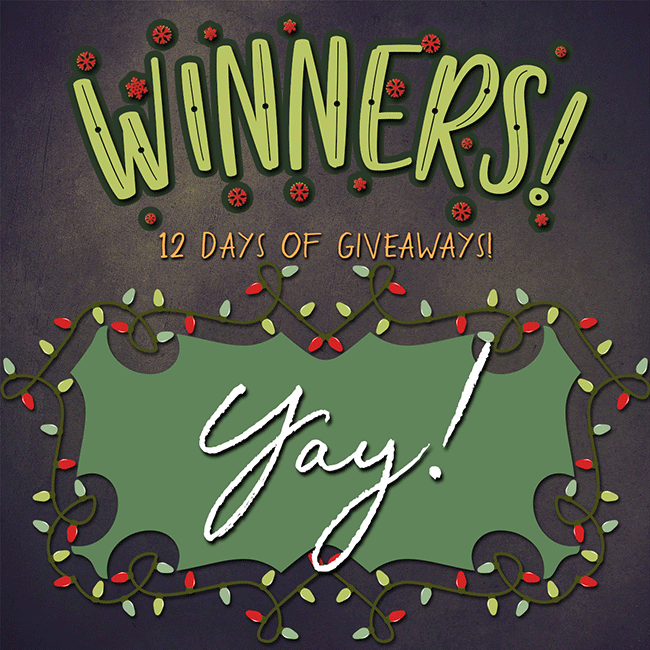 AND THE WINNER IS… Sue Tedford
CONGRATS! You win the Day 5 Giveaway! Please check your FB tags!
---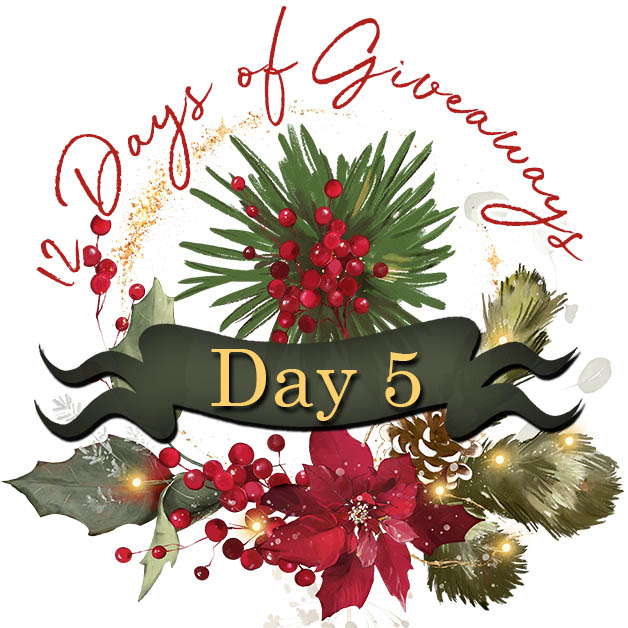 Welcome to my annual 12 DAYS OF GIVEAWAYS! 
If you're new to this – here's how it works:
1.   Each day from December 1 through December 12 I will put up a new giveaway HERE on my website with instructions on how to enter, a detailed description of the prize, and some stuff about the book or series. Each giveaway is different and each has ONE WINNER UNLESS you are the winner and you are from Australia or New Zealand.
IMPORTANT – PLEASE READ!
MY GIVEAWAYS ARE ALWAYS OPEN INTERNATIONAL BUT the United States Post Office has stopped all mail delivery to AUS and NZ. Shit is weird BUT you can still win if you're from AUS or NZ  because each giveaway has a GIFT CARD as well as a physical gift. So if the winner chosen is from AUS or NZ – there will be TWO winners. The AUS/NZ winner will get the GIFT CARD and the second winner will get the physical prize but NO gift card.
2.   Each giveaway runs UNTIL DECEMBER 13.
3.   Winners are CHOSEN and NOTIFIED on December 14. I will be notifying winners in various ways depending on how people enter. Sometimes on FB, sometimes on IG, sometimes in my FB fan group (Shrike Bikes), sometimes via email – and all winners will BE LISTED AT THE TOP OF EACH GIVEAWAY POST HERE ON MY WEBSITE on December 14.
4.   Winners have 24 hours to respond, then another winner will be chosen.
5.   ALL PRIZES WILL BE MAILED ON DECEMBER 15.  If I'm waiting on a winner to respond and they miss the December 15 mail date, that prize will be mailed when I get around to it. I live in the middle of nowhere so a trip to the post office is a "thing" for me. 🙂 So make sure you're checking for winners on the 14th.
6.   I will send newsletters announcing giveaways on December 1, December 6, December 12, and a Winner newsletter on December 14. I NEVER send this many newsletters in a month so sorry if that feels spammy. I just have quite a few readers who do not do socials and there will be at least three giveaways that do not involve socials in any way. So I need to get the word out.
7.   You can also FOLLOW MY BLOG. I will also make a blog post HERE announcing ALL WINNERS on the 14th. If you want to follow this blog there will be a form at the bottom of each post to do that. Then you get an email when I POST HERE. I don't do that often – December is the exception because of the 12 Days and my yearly "Wrap-up" post.
NO PURCHASE NECESSARY.
THAT'S IT! I HOPE YOU ALL ENJOY THIS! The world is INSANE right now so I'm just trying to spread some cheer and give back to all of you who support me and enjoy the stories I create.
DID YOU MISS THE OTHER GIVEAWAYS?
HERE ARE THE LINKS!
NOW LET'S GET ON TO THE DAY 5 GIVEAWAY!
---
GIVEAWAY #5
DAMAGED GODS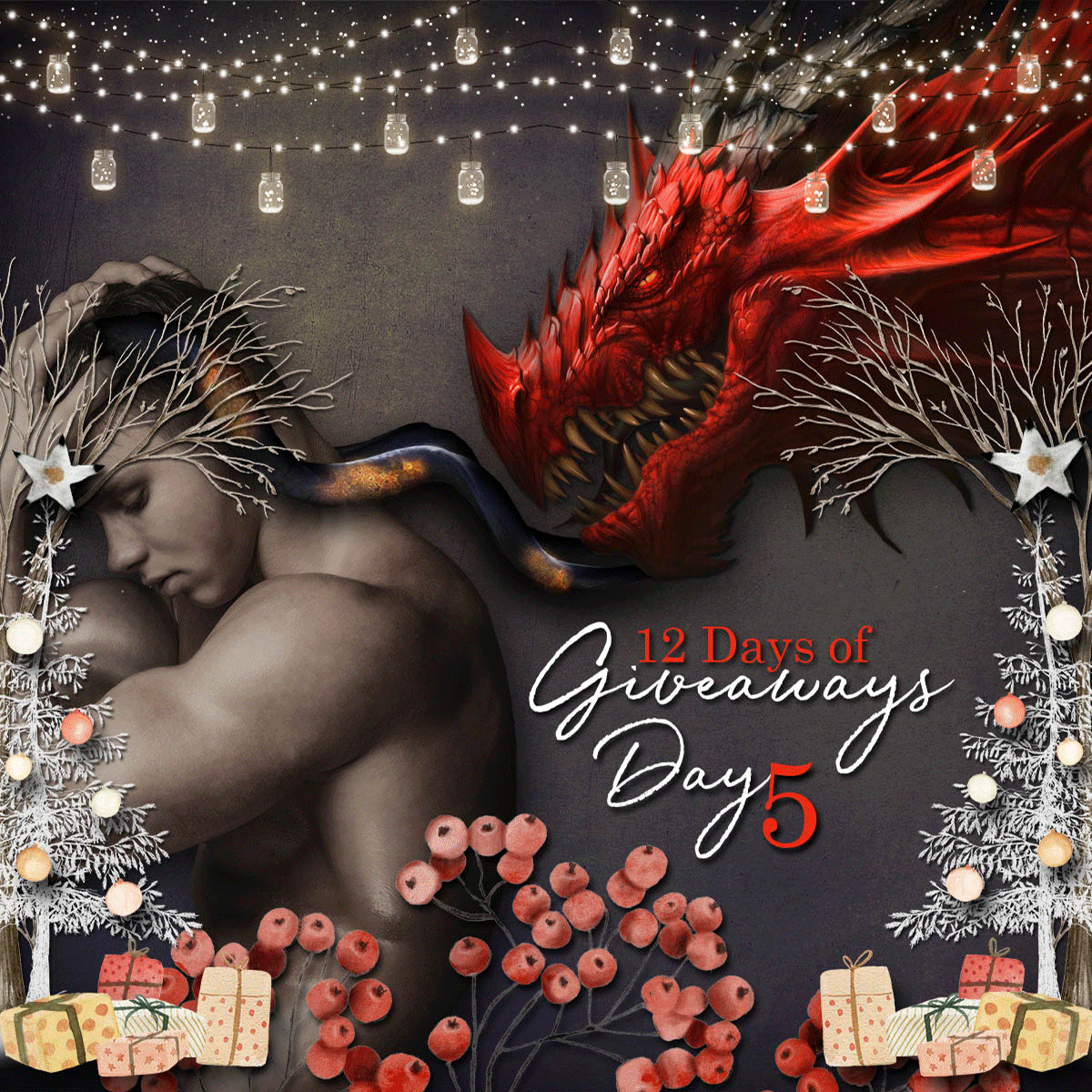 DAMAGED GODS IS A FUN, FLIRTY PARANORMAL ROMANCE
When I answered an ad for a caretaker at Saint Mark's Sanctuary I thought I'd be dusting chandeliers and polishing floors. I didn't expect to be tricked into a curse, going in debt to a monster, and being forced to take a self-paced "Let's Learn Magic" course so I can fix a two-thousand-year-old problem.
 
And that monster?
Not your ordinary, everyday beast.
He has hooves, and horns, and fur on his legs.
But ya know where he doesn't have fur?
Yep. There.
Which is fine.
Except he doesn't wear pants.
Nothing at Saint Mark's is exactly what it seems.
The entire inside is magic, the hallways upstairs are nothing but parties from the past, and the super-hot guy who lives in the dungeon?
Yeah.
Not human.
 
My name is Pie and all I want is to be a normal girl with an average life.
I refuse to get stuck in this curse.
I refuse to learn magic to break it.
And there is no way in hell I will fall in love with a monster.
 
Famous.
Last.
Words.
 
DAMAGED GODS is a fun paranormal monster romance about a girl named Pie who accidentally stumbles into a monster's 2000-year-old curse only to find she's exactly where she's supposed to be.

---
HERE IS THE DAMAGED GODS PRIZE!

1. Signed Damaged Gods Hardcover
2. Damaged Gods Candle
3. Sage & Lavender Room Spray
4. Sage & Lavender Crystal Candle
5. Sage & Lavender Smudge
6. Lollia Imagine Journal with Tassel

7. $20 Gift Card
8. Super Swag Pack
9. Gift Box
8. Gift Bag
---
LISTEN TO THE DAMAGED GODS AUDIOBOOK TEASER!
The audiobook isn't in the Audible Plus Catalog BUT it is Whispersynced (and almost 12 HOURS LONG!) so you can get it for just $7.49 when you grab the eBook first.
NARRATED BY JASON CLARKE and HATHAWAY LEE!
CLICK THE VID TO HEAR A SAMPLE OF JACOB AS COOPER!

---
AND HERE'S HOW TO ENTER TO WIN TODAY'S GIFT SET!
(1) MAKE SURE YOU ARE FOLLOWING my Facebook Author page HERE
(2) COMMENT ON THIS FACEBOOK POST and tell me IF YOU CAME UP WITH A SIDE HUSTLE while the world was changing before our very eyes.
(3) COMMENT HERE on the blog (below) just to say hi!
(#3 is not required, but I still love comments and I read every single one! I don't always have time to reply, but I really do read them all)
In 2020 I started making candles. I did this for some book boxes I made for Creeping Beautiful and Pretty Nightmare. But when all that was over I decided to keep making candles because it's fun, makes my house smell amazing, and who doesn't love candles? Also, I just kinda enjoy making the fun labels. 🙂

But then I got an idea to make some other self-care products. The witchy stuff is all the rage over on Instagram. I'm not a witch. lol. I don't do any of that spell-casting stuff or anything. But I like looking at all the crystals, and candles, and room sprays, and other cretive things that the "witchy girls" over in IG are always coming up with. They are so damn cretive and their stuff is so pretty. It's hard not to feel happy when you're looking at it. So I decided I was gonna make some of this stuff too, and then do this side hustle and sell it. I even made custom boxes. That's what you're getting in this prize, BTW. That box of room spray, the smudge, and the crystal candle were all made by me. 
But I never quite found the time to actually get an Etsy store up and running. So none of it is up for sale yet.
But I have another set of products I started making after Damaged Gods released called Pie's Apothecary. In the book, Pie is not a witch, either. She doesn't even want to be a witch. She has no interest in spell-casting or anything like that. All she wants is to be normal. 
But she's NOT normal. At all.
And when she is forced to try her hand at spell-casting, she fucks it all up. Her attempts at magic are fun and have unexpected results. So I'm gonna make fun Pie potions and other messed-up magical stuff for the Pie's Apothecary boxes and those will definitely be for sale by the time book two, Savage Saints, releases in April.
Can't wait to hear what kind of side hustles you guys came up with. 🙂
---
AND HERE is a sneak peek of tomorrow's giveaway!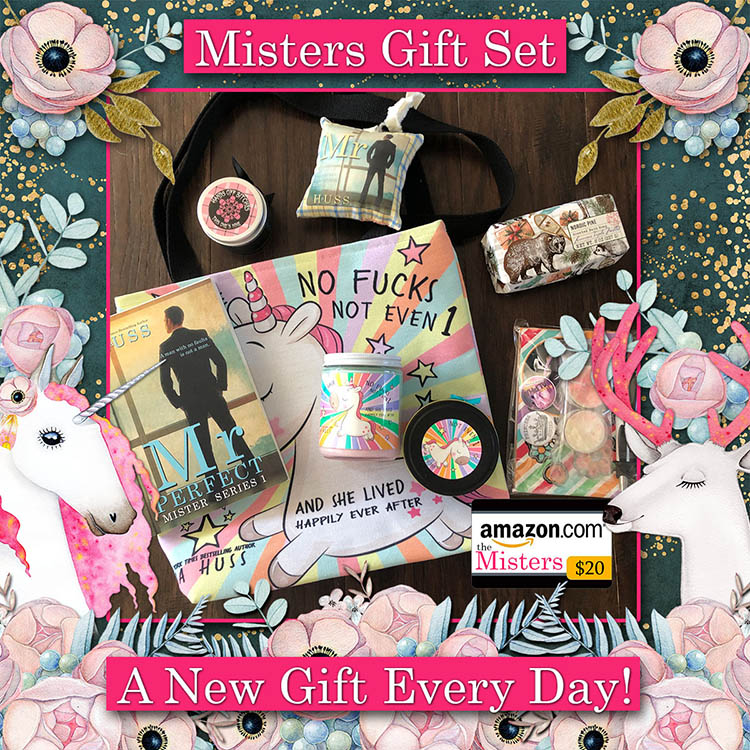 Make sure you stop by and enter!
---
BTW – THERE ARE THREE EASY WAYS TO STAY IN TOUCH with me. 
ONE – FOLLOW THIS BLOG – FILL OUT THE FORM BELOW  and you will be notified via email whenever I put up a new blog post. I usually do this about once a month unless I'm having a cover reveal, or a new release, or something special like this 12 Days of Giveaways. This is not a newsletter list. It's ONLY tied to BLOG POSTS.
Subscribe to Blog via Email
DON'T FORGET TO CONFIRM YOUR EMAIL or it won't sign you up.
---
TWO – JOIN MY NEWSLETTER – you will get an email when I send a newsletter. I don't send very many. Maybe once a month unless I'm up to something special. But you will NOT be notified of blog posts. 
DON'T FORGET TO CONFIRM YOUR EMAIL or it won't sign you up.

---
THREE – or if you don't like to get emails – YOU CAN JOIN MY FACEBOOK GROUP. This is where I hang out on the daily. We've got a nice group going with ZERO DRAMA. And if you ever have a question about something, you can tag me in there and I'll answer you. I'm literally in there all day, every day. 
---
I HOPE YOU ALL HAVE A VERY HAPPY HOLIDAY AND NEW YEAR.
Stay calm, stay safe, and let's have a great 2022!
WINNERS FOR ALL GIVEAWAYS will be chosen on December 14 and announced on FB, IG, my fan group, my blog, and my newsletter. All gifts will be mailed on December 15th with priority mail, so hopefully you get them before the big day. ALL MY GIVEAWAYS ARE ALWAYS OPEN INTERNATIONAL.