AND THE WINNER IS…  Pat Chrisp-Langston
CONGRATS! You win the Day 4 Giveaway! Please check your EMAIL!
---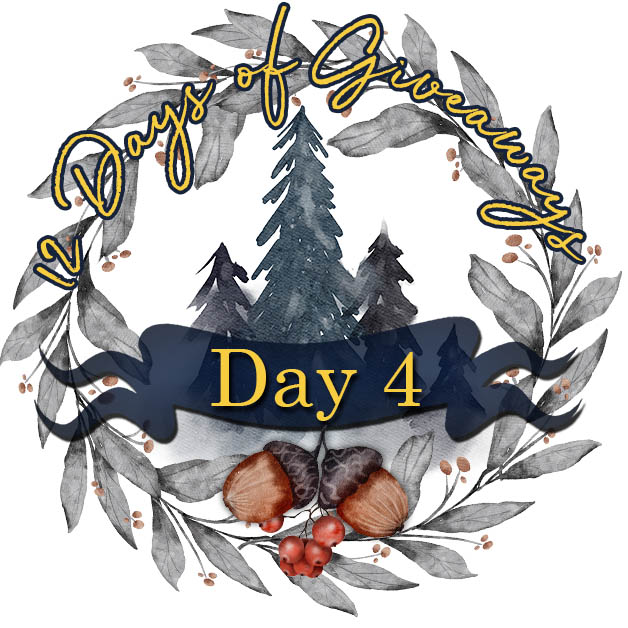 Welcome to my annual 12 DAYS OF GIVEAWAYS! 
If you're new to this – here's how it works:
1.   Each day from December 1 through December 12 I will put up a new giveaway HERE on my website with instructions on how to enter, a detailed description of the prize, and some stuff about the book or series. Each giveaway is different and each has ONE WINNER UNLESS you are the winner and you are from Australia or New Zealand.
IMPORTANT – PLEASE READ!
MY GIVEAWAYS ARE ALWAYS OPEN INTERNATIONAL BUT the United States Post Office has stopped all mail delivery to AUS and NZ. Shit is weird BUT you can still win if you're from AUS or NZ  because each giveaway has a GIFT CARD as well as a physical gift. So if the winner chosen is from AUS or NZ – there will be TWO winners. The AUS/NZ winner will get the GIFT CARD and the second winner will get the physical prize but NO gift card.
2.   Each giveaway runs UNTIL DECEMBER 13.
3.   Winners are CHOSEN and NOTIFIED on December 14. I will be notifying winners in various ways depending on how people enter. Sometimes on FB, sometimes on IG, sometimes in my FB fan group (Shrike Bikes), sometimes via email – and all winners will BE LISTED AT THE TOP OF EACH GIVEAWAY POST HERE ON MY WEBSITE on December 14.
4.   Winners have 24 hours to respond, then another winner will be chosen.
5.   ALL PRIZES WILL BE MAILED ON DECEMBER 15.  If I'm waiting on a winner to respond and they miss the December 15 mail date, that prize will be mailed when I get around to it. I live in the middle of nowhere so a trip to the post office is a "thing" for me. 🙂 So make sure you're checking for winners on the 14th.
6.   I will send newsletters announcing giveaways on December 1, December 6, December 12, and a Winner newsletter on December 14. I NEVER send this many newsletters in a month so sorry if that feels spammy. I just have quite a few readers who do not do socials and there will be at least three giveaways that do not involve socials in any way. So I need to get the word out.
7.   You can also FOLLOW MY BLOG. I will also make a blog post HERE announcing ALL WINNERS on the 14th. If you want to follow this blog there will be a form at the bottom of each post to do that. Then you get an email when I POST HERE. I don't do that often – December is the exception because of the 12 Days and my yearly "Wrap-up" post.
NO PURCHASE NECESSARY.
THAT'S IT! I HOPE YOU ALL ENJOY THIS! The world is INSANE right now so I'm just trying to spread some cheer and give back to all of you who support me and enjoy the stories I create.
DID YOU MISS THE OTHER GIVEAWAYS?
HERE ARE THE LINKS!
NOW LET'S GET ON TO THE DAY 4 GIVEAWAY!
---
GIVEAWAY #4
BULLY KING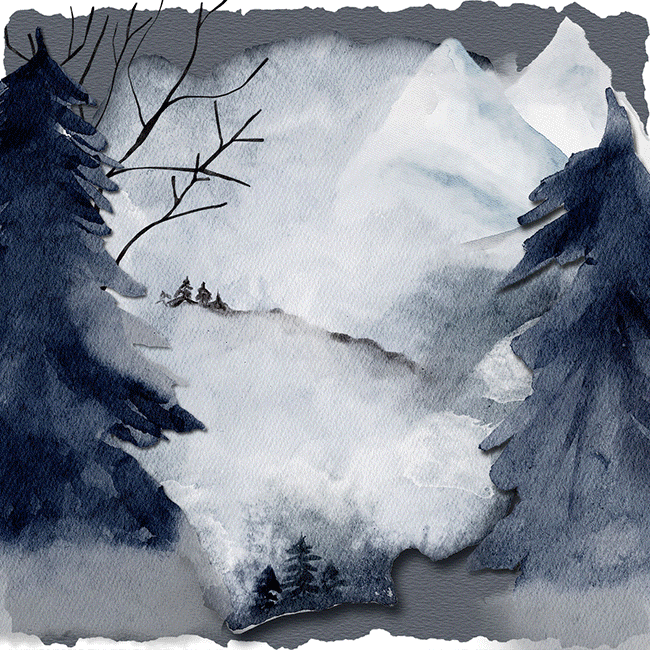 BULLY KING IS BOOK 1 OF A DUET!
High Court College isn't for everyone. And the secret society that meets deep in the woods is even more exclusive. Only a select few will get in during the summer rush–and Cadee Hunter wants to be one of them. Too bad it's Cooper Valcourt's mission to make sure she fails.
Bully boys.
Arrogant tyrants.
Blue-blood bastards.
Call them whatever you want.
Around here, we just call them Kings.
Fancy boats.
Lakeside mansions.
Luxe watches and bespoke suits.
The Kings of High Court College act like Gods.
And Cooper Valcourt is the worst of them.
He is the bully king.
His family owns everything.
And his mission is to put me in my place and send me packing.
But Cooper and I have a history filled with secrets.
And everyone knows that power doesn't come from having money.
It comes from holding secrets.
And I'm holding one of his.
A very dark secret that can bring him to his knees.
Bully King is new-adult, dark, bully romance featuring boys with power and girls at their mercy. It's a campus shrouded in lies and a summer rush into an elite society that can propel a poor girl straight into the ruling class.
If… she's willing to pay the price.
READ FOR FREE IN KINDLE UNLIMITED!
GET BULLY KING

---
HERE IS THE BULLY KING PRIZE!

1. Signed Bully King Paperback
2. Signed Ruling Class Paperback
3. Bully King Candle
4. Ruling Class Candle
5. TokyoMilk Let Them Eat Cake Lip Balm
6. TokyoMilk Let Them Eat Cake Mini Lotion
7. Herbal Bath Salts
8. $20 Gift Card
9. Nordic Pine Soap
10. Super Swag Pack
---
LISTEN TO THE BULLY KING AUDIOBOOK TEASER!
The audiobook isn't in the Audible Plus Catalog BUT it is Whispersynced (and almost 9 HOURS LONG!) so you can get it for just $7.49 when you grab the eBook first.
NARRATED BY JACOB MORGAN and EMMA WILDER!
CLICK THE VID TO HEAR A SAMPLE OF JACOB AS COOPER!
GET IT ON
---
AND HERE'S HOW TO ENTER TO WIN TODAY'S GIFT SET!
(1) This is a Social-Media-Free Giveaway!
(2) COMMENT BELOW and answer the question – What was the BEST THING about 2021?
And you can't say that it wasn't 2020! lol.
It's so easy to get lost in all the bullshit that's happening these days, but this is YOUR life. Right? So you can't let the actions of others–especially shit out of your control–ruin what's good about it. Something good happened this year for everyone. Even if it's a small thing. And while I am all about counting your blessings, that's not what this is about. I get it, we should all have gratitude. It can always get worse, that's my motto. But it's also OK to just be happy that something went right. 
So what went right for you this year?
2021 wasn't a bad year for me. Most of what's happening around the world right now hasn't touched me. I sometimes feel like I'm Bilbo Baggins living my blissful life in the Shire while the rest of the world deals with another reality. I live in the country, on a lot of land, and I work from home. So it's kinda true. If I don't want to deal with the bullshit, I don't have to.
But that doesn't mean everything goes right. However, something that had been bothering me since we moved in finally seems to be going right.  So the best thing about 2021 for me was that this was the first year I finally had time to enjoy my property. I bought this ranch about four and a half years ago and life has been crazy ever since we moved in. When we first moved here it had all this crazy landscaping around the house. I'm talking – waaaay over the top. I live too far away to hire a landscaper or a lawn company to take care of it, so I sorta just let it go. Priorities, right. 
And I hated that. 
But this year I cleaned it all up (in front, at least. The back year is a whole other matter). I spent a lot time trimming the trees, and cutting down brush, and buying all sorts of landscaping equipment. I finally accepted the fact that if I wanted it done, I had to do it myself. It's either let it all look like shit or find the time to do it myself. So I did it myself. My son helped me a lot too.
I planted a TON of bulbs this fall so I will be bothering you with pics when they bloom! 🙂 And I hope to put in a bunch of raised beds for spring. We don't have a very long growing season at 7100 feet elevation, but there's a lot of sun, so I'm hoping for vegetables next year.
I'm also getting chickens next April. I haven't had chickens in like 10 years. I used to be crazy for chickens. I had ducks and geese too. I mean, I was kind of obsessed. I built an aviary that connected to my barn (this was the old house) and I was raising ornamental ducks and shit. But, I got tired of it, I guess.  It was a big flock and a lot of work. So I was NOT going to get any chickens again.
But I caved last week and pre-ordered them for spring. 🙂 Only 8 though.  I got two of each – Black Australorps, Whiting True Blues, Rhode Island Reds, and White Orpingtons. They are mostly heavy birds that lay brown eggs (the true blues lay BLUE eggs!) and the Orpingtons will set, so when I get a rooster, they will hatch for me. But I will NOT go crazy. I'm calling a guy today about a coop I saw on Craig's List… (But I swear, I will NOT get obsessed…)
I also put up two bird feeders in my "front yard". Which isn't a yard, but a collection of aspen trees and  lichen rocks (over-the-top, remember?). And I swear, over a thousand birds come though my aspens every day. Like hoards of red-winged blackbirds. And the magpies, of course. I see so many different kinds of birds each day, it's blowing my mind. I even see juncos AND I saw a shrike! 🙂 I have a new camera so I've been taking pics. Here's a few for you to look at (plus a gratuitous pic to Blue to even out the number of photos in my gallery! )

So the best thing about 2021 for me was staying home and enjoying what I have while thinking about how I can make it better in the future. 
---
AND HERE is a sneak peek of tomorrow's giveaway!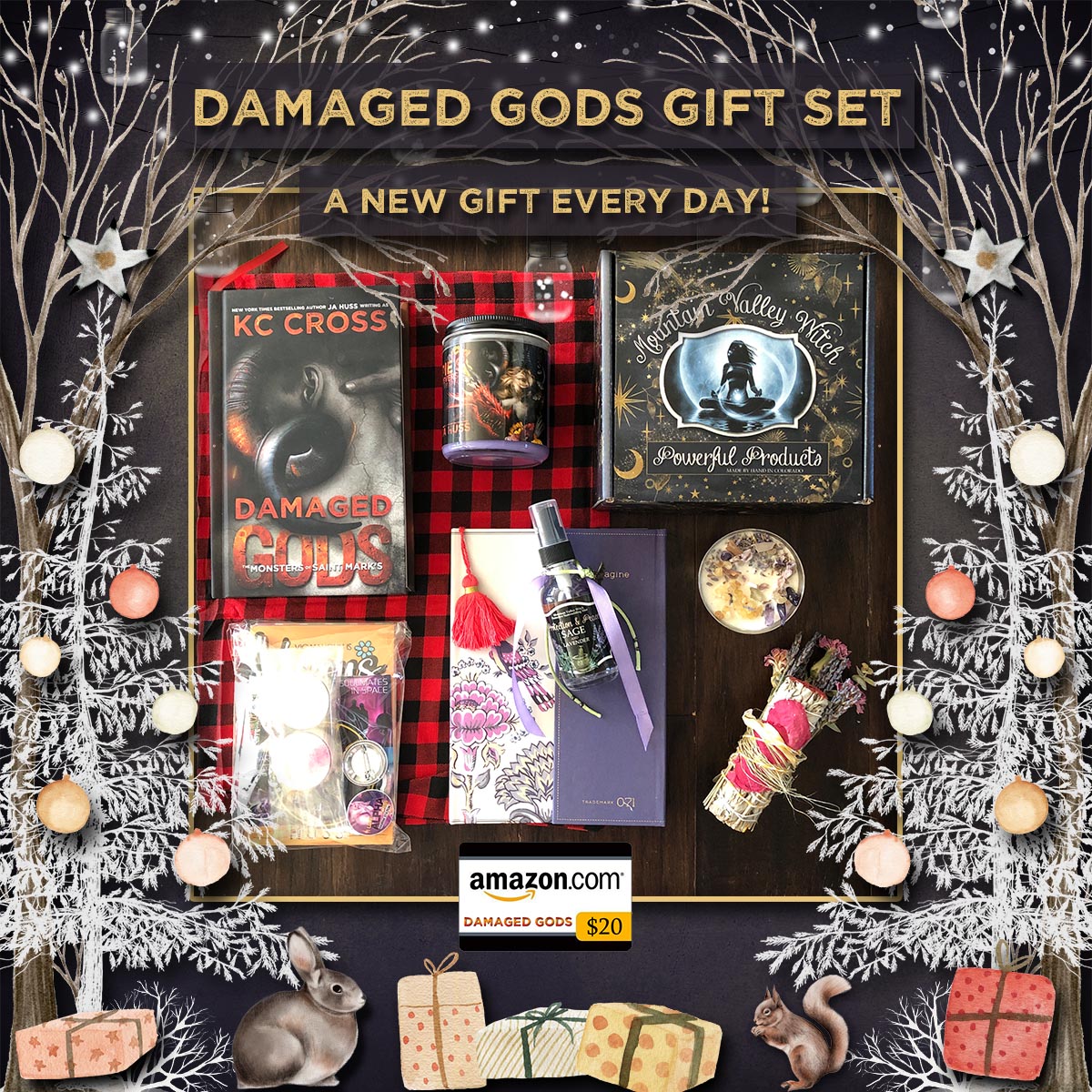 Make sure you stop by and enter!
---
BTW – THERE ARE THREE EASY WAYS TO STAY IN TOUCH with me. 
ONE – FOLLOW THIS BLOG – FILL OUT THE FORM BELOW  and you will be notified via email whenever I put up a new blog post. I usually do this about once a month unless I'm having a cover reveal, or a new release, or something special like this 12 Days of Giveaways. This is not a newsletter list. It's ONLY tied to BLOG POSTS.
Subscribe to Blog via Email
DON'T FORGET TO CONFIRM YOUR EMAIL or it won't sign you up.
---
TWO – JOIN MY NEWSLETTER – you will get an email when I send a newsletter. I don't send very many. Maybe once a month unless I'm up to something special. But you will NOT be notified of blog posts. 
DON'T FORGET TO CONFIRM YOUR EMAIL or it won't sign you up.

---
THREE – or if you don't like to get emails – YOU CAN JOIN MY FACEBOOK GROUP. This is where I hang out on the daily. We've got a nice group going with ZERO DRAMA. And if you ever have a question about something, you can tag me in there and I'll answer you. I'm literally in there all day, every day. 
---
I HOPE YOU ALL HAVE A VERY HAPPY HOLIDAY AND NEW YEAR.
Stay calm, stay safe, and let's have a great 2022!
WINNERS FOR ALL GIVEAWAYS will be chosen on December 14 and announced on FB, IG, my fan group, my blog, and my newsletter. All gifts will be mailed on December 15th with priority mail, so hopefully you get them before the big day. ALL MY GIVEAWAYS ARE ALWAYS OPEN INTERNATIONAL.