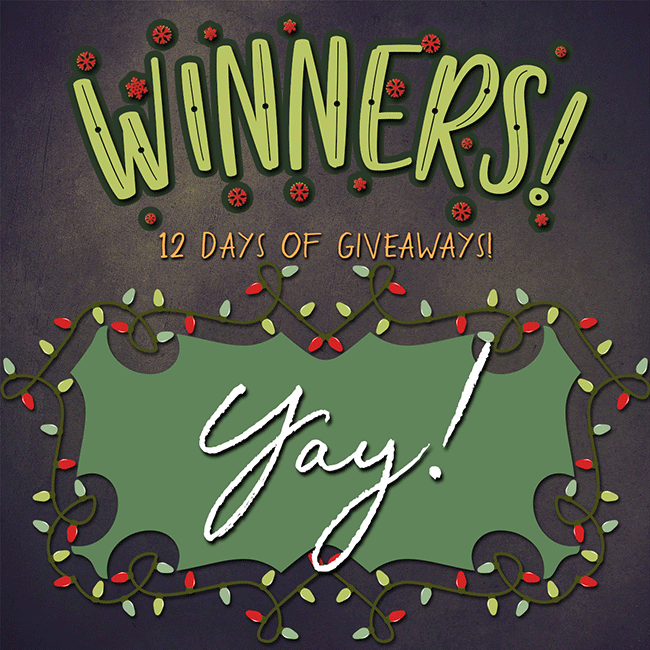 AND THE WINNER IS… @lularoedeniseleitermann
CONGRATS! You win the Day 3 Giveaway! Please check your INSTAGRAM TAGS!
---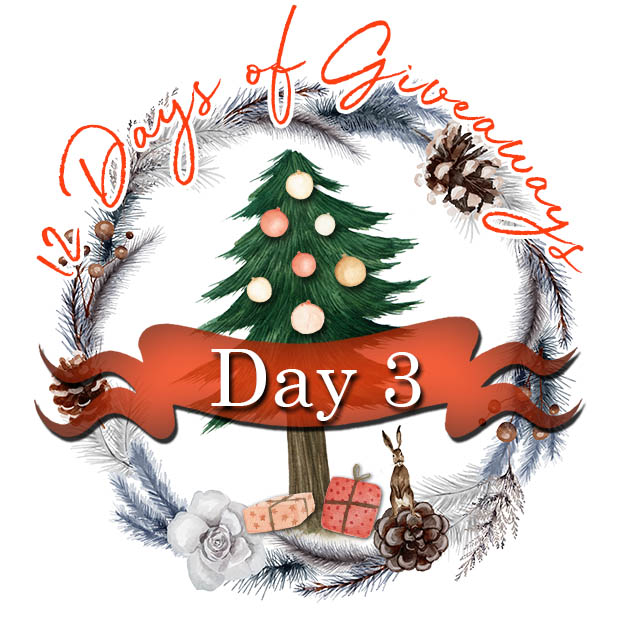 Welcome to my annual 12 DAYS OF GIVEAWAYS! 
If you're new to this – here's how it works:
1.   Each day from December 1 through December 12 I will put up a new giveaway HERE on my website with instructions on how to enter, a detailed description of the prize, and some stuff about the book or series. Each giveaway is different and each has ONE WINNER UNLESS you are the winner and you are from Australia or New Zealand.
IMPORTANT – PLEASE READ!
MY GIVEAWAYS ARE ALWAYS OPEN INTERNATIONAL BUT the United States Post Office has stopped all mail delivery to AUS and NZ. Shit is weird BUT you can still win if you're from AUS or NZ  because each giveaway has a GIFT CARD as well as a physical gift. So if the winner chosen is from AUS or NZ – there will be TWO winners. The AUS/NZ winner will get the GIFT CARD and the second winner will get the physical prize but NO gift card.
2.   Each giveaway runs UNTIL DECEMBER 13.
3.   Winners are CHOSEN and NOTIFIED on December 14. I will be notifying winners in various ways depending on how people enter. Sometimes on FB, sometimes on IG, sometimes in my FB fan group (Shrike Bikes), sometimes via email – and all winners will BE LISTED AT THE TOP OF EACH GIVEAWAY POST HERE ON MY WEBSITE on December 14.
4.   Winners have 24 hours to respond, then another winner will be chosen.
5.   ALL PRIZES WILL BE MAILED ON DECEMBER 15.  If I'm waiting on a winner to respond and they miss the December 15 mail date, that prize will be mailed when I get around to it. I live in the middle of nowhere so a trip to the post office is a "thing" for me. 🙂 So make sure you're checking for winners on the 14th.
6.   I will send newsletters announcing giveaways on December 1, December 6, December 12, and a Winner newsletter on December 14. I NEVER send this many newsletters in a month so sorry if that feels spammy. I just have quite a few readers who do not do socials and there will be at least three giveaways that do not involve socials in any way. So I need to get the word out.
7.   You can also FOLLOW MY BLOG. I will also make a blog post HERE announcing ALL WINNERS on the 14th. If you want to follow this blog there will be a form at the bottom of each post to do that. Then you get an email when I POST HERE. I don't do that often – December is the exception because of the 12 Days and my yearly "Wrap-up" post.
NO PURCHASE NECESSARY.
THAT'S IT! I HOPE YOU ALL ENJOY THIS! The world is INSANE right now so I'm just trying to spread some cheer and give back to all of you who support me and enjoy the stories I create.
DID YOU MISS THE OTHER GIVEAWAYS?
HERE ARE THE LINKS!
NOW LET'S GET ON TO THE  GIVEAWAY!
---
GIVEAWAY #3
SICK HEART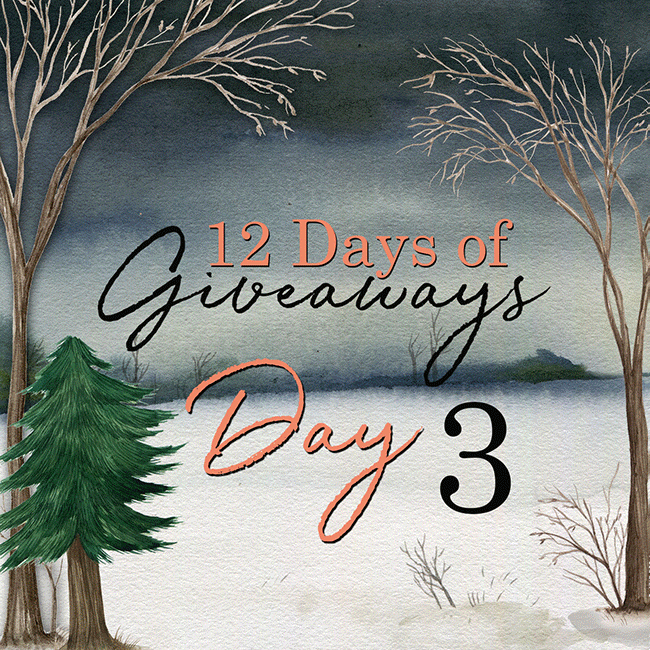 SICK HEART IS A STANDALONE BOOK!
"This book will STUN YOU SILENT!"
"Brutal, Brilliant, Beautiful!" – You will NOT stop turning pages.
"Unique story and Top Read 2021"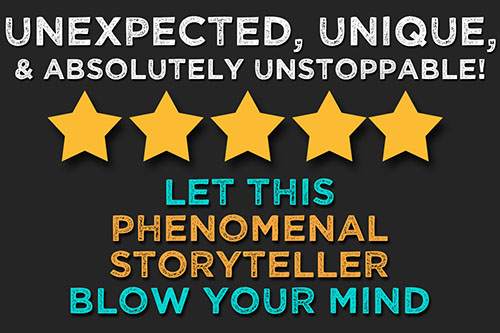 Cort van Breda has won 35 death matches as a fighter in an MMA circuit so deep underground there are no rules and only the winner gets out alive.
They call him the Sick Heart.
They say he's a shameless monster.
They say he's a ruthless killer.
They say he's as twisted as the man who owns him.
They say a lot of things about Cort van Breda.
But in our world violence is money, and money is winning, and winning is life, and life is the only thing that matters.
Except… he wasn't meant to win that last fight.
And I wasn't meant to be his prize.
But he did.
And I am.
And now his sick heart owns me.
WARNING: This is a sweet love story adrift in an ocean of evil. It is about two survivors dealing with their darkest secrets while they fight to change their lives. It is for mature readers only and has descriptions of deeply disturbing situations. There will be pearl clutching.
READ FOR FREE IN KINDLE UNLIMITED!
GET SICK HEART

---
HERE IS THE SICK HEART PRIZE!

1. Signed Hardcover Sick Heart
2. Sick Heart Candle
3. Lollia In Love Bath Salt Sachet
4. Lollia In Love Travel Lotion
5. Nordic Pine Soap
6. 2021 Super Swag Pack
7. $20 Gift Card
8. Gift Bag
---
LISTEN TO THE SICK HEART AUDIOBOOK TEASER!
The audiobook isn't in the Audible Plus Catalog BUT it is Whispersynced (and almost 15 HOURS LONG!) so you can get it for just $7.49 when you grab the eBook first.
NARRATED BY TROY DURAN and LESSA LAMB!
CLICK THE VID TO HEAR A SAMPLE OF TROY AS CORT!

---
AND HERE'S HOW TO ENTER TO WIN TODAY'S GIFT SET!
(1) Make sure you are FOLLOWING me on INSTAGRAM HERE.
(2) HEART AND COMMENT ON THIS POST and answer the question – What is the one thing on your "bucket list" that you wish you had done?
I wish I had hiked the Appalachian Trail. I have always wanted to do that. I might be too old now, but never say never. 🙂 I find the idea of a personal challenge like that very intriguing. Also, I'm really good at being alone and I think it would be super fun to do it all by myself the way Reese Witherspoon's character did her hike in that movie, WILD.

BTW – ALL the candles in the giveaways were handmade by me. 🙂 I LOVE making candles. This Sick Heart candle is Black Coral and Moss scent and it smells like a handsome, rich man! hah.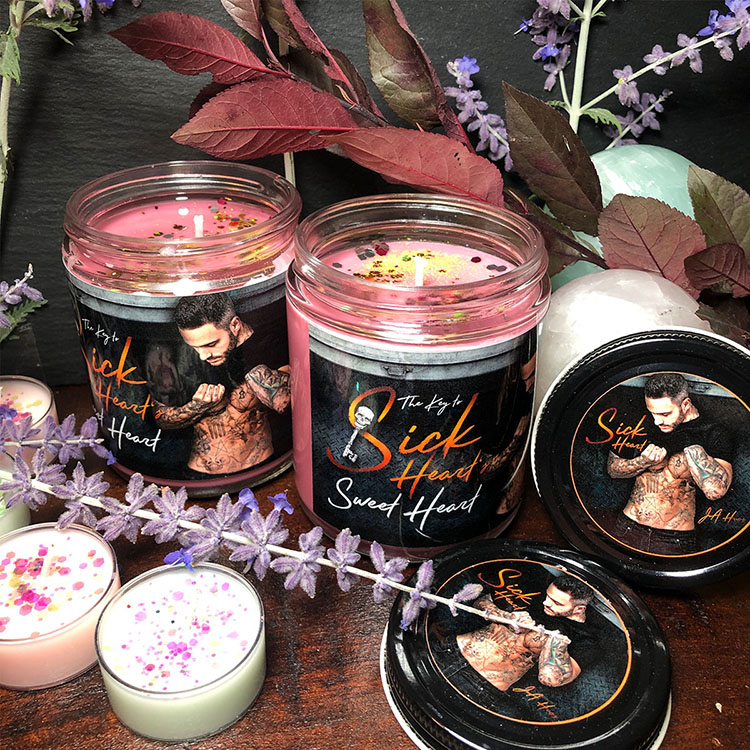 Also I just wanted to show something off! I got the most heartwarming surprise in the mail yesterday. One of my long-time readers, Kristin, send me a present. She spent 11 WEEKS crocheting a blanket for me over the summer and I got it yesterday along with an awesome card. I think that was just the most touching present ever. GIGANTIC, HUGE THANK YOU TO KRISTIN! You're amazing and your talent is crazy good!
Here is a picture of it!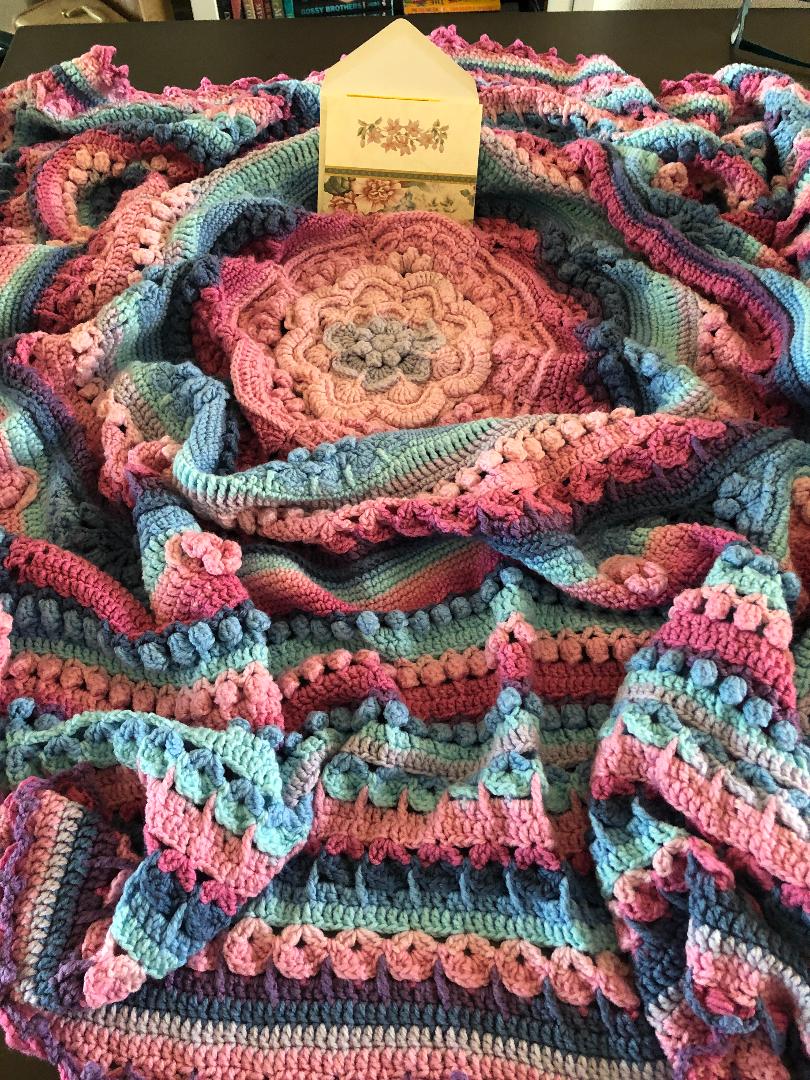 ---
AND HERE is a sneak peek of tomorrow's giveaway!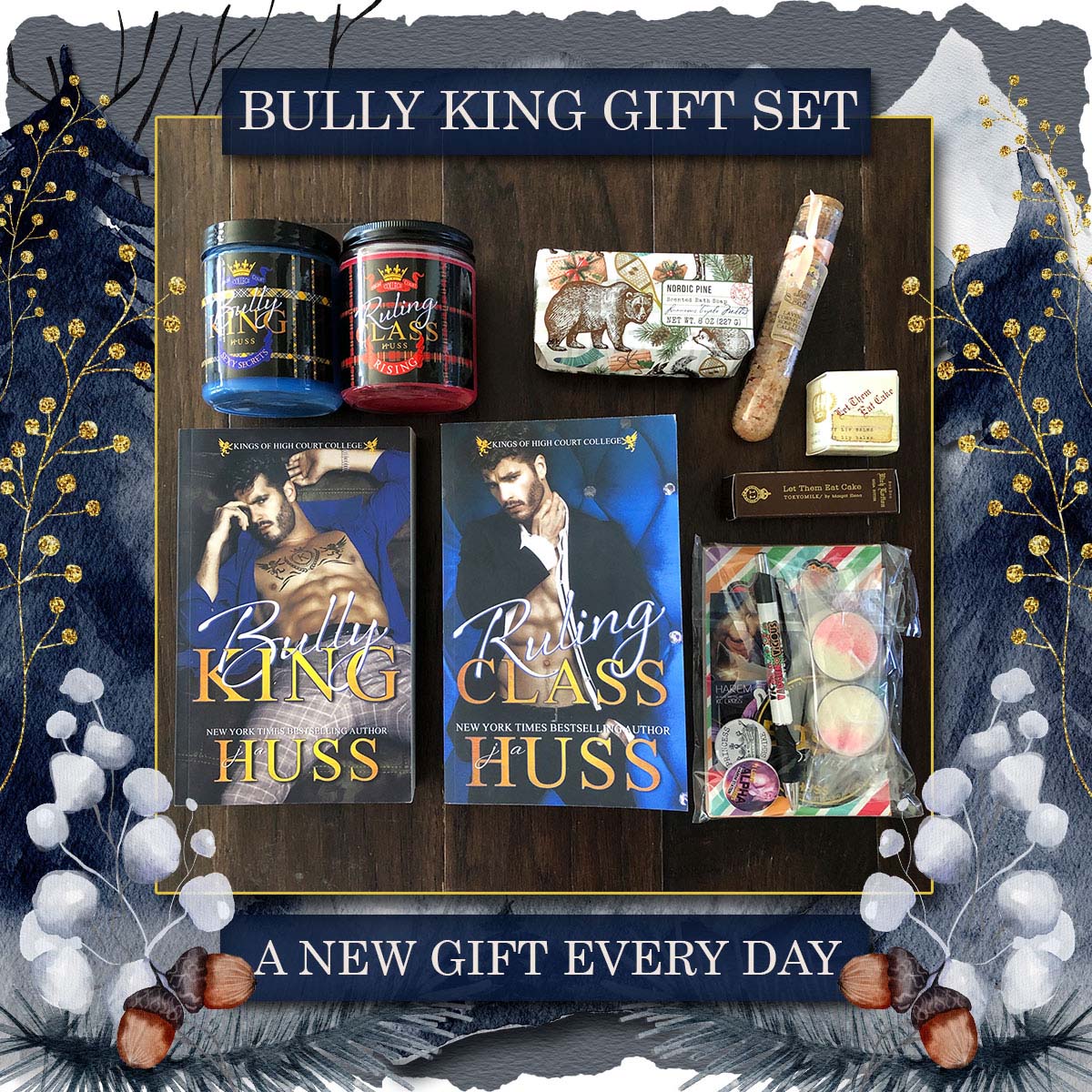 Make sure you stop by and enter!
---
BTW – THERE ARE THREE EASY WAYS TO STAY IN TOUCH with me. 
ONE – FOLLOW THIS BLOG – FILL OUT THE FORM BELOW  and you will be notified via email whenever I put up a new blog post. I usually do this about once a month unless I'm having a cover reveal, or a new release, or something special like this 12 Days of Giveaways. This is not a newsletter list. It's ONLY tied to BLOG POSTS.
Subscribe to Blog via Email
DON'T FORGET TO CONFIRM YOUR EMAIL or it won't sign you up.
---
TWO – JOIN MY NEWSLETTER – you will get an email when I send a newsletter. I don't send very many. Maybe once a month unless I'm up to something special. But you will NOT be notified of blog posts. 
DON'T FORGET TO CONFIRM YOUR EMAIL or it won't sign you up.

---
THREE – or if you don't like to get emails – YOU CAN JOIN MY FACEBOOK GROUP. This is where I hang out on the daily. We've got a nice group going with ZERO DRAMA. And if you ever have a question about something, you can tag me in there and I'll answer you. I'm literally in there all day, every day. 
---
I HOPE YOU ALL HAVE A VERY HAPPY HOLIDAY AND NEW YEAR.
Stay calm, stay safe, and let's have a great 2022!
WINNERS FOR ALL GIVEAWAYS will be chosen on December 14 and announced on FB, IG, my fan group, my blog, and my newsletter. All gifts will be mailed on December 15th with priority mail, so hopefully you get them before the big day. ALL MY GIVEAWAYS ARE ALWAYS OPEN INTERNATIONAL.