AND THE WINNER IS… Amy Pollard Woolard
CONGRATS! You win the Day 1 Giveaway! Please check your FB tags!
---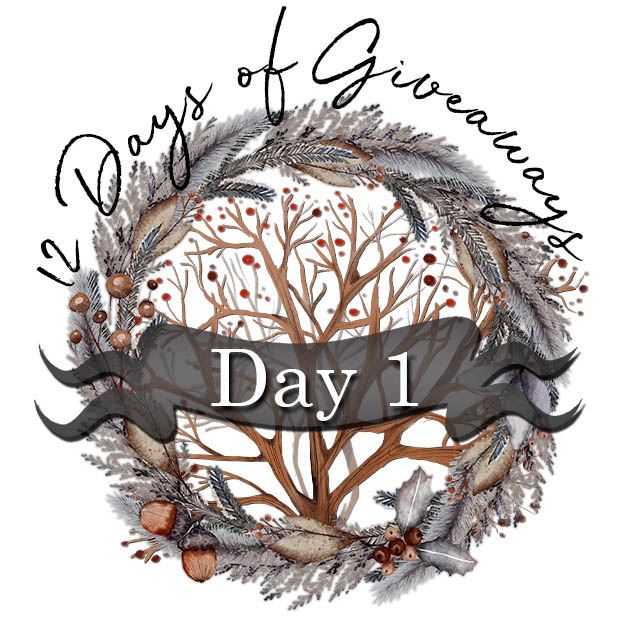 Welcome to my annual 12 DAYS OF GIVEAWAYS! 
If you're new to this – here's how it works:
1.   Each day from December 1 through December 12 I will put up a new giveaway HERE on my website with instructions on how to enter, a detailed description of the prize, and some stuff about the book or series. Each giveaway is different and each has ONE WINNER UNLESS you are the winner and you are from Australia or New Zealand.
IMPORTANT – PLEASE READ!
MY GIVEAWAYS ARE ALWAYS OPEN INTERNATIONAL BUT the United States Post Office has stopped all mail delivery to AUS and NZ. Shit is weird BUT you can still win if you're from AUS or NZ  because each giveaway has a GIFT CARD as well as a physical gift. So if the winner chosen is from AUS or NZ – there will be TWO winners. The AUS/NZ winner will get the GIFT CARD and the second winner will get the physical prize but NO gift card.
2.   Each giveaway runs UNTIL DECEMBER 13.
3.   Winners are CHOSEN and NOTIFIED on December 14. I will be notifying winners in various ways depending on how people enter. Sometimes on FB, sometimes on IG, sometimes in my FB fan group (Shrike Bikes), sometimes via email – and all winners will BE LISTED AT THE TOP OF EACH GIVEAWAY POST HERE ON MY WEBSITE on December 14.
4.   Winners have 24 hours to respond, then another winner will be chosen.
5.   ALL PRIZES WILL BE MAILED ON DECEMBER 15.  If I'm waiting on a winner to respond and they miss the December 15 mail date, that prize will be mailed when I get around to it. I live in the middle of nowhere so a trip to the post office is a "thing" for me. 🙂 So make sure you're checking for winners on the 14th.
6.   I will send newsletters announcing giveaways on December 1, December 6, December 12, and a Winner newsletter on December 14. I NEVER send this many newsletters in a month so sorry if that feels spammy. I just have quite a few readers who do not do socials and there will be at least three giveaways that do not involve socials in any way. So I need to get the word out.
7.   You can also FOLLOW MY BLOG. I will also make a blog post HERE announcing ALL WINNERS on the 14th. If you want to follow this blog there will be a form at the bottom of each post to do that. Then you get an email when I POST HERE. I don't do that often – December is the exception because of the 12 Days and my yearly "Wrap-up" post.
NO PURCHASE NECESSARY.
THAT'S IT! I HOPE YOU ALL ENJOY THIS! The world is INSANE right now so I'm just trying to spread some cheer and give back to all of you who support me and enjoy the stories I create.
DID YOU MISS THE OTHER GIVEAWAYS?
HERE ARE THE LINKS!
NOW LET'S GET ON TO THE FIRST GIVEAWAY!
---
GIVEAWAY #1
BOSSY BROTHERS SERIES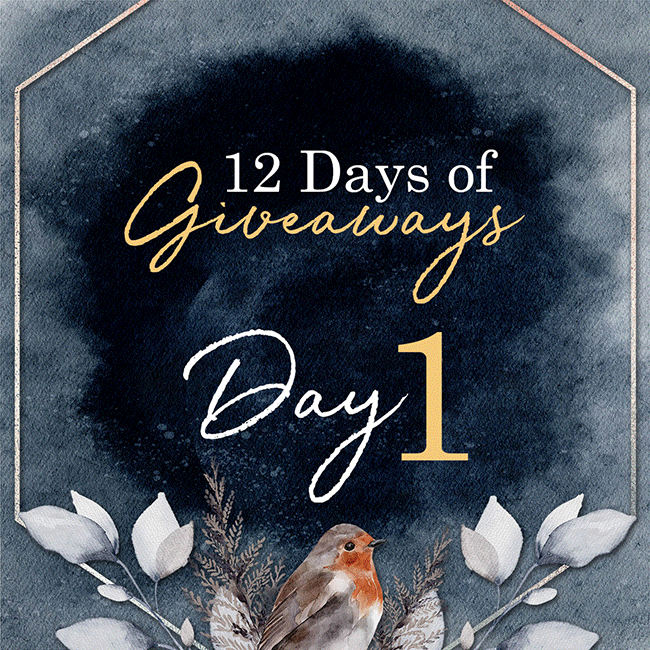 BOSSY BROTHERS NOW COMES IN A BOX SET!
READ THEM ALL FOR FREE IN KINDLE UNLIMITED!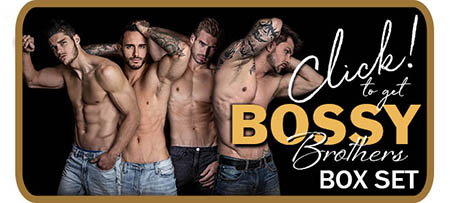 The Boston Brothers and the Dumas Brothers – PLUS the standalone spin-off, In To Her – in one MASSIVE box set!  A twisted, but often hilarious, interconnected story about friends, family, and falling in love.
Bossy Jesse
A hilarious enemies-to-lovers romance that features a bachelor auction gone wrong, four bossy ladies who botch a crazy revenge kidnapping, a reverse dream-date, and a misunderstood billionaire called Jesse who just wants a second chance to win the girl he accidentally ghosted thirteen years ago.
Bossy Joey
A delicious, burning hot, MMFM, surprise-baby, fake fiancée story with a twist that proves committed couples don't just come in two's, mistakes can be a good thing, and for some people, non-traditional love is exactly the kind they should fight for.
In To Her
Yvette is beautiful, seductive, and the current target of mafia assassins, AJ and Logan, when they get stuck together during a blizzard. An unexpected MFM/MMF love story with an angst-y HEA that will leave you guessing until the very last page.
Bossy Johnny
An enemies-to-lovers romance that features a prince saving his princess from a life of hell, one or ten romantic gestures from a tattooed bad boy, swimming with glowing dolphins in the Bahamas, and secrets so deep everyone almost drowns.
Bossy Bride
Jesse and Emma are getting married. Kind of. Bossy Bride is a rompy, whirlwind trip down a rabbit hole of "Fantasy" Vegas weddings planned by a man called "Fingers" and just when you think nothing else could go wrong—a mermaid descends from the ceiling.
Bossy Alonzo
A long-distance game of online catfishing filled with dirty talking and scrumptious selfies between a tatted-up fisherman and a small-town librarian. Until the day all their safely-hidden secrets come spilling out and they realize… Love in the Land of fake Far, Far Away can't ever compare to the real thing.
Bossy Tony
A friends-to-lovers AND enemies-to-lovers romance featuring two girls falling for the wrong men and two men falling for the right girls. A story filled with second chances, grand gestures, and the unexpected soul mate that will drive you crazy but leave you satisfied at the end.
Bossy Luke
A sweet and seductive MMF with two hot, committed men and a pink-haired gossip reporter desperate for a scoop. But when she stumbles into more secrets than she can handle, her boys need to call on all the Boston and Dumas brothers to keep her safe.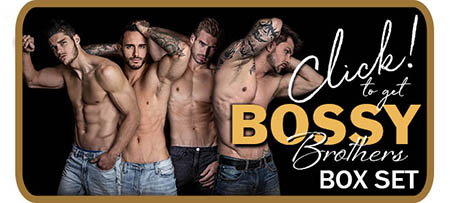 ---
LISTEN TO THE BOSSY JESSE AUDIOBOOK TEASER!
The first TWO BOOKS in this series AND the BONUS BOOK, In To Her, are ALL FREE to listen to in the Audible Plus catalog. 
Narrated by TEDDY HAMILTON and AVA ERICKSON.
---
HERE IS THE BOSSY BROTHERS PRIZE!

1. Signed Copy of Bossy Jesse
2. Signed Copy of Bossy Joey
3. Signed Copy of Bossy Johnny
4. Bossy Candle 
5. Shrike Bikes Candle Tin
6. $20 Gift Card
7. Bossy Christmas Ornament
8. Herbal Bath Soak Tube
9. Christmas Soap
10. Gift Bag
---
Here is a collage of all the different prizes in this year's 12 Days of Giveaways.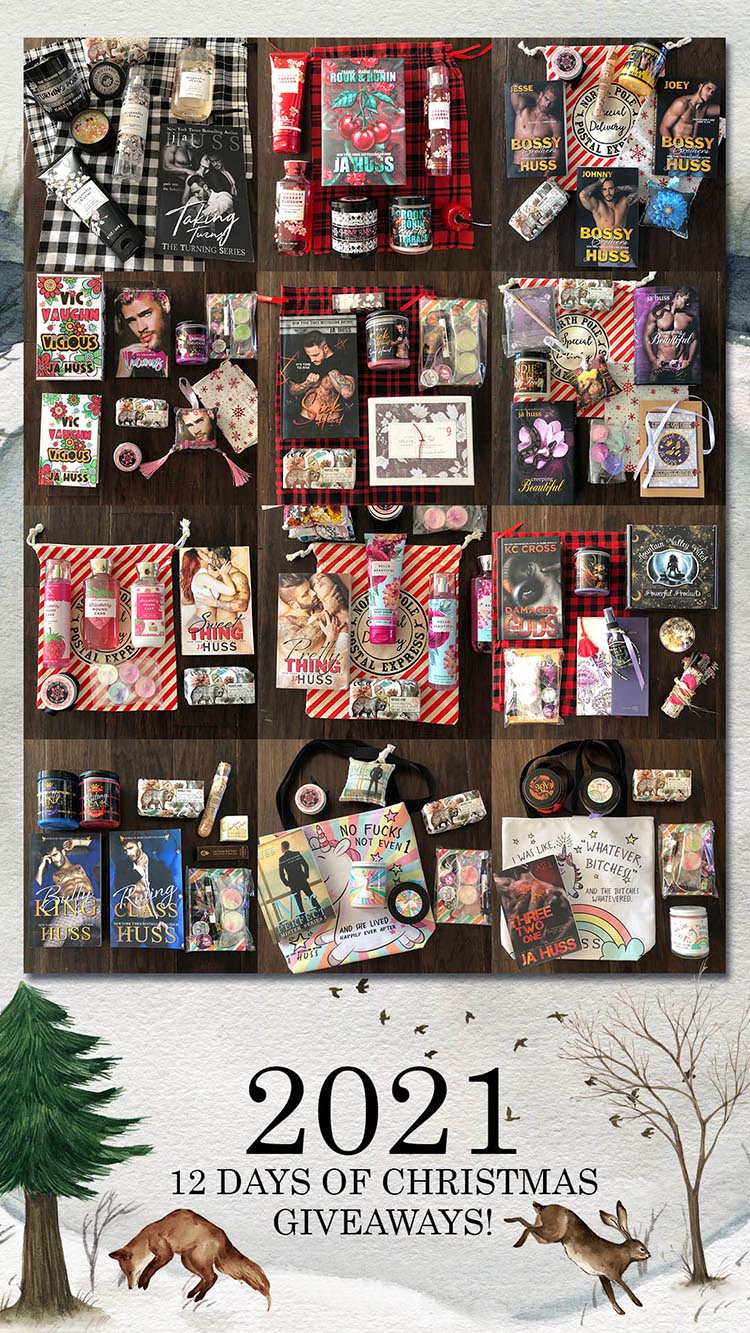 AND HERE'S HOW TO ENTER TO WIN TODAY'S GIFT SET!
(1) MAKE SURE YOU ARE FOLLOWING my Facebook Author page HERE
(2) COMMENT ON THIS FACEBOOK POST and tell me which prize you hope to win from the picture above!
(3) COMMENT HERE on the blog (below) just to say hi!
(#3 is not required, but I still love comments and I read every single one! I don't always have time to reply, but I really do read them all)
---
AND HERE is a sneak peek of tomorrow's giveaway!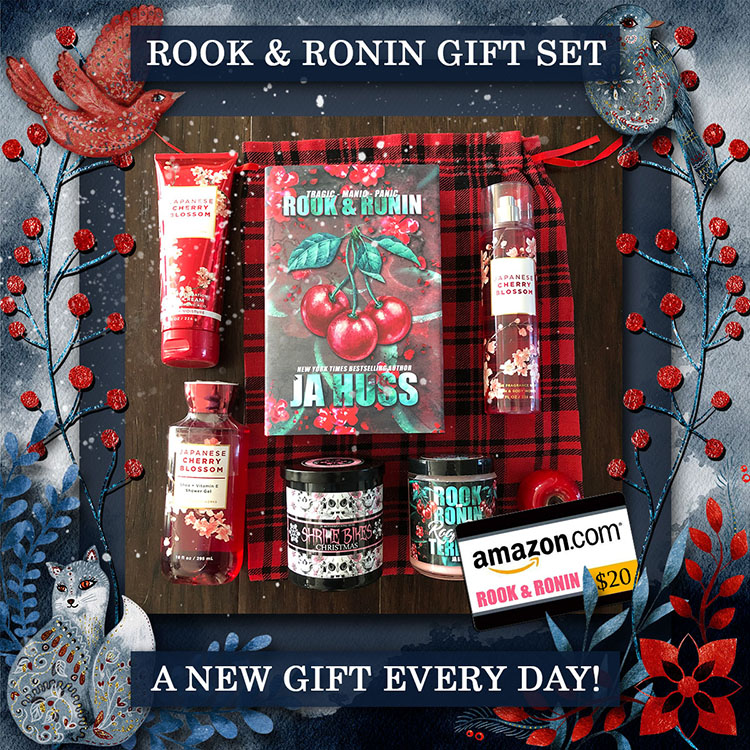 Make sure you stop by and enter!
---
BTW – THERE ARE THREE EASY WAYS TO STAY IN TOUCH with me. 
ONE – FOLLOW THIS BLOG – FILL OUT THE FORM BELOW  and you will be notified via email whenever I put up a new blog post. I usually do this about once a month unless I'm having a cover reveal, or a new release, or something special like this 12 Days of Giveaways. This is not a newsletter list. It's ONLY tied to BLOG POSTS.
Subscribe to Blog via Email
DON'T FORGET TO CONFIRM YOUR EMAIL or it won't sign you up.
---
TWO – JOIN MY NEWSLETTER – you will get an email when I send a newsletter. I don't send very many. Maybe once a month unless I'm up to something special. But you will NOT be notified of blog posts. 
DON'T FORGET TO CONFIRM YOUR EMAIL or it won't sign you up.

---
THREE – or if you don't like to get emails – YOU CAN JOIN MY FACEBOOK GROUP. This is where I hang out on the daily. We've got a nice group going with ZERO DRAMA. And if you ever have a question about something, you can tag me in there and I'll answer you. I'm literally in there all day, every day. 
---
I HOPE YOU ALL HAVE A VERY HAPPY HOLIDAY AND NEW YEAR.
Stay calm, stay safe, and let's have a great 2022!
WINNERS FOR ALL GIVEAWAYS will be chosen on December 14 and announced on FB, IG, my fan group, my blog, and my newsletter. All gifts will be mailed on December 15th with priority mail, so hopefully you get them before the big day. ALL MY GIVEAWAYS ARE ALWAYS OPEN INTERNATIONAL.