COVER REVEAL
secret giveaway at the bottom of this post!
Ruling Class
Kings of High Court College #2
By JA Huss
Bully Romance
Publishing September 2, 2020
Well, we made it to August. I guess this year, that is a major accomplishment! haha
I have lots of cool stuff coming up for you guys. FIRST – I want to show you the cover for RULING CLASS! This is the 2nd and FINAL book in the Kings of High Court College series – BULLY KING (book 1) releases THIS WEDNESDAY! And it's going straight into Kindle Unlimited, so I hope you pick it up on pre-order or on release day. (BTW – There is NO CLIFFHANGER in BULLY KING!)
This is the first true Bully Romance I've ever written. I write Alpha Assholes all the time but I've never done a new-adult Bully. It was pretty fun. I wasn't sure how I would feel about a Bully Book before writing BULLY KING, but that was probably the easiest book I've written in… hell, long time. I always like writing a book one (or a standalone) because it's refreshing to not have any plot constraints.
But anyway – Let's get to the Ruling Class cover! Because Andrew Biernat is pretty fun to look at! lol Ruling Class will release on September 2, 2020 and the audiobook will feature the same narrators (Emma Wilder and Jacob Morgan). It will ALSO be FREE in KINDLE UNLIMITED. So without further ado, here is RULING CLASS!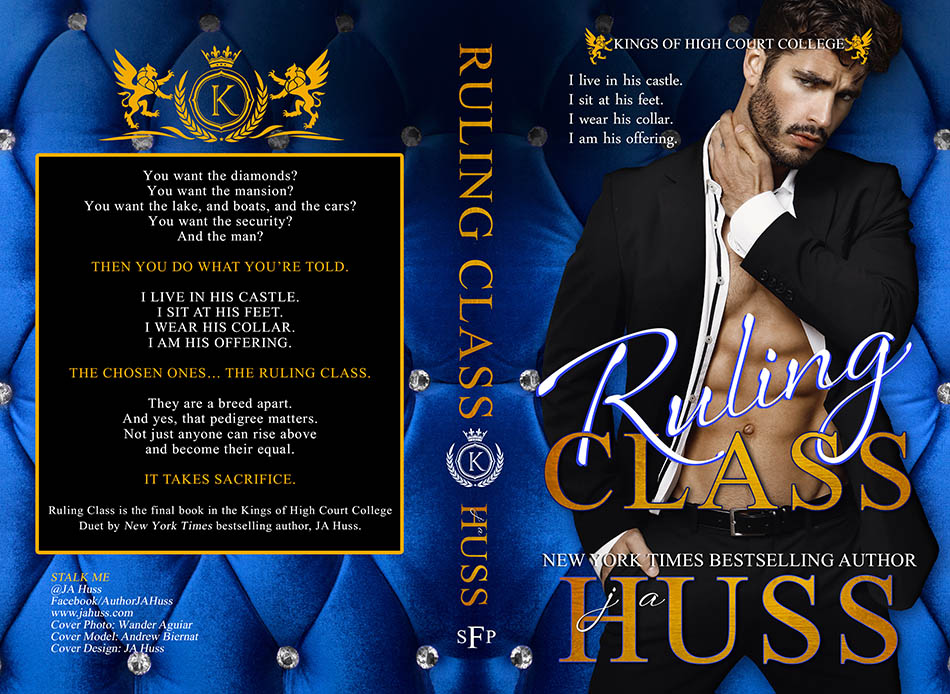 COVER PHOTO: Wander Aguiar
COVER MODEL: Andrew Biernat
COVER DESIGN: JA HUSS
DESCRIPTION
You want the diamonds?
You want the mansion?
You want the lake, and boats, and the cars?
You want the security?
And the man?
Then you do what you're told.
I live in his castle.
I sit at his feet.
I wear his collar.
I am his offering.
The Chosen Ones… the Ruling Class.
They are a breed apart.
And yes, that pedigree matters.
Not just anyone can rise above and become their equal.
It takes sacrifice.
Ruling Class is the final book in the Kings of High Court College Duet by New York Times bestselling author, JA Huss. It is a dark bully romance with triggers.
PRE-ORDER HERE
---

Bully King
By JA Huss
Dark Bully Romance
Publishing THIS WEDNESDAY!
FREE IN KINDLE UNLIMITED!
AUDIOBOOK RELEASING SAME TIME
Narrators – Jacob Morgan, Emma Wilder
High Court College isn't for everyone. And the secret society that meets deep in the woods is even more exclusive. Only a select few will get in during the summer rush–and Cadee Hunter wants to be one of them. Too bad it's Cooper Valcourt's mission to make sure she fails.

Bully boys.
Arrogant tyrants.
Blue-blood bastards.
Call them whatever you want.
Around here, we just call them Kings.
Fancy boats.
Lakeside mansions.
Luxe watches and bespoke suits.
The Kings of High Court College act like Gods.
And Cooper Valcourt is the worst of them.
He is the bully king.
His family owns everything.
And his mission is to put me in my place and send me packing.
But Cooper and I have a history filled with secrets.
And everyone knows that power doesn't come from having money.
It comes from holding secrets.
And I'm holding one of his.
A very dark secret that can bring him to his knees.
Bully King is new-adult, dark, bully romance from New York Times bestselling author JA Huss featuring boys with power and girls at their mercy. It's a campus shrouded in lies and a summer rush into an elite society that can propel a poor girl straight into the ruling class.
If… she's willing to pay the price.
PRE-ORDER HERE






LISTEN TO

JACOB MORGAN

AS THE BULLY KING – COOPER!
AUDIOBOOK RELEASING AUGUST 5

SECRET GIVEAWAY!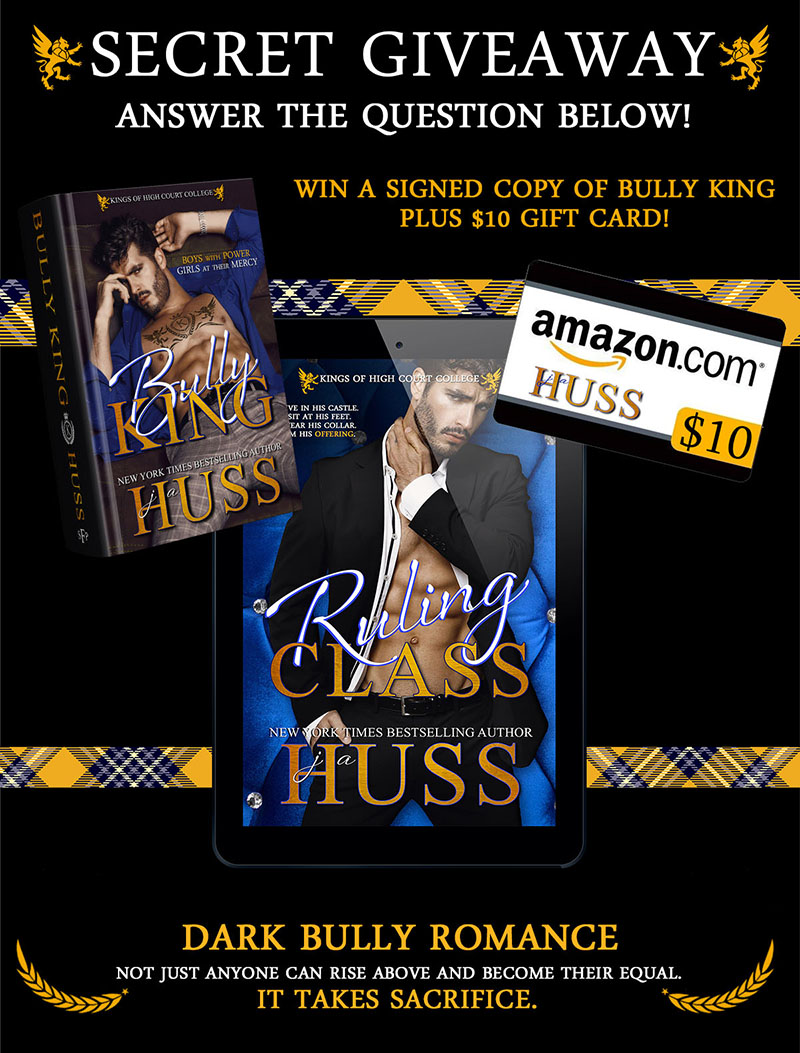 ENTER TO WIN A SIGNED COPY OF BULLY KING PLUS A $10 GIFT CARD!
ANSWER THE QUESTION BELOW BY LEAVING A COMMENT ON THIS BLOG!
QUESTION
How ALPHA do you like your Romance Book Hero?
A. Total ASSHOLE who redeems himself at the end of the book
B. He's dominant in public but at home he's got a soft side. 
C. He's a gentleman in public but at home he's a total Dom.
D. I hate all Alpha men
TO ENTER THE GIVEAWAY JUST ANSWER THE QUESTION BELOW BY LEAVING A COMMENT ON THIS BLOG!
I HOPE YOU ENJOYED THE COVER, AUDIOBOOK TEASER, AND GIVEAWAY! 
SEE YOU SOON!