I HAVE TONS OF STUFF TO TELL YOU!
I had an amazing Christmas and I hope you all had wonderful holidays too. We got a surprise snowstorm on Christmas Eve so that was pretty special.
Yesterday I got back to work. I took a couple weeks off to get everything ready for the holidays, but now it's time to hit the grindstone. I'm actually writing three books at the same time right now. But I only write one chapter in each book per day. That way I don't get bored and the story is always fresh in my mind.
I'm working on Savage Saints (Damaged Gods, book 2). Plus that vampire book I've been promising for four years now lol. AND a brand new dark romance coming this summer… OMG – I've had this cover since last summer and I'm DYING to show it to you. Holy shit, it's amazing!
I'm also working on a new Author Marketing video for 2022. I will probably have that up (for FREE, of course!) on my website the first week of January.
And I will talk more about what's coming in that post too.
So scroll down, pick up some fantastic freebies – INCLUDING FOUR FREE AUDIOBOOKS! – and then enjoy the rest of 2021. I know people have a bad feeling about 2022 BUT I don't. I KNOW things are going to get better.
So rest up and get ready for a great new year!
Julie
JA Huss
---
The Happily Ever After Audiobook is FINALLY HERE!
AND IT'S FREE!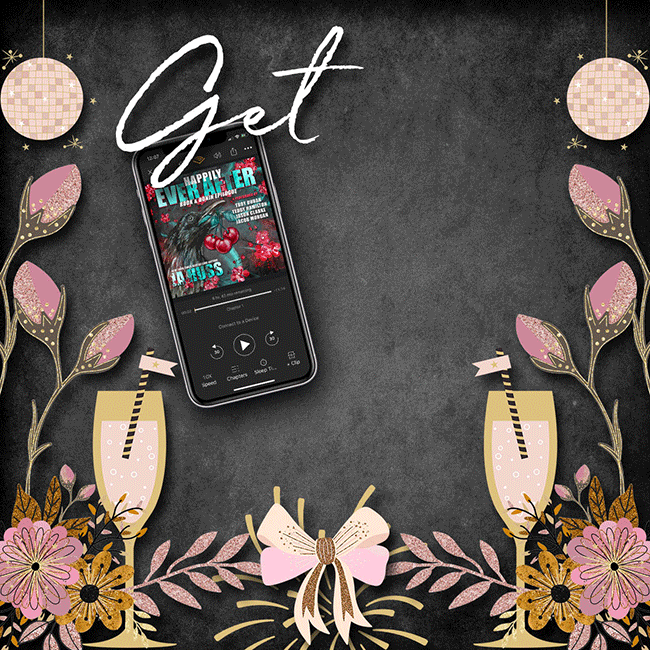 "A little Christmas present for the #fans. No mystery, no killing, no twists, no guns. But I promise–you will smile the entire time." ~ JA Huss
THIS IS THE LAST BOOK IN THE ROOK & RONIN SERIES. YOU CANNOT READ IT OUT OF ORDER. Even though this story was written in 2015, this audiobook has never been released before now. It's a short novella but it has four narrators. So it was actually a big project. 
---
Life in Rook & Ronin's world has been bliss for fifteen years. Rook, Veronica, and Ashleigh are still BFF's raising their kids together. Ronin, Spencer, and Ford have managed to go legit and stay out of trouble. And they have a pack of kids running around the eight thousand square foot Vail mansion they all share for the holidays–begging for gifts, and fun, and love.
But every HEA has problems.
Five is fifteen and getting ready to go off to college. He's put it off as long as he could in order to stay close to Princess Shrike, but his stay of execution is over and in three weeks he's off to Oxford. But Five can't leave until he gets the only thing he's ever wanted. The heart of his Princess.
Ford and Ashleigh never had any more children after Five. And now that Kate is sixteen, Ashleigh is out of her head with desire for just one more chance to have a baby in the house.
Rook and Ronin have two beautiful daughters, but Sparrow is growing up too. And she just got a job offer that has Ronin crazed with paternal worry.
And Spencer is the father of a fifteen-year-old princess who looks way too much like her Bombshell mother for his comfort level.
Join the whole Rook & Ronin gang for a Team Christmas you will never forget.
THIS AUDIOBOOK IS FREE ON AUTHOR'S DIRECT!

Never listened to audiobooks on Author's Direct and have questions? It's SUPER SIMPLE – Check out this FAQ page to learn how.
---
If you were around for the 12 Days of Giveaways then you probably already downloaded the FREE ROOK AND RONIN TRILOGY audiobooks. But if you missed it, I've made them FREE again for a limited time. That way if you haven't started the Rook & Ronin series, you can. And then you can enjoy the spectacular Happily Ever After final book on audio for free. It will always be FREE on Author's Direct but IT WILL NEVER BE FREE ON AUDIBLE. Audible doesn't let us set our own prices. (So please don't send me angry emails complaining about it, thanks!)
These three audiobooks are AMAZING! They were all re-recorded last year so Jason Clarke is the voice of Ronin and Erin Mallon is the voice of Rook. (Spoiler alert – they NAILED IT!)
AGAIN – THESE AUDIOBOOKS ARE ONLY FREE ON AUTHOR'S DIRECT FOR REASONS ABOVE.



---
If you prefer to read your books the old fashioned way, you can always pick up the ebook box set (which is FREE to read in Kindle Unlimited).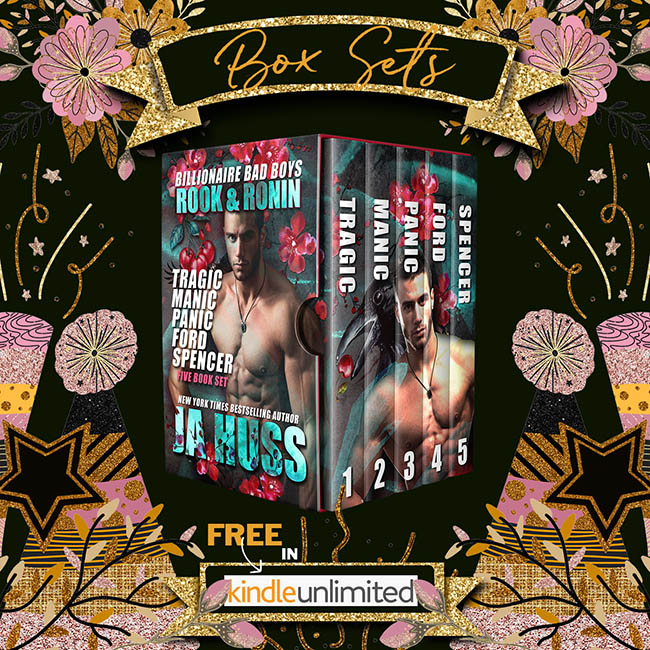 ---
THE NEW SPENCER AUDIOBOOK IS ALSO ON SALE NOW AT AUTHOR'S DIRECT!
It WILL be on sale at Audible eventually, but there is no way to tell how soon that will be. I would say end of January at the earliest. Audible is VERY fucking SLOW. So… sorry about that. Also, it will probably take a while to be Whispersynced. BUT if you do not want to wait (and holy shit, is the new narration FANTASTIC!) then you can pick it up at Author's Direct for only $9.99. 
This new version is narrated by AVA ERICKSON and JACOB MORGAN! They nailed it too! 🙂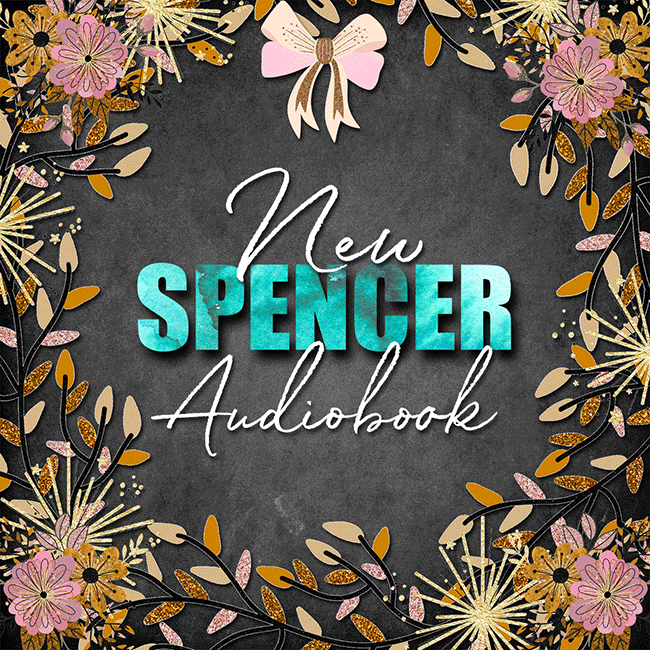 I love Ron the Bomb and her safety is the only thing I care about.
But conning criminals for the better part of ten years brings its own set of problems. Veronica the Bombshell Vaughn has put up with my crap for years and where has it gotten her? A big fat nowhere.Veronica is done sitting at home, pining over a man she can't have. She's tired of being ignored and she's coming out swinging. Now there's another man in town with his eye on her. He's got secrets too, and he's more than willing to share.
She's ready to jump ship unless I make a grand gesture and declare my love for her.
And I can't do it.
If anyone finds out how much I love this woman, her life will be in danger.
But I can't not do it, either. I'll lose her for good if I don't make my move.
And if lose her, I lose everything.
The entire Rook and Ronin series comes full circle. Every con, every lie, and every skeleton in the closet is back for one final shot at vengeance.
THIS IS THE NEW SPENCER AUDIOBOOK. (NEW NARRATORS!)
FEATURING:
Jacob Morgan as Spencer
Ava Erickson as Veronica
With Special Appearances from Troy Duran as Merc and Teddy Hamilton as Five!

---
DID YOU KNOW THAT I HAVE 18 FREE AUDIOBOOKS IN THE AUDIBLE PLUS CATALOG?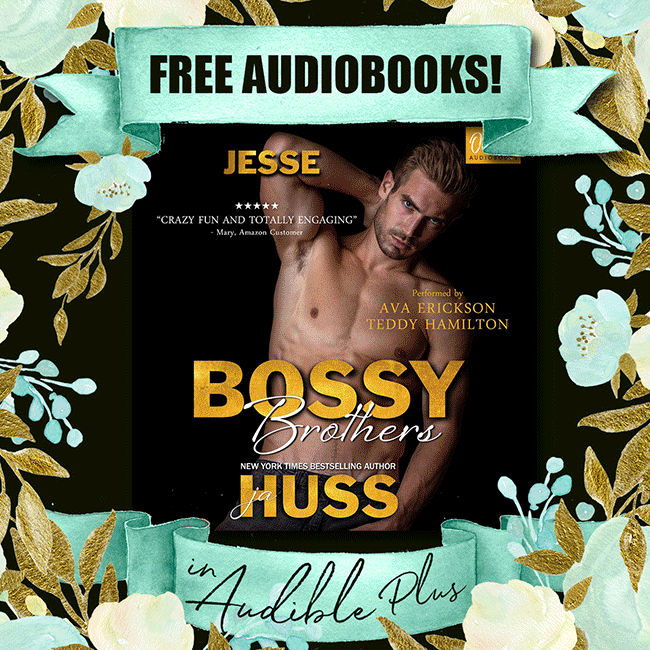 THE AUDIBLE PLUS CATALOG is a FREE PERK for all Audible Subscribers. There are thousands of books included in your subscription. So you don't have to spend a credit on them. 
The FIRST TWO Bossy Brothers audiobooks are in there! So if you were eyeballing the Bossy Brothers Series Box Set (more info below) You can also listen to Bossy Jesse and Bossy Joey for free. 

---
FEEL LIKE A BINGE?
YOU'RE IN LUCK – I HAVE A NEW BOX SET OUT!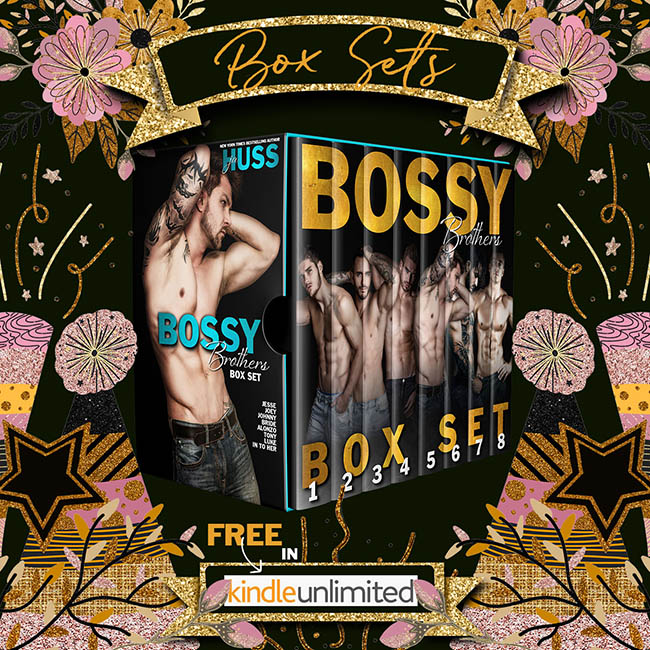 THIS BOX SET INCLUDES:
The Boston Brothers and the Dumas Brothers – PLUS the standalone spin-off, In To Her – in one MASSIVE box set!  A twisted, but often hilarious, interconnected story about friends, family, and falling in love.
Bossy Jesse
A hilarious enemies-to-lovers romance that features a bachelor auction gone wrong, four bossy ladies who botch a crazy revenge kidnapping, a reverse dream-date, and a misunderstood billionaire called Jesse who just wants a second chance to win the girl he accidentally ghosted thirteen years ago.
Bossy Joey
A delicious, burning hot, MMFM, surprise-baby, fake fiancée story with a twist that proves committed couples don't just come in two's, mistakes can be a good thing, and for some people, non-traditional love is exactly the kind they should fight for.
In To Her
Yvette is beautiful, seductive, and the current target of mafia assassins, AJ and Logan, when they get stuck together during a blizzard. An unexpected MFM/MMF love story with an angst-y HEA that will leave you guessing until the very last page.
Bossy Johnny
An enemies-to-lovers romance that features a prince saving his princess from a life of hell, one or ten romantic gestures from a tattooed bad boy, swimming with glowing dolphins in the Bahamas, and secrets so deep everyone almost drowns.
Bossy Bride
Jesse and Emma are getting married. Kind of. Bossy Bride is a rompy, whirlwind trip down a rabbit hole of "Fantasy" Vegas weddings planned by a man called "Fingers" and just when you think nothing else could go wrong—a mermaid descends from the ceiling.
Bossy Alonzo
A long-distance game of online catfishing filled with dirty talking and scrumptious selfies between a tatted-up fisherman and a small-town librarian. Until the day all their safely-hidden secrets come spilling out and they realize… Love in the Land of fake Far, Far Away can't ever compare to the real thing.
Bossy Tony
A friends-to-lovers AND enemies-to-lovers romance featuring two girls falling for the wrong men and two men falling for the right girls. A story filled with second chances, grand gestures, and the unexpected soul mate that will drive you crazy but leave you satisfied at the end.
Bossy Luke
A sweet and seductive MMF with two hot, committed men and a pink-haired gossip reporter desperate for a scoop. But when she stumbles into more secrets than she can handle, her boys need to call on all the Boston and Dumas brothers to keep her safe.

---
THAT'S ALL FOR NOW!
TALK SOON!