Hey guys!
How is everyone doing? Have you stopped watching the news yet? Well, I hope you are all healthy. This is such a super-weird situation we find ourselves in it's a little hard to understand what's happening – other than we've all supposed to stay at home.
I haven't been writing. Mostly because I was stuck in the Bossy Tony book – but two weeks off and I've totally got a plan for that. So I expect I will finish it up by next weekend. Harem Station still needs editing. I'm not sure about this release day. We'll see how I feel about it after I do the net round of edits. But it is done. It just needs polishing. I want to make sure I answer all the remaining questions and solve all the mysteries. There will probably be more books in the future in this sci-fi romance world, but not the immediate future. So I want all the loose ends tied up.
I still think I will release a book in April – maybe the Last Harem Station or maybe Bossy Tony. I'll know more next week.
And… as far as I can tell Pretty Nightmare is on track for May 12. If that changes I will let you know.
So basically I've been doing graphic design and uploading new hardcovers for a whole bunch of books!
The Rook & Ronin Series got new covers – like all new covers. The indie publishing world is like living in dog years. Things change so fast and so often that using covers from just a few years ago just doesn't work anymore. It's crazy how the trends change so fast – especially in romance. I don't know for sure that other genres change like that, but romance book cover trends change about three times a year.
So I made new covers for Rook & Ronin. Which I really love. They are vibrant and a little bit grungy. Which is kind of a metaphor for the series as a whole!
BY THE WAY – books 1 and 2 are FREE EVERYWHERE!
You can find them on Amazon HERE.
But I also made hardcovers for the whole series as well. They are not for sale yet, but they were approved last night and should be up for sale within a week. These are the cool dust jacket/case hardcovers. Which means there is a dust jacket AND the actual hardcover of the book is also printed with the cover.
When I get the books in I will show you what I mean. I did a Facebook live when I made one of these for Creeping Beautiful so you can check that out in Shrike Bikes (my FB reader group) if you want to see an example. (If you're not a member yet just ask to join and someone will add you as soon as they see your request!)
And while I was making the other hardcovers I realized that I could put two different covers on the same book! One cover for the dust jacket and one cover for the case. So the books that got this treatment are: Rook & Ronin Trilogy, Eighteen, Three, Two, One, All the Bossy Brothers, Rock, The Dirty Ones, and In To Her.
Here is an example of the two different covers for Eighteen. Dust jacket cover (top) and Case cover (bottom).
I will be revealing the others over the next couple weeks in the newsletter – if you're not a subscriber to the Secret Stuff Newsletter, you can sign-up here. This is a separate newsletter that only has secret stuff reveals in it!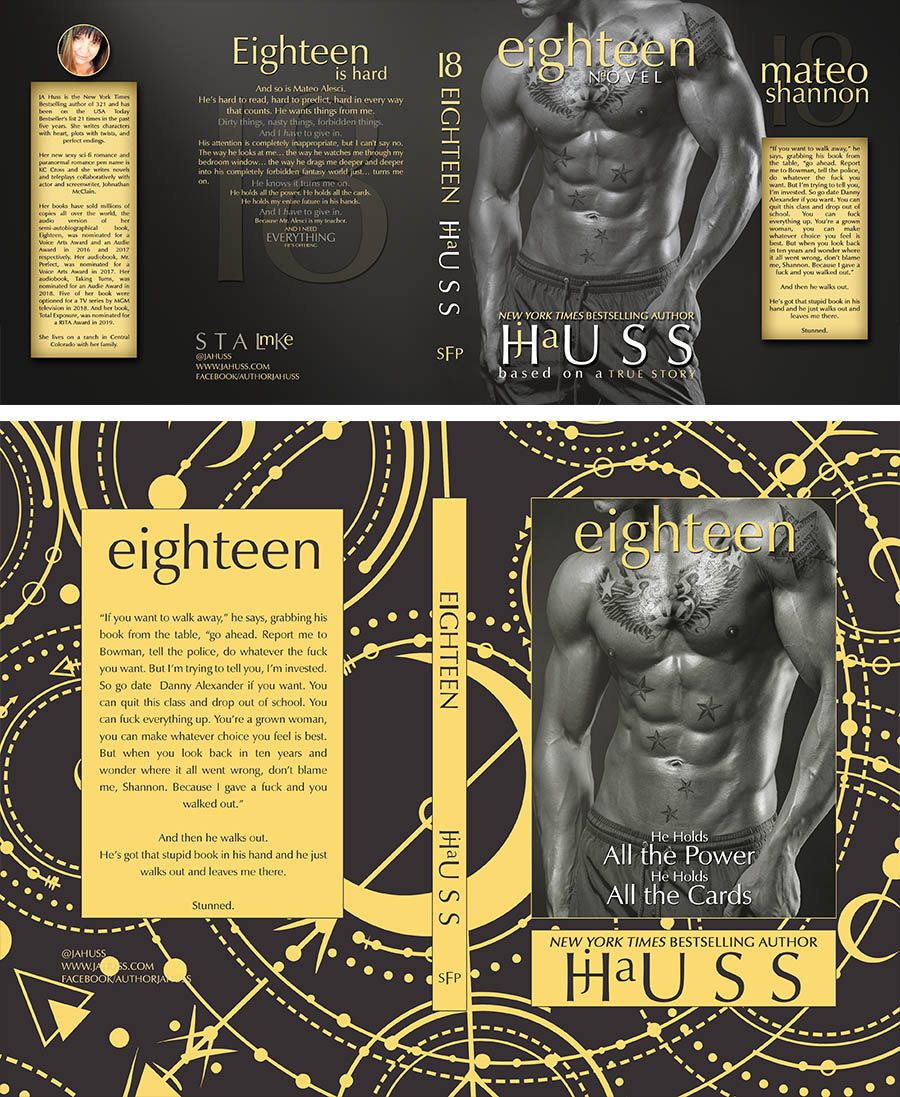 ---
I also have a LIMITED-TIME FREE BOOK to tell you about!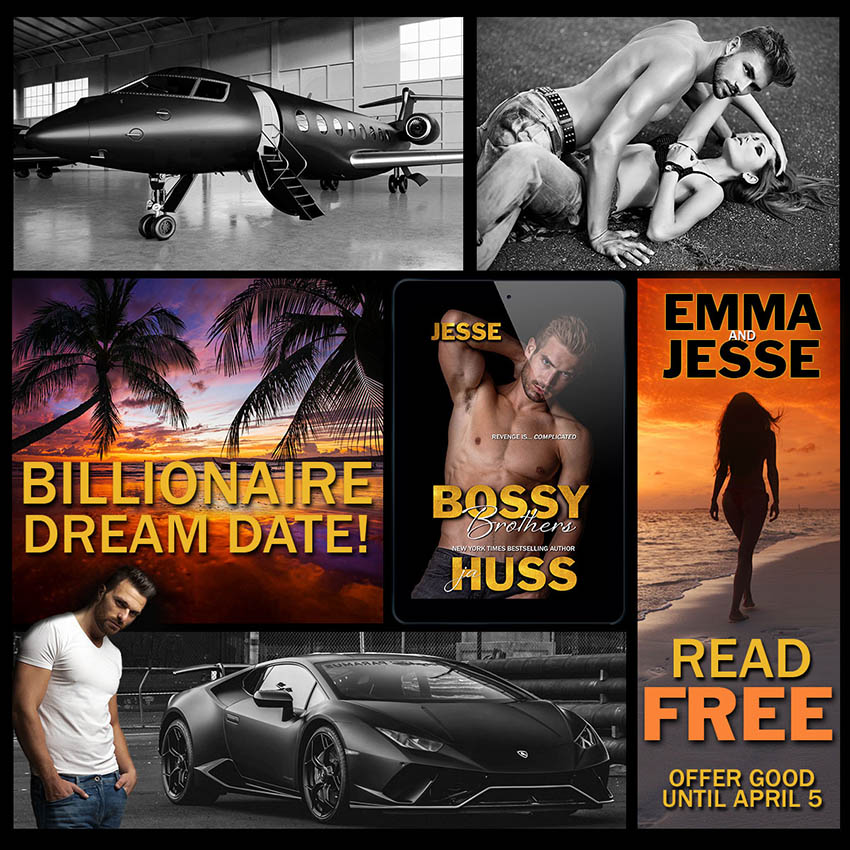 Bossy Brothers: Jesse is FREE until Sunday, April 5. This is book one in the series and you do not need Kindle Unlimited to get it for free! Just hop on over to Amazon to one-click and have it delivered to your Kindle or Kindle app. NO KINDLE UNLIMITED NECESSARY!
It's a fun enemies-to-lovers book with a kick-ass heroine who starts out to get revenge on billionaire-player, Jesse Boston, for ghosting on her after a one-night stand 13 years ago. Her revenge plan goes sideways FAST and they end up on the best dream date ever!
But of course, it ends with a twist!
This audio is also AMAZING! Like… so good! And BOSSY BRIDE (the second Jesse and Emma book) is out on audio THIS TUESDAY! So you can get ready for the wild wedding on audio by picking up Bossy Jesse with the Whispersync price!
Here's a chapter one sample of Bossy Jesse AND a special SNEAK PEEK of the Bossy Bride audiobook THAT WILL RELEASE ON TUESDAY! (Pre-order it HERE)

I've been super busy getting the new Queen Bee Book Boxes ready and they will be a little different from last time in a few ways.
There will be four purchase options and THREE signed hardcover book options.
The books in this round are Three, Two, One, Rook & Ronin Trilogy, and Pretty Nightmare. They will have various bookish goodies in each option too. I should have samples of those ready to show you in about two weeks. I'm making special candles this time (which is a pretty cool way to spend my lock-down actually! haha). So I will have pics of all that in the next update.
Until then, I hope you enjoy the sample audiobooks of Jesse and Emma and make sure you pick up the Jesse eBook for FREE until Sunday!
Stay safe, stay healthy, and we'll talk again soon!
Julie