OPEN GIVEAWAYS LINKED AT THE BOTTOM!
Welcome to the End of Month Shit. A new feature on the blog where I just do a little recap about the past month. I'm couple days late with this one—apologies. June just went way too fast. Can you believe this year is half over? 2020, here we come. I don't know about you but thinking about the year 2020 is kinda weird. I can still remember when we flipped over to the year 2000 and now it's 20 years later. Time flies so fast. You gotta make the most of it. So that's pretty much I did in June! It was a pretty busy month for me and the rest of the summer – actually, the whole second half of the year, at least until end of October—will be just as busy as the first half.
HERE'S WHAT HAPPENED IN JUNE

In to Her released in audio in June and it did really well. My publisher emailed me to say it was doing pretty great and so that's wonderful. Thank you everyone who bought and listened. And I have to say, In To Her was a pretty great book in my mind. It had a lot of sex, but the story wasn't about the sex. And if people didn't like it, that's on them. lol. Like, not trying to be bitchy or anything, but In To her was a book I can get behind as far as story goes. I really fell for these characters as I was writing them. And the audio – Jesus. It was amazing. Teddy Hamilton, Tad Branson (AKA Johnathan McClain),  and Savannah Pechwood are some of my favorite narrators. So even if you read the ebook and aren't really in to audio, if ever there was a time to pick up your first audiobook free over on Audible, this is it.
Booty Hunter just released on Audio two days ago (not technically a June update) so if you've been waiting on the audio, it's here!  Teddy Hamilton and Savannah Peachwood also narrate and Big Dicker audio is in production now, no release date on that as of yet.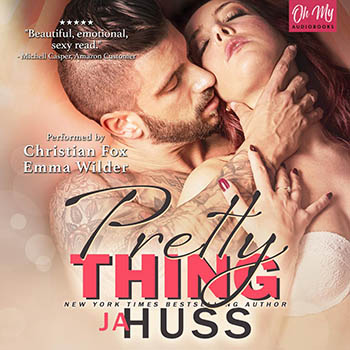 PRE-ORDER COMING SOON!
RELEASING JULY 30
---

The second full-length Harem Station book also released in June. The first book in that Harem Station series is called Booty Hunter and the second one is called Big Dicker. (There is a FREE novella between those two called Star Crossed that has all the glorious background on these brothers). Everyone kinda of snickered when they saw that Big Dicker title. But it's got nothing to do with big dicks. I mean, of course there's big dicks in the book, lol, that's pretty much a requirement for erotic romance. But the funny titles are the names of the space ships these guys ride around in. Big Dicker was Jimmy's ship and it's a joke in the book because our hero accidentally thinks he knows of this faraway constellation called the Big Dicker. But he got it wrong, of course. It's the Big Dipper.
Big Dicker is an action-packed rompy, erotic, sci-fi-romance adventure. And it's pretty fun.
I also released Bossy Brothers: Jesse in June. This is the first book in (at least a trilogy, possibly a quartet, and maybe as many as seven, depending on whether or not I have a good plot for the Dumas brothers or not when I get done with Zach Boston) It's a lot of fun with a twist at the end that lets you know this series will get darker as it goes.
ALL CAN BE READ FREE IN KINDLE UNLIMITED!​
---

Before I get to the rest of what's coming in July let me just add a little note about the TV series Johnathan McClain and I are writing. We did get our final contracts for the deal with MGM and those have been singed. So this is called commencement. Meaning the work they ordered has started and so we have to pull together a pilot script by August 1st. 🙂
Which is great news, however I do have one disappointing announcement to tell you about. Because we are now under contract with MGM and this TV show is the main focus of the Julie & Johnathan writing team, we will not be releasing the third book in the Tall, Dark, and Handsome series in August. We have it about half written and in order to meet our deadline we would've had to turn it in to our editor by this coming Monday and we have decided we need more time. So… that book is on hold for now. At least until we either get through the next step fo the TV series process. And if we do get through the next step (which is pitching and selling), things just get more busy, not less. So we will not make any more decisions about Julie & Johnathan books just yet.
---

My two new releases for July are Lady Luck on July 8 and Bossy Brothers: Joey on June 29. Lady Luck is on pre-order and that's the THIRD full-length book in the new Harem Station Series. Bossy Brothers: Joey is book two in Bossy Brothers series and will be a MMFM menage and this will be a LIVE RELEASE! So if you want to be notified please sign up to follow this blog below or join my mailing list, or follow me on BOOKBUB.
Bookbub is the easiest way to keep track of what I'm doing because they send those new release alert emails out lickety-split and they almost never go to spam.

RELEASING AUGUST 19, 2019
THE BOYS OF HAREM STATION ARE KEEPING LOTS OF SECRETS!
Valor joined up with Tray after Beauty's sacrifice because he knew Luck was destined to be with Princess Nyleena. There was no room in that relationship for a third wheel. But when he teamed up with Tray he had no idea that he'd be the third wheel in that partnership too.
Tray has been keeping ALCOR's secrets since the day he arrived on Harem Station. Not just one or two… ALL of them. But he's also been keeping one of his own.
His secret is a girl. Not a Cygnian girl. An Akeelian girl. A beautiful, mysterious, scheming secret girl that Tray has been in love with ever since she first turned up in his Pleasure Prison virtual reality asking him for help.
Except she's not virtual.
She's real.
She's in danger.
And before Valor came along all he wanted to do was break her out of her prison and keep her for himself.
But now… he might have to learn to share.
---

On the blog side of things the Friday Night Freebie has been kicking ass! Thank you, everyone, for stopping by on Fridays to play along in my new weekly blog feature. If you're reading this the weekend of July 5th, then you can find the Friday Night Freebie right HERE.
If you're reading this some other time, just click that "Home" button in the menu and you should see them in the Archive. They only run from Friday afternoon to Sunday night at midnight, so gotta stop by on the weekend. 
I had planned to have a journal ready to give away for the Bossy Brothers: Jesse release last week but we've had a bunch of thunderstorms here at my house this summer. Every afternoon there's a tornado or severe thunderstorm warning, and the power has gone out on a regular basis for the past couple weeks. So my really nice, expensive, color, laser printer was fried in a power surge. (Yes, I use a surge protector. Didn't help). So no printer. Actually, there's a new one sitting at the post office 20 miles away, but our post office does not deliver packages. We have to go pick them up and haven't had time to do that this week. So once I get that sorted I will be able to print more stuff for my journals and I will put one up on the Friday night Freebie once I get it made.
Every Friday I will have a new weekend giveaway that you do not want to miss! So make sure you FOLLOW THIS BLOG to be notified.
Subscribe to Blog via Email
Join 4,937 other subscribers
---

I have a few giveaways for you, if you're interested. Just click the links for the ones you're interested in and if the Friday Night Freebie link isn't linked above yet – check back this afternoon. It will be there.
THE BOSSY ONES END ON MONDAY!


PLEASURE PRISON ENDS ON JULY 29!

---
I think that's it! It's a lot when I put it down on paper! If you're still reading, thank you! You're probably a superfan and I appreciate that so much!
THANKS GUYS! I hope you're all having a fabulous summer (or winter, for those of you down under!) and we'll chat again next month!