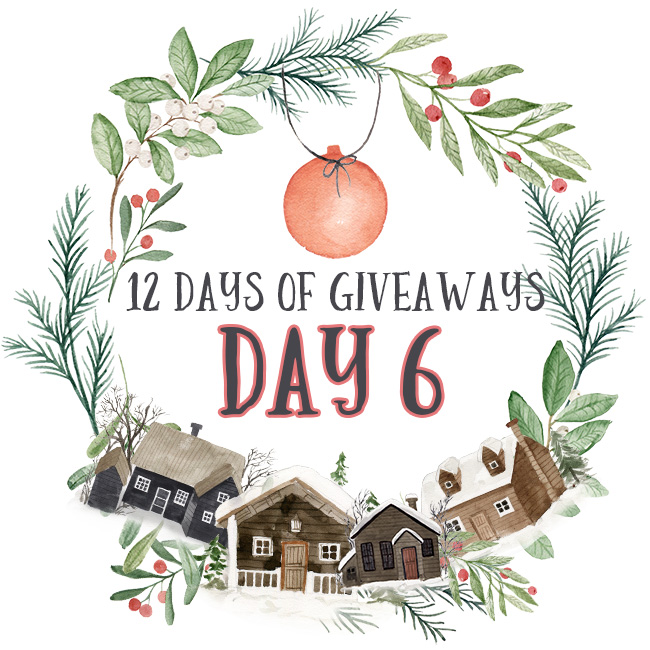 CONGRATULATIONS TO MY WINNERS!
YOU HAVE ALL BEEN EMAILED.
In order to claim your prize YOU MUST REPLY TO THE EMAIL.  I cannot accept winners through Facebook because there are so many scams. If you do not see my email, please check your SPAM.
DAY 1 – Heather Cicio
DAY 2 – Sunday Barnaby
DAY 3 – Lisa Aguilar
DAY 4 – Amy White
DAY 5 – Melissa Berengue
DAY 6 – Jean Siska
DAY 7 – Rita Wray
DAY 8 – Deanna Sutherland
DAY 9 – Lindsey J Taylor
DAY 10 – Lisa Beatty Sargent
DAY 11 – Jess Blackcloud
DAY 12 – Amanda Wooten
---
Welcome to my annual 12 DAYS OF GIVEAWAYS! 
If you're new to this – here's how it works:
1.   Each day from December 1 through December 12 I will put up a new giveaway HERE on my website with instructions on how to enter, a detailed description of the prize, and some stuff about the book or series. Each giveaway is different and each has ONE WINNER. MY GIVEAWAYS ARE ALWAYS OPEN INTERNATIONAL 
2.   Each giveaway runs UNTIL DECEMBER 13.
3.   Winners are CHOSEN and NOTIFIED on December 14. I will be notifying winners USING THE EMAIL USED TO COMMENT ON THIS BLOG – and all winners will BE LISTED AT THE TOP OF EACH GIVEAWAY POST HERE ON MY WEBSITE on December 14.
4.   Winners have 24 hours to respond, then another winner will be chosen.
5.   ALL PRIZES WILL BE MAILED ON DECEMBER 15.  If I'm waiting on a winner to respond and they miss the December 15 mail date, that prize will be mailed when I get around to it. I live in the middle of nowhere so a trip to the post office is a "thing" for me. 🙂 So make sure you're checking for winners on the 14th.
6.   I will send newsletters announcing giveaways on December 1, December 6, December 12, and a Winner newsletter on December 14. I NEVER send this many newsletters in a month so sorry if that feels spammy. 
7.   You can also FOLLOW MY BLOG. I will also make a blog post HERE announcing ALL WINNERS on the 14th. If you want to follow this blog there will be a form at the bottom of each post to do that. Then you get an email when I POST HERE. I don't do that often – December is the exception because of the 12 Days and my yearly "Wrap-up" post.
NO PURCHASE NECESSARY.
THAT'S IT! I HOPE YOU ALL ENJOY THIS!
The world is INSANE right now so I'm just trying to spread some cheer and give back to all of you who support me and enjoy the stories I create.
NOW LET'S GET ON TO THE FIRST GIVEAWAY!
---
DID YOU MISS THE PREVIOUS GIVEAWAYS?
ENTER NOW AT THE LINKS BELOW. THEY ARE ALL STILL OPEN.
---
IN EACH POST I WILL HIGHLIGHT A BOOK
TODAY'S BOOK HIGHLIGHT IS THE MONSTERS OF SAINT MARK'S SERIES!
IT'S RELEASE DAY FOR THE LAST BOOK IN THIS SERIES, ROYAL BEASTS. THIS SERIES REALLY IS THE MONSTER LOVE STORY YOU DIDN'T KNOW YOU NEEDED!

THE MONSTERS OF SAINT MARK'S is a fun paranormal monster romance series about a girl named Pie who accidentally stumbles into a monster's 2000-year-old curse only to find she's exactly where she's supposed to be.
******
When I answered an ad for a caretaker at Saint Mark's Sanctuary I thought I'd be dusting chandeliers and polishing floors. I didn't expect to be tricked into a curse, going in debt to a monster, and being forced to take a self-paced "Let's Learn Magic" course so I can fix a two-thousand-year-old problem.
And that monster?
Not your ordinary, everyday beast.
He has hooves, and horns, and fur on his legs.
But ya know where he doesn't have fur?
Yep. There.
Which is fine.
Except he doesn't wear pants.
Nothing at Saint Mark's is exactly what it seems.
The entire inside is magic, the hallways upstairs are nothing but parties from the past, and the super-hot guy who lives in the dungeon?
Yeah.
Not human.
My name is Pie and all I want is to be a normal girl with an average life.
I refuse to get stuck in this curse.
I refuse to learn magic to break it.
And there is no way in hell I will fall in love with a monster.
Famous.
Last.
Words.
READ THEM ALL FOR FREE IN KINDLE UNLIMITED!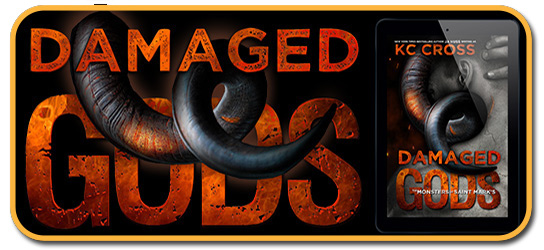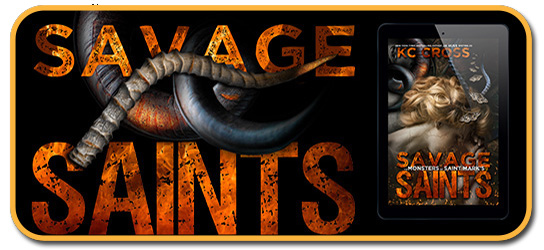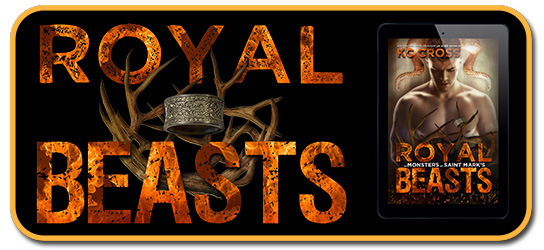 ---
LISTEN TO THE DAMAGED GODS AUDIOBOOK TEASER!
NARRATED BY HATHAWAY LEE and JASON CLARKE!
CLICK THE VID TO HEAR A SAMPLE OF JASON AS PELL!


---
GIVEAWAY #6
PIE'S APOTHECARY GIFT SET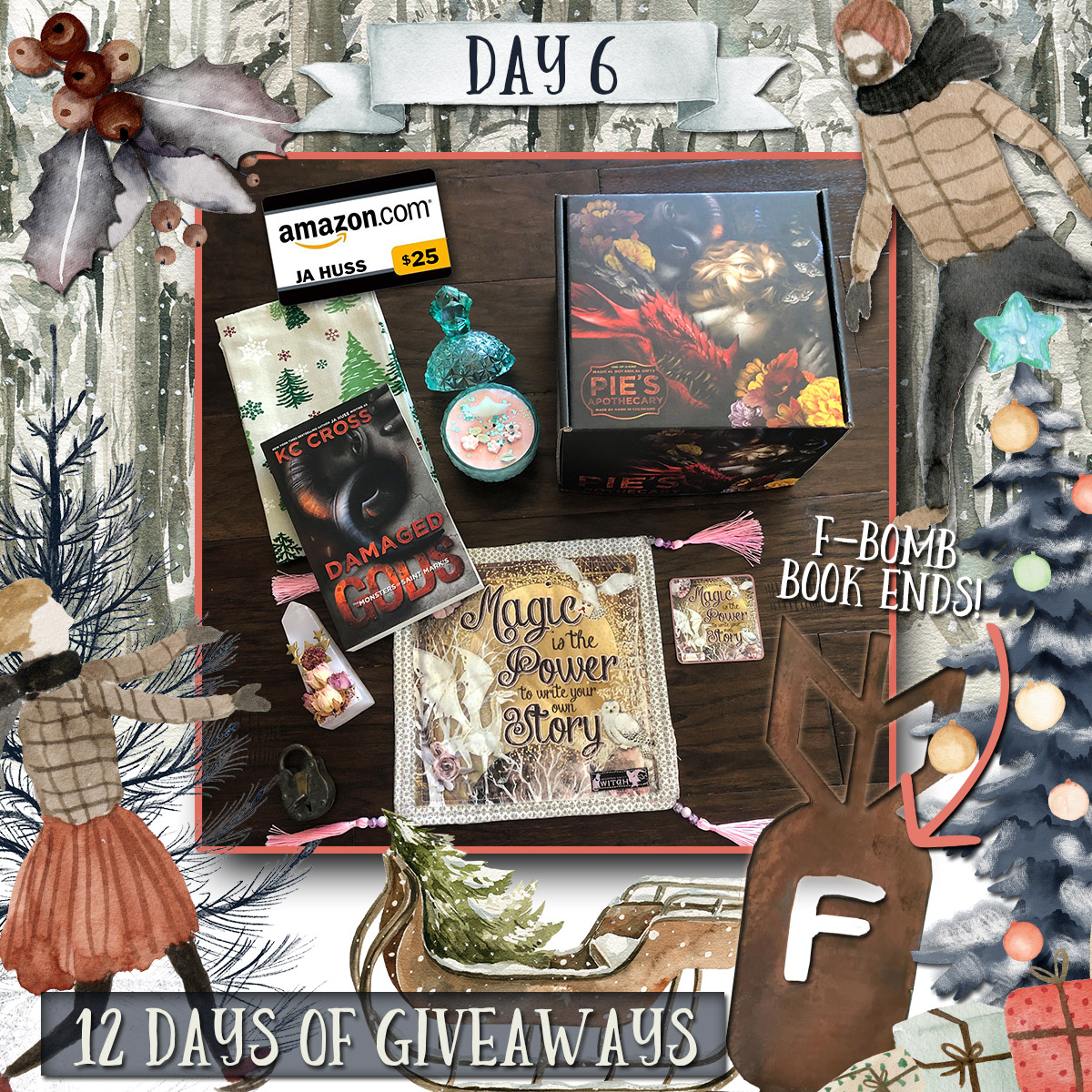 ---
WHAT'S IN THE GIFT SET!
1. PIE'S APOTHECARY CUSTOM BOX
2. SIGNED PAPERBACK OF DAMAGED GODS
3. HANDMADE CANDLE IN GLASS
4. F-BOMB BOOKENDS 
(Donated by Tim and Nicole Alexander of DIRT POOR DESIGNS )
5. MAGICAL ROSE QUARTZ OBELISK
6. $25 Gift Card
7. HOLIDAY TEA TOWEL
8. POWER OF MAGIC MAGNET
9. POWER OF MAGIC CANDLE MAT
10. YOUR VERY OWN MAGICAL LOCK AND KEY
---
AND HERE'S HOW TO ENTER TO WIN TODAY'S GIFT SET!
(1) COMMENT HERE on the blog (below) and tell me –
WHAT IS YOUR FAVORITE HOLIDAY MOVIE?
I have so many. As a kid it was all the stop-animation 'cartoons' like the Rudolf one. And the Burgermeister Meisterburger one. But as an adult I like Die Hard – YES, that IS a Christmas movie – and Christmas Vacation. Also there's one that came out like fifteen years ago called Holiday Switch where she falls into the dryer (so stupid!) and gets to live her fantasy Christmas with the guy she crushed on in high school who is now super successful, only to learn her lesson that her real family is so much better than the 'rich guy'. It's just the dumbest concept ever but still very good. lol I have seen that movie so many times and it's still ridiculous. 
---
AND HERE is a sneak peek of tomorrow's giveaway!
Make sure you stop by and enter!
---
BTW – THERE ARE THREE EASY WAYS TO STAY IN TOUCH with me. 
ONE – FOLLOW THIS BLOG – FILL OUT THE FORM BELOW  and you will be notified via email whenever I put up a new blog post. I usually do this about once a month unless I'm having a cover reveal, or a new release, or something special like this 12 Days of Giveaways. This is not a newsletter list. It's ONLY tied to BLOG POSTS.
Subscribe to Blog via Email
DON'T FORGET TO CONFIRM YOUR EMAIL or it won't sign you up.
---
TWO – JOIN MY NEWSLETTER – you will get an email when I send a newsletter. I don't send very many. Maybe once a month unless I'm up to something special. But you will NOT be notified of blog posts. 
DON'T FORGET TO CONFIRM YOUR EMAIL or it won't sign you up.

---
THREE – or if you don't like to get emails – YOU CAN JOIN MY FACEBOOK GROUP. This is where I hang out on the daily. We've got a nice group going with ZERO DRAMA. And if you ever have a question about something, you can tag me in there and I'll answer you. I'm literally in there all day, every day. 
---
I HOPE YOU ALL HAVE A VERY HAPPY HOLIDAY AND NEW YEAR.
Stay calm, stay safe, and let's have a great 2023!
WINNERS FOR ALL GIVEAWAYS will be chosen on December 14 and announced on my blog and in my newsletter. All gifts will be mailed on December 15th with priority mail, so hopefully you get them before the big day. ALL MY GIVEAWAYS ARE ALWAYS OPEN INTERNATIONAL.