THIS IS A LONG POST
THERE IS A MAGNIFICENT GIVEAWAY AT THE BOTTOM!
Creeping Beautiful released today and I am BEYOND THRILLED with how this story came out. If you are in to dark themes with beautiful characters I just want to go on the record saying this:
DO NOT MISS THIS ONE.
Period. Full Stop.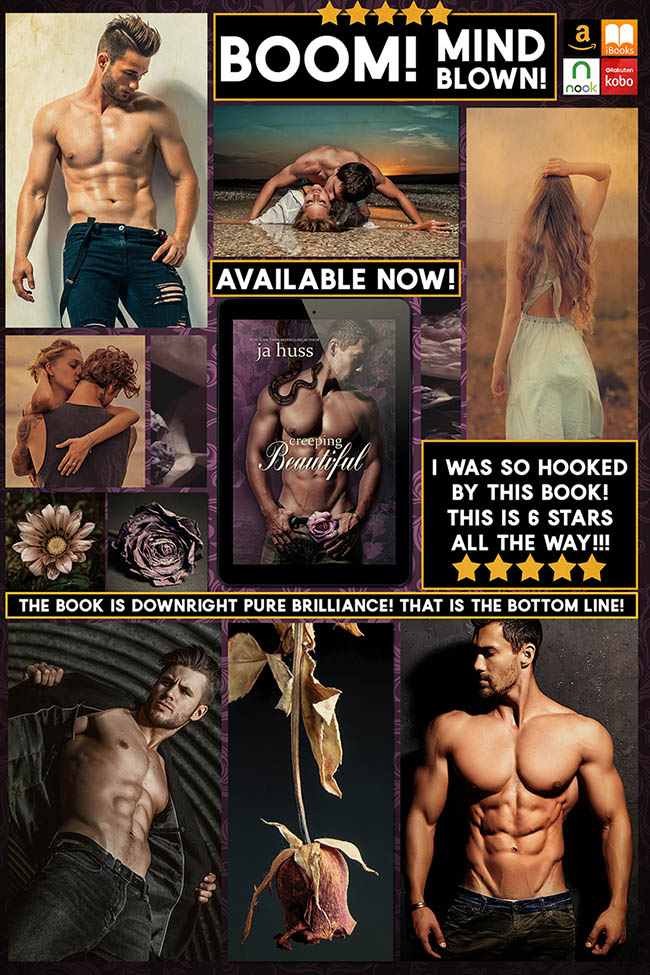 CHECK OUT THE REVIEWS HERE
OK, Now I get to bore you with details… lol 
I know I wrote an End of Book Shit (EOBS) for Creeping Beautiful, but it was written back in November because I was publishing All the Beautiful Shit in December and I wanted to include the CB EOBS in that special book. 
And I finished writing CB like… a LONG time ago. (For me.) I know most people don't publish the way I do so waiting several months to publish a book after it was written is really not what I do.
Things about this story have had time to settle in for me so I'm going to write a sort of second EOBS for this story because I think it deserves all my attention today.
On the surface this book is very complicated because you, the reader, are in the dark and everyone is holding their secrets tight. But it's not really complicated at all.
The characters in Creeping Beautiful are part of a secret society that literally runs the world. Like… everything. Now, if you've read any of my other series (Rook & Ronin, The Company, The Misters, Bossy Brothers) then you know that this Company world is big and wide.
When I first started to think about writing a book about a secret shadow government I thought about how it has been done before in the past. Usually people are trying to take it down. And all the books I've written about the Company so far also deal with that theme.
But the people trying to take down the Company in my stories are all "insiders". They are all a part of it. They are all a "new generation". But all the previous books about the Company (there are a lot – too many to list here) were about the "good guys" – if there is such a thing inside this shadow world they live in.
Creeping Beautiful is about the "bad guys".  These four characters – Indie, Adam, McKay, and Donovan are all very special in this world. They have special places of prominence, they have special privileges within the organization, and they understand their place in the organization.
None of the other characters in my other Company books had this luxury. They were all on the run, or being held prisoner, or whatever.  They were desperate to escape.
None of the characters in Creeping Beautiful are desperate to escape. They have "settled in".
I don't think I could've written this book first. And by that I mean, I needed to write all those other books first. I needed you on "that side" of things. Because if I had written this book first you might fall in love with the Company as an organization. Because Indie, Adam, McKay, and Donovan are very easy to love.
Their relationship with each other as a group, and individually one-on-one, is something very special. It's a lot like the relationship between James, Harper, and Sasha in the Company books, but nothing like it at all. It's not even like the Rook & Ronin team either. Because those relationships—while they had romantic love within their "teams" were mostly based on friendship. Friendship was what held them together like glue
The relationship between Indie, Adam, McKay, and Donovan is also based on friendship—but there is a boss running this team. And by the end of Creeping Beautiful you'll have an idea of who it is. But not a very clear one. Because I'm just getting started. If you've already read Creeping Beautiful and you thought it blew your mind—hold up a sec. Because the amount of mind-fucking you have coming in the next book will make Creeping Beautiful look like a fairy tale adventure.
What's coming next in Pretty Nightmare is sexy, and twisted, and will rearrange all the players on the game board in such a way, you won't know what's coming next.
The Creeping Beautiful series is just getting started. I would go so far as to say I have never written a book like this before—ever. It's a completely new take on an old story.
If I had to pick a favorite scene I would choose the scene between Donovan and Adam after they found out they were about to get some unwanted attention from the local authorities. No spoilers here, but that scene sums up what this first book in the series is about:
The Company is gone so… now what? What do we do? How do we survive? Who has our back? Do we fit into this world where there is no Company?
The answer is not a spoiler. The answer is no. These characters do not fit into the world the rest of us live in.
So what do they do?
I'm not going to give that away. Not because it's a spoiler for CB either, but because they don't know yet. Creeping Beautiful is a book about coming to terms with the past. The books going forward will all be about coming to terms with the future.
And if you're wondering if Indie gets all her men… well, yes. Yes, she does. But, trust me. Sometimes you want a thing so bad you don't understand the consequences after you get it.
I hope you get LOST in this story. I hope you envision Old Home the way I did. I hope you can see the duck lake, and the river, and the town where Indie and Nathan get ice cream. I hope you ramble around the woods the way Indie did. I hope you can envision McKay making pancakes, and Donovan as a doctor, and Adam as the leader who holds them all together. I want you to see Nathan's little cottage house in your mind and picture him and Indie as best friends. I want you to smile at the fireflies, and sidestep the snakes, and eat ice cream up in that tree house.
Go ahead. Live in it. It's OK. That's what stories are for.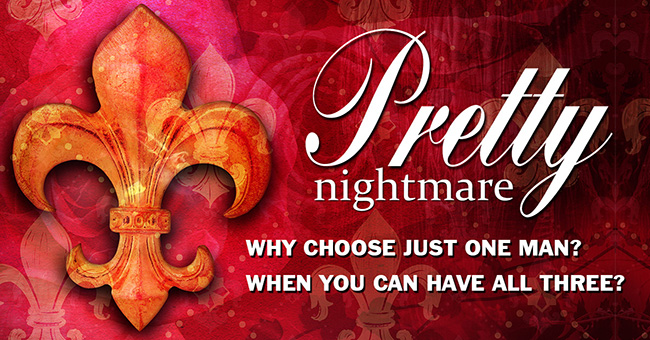 There will be four books in this series. Each one will have an ending that will tie the story together and an epilogue that will lead you into the next book holding your breath.
They are:
Creeping Beautiful (February 19, 2020)
Pretty Nightmare (May 12, 2020 – on pre-order now)
Gorgeous Misery (October 2020)
Lovely Darkness (January 2021)
And keep an eye out for the Pretty Nightmare cover reveal (coming soon!)
OK – this is the number one question I get after every book announcement so I'm just going to address it now – YES. Each book will have an audio. But the audio is very special and will not release with the books. (Maybe Lovely Darkness will? We'll see). There are a lot of narrators and a lot of post-production things to do. But trust me when I tell you, they will all be worth the wait.
Thank you for reading, thank you for reviewing, and I'll see you in the next book! (Which is the last Harem Station book, BTW. It's done! And it will release in late March).
Julie
JA Huss
February 19, 2020
P.S. – This week's Friday Night Freebie Prize will be HUGE! And will include a signed copy of All the Beautiful Shit! 
---
BONUS GIVEAWAY
Only on Instagram!
Enter to win:
Signed copy of Creeping Beautiful (retail cover)
Signed copy of Creeping Beautiful (special edition cover)
Handmade Queen Bee Soaps
(OMG – they smell so good and are the most beautiful soaps I've ever seen!)
Custom Journal from the Queen Bee Book Box!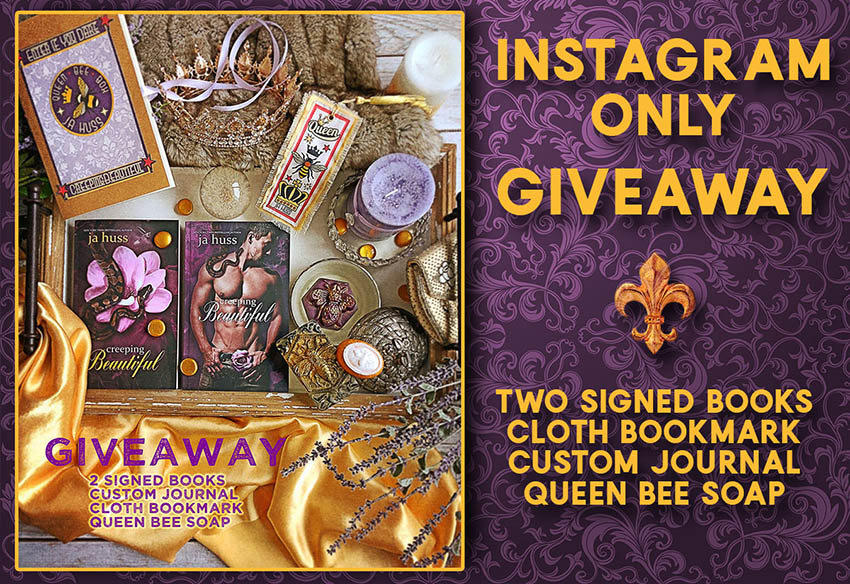 ---
RAFFLECOPTER GIVEAWAY