GIVEAWAY IS NOW CLOSED!
The winner of the BOSSY BROTHERS Prize is: Jessica R. Brotman
Please respond to the FB PM I sent you from my personal profile with your mailing address.
---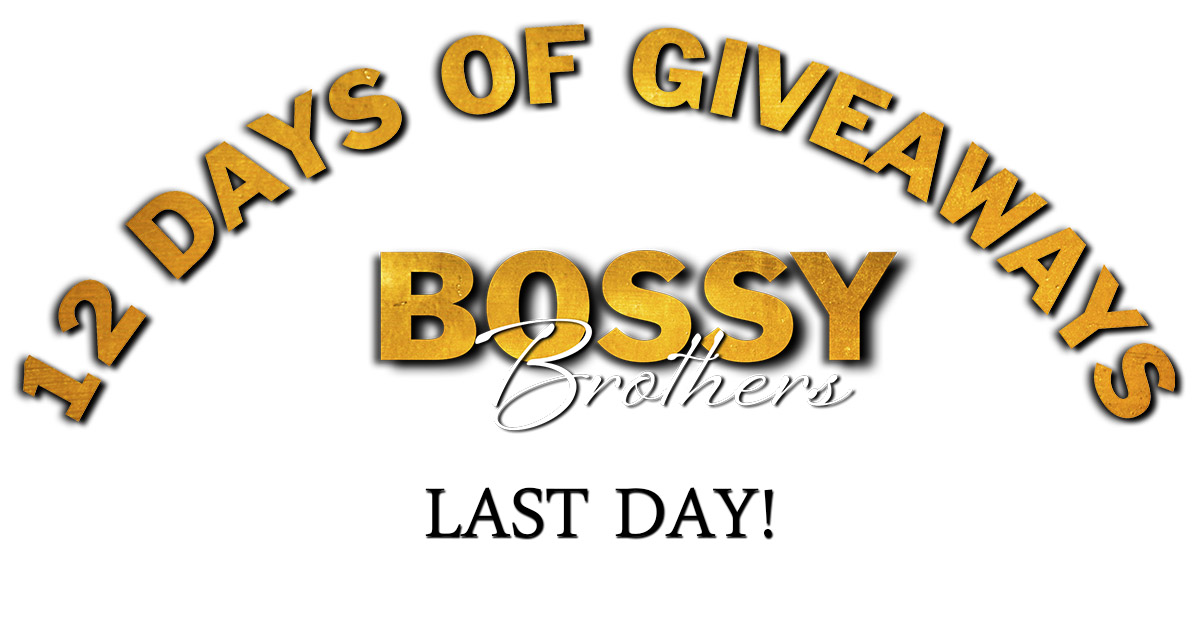 Well, we're at the end! I hope the first twelve days of December have been just a little bit better because you stopped by my blog. I have a couple of cool things to tell you about the Bossy series.
FIRST
BOOK ONE – BOSSY JESSE – IS FREE EVERYWHERE!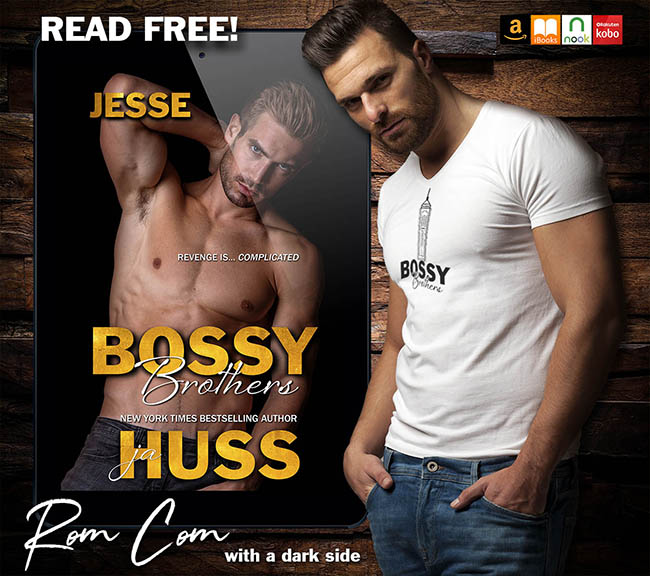 Emma is super pretty, super smart, and super rich.
So WHY is she kidnapping the billionaire she just bought in the bachelor auction?

Thirteen years before Emma Dumas bought me in a bachelor auction to teach me a lesson she stole my heart down on Key West. I fell so hard for this girl I made all the promises. Only with Emma, I really meant them.
And then I disappeared.
But it wasn't my fault. Let's just call my reason "Family Business". I'd tell you what that business is, but then I'd have to kill you. Just kidding. I can't tell you what my family business is because it's so secret, even I don't know.
My point is… I didn't ghost. It was a weird twist of circumstances. And OK, yes. I did hook up with pretty much every girl on the island that week. But after I met Emma, I was ruined. She's the only one I wanted.
It's been thirteen years. I'm a changed man. I STILL want her. I have ALWAYS wanted her.
But it's kind of hard to tell her that with a gag in my mouth and a hood over my head.
Bossy Brothers: Jesse features a bachelor auction gone wrong, four smart ladies who botch a crazy revenge kidnapping, a fancy power dream date with fast cars, private jets, and expensive yachts, lots of ex-sex, and a happily ever after that proves… sometimes the best man for the job is a woman.
GRAB IT HERE FOR FREE:
---
AUDIOBOOK is not free, but it's Whispersynced on AMAZON (So you can get it for $7.49 if you already own the eBook) and available at AUDIBLE and APPLE AUDIOBOOKS.
Narrated by TEDDY HAMILTON and AVA ERICKSON.
LISTEN TO THE AUDIOBOOK TEASER!
---

HERE IS THE BOSSY BROTHERS PRIZE!
1. Signed Hardcover of Bossy Jesse
2. Signed Hardcover of Bossy Alonzo
3. Bossy Sticker Swag pack
4. Bossy Candle Tin
5. Bossy Tea Lights
6. $25 Gift Card
7. Bossy Christmas Ornament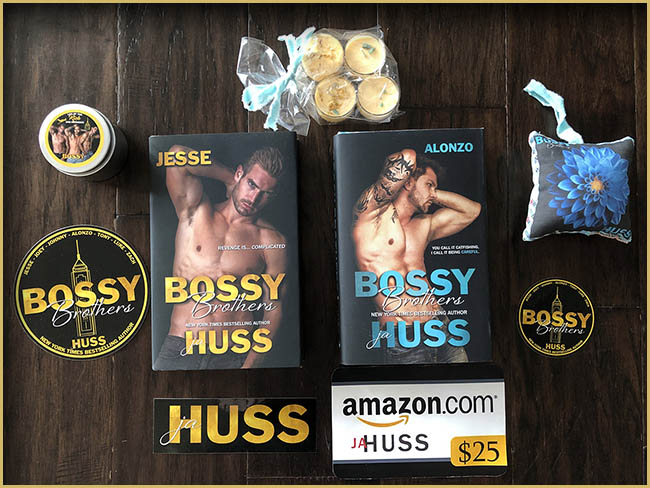 ---
AND HERE'S HOW TO ENTER TO WIN:
(1) MAKE SURE YOU ARE FOLLOWING my Facebook Author page HERE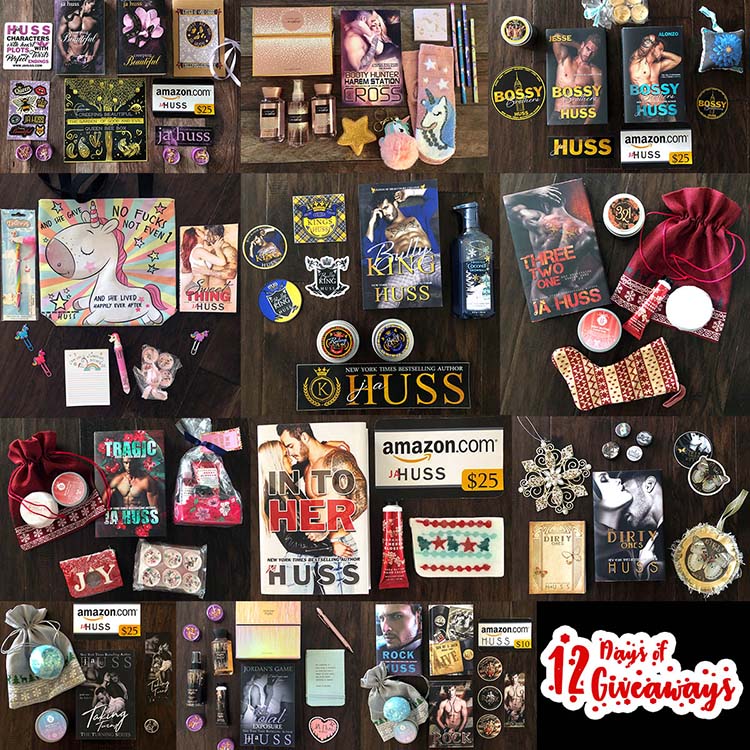 (3) COMMENT HERE on the blog (below) just to say hi!
(#3 is not required, but I still love comments and I read every single one! I don't always have time to reply, but I really do read them all)
(4) BTW – THERE ARE THREE EASY WAYS TO STAY IN TOUCH with me. 
ONE – FOLLOW THIS BLOG – FILL OUT THE FORM BELOW  and you will be notified via email whenever I put up a new blog post. I usually do this about once a month unless I'm having a cover reveal, or a new release, or something special like this 12 Days of Giveaways. This is not a newsletter list. It's ONLY tied to BLOG POSTS.
Subscribe to Blog via Email
DON'T FORGET TO CONFIRM YOUR EMAIL or it won't sign you up.
---
TWO – JOIN MY NEWSLETTER – you will get an email when I send a newsletter. I don't send very many. Maybe once a month unless I'm up to something special. But you will NOT be notified of blog posts. 
DON'T FORGET TO CONFIRM YOUR EMAIL or it won't sign you up.
---
THREE – or if you don't like to get emails – YOU CAN JOIN MY FACEBOOK GROUP. This is where I hang out on the daily. We've got a nice group going with ZERO DRAMA. And if you ever have a question about something, you can tag me in there and I'll answer you. I'm literally in there all day, every day. 
---
I HOPE YOU ALL HAVE A VERY HAPPY HOLIDAY AND NEW YEAR.
Stay calm, stay safe, and let's have a great 2021!
WINNERS FOR ALL GIVEAWAYS will be chosen on December 14 and announced on FB, IG, my fan group, my blog, and my newsletter. All gifts will be mailed on December 15th with priority mail, so hopefully you get them before the big day. ALL MY GIVEAWAYS ARE ALWAYS OPEN INTERNATIONAL.