Just dropping in to give you an update on the audiobooks coming out soon. I have a shitload of them!  And today I have a sample of the "coming soon" new version of TRAGIC with the voice talents of Erin Mallon and Jason Clarke. 
THE NEXT RELEASE IS CREEPING BEAUTIFUL – and that drops on TUESDAY August 25. I don't even have those files yet – but I should have them today (I hope) so I will share teasers with you as soon as I do. You can pre-order on AUDIBLE HERE and on AMAZON HERE. 
The one after that is probably going to be RULING CLASS. That audio won't release with the ebook on September 2, but it won't be far behind. The production is done, I just need to proof it and upload the files, then wait for Audible to get their shit together and make it live. 
The one after that is PRETTY NIGHTMARE on September 29. 
I don't have an exact date for the new Rook & Ronin books, but I will keep you posted once I start uploading the files. AND BY THE WAY – the first THREE BOOKS in this series are all free in the omnibus edition which you can find at all these places below.
JUST FYI – The one ON sale right now is THE OLD VERSION. So don't buy it if you're thinking you might like this audiobook. Also, if you have already purchased the old audio versions of Tragic, Manic, and Panic don't worry – there will be an omnibus version too (and that ebook is still FREE on AMZ so grab it below) and if you have the ebook, once the omnibus is whispersynced, you will get a huge discount on the entire omnibus audiobook version.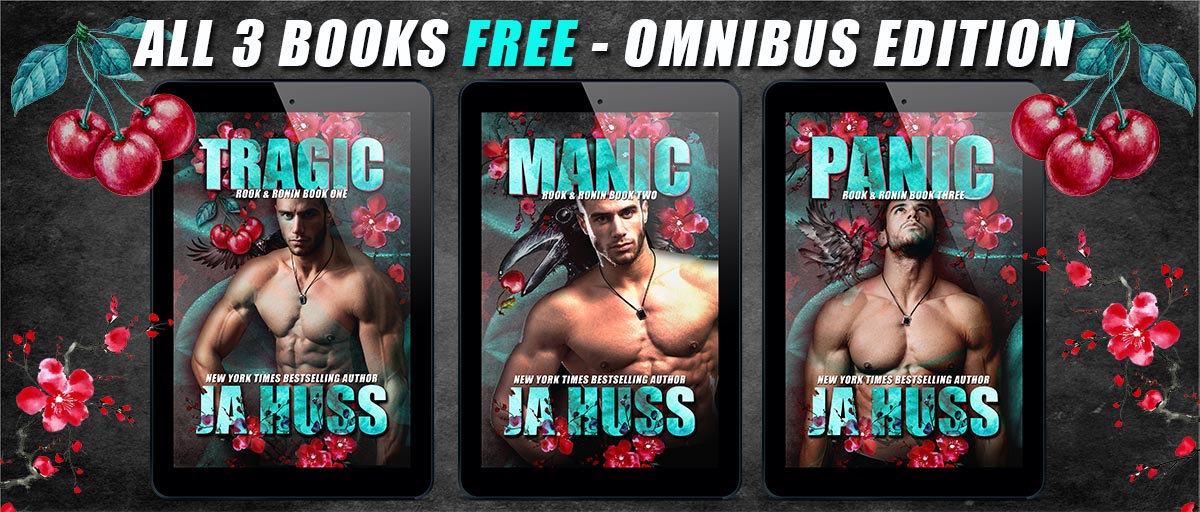 FREE ROOK & RONIN TRILOGY
LISTEN TO THE NEW RONIN!!
CLICK THE PIC BELOW!
OK, that's it for me. ENJOY THE NEW TRAGIC AUDIOBOOK TEASER and I hope you all have a great weekend!