I have been waiting for almost TWO MONTHS to show you guys this cover for Pretty Nightmare! Everything kind of got derailed by the 'Rona and well, doesn't matter. We're here and so is the beautiful cover!
This is not the first photo I bought from the amazing Wander Aguiar (I bought a license for a pic for the Tony cover – to be revealed NEXT WEEK!!) BUT this is the first one you guys will see. This model is Kaz (no idea what his last name is – but he is beautiful) and the cover design was done by me. 
I fucking love it.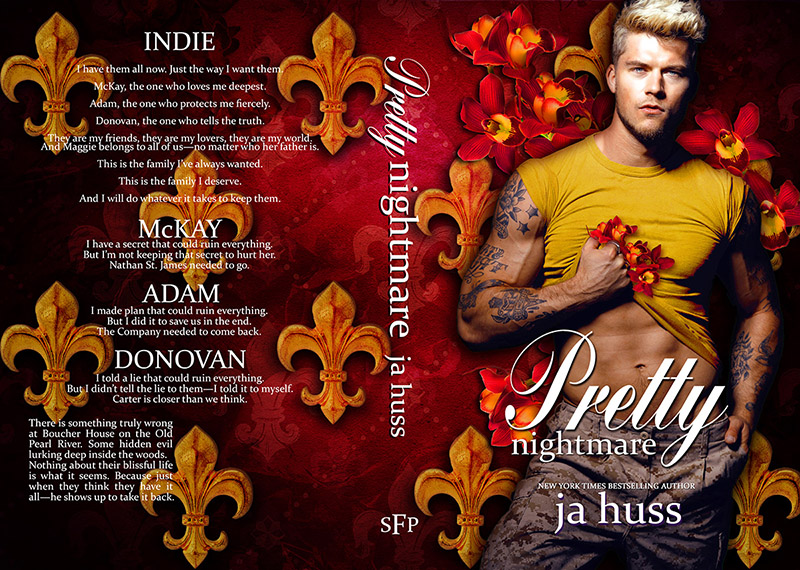 I had a very specific image in my mind when I thought about this design. I knew I wanted the fleur de lis because this story takes place in Louisiana and there are a lot of French surnames floating through this story. And I also knew that the cover scheme was going to be different. I loved the purple of Creeping Beautiful but I didn't want a whole series of purple covers. So the dark blood red felt perfect. Especially next to the gold fleur de lis. 
I also knew I wanted flowers. The Creeping Beautiful special edition cover had a magnolia on the front because, well, spoilers. But this one is an orchid because orchids are kinda creepy and beautiful and they remind me of hot things. 
After Creeping Beautiful came out I got a bunch of messages asking me which of the guys in the book was on the cover. And that was Adam. But this guy isn't McKay or Donovan. So I'll leave it up to you to decide who he represents. 
If you haven't heard yet the release date for Pretty Nightmare was pushed back from May 12 to May 26. Bossy Brothers: Tony will release on May 12 instead because that book got derailed due to the 'Rona too. 
This series will not be in Kindle Unlimited. I have quite a few back list books in KU at the moment and I have two series releasing straight to KU, so I made a decision very early to keep this series out. So if you're not one to buy on Amazon, good news. The entire series will be available on Nook, Apple, and KOBO.
There is a FANTASTIC giveaway at the bottom of this post that contains a few items from the second Queen Bee Book Box – which is not on sale yet. I'm waiting to see if a certain company opens back up for business on May 1 before I give up on them. lol. So I will have a full reveal of the box soon-ish!
I hope you all are staying safe and getting ready for Pretty Nightmare. It's going to be a sexy ride and I there are lots of mind-fucking twists in this one, just wait. You can pre-order the book at the links below. 
AND DON'T FORGET THE GIVEAWAY!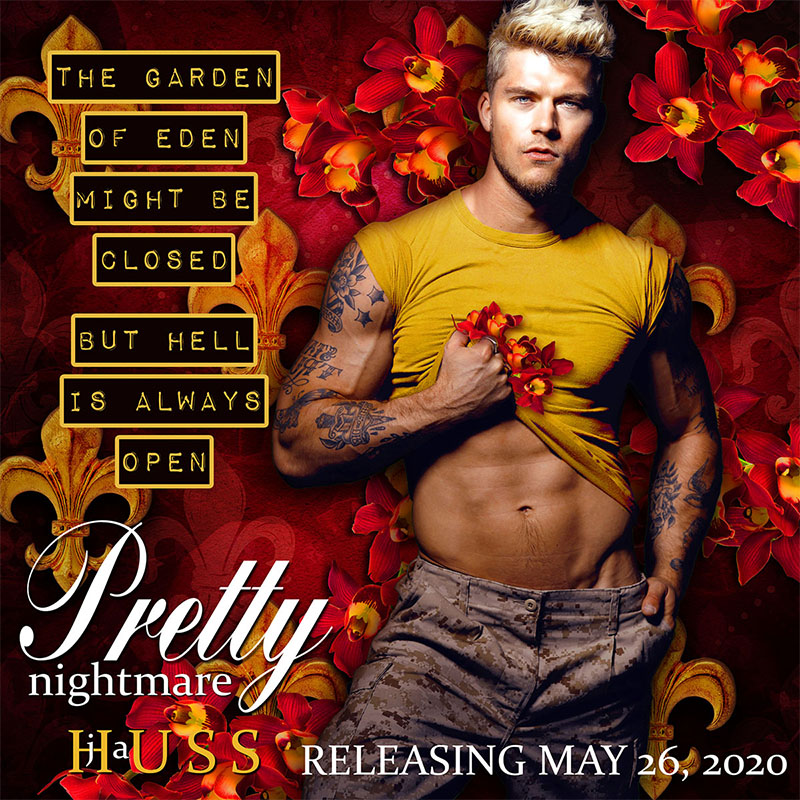 INDIE
I have them all now. Just the way I want them.
McKay, the one who loves me deepest.
Adam, the one who protects me fiercely.
Donovan, the one who tells the truth.
They are my friends, they are my lovers, they are my world.
And Maggie belongs to all of us—no matter who her father is.
This is the family I've always wanted.
This is the family I deserve.
And I will do whatever it takes to keep them.
McKAY
I have a secret that could ruin everything.
But I'm not keeping that secret to hurt her.
Nathan St. James needed to go.
ADAM
I made plan that could ruin everything.
But I did it to save us in the end.
The Company needed to come back.
DONOVAN
I told a lie that could ruin everything.
But I didn't tell the lie to them—I told it to myself.
Carter is closer than we think.
There is something truly wrong at Boucher House on the Old Pearl River.
Some hidden evil lurking deep inside the woods.
Nothing about their blissful life is what it seems.
Because just when they think they have it all—he shows up to take it back.
PRE-ORDER ON THESE RETAILERS
---

McKAY
I wasn't the one who broke her but I played my part.
She came to us when she was ten. I raised her. I loved her.
I taught her how to survive in a world of evil men.
But it wasn't enough.
ADAM
I wasn't the one who saved her but I did my best.
She needed me as much as I needed her.
Bought and paid for on the auction block.
But not for the reasons you think.
She was my weapon.
DONOVAN
I wasn't the one who lied to her but I hid her truth.
She was broken before I got there.
Wild and angry. Defiant and bratty.
But she trusted me most.
She loved me best.
So I set her free.
Indie Anna Accorsi is a woman lost in her past.
A pretty little nightmare.
A gorgeous piece of misery.
A mess of lovely darkness.
She is creeping beautiful.
And now we want her back.
READ NOW AT ALL THESE RETAILERS
---
ENTER THE GIVEAWAY!

Signed Hardcover of Pretty Nightmare and a Limited Edition Premium Swag pack that includes a hand poured Indie & Nate soy candle, a handmade cloth bookmark, and a handmade key chain.) Ends May 26, 2020.