---
NEW 99¢ SALE!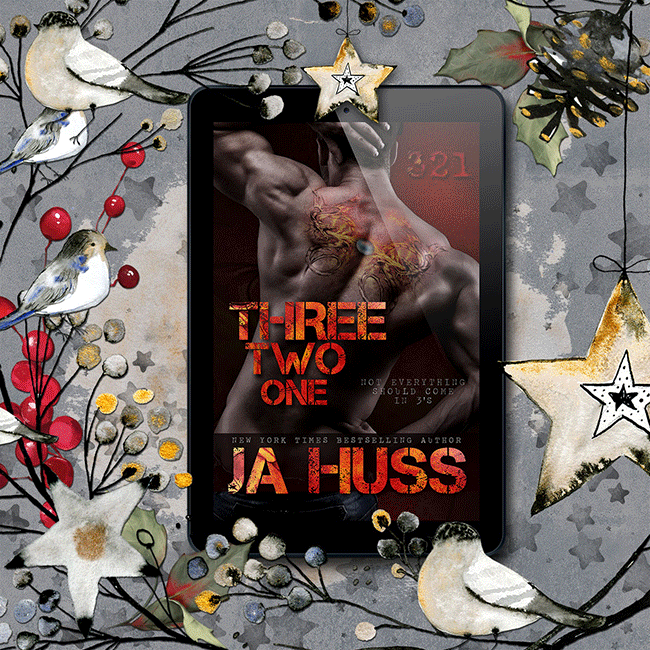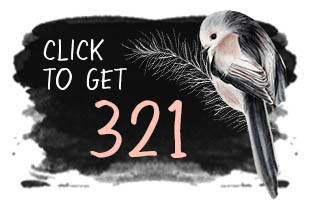 ONE GIRL
Battered, barefoot, and huddled under a bookstore awning in the pouring rain, Blue only knows one thing. After fifteen months of captivity, finally… she is free.
TWO FRIENDS
Self-made millionaires JD and Ark are not out to save anyone when they stumble upon a wet and shivering girl one early Sunday morning. But when you sell sex for a living and salvation rings your bell… you answer the call.
THREE SOULMATES
After years of searching, love lifts the veil of darkness, and three people—with three very big secrets—find themselves bound together in a relationship that defies the odds.
Or does it?
Love. Lust. Sex.
This trinity might be perfection… but not everything should come in threes.



---
BOX SET DEALS!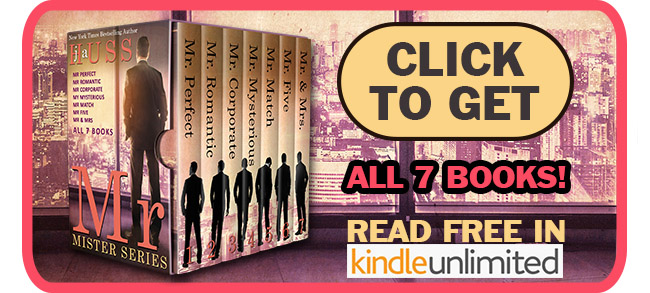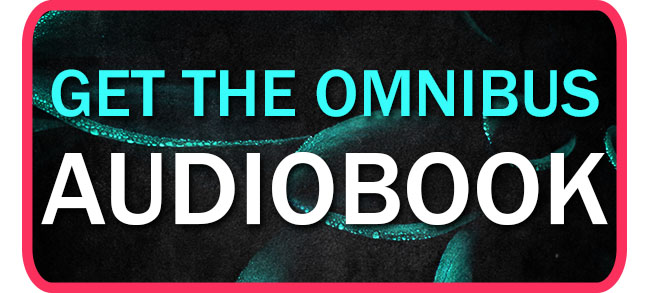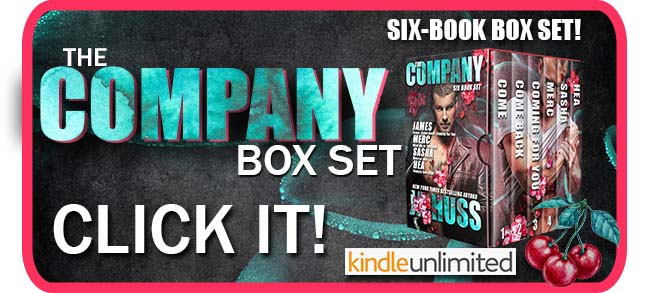 ---
FREE GIRLS NIGHT IN BOOK CLUB BOOK!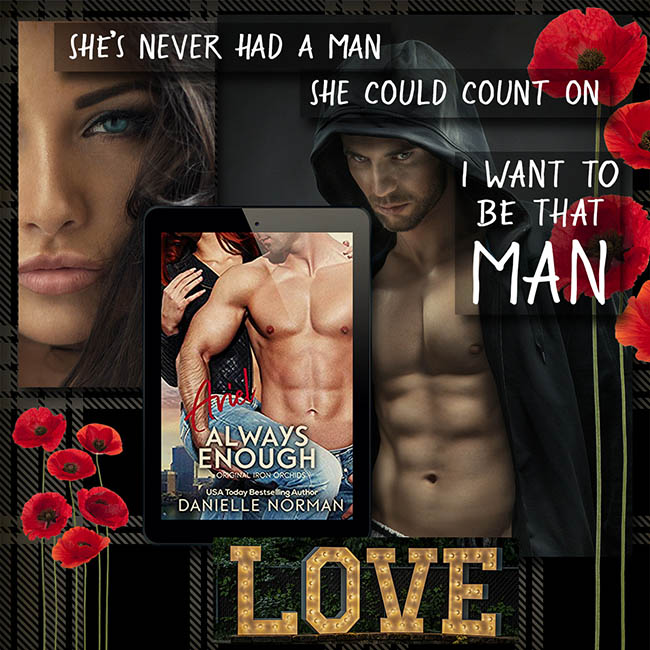 This month's FREE GIRL'S NIGHT IN BOOK CLUB BOOK IS
Ariel, Always Enough by Danielle Norman
It all started while I was off duty and a scream for help echoed through the night; my cop instincts kicked in.
I raced toward the sound and found a woman lying in a parking lot.
Among the broken glass and blood were vibrant red hair and piercing green eyes. For the first time, my heart skipped a beat.
As a deputy, I see horrid things and then go on with my life. But this time, I couldn't. I couldn't get that woman out of my mind.
For three months, I thought of her and wondered how she was doing.
Then one night, while at an LEO fundraiser, I see her, and she was staring back at me.
Ariel has had a tough life, and she has never had a man she could count on—until me.
I want to be that man. But first, I have to convince her that I'm worth a chance at love.
This book is available Free to our members only through November 30th.
QUICK! OFFER ENDS NOVEMBER 30TH!
---

This month's FREE DARK ROMANCE BOOK CLUB BOOK IS
ACHE by M. Never:
This is my paradoxical predicament.
Two men.
One choice.
Inevitable heartbreak.
Everly Paige has always gotten the short end of the stick when it comes to her personal life. Drug-addicted mother, obsessive stepfather, crappy upbringing, and one soul-shattering, heart-wrenching relationship.
But everything changes when she meets Alec Prescott. She can't stand the cocky hotshot lawyer at first, but after assisting him on one case, her opinion drastically changes.Unfortunately, a forbidden romance with a co-worker is the least of her problems. Her suppressed past is catching up to her, and there's only one person she can turn to–Tage Andrews.
Tage is the heartache she can never outrun. The man who saved her from her past all while pillaging her emotions. She wants to avoid reliving it—avoid him—but he's always there, lingering like a fog, blinding her vision, impacting her decisions, affecting her life.
Now she's caught between her present and her past. Her life is in danger, her love is in jeopardy, and her heart aches for two spellbinding men. How does she stay safe and possibly choose?
QUICK! OFFER ENDS NOVEMBER 30TH!
---
CURIOUS ABOUT HOW MY MAJOR SERIES FIT TOGETHER?
HERE'S A COOL INFOGRAPHIC TO MAKE IT EASY!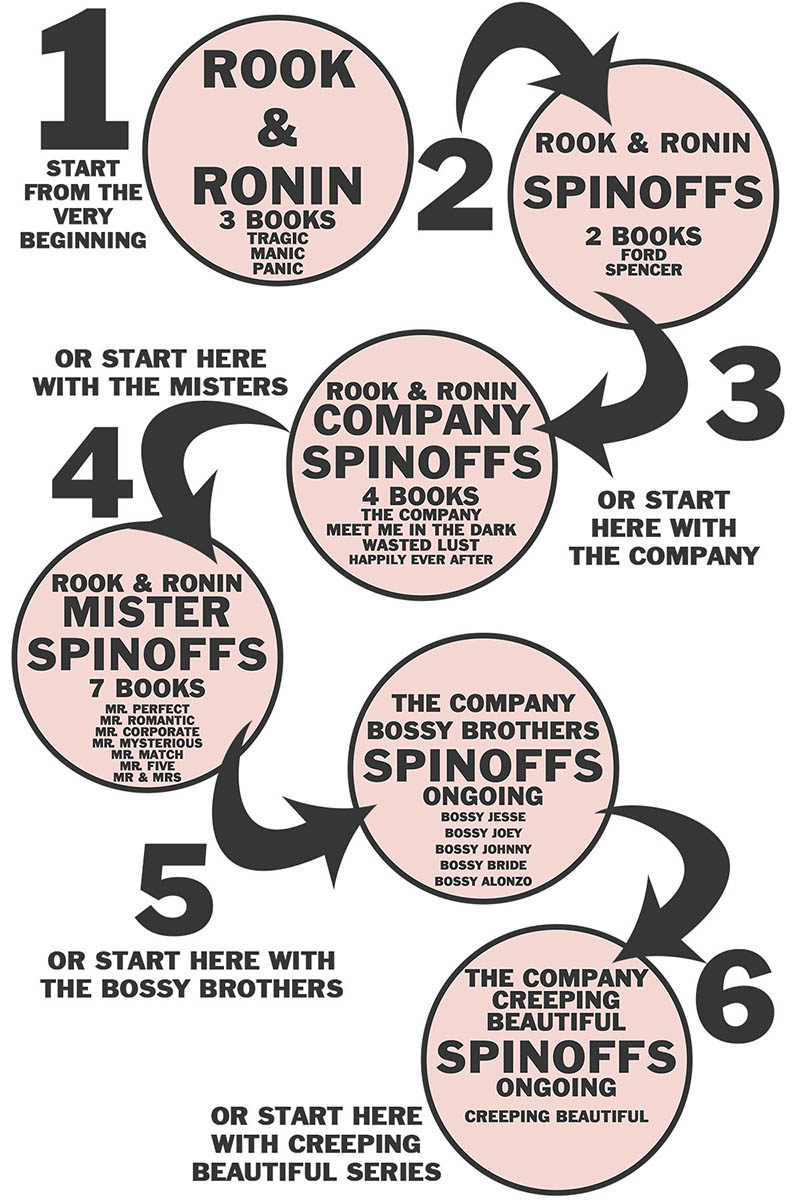 Rook and Ronin Series
THE MISTERS
BOSSY BROTHERS
READ THEM ALL FOR FREE IN KINDLE UNLIMITED!
Creeping Beautiful
---
If you're not following my blog make sure you subscribe!
You'll get an email every time I post a new Freebie!
Subscribe to Blog via Email