BOSSY BRIDE: EMMA & JESSE
Bossy Brothers Series #4
BUT CAN BE READ AFTER BOOK #2
WILL BE IN KINDLE UNLIMITED BY DECEMBER 23 AT THE LATEST!
---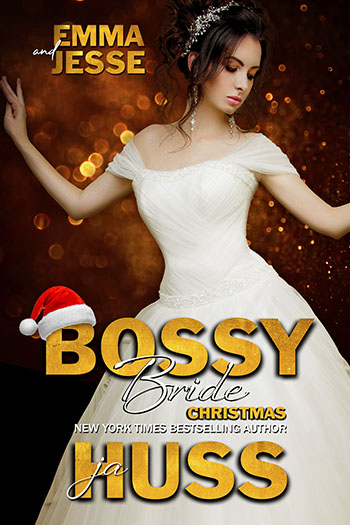 By JA Huss
Romantic Comedy
Publishing December 18, 2019
EBOOK ISBN: 978-1-950232-16-1
PAPERBACK ISBN: 978-1-950232-17-8
BUY LINKS:
AMAZON US: https://www.amazon.com/dp/B07YBLJ9JD
AMAZON WORLD: https://mybook.to/BossyBride
KOBO: https://www.kobo.com/us/en/ebook/bossy-bride
NOOK: https://www.barnesandnoble.com/w/bossy-bride-ja-huss/1133783143?ean=2940160728407
APPLE: https://books.apple.com/us/book/bossy-bride/id1481293091?mt=11&app=itunes
GOODREADS: https://www.goodreads.com/book/show/48203654-bossy-bride
SHORT LINKS:
AMAZON WORLD: https://mybook.to/BossyBride
NOOK: http://bit.ly/35ywXcX
KOBO: http://bit.ly/34lieSG
APPLE: https://apple.co/2shlT5P
DESCRIPTION
Bossy Bride features Jesse and Emma getting almost-hitched on a roller coaster, tricked into being the stars of a pirate show, jumping out of an airplane, and saying their vows in front of two huge Italian families who don't speak English. It's a rompy, whirlwind trip down a rabbit hole of "Fantasy" Vegas weddings planned by a man called "Fingers" and just when you think nothing else could go wrong—a mermaid descends from the ceiling. 
Jesse Boston is the man of my dreams. He's super sexy, super rich, and super funny. He gets all my jokes, he treats me like a princess, and our love life is smokin' hot.
So I'm gonna marry him. I'm not real picky about how that happens and if my mother wants to have her say, fine. That's fine. She gave birth to three boys and just one girl. So I get it. She NEEDS a wedding.
But when she invites my childhood nemesis, KAREN, to plan our wedding AND be one of my bride's maids? Uh—no. It's not happening. Karen Krakken-Channing will not plan my wedding, will not be at my wedding, and she's certainly not going to be IN my wedding.
Luckily, my jet-butler, Miles, and my almost-husband get this great idea!
We're going to elope to Vegas on Christmas Eve eve, get hitched in the most ridiculous way possible, and then fly home in time for Christmas Eve dinner.
We've got it all figured out.
Nothing can go wrong.
We will have one simple wedding in like… a drive-through chapel, and call it good.
Take that, KAREN!
GRAPHICS
CLICK ON THE PICTURE TO BE TAKEN TO FULL-SIZE VIEW, THEN SAVE TO YOUR DEVICE
HIT THE BACK BUTTON TO RETURN TO GRAB MORE PICS
OTHER BOOKS IN THIS SERIES
ALL ARE IN KINDLE UNLIMITED
LINKS
Bossy Brothers: Jesse
https://mybook.to/BOSSYJESSE
Bossy Brothers: Joey
https://mybook.to/BossyJoey
Bossy Brothers: Johnny
https://mybook.to/BossyJohnny
Bossy Bride: Emma & Jesse
https://mybook.to/BossyBride
Bossy Brothers: Alonzo
https://smarturl.it/kh4qk7
DON'T FORGET ABOUT THE SECRET SANTA GIVEAWAY!
ABOUT THE AUTHOR
JA Huss is the New York Times Bestselling author of 321 and has been on the USA Today Bestseller's list 21 times in the past five years. She writes characters with heart, plots with twists, and perfect endings.
Her new sexy sci-fi romance and paranormal romance pen name is KC Cross and she writes novels and teleplays collaboratively with actor and screenwriter, Johnathan McClain.
Her books have sold millions of copies all over the world, the audio version of her semi-autobiographical book, Eighteen, was nominated for a Voice Arts Award and an Audie Award in 2016 and 2017 respectively. Her audiobook, Mr. Perfect, was nominated for a Voice Arts Award in 2017. Her audiobook, Taking Turns, was nominated for an Audie Award in 2018. Five of her book were optioned for a TV series by MGM television in 2018. And her book, Total Exposure, was nominated for a RITA Award in 2019.
She lives on a ranch in Central Colorado with her family.
AUTHOR LINKS
Bookbub: https://www.bookbub.com/authors/ja-huss
Website: https://jahuss.com
Amazon: https://www.amazon.com/J.A.-Huss/e/B009BNUTTO
Facebook: https://www.facebook.com/AuthorJAHuss
FB Fan Group: https://www.facebook.com/groups/shrikebikes
Twitter: https://twitter.com/JAHuss
Instagram: https://www.instagram.com/jahuss
KC Cross New Release Alert: http://eepurl.com/gqBuo9
JA Huss New Release Alert: http://eepurl.com/JVhAr