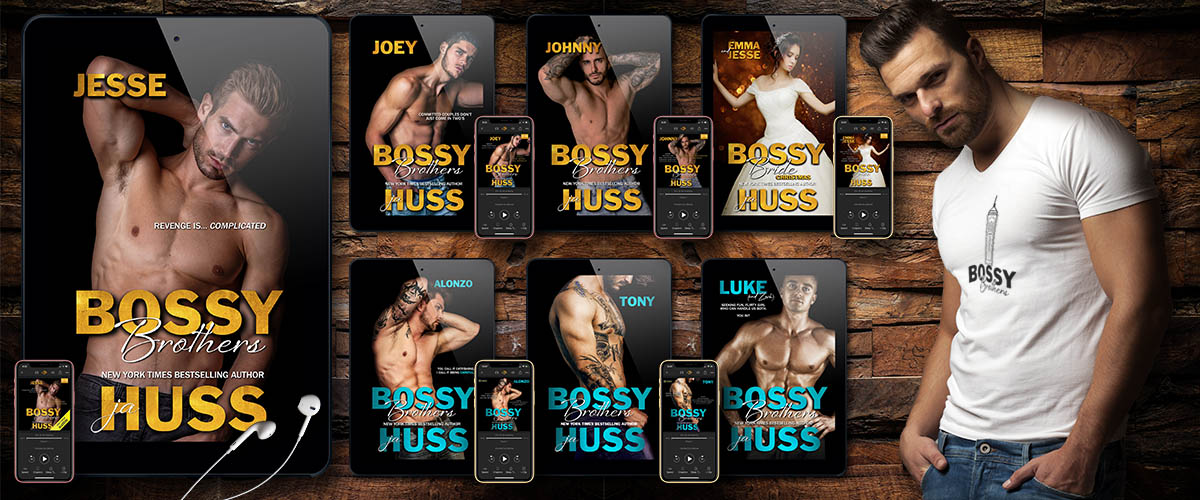 They're "misunderstood".
You've heard it before. It's the bad boy cliche.
But these two families filled with Bossy Brothers really are just looking for the right woman to steal their hearts.
BOSSY JESSE
Bossy Brothers: Jesse features a bachelor auction gone wrong, four smart ladies who botch a crazy revenge kidnapping, a power dream date with fast cars, private jets, and expensive yachts, lots of ex-sex, and a happily ever after that proves… sometimes the best man for the job is a woman.
BOSSY JOEY
Bossy Brothers: Joey features a delicious, burning hot, MMFM, surprise-baby, fake fiancée story with a twist that proves committed couples don't just come in two's, mistakes can be a good thing, and for some people—non-traditional love is exactly the kind they should fight for.
BOSSY JOHNNY
Bossy Brothers: Johnny features a prince saving his princess from a life of hell, one or ten romantic gestures from a tattooed bad boy, swimming with glowing dolphins in the Bahamas, and secrets so deep everyone almost drowns.
BOSSY BRIDE
Bossy Bride features Jesse and Emma getting almost-hitched on a roller coaster, tricked into being the stars of a pirate show, jumping out of an airplane, and saying their vows in front of two huge Italian families who don't speak English. It's a rompy, whirlwind trip down a rabbit hole of "Fantasy" Vegas weddings planned by a man called "Fingers" and just when you think nothing else could go wrong—a mermaid descends from the ceiling.
BOSSY ALONZO
Bossy Brothers: Alonzo features a sexy game of guess-who between a librarian obsessed with pencil skirts and a fisherman tatted up with mermaids. It's long-distance fling filled with dirty-talking, sexy selfies, and safely-hidden secrets… until it isn't. Until the day they meet and realize… Love in the Land of fake Far, Far Away can't ever compare to the real thing.
BOSSY TONY
Bossy Brothers: Tony features two girls falling for the wrong men and two men falling for the right girls. A family of tatted up brothers and a town filled with secrets and danger. A story of earned chances and first dates. Of coming to terms with the past and finding a way into the future.
BOSSY LUKE
Bossy Brothers: Luke is the final book in the Bossy Brothers series and features a sweet and sexy MMF ménage with two hot, committed men and a pink-haired gossip reporter desperate for a scoop. But when she stumbles into more secrets than she can handle, her boys need to call on all the Boston and Dumas brothers to keep her safe.