MAART
I should've hugged her more. I should've loved her more. But the truth is, I couldn't. Even after we were free, I couldn't love them like that. Because I could never shake the feeling that each time they walked away from me, it would be the last time I saw them.
The only way I knew how to show them I cared was to train them. And once I forced Irina to stop training, I didn't have another way to love her.
I just didn't know how. So I made her leave.
IRINA
I was supposed to die nine times already, at least.
The nine ghosts of my opponents follow me around like reminders. Their gaunt faces, their expressions of pain, the fear in their eyes when they realize death has come for them. They have stuck with me all this time.
I'm not supposed to be here. I was supposed to go out fighting. I was supposed to die in that tenth fight. Everyone knew it.
So I am doing nothing now. I am just existing. I am just doing it thousands of miles away from where I started. And I am doing it alone.
Then I meet a man I could fall in love with in a blink.
And I have to make a decision.
Should I blink?
EASON
Every morning there is a choice. To get up, or not.
That's my choice. To go on, or give in.
And on most days—recently, at least—I get up and go on.
But it's never gonna be enough. Ever.
Just breathing is hard.
Then I meet a girl who is so incredibly sweet. So perfect, and pretty, and innocent that the pain in my chest fades when she's around.
Until I find out who she killed on that fateful day seven years ago.
Written by New York Times bestselling author, JA Huss, Sick Hate is story of love, lost and found, starting over, and learning to let go and live on. It is the second book in the Sick World Series.
GET IT AT AMAZON

---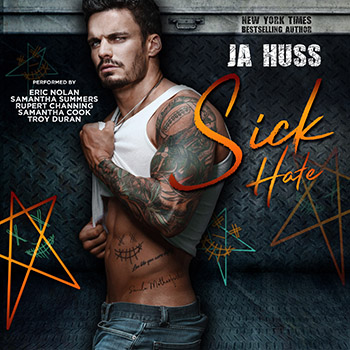 AUDIOBOOK PERFORMED BY:
Eric Nolan
Samantha Summers
Rupert Channing
Samantha Cook
Troy Duran
GET IT ON AUDIBLE

LISTEN TO THE COMPLETE CHAPTER TWO NARRATED BY ERIC NOLAN AND TROY DURAN