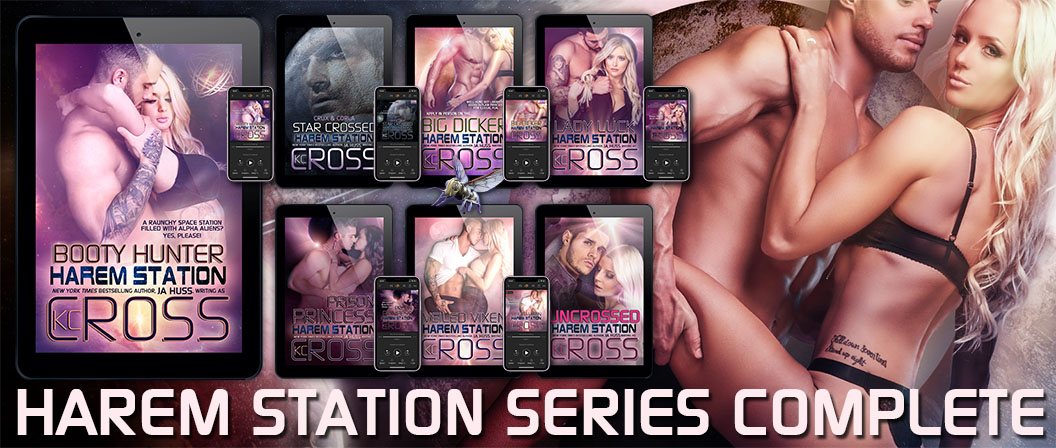 A HAVEN FOR OUTLAW ALIENS
Harem Station is home. Sure, the people who live there are all criminals–but doesn't everyone deserve a place to call their own and a harem filled with stolen Cygnian Princesses?
Well, the boys who run the place think so. And since they were the ones to tame the all-powerful, insane AI running the station–they figure they're gonna enjoy everything he has to offer.
Until bounty hunter, Serpint, brings home the wrong runaway Queen and each of their bombshell soulmates start popping up out of nowhere.

BOOTY HUNTER
Booty Hunter features a weary bounty hunter who just wants some no-strings sex with a simple, obedient girl and a runaway princess who is 100% certain that she is NOT the girl he's looking for. But his touch lights her up in ways she never knew possible. What's that all about?
STAR CROSSED (FREE EVERYWHERE!)
Star Crossed features a creepy breeding ceremony, a teenage boy who gets caught up with the wrong runaway princess, a daring escape to an outlaw station run by an insane AI, and twenty years of star-crossed longing that leads to a brand-new beginning.
BIG DICKER
Big Dicker features hot, soul-mate sex on a family-friendly resort, a sentient ship with a strip poker problem, three drunk-outlaw sexbots on vacay, a crazy, but misunderstood, dragonbee bot, and an evil villainess who has big plans for Jimmy's sperm.
LADY LUCK
Lady Luck is a sexy hate-f*ck of a story about a wild princess, six hot brothers trying to tame her, bad relationship advice from killer sexbots, your favorite evil, but misunderstood, dragonbee bot, and a repentant AI trapped in a sex prison with a succubus.
PRISON PRINCESS
Prison Princess is an erotic MMF ménage featuring double-endowed alien men, a girl who shouldn't exist in a virtual Paradise, a love-struck sentient ship, two all-powerful AI's willing to fight for her, and an entire book about LEARNING TO SHARE.
VEILED VIXEN
Veiled Vixen features an army of pissed-off princesses, five brothers facing their past, a station filled with ruthless, rebelling outlaws, and a lesson in what matters. It's a love story about revenge, and hate, and regrets – but also forgiveness, loyalty, family, and having the courage to see the truth behind the veil.
UNCROSSED
Uncrossed is the last book in the Harem Station Series and features a man chasing his star-crossed soulmate through time, a bazillion enemies at the gate, an entire station in chaos, and an explosive ending that proves, once and for all, that love WINS.