Romance
SCROLL DOWN FOR THE GIVEAWAY
WEBSITE REDESIGN
I posted this on www.HussMcClain.com yesterday but I was busy redesigning my website so I didn't get a chance to put it up over here. So if you saw this already just hang out and check out the new design! Which I kinda love. 🙂
THIS WEBSITE IS HUGE
All you gotta do is take a look at the right sidebar (or scroll down, down, down on your phone) and glance at the "ARCHIVES" section to see that six years of regular posts adds up to HUGE. So it really needs a streamlined design to keep people from getting lost and that's what I've tried to do with this new template. Now all the recent posts are located on the front page and all the older posts are located in the "Archive". The links in the menu under the header are the really important pages people want to see, so. All simple now. I hope you like it. I have a few more pages to update and the SIGNED BOOK ORDER FORM will be going up in the next few days. But hopefully this theme will last me a few years.
NOW THE BOOK!
Johnathan and I finished our FIFTH book together a couple weeks ago and now we're ready to reveal the title, description, and cover for you guys! We had SUCH  a fantastic time writing this book. Every time we passed chapters back and forth we just… laughed. There are so many laugh-out-loud moments in here, it's ridiculous!

So in case you didn't guess this is a romantic comedy. One the one hand we have EDEN PRESLEY. Just a nice girl with spectacular… um… cupcakes and a low-paying job as a hashtag maker for a glossy men's magazine. So broke-ass Eden and her broke-ass (newly single-mother) BFF Zoey come up with an idea for an anonymous YouTube Channel called… you guessed it. The Sexpert. Eden and her cupcakes are the stars, BFF Zoey is behind the scenes doing web design and production.

Then one day they go viral. People are watching, and clicking, and FINALLY this time-suck of a gig is gonna pay off.

Great, right?

Nope. Because HER BOSS claims he had the Sexpert idea first, didn't trademark it, and is now accusing The Sexpert of stealing his idea. So he hires HIS BFF to hunt down this anonymous idea-stealing tart and out her.

Enter ANDREW HAWTHORNE. BFF to Eden's boss, brand-new billionaire, and creator of the cool new voice-altering app, VoiceLift.

Which… is how the Sexpert has been disguising her voice and is about to be her downfall.

Sexy hi-jinks ensue… with much laughter along the way.
SO WITHOUT FURTHER ADO WE PRESENT TO YOU…

A STANDALONE, SEXY, ROMANTIC COMEDY FROM NEW YORK TIMES BESTSELLING AUTHOR, JA HUSS AND ACTOR/SCREENWRITER JOHNATHAN McCLAIN
RELEASING JULY 24, 2018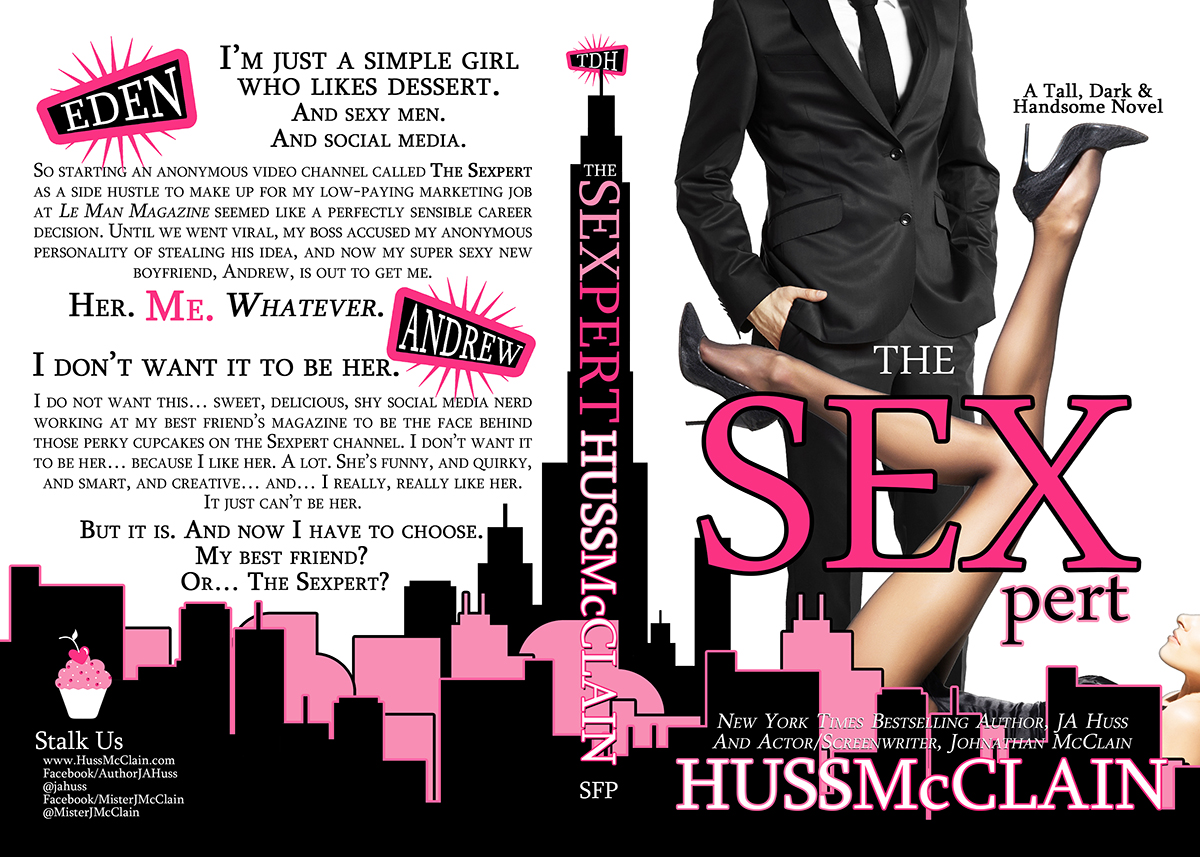 GET IT ON PRE-ORDER
Amazon links will be available on RELEASE DAY, JULY 24, 2018!

ENTER TO WIN A COPY OF THE SEXPERT signed by both Johnathan and Julie!
Please follow and like us: